Just imagine if Israeli officials did this to a Jordanian flag: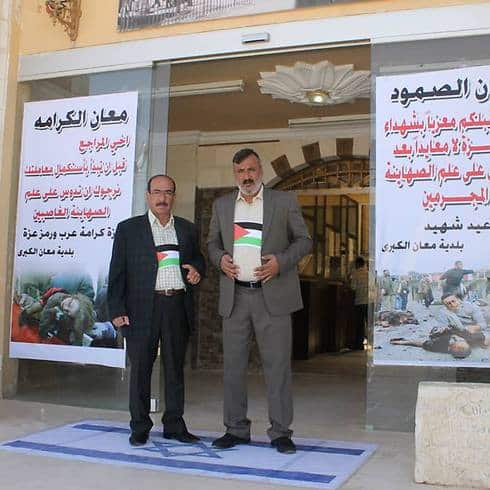 Ynet:
Citizens arriving at the Ma'an city hall in Jordan are greeted with an Israeli flag spread on the floor and the demand to step on it.

The flag was placed right at the entrance in condemnation of "Israel's acts of massacre in Gaza," thus "forcing" anyone entering the building to step on it.

"We saw fit as a local council to put the flag of the Zionists at the entrance to the building, so every person in Ma'an will step on it," the mayor said.

"It's the least we could do to express our support of the resistance in Gaza and our feelings on the tragedy the people there experience."
Posturing. If the Jordanians truly cared about the palestinians, they would offer Jordan as the palestinian homeland.
Update: Apparently, it is catching on.
A couple decided to create something memorable on their wedding day: stepping on and burning the Israeli flag as a sign of protest against the regime's violence towards the Palestinians in Gaza.

Mohd Hilmi Muslim and his bride Norfadhilah Mohd Badroldin, both 27-year-old architects, did it because they felt very sad in seeing Muslims suffer, especially the women and children who were victims of the Zionist regime.
Please help ensure Israellycool can keep going,
by donating one time or monthly
Facebook Comments
comments