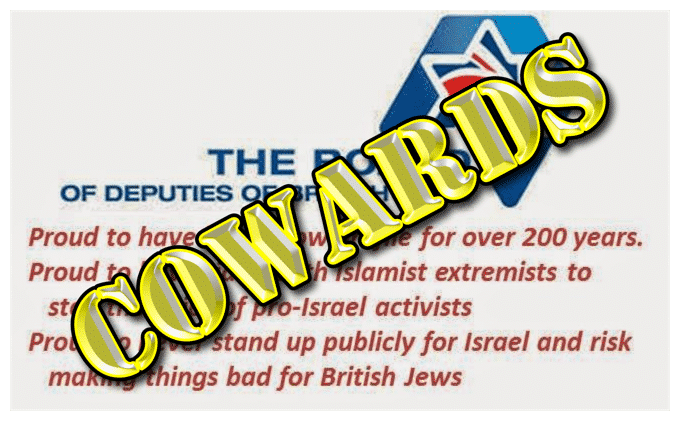 In a not wholly unexpected move, the Board of Dhimmis of British Jews (BoD) approved by 124 to 40 the astonishing joint statement with the Muslim Brotherhood Council of Britain (MCB) thus confirming what many of us have known for a long time.
This is completely clear to all (except those 124): their deceitful interlocutors at the MCB fully believe this statement by Britain's Jews accuses the IDF of directly and deliberately targeting civilians in Gaza. Something no right thinking person (let alone Jew) should accuse the Israeli Defence Forces of.
The BoD have nothing to say about the definition of civilians: according to the MCB and Hamas all of Gaza, including the guys carrying guns, the bomb builders, the rocket firers and the ones in Qatar ordering them are engaged in honourable resistance or civilians. According to the MCB and the BOD all Israelis are military invaders and occupiers to be targeted for death.
The BoD now promote the lie that the made up and phoney charge of "Islamophobia" is directly equivalent to Jew hatred. Jew hatred has existed since before Islam emerged from Arabia and conquered by force a large part of the world. Any critic of the Board's actions will, of course, be called an "Islamophobe".
The court Jews of Britain have completely and utterly bought swallowed the lie that Israel and Jews create Jew hatred. Jeffrey Goldberg blows this away in the Atlantic referencing the execrable Ken Roth of Human Rights Watch. Every argument he put forth separating Jew hatred from Israel or the behaviour of Jews apples to these people.
They are running from reality and begging to be enslaved, all for the sake of a quiet life, a peerage and the chance to have dinner with the Prime Minister or the Queen. The 124 who voted for this are the lowest of the low. They revolt me.
Earlier posts on this:
Board Of Dhimmis Of British Jews Destroying British Jewry
Alex Brummer Bites Back: It's Court Jew Vs Phillips
Avril Mailer Writes To The Board Of Deputies Of British Jews
MCB Are Swivel-eyed Ignorant And Divisive Say The Board Of Deputies
Please help ensure Israellycool can keep going,
by donating one time or monthly