A new Gallup poll released today reveals some interesting findings with respect to the views of Americans on the Israeli-Palestinian conflict.
American opposition to a Palestinian state is on an upward trend
While a greater percentage of Americans are in favor of an independent palestinian state (45%) than oppose one (42%), the latter increased by 5% in the last year, while the former remained more or less the same.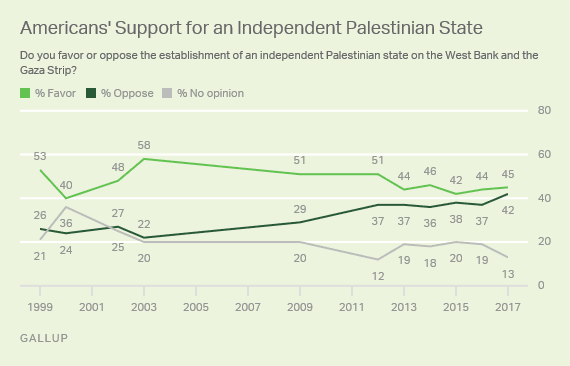 Support among Democrats is relatively strong (61%), having increased by 3% in last year, while only 25% of Republicans are supportive of such a state.
Most Americans still side with Israel
The numbers sympathizing with Israel have remained steady for the past 6 or so years, indicating that Prime Minister Binyamin Netayahu's so-called hardline policies have not dented US support, as many would have us believe.
Having said that, slightly more previously undecided people started sympathizing with the palestinians (4% in the past year).
Israeli PM Netanyahu is viewed more favorably than unfavorably by Americans
Netanyahu is viewed favorably by almost 50% of Americans, up 4% in the past few years. During that time, slightly more also started viewing him more unfavorably, "reflecting increased political polarization of his image."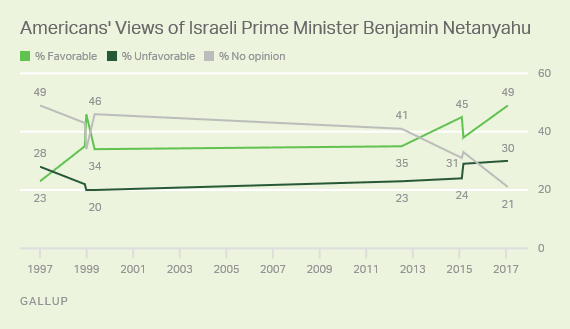 Basically, more Republicans are viewing him favorably, while more Democrats are viewing him unfavorably.
You can read more about the results here.
What this tells me is the American people generally still stand behind Israel, even when we have a leader who the media and others portray as a hawk not interested in peace, building "settlements" these same people describe as an obstacle to peace.
This also tells me that most Americans can see through the baloney they are being fed.
Please help ensure Israellycool can keep going,
by donating one time or monthly