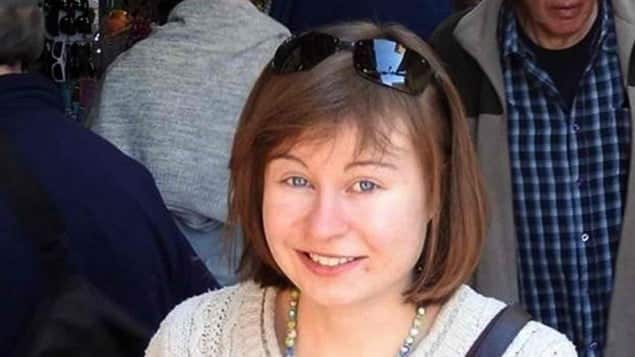 Dear Hannah,
We've never met, but I've seen you around. You had an infectious laugh and were always surrounded by a lively, eclectic group of friends. I saw you in the elevator of my building, which I heard from many of our grieving neighbors was our building, but I never said hi. It simply isn't something people do. I wish I had.
I also saw you around in the packed events at the Jeff Seidel Student Center, clamouring for a bite of salad and chicken with the rest of us students. I noticed your British accent stood out in the crowd. But I'm not one to talk to strangers, and besides, you were very busy in engaging conversations with the staff and students there, and I didn't want to disturb. I never said hi. I probably should have.
I heard you used to like to go to Einstein Bar, the pub in our dorm, as I do. I don't recall crossing paths, but I wouldn't be surprised if we did. If I had the opportunity to say hi, I would have. I'm sorry we never got the chance.
I also know for a fact that just a few days ago you also walked the halls of the Rothberg International School, likely also marveling at the breathtaking view every time you climbed the stairwell. I too, used to walk those halls, when I was still in Ulpan, a new olah, bright-eyed at the new world that was before me, a fresh start, my first taste of true independence from my parents. I am sure you too relished that independence that comes from being in a far-off land.
I know that you also learned Hebrew at Rothberg, as I did, and as I will this summer when I return to Rothberg for Ulpan Vav. I'm sure you too bought food from the sweet Arab man who runs the Rothberg cafeteria on the second floor, and occasionally enjoyed the outdoor concerts in the courtyard, and got (or tried to get) water from that same cooler on the third floor that only worked like half the time.
Had I met you in the elevator, or Jeff Seidel's, or Einstein's, or by the cooler I would have told you to tell that sweet Arab man who works at the cafeteria that Lexi says hi, and that if the cooler is broken, you could go to the 5th floor, there's a cooler there, but you'll have to take your cup from the third floor because there is no dispenser.
I never met you, or perhaps I did for a fleeting moment but do not recall, as we certainly have crossed paths many times due to our close proximity and shared interests. Perhaps we exchanged a smile, or a laugh, or a nod of acknowledgement. I don't know, and perhaps I never will. What I did gather from stalking your Facebook was that you were a curious, compassionate young woman. Your heart was open to the unknown, to those unlike you, and you yearned to learn more about them. You remind me of how I was at 20, so enamored by the complicated political landscape we were both so eager to explore, to make the world a better place, though perhaps a bit misguided at what that might entail.
We may have diametrically opposed political views, and indeed it's a shame we never met. I would have loved to give you a taste of the Zionism that brought me here, a Zionism that is compassionate but also rational, the culmination of a 3800 year-old love affair between a people and this land, a love I have been told is contagious. I wish I could have taken you to the Kotel, the Western Wall, where my people have prayed for thousands of years, even while other colonialist regimes – the Romans, the Arabs, the Ottomans, and finally, the British – were in power and persecuting us.
I would have taken you to an Independence Day party only two weeks after that tragic day, where you would have marveled at the gratitude that surrounded you, the sheer ecstasy of we Jews finally coming home. I would have explained to you over a delicious coffee and shakshuka at T'mol Shilshom why groups like Breaking the Silence, the Palestine Solidarity Committee, Jewish Voice for Peace, and B'Tselem only harm the Palestinians you so wish to help, and perhaps proven to you that the Institute for Middle East Understanding does anything but promote understanding, and instead promotes hate, incitement, and ignorance. I would have taken you under my wing and shared my love of Israel with you. It's a shame that now it's too late.
I hope you had a chance to enjoy Jerusalem. I hope you were able to experience this beautiful country while you were still here: the joy of a Passover Seder, the peacefulness of Shabbat at many different homes, the coexistence I witness on the ground every day, the random acts of kindness that make my heart swell with pride at the wonderful people who inhabit my beautiful country. If not, I would have been more than happy to show you.
It's a shame we never met. You had only just arrived, but you were taken far too soon, in an attack you certainly didn't deserve. I am sure you missed your family, you made it clear in your posts on Facebook, but it truly breaks my heart that the next time they saw you was in a body bag, because no amount of love was enough to erase the terrorist's all-encompassing hatred, because he thought you were like me, a Jew. Because of decades of genocidal incitement of Hamas and Fatah, and of financial incentives these governments, along with Iran, provide to terrorists and their families for carrying out attacks.
I don't care if you were a Christian, a Jew, a Muslim, or a Buddhist, liberal or conservative, Zionist or anti-Zionist. What was done to you was deplorable, and unjustifiable, and should be condemned by all to the furthest extent. You were robbed of the chance to explore the beauty that my wonderful country has to offer. You were robbed of the opportunity to indulge in your passion for archaeology and uncover thousands of years of history under our feet. You were, most importantly, robbed of the hug your mum would have given you at Heathrow, when you would have returned with plenty of exciting stories to tell. You were robbed of a future you never got to see.
For that reason, I weep, even though we hadn't yet met. I send your family my deepest sympathies for a life hitherto unlived, and hope that once and for all, the hate will end, and Jews, Arabs, tourists, and everyone else who wants to enjoy my beautiful country will be able to so in peace, without the threat of terror looming above us.
The friend you hadn't yet met,
Lex
Please help ensure Israellycool can keep going,
by donating one time or monthly
Facebook Comments
comments