gaza mall

-

search results

If you're not happy with the results, please do another search
We knew it was coming, but now we get to see the new Andaluseyya Gaza mall in all its glory
Watch out Gaza mall. An even bigger and better one is being planned.
More scenes of despair from the "concentration camp" called Gaza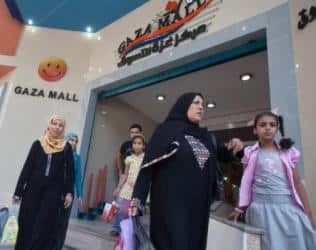 While Hamas and their willing accomplices in the mainstream media and anti-Israel organizations continue to perpetuate the lie that Gaza is a "concentration camp", here are images they do not want you to see.
With the Israel-haters constantly complaining the locked-up Gazans have nowhere to go in the face of coronavirus, they have at least one place to go, apparently.
Another luxury mall coming soon
To those of you wondering why I have been relatively quiet in the face of the expulsion of Jews from their homes in Gaza,...
Funny how I have not seen any crowdfunding campaigns to help purchase any of these new "concentration camp barracks" for Gaza "inmates." 
Someone was not being honest
Gazans are not acting responsibly when it comes to social distancing and other measures to curtail the spread of the virus.
The Hamas-run Health Ministry in the Gaza Strip has admitted that dozens of doctors from the Strip have been trained in recent weeks by Israeli doctors to deal with the Coronavirus (COVID-19) epidemic
In recent times, a number of crowdfunding campaigns, supposedly for poor people in Gaza, have arisen. I say supposedly, because they seem to be scams