gaza mall

-

search results

If you're not happy with the results, please do another search
We knew it was coming, but now we get to see the new Andaluseyya Gaza mall in all its glory
Watch out Gaza mall. An even bigger and better one is being planned.
More scenes of despair from the "concentration camp" called Gaza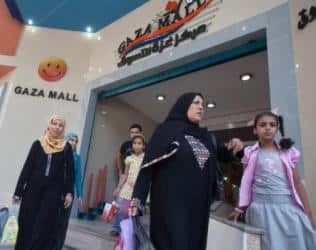 While Hamas and their willing accomplices in the mainstream media and anti-Israel organizations continue to perpetuate the lie that Gaza is a "concentration camp", here are images they do not want you to see.
Another luxury mall coming soon
To those of you wondering why I have been relatively quiet in the face of the expulsion of Jews from their homes in Gaza,...
Introducing the Uptown Restaurant and Cafe, located at the top of a building in Khan Yunis, Gaza.
I've already posted some of the Airbnb listings from Gaza, as well as the White Chalet Beach resort, but apparently there's a not insignificant number of holiday chalets in Gaza
A BBC report about the rescue of animals from Rafah Zoo proves me right. But it wouldn't be the BBC without some lies against Israel.
The Israel haters are out in full force, doing their usual lying thing. Or should that be lion?
It turns out the American Society of Tropical Medicine and Hygiene (ASTMH) Facebook page posted a link to the "Palestinian superbug" article I debunked last week.
The latest from "Concentration Camp" Gaza