Note: This post will remain at the top of the page until the next JIB Awards Update.
New Category Added
As you can imagine, I am trying to run a pretty tight ship when it comes to these JIB Awards (ship..jib..get it? – ed.). Since these are the inaugurual awards, I am, to a large extent, learning as I go along, while still trying to be as organized as possible. 'Situations' arise, and I attempt to deal with them as best as possible.
One potential 'situation' has arisen, which I have had to deal with. The issue is as follows: the main purpose of these awards is to promote Jewish, Israel, and Israel advocacy blogs. As a result, we have a situation whereby 'mega' blogs have been nominated alongside many smaller blogs, in terms of readership and popularity. This may create a "one-horse race" in the voting. The main 'mega' blog,
LGF
, is not a Jewish nor Israeli blog, so some believe it should not be eligible for the
Best Overall Blog
category.
However, given the aim of these awards, Israel advocacy blogs are eligible. To exclude them just because they have a great chance of winning would be unfair, in my opinion. Especially considering the unbelievable job blogs like LGF are doing in spreading the truth about Israel and the Middle East conflict. At the same time, I see that most of you are taking the competition element of these awards very seriously, and want it to be exciting.
After much deliberation, and with some wise counsel from my wife, and
David Bogner
, amongst others, I have decided to do the following:
1. Split the Best Overall Blog category into the following two categories:
Best Overall Blog – receives less than 105,000 unique visitors a day
Best Overall 'Mega' Blog – receives 105,000 or more unique visits a day
I know some of you will want to raise this limit, but I have given it much thought already.
2. For each category, award Gold (the winner), Silver, and Bronze placings.
I believe that this is a fair solution, and in the spirit of the aims of these awards.
So here is the new list of categories:
Nominations close Sunday 16th January, 9:00am Israel time.
Logos
A huge thank you to Zahava Bogner for designing the logos for the JIB Awards. This is just an example of her amazing graphical work.
Here is the logo to place on your site to promote the awards (white background and plain versions):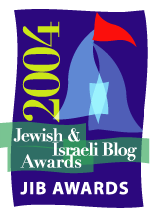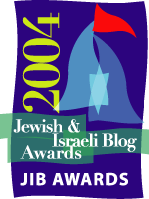 And here is the logo to place on your site if you have been nominated (white background and plain versions):
These logos have been embedded with the following link to the
2004 JIB Awards Main Page
. I recommend that you also link to this page.
Note: This post will remain at the top of the page until the next JIB Awards Update
Topics:
New Category
Logos
Please help ensure Israellycool can keep going,
by donating one time or monthly