LGF has drawn my attention to UK clothing store Ark, and one of the products it is selling: The Arafat Scarf.
This season's must have item! Arafat Scarf.
Unisex, vintage distressed Arafat scarf with traditional woven pattern and tasseles.Ark's best selling scarf this season! The perfect vintage accessory for everyones wardrobe!
Here's a list of Arafat-inspired products Ark won't be selling any time soon.
Arafat Bathtub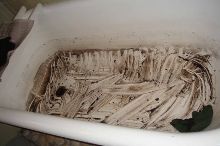 Update: Since the LGF post, Ark has quickly changed the name of the product to the Ark Shemagh Scarf. That's where screenshots come in handy.
The URL also reveals all: http://www.arkclothing.com/Ark_Arafat_Scarf6.html