Manipulating the Discourse
Self-positioned poster boy for victimhood of nasty blogger behavior – Richard Silverstein – seems to think acceptable blogger conduct includes modifying reader comments and publishing them in their modified form, without any note as to their modification.
Below is a screenshot of a comment thread on his blog (needed since he could very well change the comments again). At the top is a comment I submitted, which as you can see is awaiting moderation by the author and is not visible to other readers of his site. The comment directly below it is my comment as it was published by Silverstein.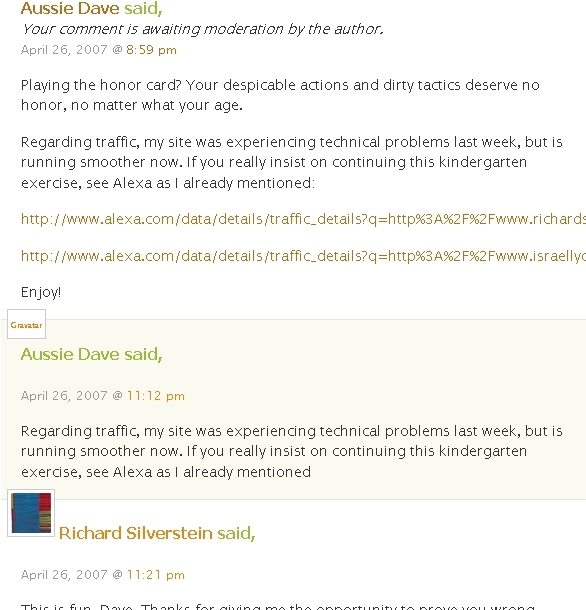 By modifying and then publishing my comment, he is misrepresenting the totality of what I said. And even if you argued that the parts he omitted are not substantial, the mere fact that he omitted them is problematic, and illustrates that
he
had a problem with them.
This is just another example of his dishonesty and disregard for "netiquette," as I pointed out last year:
I have corrected him on a number of occasions, pointing out errors in

his posts. Instead of doing the honest thing and

inserting/acknowledging the corrections via updates to his posts, he

just makes the corrections.

Furthermore, despite the fact that he habitually deletes comments of mine, he makes a point of leaving up the ones in which I pointed out his mistakes. The net result is to render my comments meaningless, since his posts do not contain the error to which I am referring.
By manipulating and modifying reader comments, as well as updating his own posts in a material way without any acknowledgment, he is being patently dishonest in an attempt to advance his arguments.
While I truly find Silverstein's actual views reprehensible – not to mention poorly argued – it is his right to express them. What really bothers me is the dishonest way he is conducting the discourse, especially hypocritical considering his own gripe with bad blogger conduct.
Why am I bothering posting about this? Because I think it is important that anyone who happens to visit his site and read his posts and accompanying comments know about the inherent dishonesty. I think it also sheds light on how he can so easily espouse the views he does.