Latest Developments
Syria is considering its response after claiming its military fired on an IAF warplane that had violated its airspace and dropped ammunition.
For its part, the IDF has stated it would not comment, saying "It is not our custom to respond to these kinds of reports." And while Ha'aretz quotes a spokesperson for Israeli Prime Minister Ehud Olmert as saying there would be no comment beyond the military statement, Ynetnews reports that Olmert's office said it was looking into the report.
One question is: did it happen?
It is hard to say, but the Post quotes Counterterrorism expert/Taylor Hicks lookalike Boaz Ganor as saying that if the overflight did occurr, it's possible Israel was "collecting intelligence on long-range missiles" deployed by Syria in the north.
Other theories:
Syrian commentator Faiz a-Sayeg: Israel is trying out invasion paths into Syria, and the IAF plane had to drop ammunition to dodge anti-aircraft missiles.
Syrian political analyst Imad Fawzi Shoaibi: Israel may have been probing Syria's new air defense systems provided by Russia.
The other question is how will Syria respond? I don't think they would dare do anything militarily. They'll probably continue with their propaganda against Israel, claim we are the aggressors (they have already started in this regard), and continue to provide support for terrorists like Hizbullah and Hamas, who can fight on their behalf.
But if there are any major developments, I'll keep you informed.
Updates (Israel time)

8:25PM: Reuters never ceases to amaze.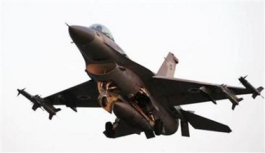 An Israeli Air Force fighter jet lands at an Air Force Base in northern Israel, July 20, 2006. Israeli warplanes bombed unidentified Syrian targets early on Thursday, causing no damage or casualties, the official Syrian news agency said. (Ammar Awad/Reuters)
This is a flat out lie on the part of Reuters. Syria did not claim that the IAF planes bombed any Syrian targets, but rather "dropped ammunition" over deserted areas.
10:45PM: The Jerusalem Post reports that Syrian President Assad has been holding consultations with his top officials. They also quote Syrian officials as saying that the planes dropped fuel tanks over deserted areas.
10:52PM: Syrian blogger Sasa:
So here's what we know: Israeli planes flew from the Mediterranean, and managed to get halfway across the country before being fired on at Tell Al-Abyad, north of Raqaa, near the Turkish border.

Syrian air defences fired, the Israeli jets dumped ammunition (note the Syrian announcement said 'dropped' ammunition, rather than 'bombed') and made their way out of Syria.

Dumping ammunition or fuel is a technique to make a plane more maneuverable.

Now, Israeli Army Radio says there was no 'air raid', but has refused to comment on the veracity of the rest of the story.

This is important.

Israel felt the need to clear up the early confusion that they may have 'bombed' Syria. It seems they were only dumping ammunition.

Let's be clear, there is very little new here. Israeli jets regularly enter Syria, and Syrian Air Defences regularly fire back. What is different here is that Syria has been playing the media game by putting the story out and getting control of it before Israel had the chance.

Almost 24 hours on, the best Israel has managed is to deny anything happened, but then clarify one element of what 'didn't' happen.
10:58PM: It always helps to go straight to the source. This via Syrian Arab News Agency (SANA):
"Air defense units confronted them and forced them to leave after they drooped some ammunition in deserted areas without causing any human or material damage," the Military spokesman said.
Meanwhile, Reuters have not issued a correction, despite the fact that the Syrians have not accused Israel of bombing any targets.
11:10PM: In this additional photo published a little over an hour ago, Reuters stick to their bombing story, and even add a little (not so) subliminal message.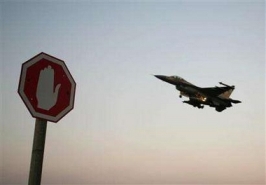 An Israeli Air Force F-16 fighter plane flying above a traffic sign after taking off for a mission in Lebanon from an Israeli Air Force Base in northern Israel in this July 20, 2006 file photo. Israeli warplanes bombed unidentified Syrian targets early on September 6, 2007, causing no damage or casualties, the official Syrian news agency said. Syrian air defences fired at the incoming planes, which crossed into Syria after midnight local time, the agency said. REUTERS/Ammar Awad
11:45PM: A Western diplomat in Damascus has conjectured that the IAF planes were most likely positioned in the area to take photographs.
11:50PM: The Iranians have telephoned Syria, offering their assistance, while blaming Israel for this "intolerable attempt to create tension in the region."
Friday Sept 7
12:00AM: Thoughts from the Conflict Blotter:
The more I think about it, it seems that the Syrians decision to dub it an "ammo drop" rather than an air strike is an indication that the Syrians are intent on deescalating and downplaying whatever actually happened last night. The Israelis, by refusing to confirm or comment on the incident, are playing along, and thus also helping to defuse what could have been a prickly situation.
I am not so sure. The Syrians needn't have mentioned it if they were interested in "deescalating and downplaying." For my mind, they dubbed it an "ammo drop" because that is likely what happened (assuming the planes did fly over Syria). And they could not claim it was a bombing since there was no visual evidence of this. After all, they normally engage in feasible lying.
12:10AM: Interesting analysis from Ron Ben-Yishai:
The Syrians don't know what they saw Wednesday night on the radar screens and what they fired at. Israel has no interest in helping them understand what they saw or didn't see. But in such situations like the ones created this summer between Syria, Israel and Lebanon, even a small spark – or even what seems like a spark – may lead to a big fire.

It is reasonable, however, to assume that the Syrians will not turn the recent aerial incident into a catalyst for launching hostile activities against Israel, or like one of their commentators called it, "The military option."

The Syrians cannot say with certainty or prove that there was a plane or another aircraft, and they are also unable to describe the route used by that unidentified object.

This happens often as part of intelligence efforts: One side spots something – it doesn't know exactly what it saw or what it fired at – and then sends an experimental balloon via the media, in order to be able to complete the missing details through the response.

This is probably why the IDF Spokesperson's Office says, "We do not comment on reports of this nature." Whether the Syrians saw something or did not see something, whether it was an Israeli aircraft or something belonging to another country – there is no reason why Israel should help the Syrians in their interpretation efforts, helping them improve their aerial defense system of course.

What is clear now is that in a situation of tension between two countries, each side carries out continuous surveillance efforts and intensive intelligence gathering in order to examine the other side's intentions.

Often, not only the countries experiencing the tension, but also other countries and elements with an indirect interest in what is taking place in the area of tension, are observing and exerting efforts in the area.

The fact is that what the Syrians spotted did not open fire on them, but at the most released flares when the radar closed up on it. They too understand that if there was anything there, it is reasonable to assume that it belonged to the field of intelligence gathering. Such activities are routinely carried out by Syria, Israel, Lebanon, Turkey, Iran and anyone meddling in what is happening in the region.

What is really worrying is the Syrian information minister's declaration that his country "would find the way to respond to the Israeli infiltration." It is possible that Syria is now looking for an excuse to initiate an escalation with Israel.

We are not necessarily talking about an all-out war, but it is possible that the Syrians would like to imitate Hizbullah's harassments before the Second Lebanon War through rockets or terror attacks.
12:30AM: Russia expresses its concern over the reports, adding that it's particularly troubling considering "this is the Middle East, a region already heavy with serious conflicts and tension."
Meanwhile, Russia continues to arm Syria and Iran.
12:40AM: The Iranians are contradicting themselves. On one hand, Iranian Ambassador to Damascus Mohammad Hassan Akhtari accused Israel of this "intolerable attempt to create tension in the region." On the other hand, Iranian Foreign Ministry spokesman Muhammad Ali Husseini claims "The Zionist entity's provocative move was meant to divert its domestic crises to more remote locales" because"Israel suffers from a lack of confidence following the war in Lebanon."
Clearly, if we suffered from a lack of confidence, the last thing we would be trying to do is create tension in the region. I'm surprised Maths Genius did not work that one out.
7:05AM: Ynetnews quotes Syrian Expatriate Affairs Minister Bussaina Shaaban, who reportedly told Al-Jazeera's English-language channel that Israel "..intervened in our airspace… which they should not do — we are a sovereign country and they should not come into airspace. We do not know yet" (if the aircraft dropped anything). The investigation is still going on on the ground."
Meanwhile, still no retraction or correction from Reuters.
7:10AM: The Al-Jazeera website says something slightly different:
But asked by Al Jazeera if the Israeli jets had attacked targets in Syria, Buthayaa Shaaban, a Syrian government minister, would only confirm that the Israelis "intervened in our airspace".

She said: "The Israeli aeroplanes went into our airspace at night on our northern borders and this is not really surprising. What are they going to do with about $30m of armaments except attack neighbouring countries?"

She said that Syria was still looking into the "ammunition" that the Israeli jets are alleged to have dropped.
9:13AM: An analysis of the current situation from Yaakov Amidror, former Head of Intelligence Assessment of the Israel Defense Forces (hat tip: Gateway Pundit).
The recent aerial incident involving reported Israeli airforce activity over Northeastern Syria along the Turkish Syrian border comes in the context of disturbing trends in Syrian military behavior. It is important to recall that Syria has served as a primary conduit to building up Iranian backed Hizbullah prior to the outbreak of the second Lebanon war in July 2006. Damascus supplied the majority of the heavy payload rockets Hizbullah fired at Israel including Grad-type 122mm Katyushas "220mm rocket,"(probably Syrian-manufactured Russian "Ouragan" Multiple Launch Rocket System [MLRS]) and "B302" 302mm rockets. Syrian supplied rocket warheads usually contained anti-personnel munitions, of a mixture of lethal explosives and steel balls or fragments.

It should also be noted that Syria has increased the tempo of its military excercises and has removed road blocks that existed for years between Damascus and the city of Kunetra that is adjacent to its front line with Israel.

Historically, The Syrian Israeli military balance has been characterized by a gross asymmetry in Syria's favor in the standing active service formations along the Syrian Israeli border. While Syria maintained its army in battle ready status, the bulk of the Israeli army was and continues to be organized around its army reserve forces that are only mobilized in the event of an imminent attack. For example, in October, 1973, Israel was forced to repel a massive Syrian ground assault with only 177 tanks against a total Syrian force of 1400 tanks that stretched back from the Golan Heights to Damascus providing an advantage of more than eight to one in Syrian armor.

At present, Syria's behavior is a function of the following factors:

1. The Syrian perception that it has a realistic military option against Israel based on their view of Hizbullah's successes in last summer's war.

2. Syria's continued sponsorship of radical Palestinian Islamic terror groups including Palestinian Islamic Jihad, Hamas, Popular Front for the Liberation of Palestine PFLP, and other Jihadi organizations.

3. A massive Syrian military build-up focusing primarily on scud (B,C,D) heavy rockets and chemical warheads with a massive commensurate increase in military spending over past ten years.. The primary Syrian armament build of the past few years includes a major investment in chemical weaponry in which Syria has become a regional superpower. It is important to stress that Damascus' strategic decision to build up its military arsenal preceded the US decision to provide advanced military weaponry to Egypt, Saudi Arabia and Israel.

Syria's recent military build up is all the more destabilizing in view of the decision by Russia to upgrade its influence in the region by providing state of the art Russian weaponry and military technologies and to reopen a Russian Naval base on the Syrian Coast. Additionally, Iran's huge petro-dollar driven financing capabilities has played a major role in Syrian weapons procurement.

Current Syrian Israeli tensions are also punctuated by the additional Syrian strategic need to free itself of international pressure in the context of its continuing involvement in destabilizing Lebanon as well as Damascus' interest in shaking off ongoing international pressure stemming from Syria's suspected main role in the murder of Lebanese Prime Minister Rafik Hariri.

Syrian concerns over its deepening international isolation is also a function of its key role as a primary line of supply of weaponry and volunteers that continue stream unfettered over the Syrian Iraqi border to the Iraqi insurgency against US coalition forces as has been confirmed By General George W. Casey Jr, former US Commander in Iraq.
10:48AM: Ha'aretz reports that Israeli Prime Minister Olmert has been mum on any IAF entry into Syrian airspace.
And still on the subject of being mum and Olmert, his lesbian daughter's partner has given birth to a baby girl.
11:20AM: Israel's Science, Sport and Culture Minister, Ghaleb Majadele, has pretty much admitted we flew into Syrian airspace, saying we regularly do so, and that he doesn't believe this latest incident will spark a war.
You may be wondering why Israel's Science, Sport and Culture Minister was the one to admit to this. I am guessing it might have something to do with the fact that Majadele is an Arab government minister (in fact the first Arab government minister in Israeli history).
11:45AM: Mystery solved. The statement was made to the (presumably Arabic) Nazareth-based A-Sinara newspaper. And Majadele was also reported as saying that while he had no specific information about the flyover, it was likely that "the planes either entered Syrian airspace to take photographs or in error."