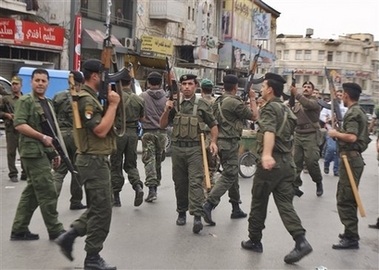 Palestinian police officers run near the site where a worker was killed in a mysterious explosion in the West Bank city of Nablus Thursday, Nov. 8,2007.
Yeah, they look like they're setting a blistering pace.
Update: Actually, there is more to the caption which is of interest.
Palestinian sources said Israeli troops caused the explosion. The Israeli army denied any connection to it.
While the AP caption writer mentions the IDF's denial, he does not mention our assertion that it was a palestinian roadside bomb meant for IDF soldiers. So what we have is a palestinian claim and Israeli denial, instead of both claims.
Not only that, but it seems the palestinian sources cannot get their story straight (no surprises there). The IMEMC reports that the cause of the explosion was an unexploded Israeli ordinance, and not IDF troops as mentioned in the caption. While Ma'an news does not give a possible cause, which is surprising since they are always quick to point the finger at Israel. The IMEMC and Ma'an reports also give a different name and age for the victim.