Liveblogging the Latest – Friday January 18th
After the 130 Qassams that have hit Israel in the last three days, 5 have been fired so far today. We're bracing ourselves for another Qassam-prolific day, with word that Hamas believes that Israel wants to avoid a major ground operation in Gaza, and therefore, will call a truce if the heavy rocket fire continues. This tells you everything you need to know about their mentality – the thought that perhaps what we want is to live in peace, and are willing to talk if they stop the rockets is not within their comprehension.In other news, the IDF killed a wanted terrorist/commander in the Al-Aqsa Martyrs Brigades (affiliated with "Moderate" Mahmoud Abbas), arrested 3 terrorists in Hebron, while palestinians continued their stoning ways.
Updates (Israel time)
9:25AM: Two more Qassams have been fired at Israel, with conflicting reports as to the damage.
Ha'aretz: Damage was caused to a highway
JPost: The Qassams landed in open territory
Ynet: It is unclear where they landed
9:50AM: According to palestinian sources, the IAF bagged at least one terrorist, and wounded 2 others. Although they obviously didn't use the word "terrorist."
11:00AM: The Arab-language East Jerusalem newspaper al-Quds has reported that our peace partners Egypt and Jordan intend to "join forces in order to halt IDF operations in the Gaza Strip and West Bank." Funny how they never seem to join forces to halt palestinian terrorism against Israel.
11:05AM: The Al Aqsa Martyrs Brigade commander/terrorist we killed earlier today had been in touch with Hizbullah. Here's hoping he soon meets up with as many Hizbullah members as possible.
12:10PM: Israel has closed its border with Gaza.
2:17PM: 8 mortar shells have been fired at Israel.
2:19PM: Beware the palestinian bearing knives.
2:38PM: 2 more Qassams. We've had more Qassams than rain here.
3:13PM: From the Department of Overcompensating:
And it's not just the old-timers: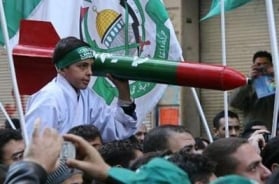 3:20PM: That's it from me for the next 24 hours as the Jewish Sabbath approaches.
Latest updates here.