Liveblogging the Latest – Monday January 21st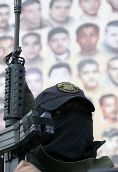 The main news this morning is thankfully not concerning any Qassam rocket barrages. In fact, the Qassams are being fired less and less, thanks to Israel's response – including the closure of the border crossings to Gaza. And it is precisely this measure that the palestinians are now playing up for dramatic effect on the world stage. With the Hamas government closing down Gaza's power plant, and Gaza being plunged into darkness, Hamas blamed the power shortage on Israel, obviously oblivious to the fact that their rocket-firing ways might just have something to do with it. Palestinian President Mahmoud Abbas also sprung into propoganda mode (assuming he ever left it), issuing telegrams to UN Secretary General Ban Ki-moon, the Quartet and the Arab League in which he called on Israel to lift the siege it is imposing on the Gaza Strip and renew the supply of fuel to Gaza "to allow hospitals to operate and prevent an humanitarian disaster." While Israeli security officials have admitted that the fuel supply to Gaza was ten percent less than planned, they have also stated that there is no fuel shortage, and Hamas is clearly "blowing up the crisis for its needs, in order to take advantage of the pictures of darkness in Gaza for its public relations needs in the Arab world and the international community." And we all know how good Hamas are at blowing things up.
Overnight, IDF troops killed a terrorist in Tulkarem (but not before the terrorist wounded one of our troops), and arrested 5 terror suspects in the West Bank (finding 4 pipe bombs, 3 cartridges and ammunition in the house of one of the suspects).
Updates (Israel time)
8:45AM: Ynetnews report:
The Israeli Electric Company (IEC) is supplying nearly 70% of electricity to the Gaza Strip despite Palestinians' claims of a power shortage in Gaza, said Miko Zarfati, the chairman of the workers' committee at the power company.

"This is Palestinian spin. No one has stopped the supply of electricity to the Strip," Zarfati told Ynet. He claimed that his employees worked day and night in a power plant in Ashkelon while putting themselves in danger of being hit by Qassam rockets falling in the area.
Meanwhile, Reuters and company are going ballistic over the situation, as evidenced by the orgy of candle photographs, and hardly any of the ballistics that started it all.
11:05AM: The Egyptian government newspaper Al-Gomhuria has apparently reported about Mahmoud Abbas expressing his intention to suspend negotiations with Israel. Abbas was quoted as saying that "negotiating with the Israelis while their forces are killing palestinians is unreasonable." As opposed to Israel negotiating with the palestinians who are killing them, which is perfectly reasonable.
11:08AM: From the No Sh*t Sherlock Department:
Ramon: Drop in rockets Monday means Gaza power cuts may be working (Israel Radio)
11:40AM: Some East Jerusalem vendors have launched a strike in sympathy with Gaza. But if they really want to replicate their Gazan cousins, perhaps they should launch some rockets instead.
12:20PM: Hizbullah-Lebanese newspaper al-Akhbar has claimed it has evidence of the IDF soldiers' body parts left behind in Lebanon by the IDF (as Hizbullah Secretary General Hassan Nasrallah claimed on Saturday), and to this end, has published a photo of a dog-tag with the personal details of an IDF soldier killed during the Second Lebanon War.
12:45PM: More on the al-Akhbar article:
The article in the Lebanese daily Al-Akhbar was written by Hezbollah-linked journalist Ibrahim al-Amin, who said he could not publish the photographs for "humanitarian reasons."
So capturing some soldiers, keeping their fate a secret, and then bragging that you have body parts is fine. But G-d forbid you should publish a photograph. That would be inhumane.
2:00PM: Ynetnews reports:
The European Commission urged Israel on Monday to restart fuel supplies to Gaza and open border crossings, saying that Israel's blockade would worsen the situation on the ground and not help prevent attacks.
Meanwhile, there have still been no Qassams fired into Israel today. Just saying.
2:30PM: Me and my big mouth.
3:20PM: At last something said by Israeli Prime Minister Ehud Olmert, with which I wholeheartedly agree:
"As far as I'm concerned, all the residents of Gaza can walk and have no fuel for their cars, because they have a murderous terrorist regime that doesn't allow people in the south of Israel to live in peace."
3:50PM: Honest Reporting deals with the..err..dishonest reporting regarding the Gaza power cut. As does Elder.

4:12PM: A story that flew past my radar (so to speak): IAF jets were reportedly shot at this morning by Lebanese Armed Forces anti-aircraft units.

4:25PM: Here's a little something as a tribute to the palestinians who have created the crisis in Gaza by shutting down the power plant, as well as those fine men and women of the mainstream media who are allowing them to milk it for all it's worth.

4:50PM: The Israeli Ministry if Foreign Affairs has posted this video of the joint press conference with Israeli Foreign Minister Tzipi Livni and Dutch Foreign Minister Maxime Verhagen.

6:00PM: Palestinians have fired a Qassam and 2 mortar shells, and even managed to also stone a car.

6:10PM: I just love this picture: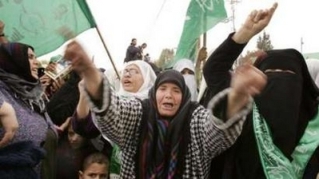 A Palestinian woman shouts in front of the gate of the Rafah crossing border during a protest calling on Egypt to open their border with the Gaza Strip January 21, 2008. Large parts of the Gaza Strip plunged into darkness when its main power plant shut down after Israel blocked fuel supplies and closed the border to the Hamas-run territory. REUTERS/Ibraheem Abu Mustafa (GAZA)
Yep. I could imagine that the woman on the right would find an electricity cut to be a great inconvenience impeding her vision.
6:20PM: Yet another classic picture: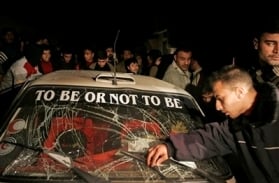 No-one can accuse them of being uncultured. After all, they know Shakespeare.
6:35PM: Please spread the word about this blog, and Digg this post if you haven't already (Those willing to contribute can do so here).
6:42PM: A great quote from National Infrastructure Minister Binyamin Ben-Eliezer:
"We are the only country in the world where every morning the consumer points rockets towards the power station providing him with electricity."
8:10PM: The palestinians have fired 4 more Qassams at Israel.
8:15PM: Israeli Defense Minister Ehud Barak has agreed to allow minimal shipments of diesel fuel and medical supples into the Gaza Strip starting tomorrow. A source close to Barak reportedly said:
"It appears that they got the message in Gaza. Since Thursday, when 40 Qassams were fired at Israel, the number of [rocket] launchings has gone down, and today, for example, only one Qassam was fired. The military and economic pressure had an impact. If the Qassam fire goes up, we won't think twice before tightening the sanctions and the border closures."
8:18PM: Not satisfied with Qassams, mortar shells, and rocks, the palestinians are also hurling molotov cocktails at Israelis.
9:00PM: Remember the solidarity strikes launched by the East Jerusalem vendors (11:40AM update)? Well..
Jerusalem police on Monday detained four Arab residents of the city suspected of threatening east Jerusalem shopkeepers to take part in a solidarity strike in support of the Palestinians in Gaza, police said.
10:13PM: The palestinians have fired 2 more Qassams.