Liveblogging the Latest – Saturday January 26th – Sunday January 27th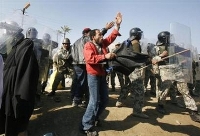 Here's a run down on what I missed this Jewish Sabbath…
Israel has demanded that Egypt restore order in Rafah, and take action to prevent the unsupervised crossing of palestinians back and forth between Egypt and Gaza. For their part, Egypt today announced that they will ask Hamas (as well as the PA) to send representatives to Cairo to discuss the Rafah Crossing crisis, after at least 36 Egyptian security personnel were injured (some critically) due to "actions by Palestinian elements." No doubt they will speak about the competing Hamas and PA offers to restore the border and assume control, both of which would be detrimental to Israel.
On the Qassam front, it was a relatively quiet day, with 2 falling in open areas of the western Negev. And if you think that was bad luck for the palestinian terrorists, the 2 mortar shells they fired landed in the Gaza Strip. Back to terrorist school for them.
Come to think of it, it wasn't a good day for palestinian terrorists, with Popular Front for the Liberation of Palestine (PFLP) founder George Habash dying in Jordan, and a knife-wielding palestinian being caught in Hebron. But that isn't to say the terrorists did not enjoy some success; a terrorist managed to stab an Israeli Border Guard police officer at the Atarot industrial zone north of Jerusalem (he is in moderate condition; the terrorist is in critical condition after being shot). And some rock-throwing palestinians lightly hurt 4 Israelis who were engaged in the unspeakable crime of driving.
In other news, Iran received the 7th shipment of nuclear fuel from Russia, Israeli Defense Minister Ehud Barak told the Washington Post that the Iranian nuclear program is quite advanced, Iranian Foreign Minister Manouchehr Mottaki told an Israel radio reporter (!) that Iran is not threatening Israel and does not want nuclear weapons (!!), Libya is withholding support for a UN Security Council draft declaration which includes an unprecedented condemnation of palestinian rocket fire into Israel, Israeli Left-wingers were being Israeli Left-wingers, and Israel's Jonathan Erlich and Andy Ram won the Australian Open men's doubles final.
Updates (Israel time)
Saturday Jan 26th
10:18PM: From the Hurt Egos Department:
Prime Minister Ehud Olmert's office released a statement saying that "Minister Tzipi Livni did not inform us in relation to her meeting with reservist soldiers and bereaved families. That said, we have no problem with it, every person is allowed to meet with whoever with want."
Is it just me, or does it feel like we are back in primary school?
10:20PM: The "moderate" PA has announced a three-day mourning period to mark the passing of PFLP terrorist George Habash. What I want to know is does the mourning period necessitate fasting? Because it would be a shame for all that Egyptian food to go to waste.
10:25PM: They really should lay off the drinks: More molotov cocktails from the palestinians.
10:38PM: Despite the fact (or perhaps because of it) PFLP founder George Habash opposed compromise with Israel, PA President Mahmoud Abbas said:
"The death of this historic leader is a great loss for the Palestinian cause and for the Palestinian people for whom he fought for 60 years."
10:45PM: Fellow blogger JammieWearingFool described George Habash's death as follows:
A real wart on the face of mankind has passed away
Heh.
Sunday Jan 27th
8:40AM: Since my last update, the IDF caught 2 wanted palestinians and found 6 weapons west of Hebron, and Egyptian security forces caught 20 Palestinians in the Sinai in possession of explosives and electronic devices which would enable them to listen in to the Egyptian forces' communications networks.
9:35AM: The Jerusalem Post reports on the Oxford University debate over Israel's "right to exist," which turned out to be as absurd as the debate topic and the identities of the debaters supposedly on the side of Israel.
In a lengthy and fiery debate at Oxford University over the weekend, the student union conceded Israel's "right to exist" by just over 100 votes.

Proposing the motion "This House believes that the State of Israel has a right to exist" were Norman Finkelstein, formally of De Paul University in Chicago, and Ted Honderich, professor of philosophy at University College London.

Questions about the seriousness of the event were raised ahead of the debate, since not only opposers of the motion, but also its proposers, were considered detractors of Israel.

Finkelstein, who had been supporting the motion, voted against it, while Honderich, who had crossed sides during the debate, voted for the motion, adding to accusations that the debate was a farce.

Supporting the motion, Jessica Prince from Oxford's University College spoke about the "absurdity" of the debate title. "I didn't think it was a question that we ask anymore," she said.

Opposing the motion, Lewis Turner from Oxford's New College said that if Israel is supposed to be a safe haven for Jewish people, "it's not working out because it's one of the most dangerous places for them to live."

"I was shocked to hear Honderich actually say that, 'Palestinians have a moral right to terrorism,'" said Olga Belogolova, a Jewish student from Boston University studying at Oxford for the semester.

"It was disappointing to see how many people were applauding the obviously radical speakers who were at times dishonest during the debate," she said. "It was disappointing to see students who agreed with the justification of terrorism and who were not questioning the rhetoric of the speakers."

"The debate was another childish attempt at sensationalism by the Oxford Union," said Yair Zivan, campaign director of the Union of Jewish Students (UJS). "To have a debate about Israel without a single mainstream voice present shows the debate was the farce we expected. The Oxford Union owes better to its membership to allow for intellectual debate and they should try to seriously engage with issues."

The Oxford University Debating Society refused to comment on the debate.

Meanwhile, Jewish and Israeli students at the London School of Economics (LSE) claimed victory after defeating a controversial motion calling for a boycott of Israel and calling Israel an apartheid state, raised at the university's union general meeting on Thursday.

The motion was defeated by seven votes following a mobilization of Jewish and Israeli students on campus.

The motion, proposed by LSE student Emiliano Huet-Vaughn, an International Solidarity Movement activist, branded Israel an apartheid state and called on the LSE student union to start a campaign to lobby the university and National Union of Students to divest from and boycott Israel.

Released 48 hours before the union meeting, the motion created a huge backlash and prompted Jewish and Israeli students to respond to what UJS called "extreme anti-Israel rhetoric on campus."

"Israel is an apartheid state, a state that promotes racism and xenophobia through acts of parliament, a democracy so-called only for people recognized in Israeli laws as 'Jews,' supported by a set of racist laws under which different laws regarding citizenship, housing, land ownership and marriage apply depending on whether someone is classified in law as 'Jewish' or 'non-Jewish,'" the motion read.

"[The year] 2008 marks the 60th anniversary of the Nakba, the expulsion of the great majority of Palestinian Arabs from their homes and homeland in historic Palestine between 1947 and 1949. The expulsion, planned and systematically carried out by the founders of the State of Israel, was essential to the creation of an expressly Jewish state in the political Zionist sense of the term," the motion said.

The motion also supported the one-state solution and the end of the Israeli state. "Israel should be a state for all its citizens and stop discriminating against the indigenous Palestinian population. The Palestinians have the right to return to their homeland and receive just compensation and Israel should implement all international laws that it is currently violating," it read.

Following a highly tense and hostile meeting, 292 voted for the motion, 285 against it and 100 abstained.

"It was fantastic to see so many students turn out and show their opposition to this horrific one-sided and unconstructive motion," said Zivan. "Jewish student activists once again showed that they will stand up for Israel in even the harshest circumstances and won't let these kinds of actions go unchecked.

"It was welcome to see so many students with no personal affiliation to the Middle East conflict vote against the motion and reject extremist rhetoric at LSE," he continued. "We hope this sets the tone for a more civilized and balanced debate in the future."

"We only had 48 hours to organize the campaign but the response has been phenomenal," said Sam Cohen, a graduate student at LSE who led the campaign and spoke against the motion at the meeting. "Jewish and non-Jewish students proudly opposed extremist language at LSE and have shown that we want a moderate, sensible and constructive debate around the issues of the Middle East. I really hope this is the last time people try to polarize the student body in this way."

"It's [the motion] a really negative development," said Lior Herman, an Israeli PhD student at LSE. "While I'm very happy with the academic level here [LSE] I don't feel as comfortable. Every day there seem to be posters and slogans against Israel. The motion was the culmination… it did nothing to help the Palestinians or promote understanding.

"Not just Jewish and Israeli students want sensible discussion and bridge-building. Instead we're getting bridge-burning. Instead of doing what they should do, looking after the welfare of students, the [LSE] union meetings have become a platform for a minority to push their sinister agenda. Thus a large number of students, not just Jewish or Israeli, attended [the meeting] to make their voices heard," he said.
11:30AM: Israeli Prime Minister Ehud Olmert and PA President Mahmoud Abbas are set to meet today in Jerusalem, to discuss the situation on the Egyptian border.
12:03PM: Al Jazeera has reported that Gazans were continuing to flow into Egypt this morning but in smaller quantities than in previous days.
12:08PM: Six Israeli-Arabs have been indicted for arms dealing with Tanzeem terrorists (although Ynet seems to think they were "indicated").
12:50PM: Yet another palestinian carrying a knife has been taken in for questioning.
1:40PM: Egypt and the PA have agreed on PA President Mahmoud Abbas' plan to assume control of Gaza's crossing with Egypt. Under this plan, the palestinian presidential guards are to assume control of the Rafah crossing. Israeli Prime Minister Olmert has until now rejected the idea, and it is unlikely that a transfer of control over the crossings will occur in the short term, especially considering the Hamas factor.
2:50PM: Palestinian President Mahmoud Abbas and Israeli Prime Minister Ehud Olmert are currently meeting to discuss the issue of transferring control of the Gaza Strip border crossings to the PA. Let's see if Olmert changes his mind and allows the PA to control the crossing (which would further jeopardize our security).
2:56PM: Israel has announced that it will restore the fuel supply (2.2 million liters per week) to the Gaza Strip, effective immediately, in response to petitions submitted by two "human rights" groups. However, the State Prosecutor's Office added that "if the rocket fire continues, we will consider limiting the supplies again."
3:00PM: Still on the subject of people with their heads in the clouds (as evidenced by the last update), a NASA delegation is set to arrive in Israel for a six-day visit to participate in memorial ceremonies for Ilan Ramon, the first Israeli astronaut, who died in the the Columbia space shuttle crash five years ago.
3:42PM: Arutz Sheva reports that Egyptian forces have received permission to fire back at palestinian terrorists.
3:43PM: The Olmert-Abbas meeting has finished. Awaiting news on what (if anything) was agreed upon.
4:00PM: Ha'aretz reports that Israeli Prime Minister Ehud Olmert promised palestinian President Mahmoud Abbas that Israel would not disrupt the supply of food and medicine into the Gaza Strip. Still no word on whether or not he agreed to transfer control of the border crossings to the PA.
4:50PM: This AP caption writer does not even pretend to hide where his sympathies lie:
Activists from a Pakistani Shiite Muslims group burn the Israeli and U.S. flags during a rally to condemn the American and Israeli aggressive policies against Palestinian and Irani people, Sunday, Jan. 27, 2008, Karachi, Pakistan. (AP Photo/Fareed Khan)
Not to mention his poor grasp of the English language. Irani?
5:25PM: Ynet reports that Olmert and Abbas did not discuss the border crossings at great length, since Abbas is scheduled to meet Egyptian President Hosni Mubarak on Wednesday and discuss the matter.
I smell a rat. If Olmert is firm about rejecting the idea of the PA controlling the border crossings (as he should be), why would the Wednesday meeting with Mubarak make a difference? My prediction: Olmert will has agreed to go along with the idea.
6:18PM: Palestinian terrorists have opened fire at an IDF base from a vehicle near Jenin, causing no damage. Meanwhile, a Border Police officer was lightly hurt after he was hit by an object thrown at him by palestinians near Maale Hachamisha in the Jerusalem area.
8:25PM: Palestinians have fired 3 mortar shells at Israel, with all of them landing in open areas and causing no damage.
8:33PM: Chief Palestinian negotiator Saeb "Massacre" Erekat has stated that the palestinians will not agree to a situation in which the responsibility over the state of affairs in the Gaza Strip will be assigned to Egypt. Which is odd if you believe all the palestinians wants is a better life for themselves, but quite predictable if you subscribe to the belief that they really want the destruction of Israel.
8:40PM: Channel 2 has reported that Defense Minister Ehud Barak secretly met with Pakistani President Musharraf last week.
8:52PM: JPost has more on the item in my last update, adding that Barak expressed his concern of Pakistan's nuclear capabilities seeping into terrorists' hands.
9:07PM: How about a resolution ousting Libya from the Security Council?
The United Nations' Security Council is expected to make a final decision about a presidential statement on the situation in Gaza, Monday, after a long week of negotiations that failed to result in the necessary consensus.

But where the United States had been the sole objector for most of the week, Friday the cards turned. This time the Libyan envoy stood out among the 15-member council as the only country unwilling to accept a new draft which now includes a condemnation of the kassam attacks on Israel.
By the way, if you haven't already seen the footage of Libyan president Giadalla A. Ettalhi being forced to read a harsh condemnation of the Katyusha rocket attack on northern Israel earlier this month, you should do so now.
10:42PM: Senior Hamas leader Khalid Mash'al told the Ash-Sharq Al-Awsat newspaper that Hamas is ready to turn over the presidential security headquarters to palestinian President Mahmoud Abbas.
10:50PM: According to Ha'aretz, the IAF has attacked a Hamas armored car in Gaza, but no-one was hurt.