Liveblogging the Conflict: Monday, March 3rd
IDF troops completed their activity in the northern Gaza Strip last night, and the armed forces that had been operating inside the Gaza territory returned to Israel. Such operations are expected to continue.
In yesterday's operations, the IDF began searching buildings in the "Qassam perimeter," the eastern perimeter from which many Qassam cells have operated in recent months. And while terrorists continued to pound Israel with Qassams (yesterday's tally was 38), there were less of the larger Grad missiles fired. Those Grad missiles that were fired (the 2 that struck Ashkelon) were fired from farther inside heavily populated areas of the Gaza Strip.
All in all, 4 IDF soldiers were lightly injured in fighting yesterday, as well as 3 Israeli civilians from the 40 rockets fired against Israel. About 12 palestinians died, some while fighting Israel, and some from injuries sustained on Saturday. It is unclear how many were terrorists and how many were non-combatants.
During their operations, IDF soldiers reported seeing a wide range of weapons, including improvised explosive devices, anti-tank missiles and – in further proof of either the terrorist use of civilians as human shields or civilian complicity with terrorists – booby-traps in some of the houses, and in at least one case, a weapons storehouse inside a mosque.
In other news, Hamas is cracking, not to mention at least one Israeli minister.
Updates (Israel time)
6:55AM: The IAF has struck targets in the Gaza Strip, killing 2 terrorists.
Meanwhile, Hamas officials claim 4 of their "workshops" and an office were blasted overnight.
8:35AM: I have long contended that Hamas and the other terrorist groups see Israeli withdrawals as victories. In a stark (and bizarre) illustration of this, Hamas has declared "victory" after the IDF wound down the first phase of its operation in Gaza and withdrew its troops.
8:53AM: Yet another example of the phenomenom described in the last update:
A spokesman for the Popular Resistance Committees told Ynet on Monday that "the army's withdrawal is an Israeli admission of the failure of its operation. We defeated the Israeli army which has already been defeated in all the other wars in Lebanon and in the Strip territories."
This is why nothing short of the absolute defeat of the terrorists will bring peace to this region.
9:07AM: A Grad rocket has struck a house in Ashkelon, with casualties being reported.
9:15AM: The IDF just struck another Qassam cell.
9:16AM: 2 more Grad rockets have landed in Ashkelon.
9:25AM: A few people have been treated for shock as a result of the Ashkelon missile attacks.
9:50AM: Would you believe Hamas Death DonkeyTM?
Few would think twice about an old Arab man driving his wagon through a copse of trees while clashes between IDF soldiers and Palestinian Authority terrorists rage in the streets of Gaza.

But the idyllic scene near the northern Gaza community of Jabalya belies an ominous reality.

The elderly Arab "civilian" and the cart pulled by his plodding donkey were carrying a cargo of death to be delivered to southern Israel. Concealed beneath the innocent load of produced piled high was a Grad missile, later used by terrorists in an attack on the Israeli coastal city of Ashkelon.
And had we taken out the missile launcher and elderly terrorist, we would have been condemned for killing a civilian.
11:55AM: What's the bet you will all be seeing this story played repetitively today:
Settler kills Palestinian teen near Ramallah

A 17-year-old Palestinian was shot to death by an Israeli citizen Monday morning near the West Bank settlement of Talmon.

The incident took place as Palestinians rioted and hurled stones near the community. Palestinians protesting the IDF operation in the Gaza Strip have been rioting in the area in recent days.
Leave it there, and I am sure many people will sympathize with the palestinian youth, murdered in cold blood by a "settler." After all, he was just throwing stones.
Now look at the Ha'aretz version of the story, which is (amazingly) more accurate.
An Israeli civilian on Monday opened fire and killed a Palestinian hurling rocks at a public bus traveling near the West Bank city of Ramallah, Army Radio reported.

The Israeli passenger killed the Palestinian using his personal weapon, according to the radio.

Other passengers said that the bus had come under rock attack by some 200 Palestinian protesters and they feared they would be lynched.
None of this "settler" garbage, and more context as to the imminent danger involved.
In any event, I personally know of a lady who was hit in the head by one of these stones thrown by palestinians. She lost half her skull, and was lucky she survived. The palestinians throw these stones to kill, and these stones are more than capable of accomplishing the task.
12:10PM: Israel reportedly removed her troops from northern Gaza because of the impending visit by American Secretary of State Condoleezza Rice.
12:43PM: Prime Minister Ehud Olmert has reportedly told Opposition Chairman Benjamin "Bibi" Netanyahu "There is nothing you are better at than distorting things."
I wonder what Bibi's comeback was, because there's a lot he could say.
12:53PM: Surprise, surprise: The Grad rockets have been produced in Iran.
1:05PM: An initial police investigation indicates that the man who killed a rock-throwing palestinian acted in self-defense. According to the report:
He was riding in a vehicle near the community of Telmon when Arabs ambushed the vehicle, placing him a life-threatening situation.

The resident fired in the air to scare off the rock throwers and then aimed at their legs when they continued to attack the vehicle. Rock thrower attack Israel cars with the intention of hitting the driver and forcing him to lose control of the vehicle and causing a fatal accident.
3:46PM: Something fishy is going on in Gaza:
Chief Palestinian Negotiator Saeb Erekat commented Monday on the end of the Israeli operation in Gaza Strip, saying that the "peace talks with Israel are suspended for now."

"We are working towards a clam in the Gaza Strip. We want to make sure that such a thing will not happen again."
6:30PM: Now it is the turn of the man wanting a repeat of the holocaust against the Jews to accuse Israel of the same things against the palestinians.
6:35PM: Joke of the day: PA President Mahmoud Abbas has offered to negotiate an "all-inclusive ceasefire" between Hamas and Israel. Which is funny, considering he isn't even talking to Hamas since they demolished his forces and took over Gaza.
6:45PM: Naomi Campbell's boyfriend rebel angel Hugo "to hell" Chavez has called the Colombian government "the Israel of Latin America." What, people are applying double standards to Columbia as well?
6:50PM: From the Department of Irony: The Grad rocket that landed next to the Barzilai Hospital in Ashkelon on Saturday narrowly missed killing two premature palestinian babies from Gaza who were admitted to the facility. In other news, Israeli hospitals are treating palestinians.
8:50PM: Since my last update, a Qassam was fired into Israel, and the IAF struck a Fatah terrorist (i.e. belonging to Mahmoud Abbas) and wounded three others.
8:55PM: The White House has blamed Hamas for causing the fighting. And the signs are promising, with an absence of calling for Israeli restraint:
Johndroe would not say whether the United States thought Israel was using excessive force. "We obviously don't want innocent civilians to lose their life," he said. "But I think that started with these rockets that have been fired from Gaza into Israel recently killing and injuring Israeli citizens in some of their bigger cities."
9:27PM: Via Reuters:
A veiled Egyptian woman cries during a protest at the Lawyers Syndicate in Cairo, March 3, 2008, against the upcoming visit by U.S. Secretary of State Condoleeza Rice and Israel's recent military offensive on the Gaza strip. Rice will be in Egypt on Tuesday for talks on the Middle East peace process and recent developments in Gaza. REUTERS/Amr Dalsh (EGYPT)
I empathize. I am also brought to tears every time Condoleeza Rice visits.
9:35PM: Ha'aretz reports that Egyptian police have arrested 13 Africans trying to cross illegally into Israel. Meanwhile, Israel has been much kinder to the Egyptian who did cross illegally into Israel.
9:58PM: Here's a particularly vile example of media bias from news.com.au: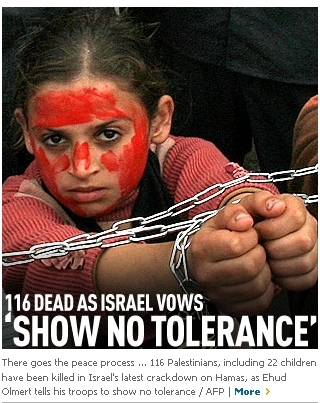 Yep. There goes the peace process now that Israel has reacted to having missiles fired in to her cities.
And the article corresponding to this photo and caption is just as bad.
Israel has vowed to keep hitting Gaza even as troops pulled out of the Hamas-run territory after clashes that killed almost 120 Palestinians and dealt a major blow to Middle East peace talks.

"We are not prepared to show any tolerance, period. And we will respond. Our reaction is not limited to a specific operation or day," Prime Minister Ehud Olmert told a meeting of his Kadima party in Jerusalem.

"The operation will not end before we achieve our goals and our first goal is a significant reduction of Qassam and Grad rocket fire against Israeli civilians," he said, referring to two types of rockets used by Gaza militants.

In northern Gaza, residents ventured from their homes to pick through the rubble after the deadliest Israeli military blitz on the territory in years.

"My whole life I have never seen massacres like this," cried Aisha Abid Rabah, 82, raising her hands to the sky as she sat on a demolished door in the northern town of Jabaliya that bore the brunt of the Israeli strikes.

The bloody assault earned Israel international condemnation for excessive use of force and caused moderate Palestinian President Mahmud Abbas to cut contacts with the Israelis shortly before US Secretary of State Condoleezza Rice was due to arrive in the region to boost the peace effort.
10:15PM: Do you remember the rock-throwing palestinians who attacked passing vehicles (1:05PM update)? Well this is how the palestinians reported their antics.
Palestinian student was killed on Monday morning after Israeli forces opened fire on a peaceful demonstration in the West Bank against the Israeli mass killings in the Gaza Strip

19-year-old Muhammad Shreitih was killed at the student rally in the village of Al-Mazra'a Al-Qibliya, near the city of Ramallah.

Palestinians across the West Bank took to the streets for a second day on Monday, confronting Israeli troops and expressing solidarity with Palestinians in the Gaza Strip.

Relatives of the deceased told Ma'an that students marched to the Israeli settlements near the village. Clashes erupted between the students and Israeli soldiers near the Talmon settlement. Shretih, a student in his third year of secondary school, was shot in the head and died on the way to Khalid Hospital in Ramallah.

A funeral procession for Shreitih is scheduled for Monday afternoon.

Israeli media reported that an Israeli settler named Moshe Benbenishti, a student in a Jewish school in the settlement opened fire at the Palestinians.
Notice how Ma'an News suggest the demonstration was peaceful and that clashes just happened to "errupt." Although they allude to their own lies by reporting that palestinians were "confronting Israeli troops."
And if you are still not sure which version to believe, have a look at the plethora of wire service photographs showing palestinians throwing stones. When was the last time they staged a "peaceful demonstration"?