The Lives He Took
With brutal murderer Samir Kuntar about to be released in a few hours, here's another reminder of the lives he mercilessly snuffed out.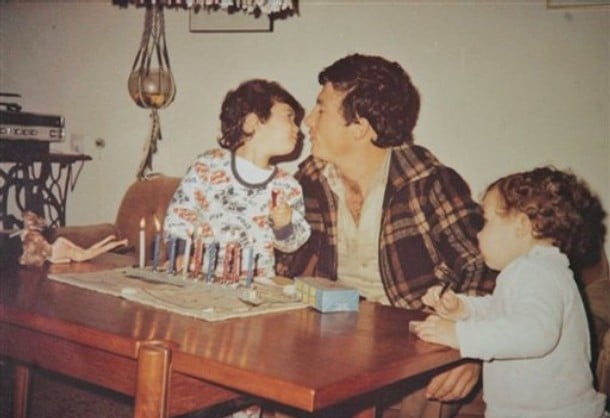 Again, I can only hope Israel was smart enough to have placed some poison in Kuntar's food, to guarantee him a slow and painful death.
Note: Props to AP for publishing this photo. I am normally very critical of their (biased) coverage, so I am more than willing to acknowledge when they get it right.
Updates (Perth, Australia time):
11:19AM: You will find here some pictures of Kuntar and friends being processed for released.
Is it just me, or does Kuntar look like Adolph Hitler after sucking on some hydrogen?
11:45AM: The IDF believes Hizbullah leader Hassan Nasrallah will leave his bunker and "make a special appearance to greet Samir Kuntar upon his arrival in Beirut."
Here's hoping this happens, and an IDF jet is there to help Kuntar and Nasrallah make a special appearance to greet Yasser Arafat and the other terrorists upon their arrival in hell.
12:22PM: Israel National News reports:
Palestinian Authority media, controlled by "moderate" PLO Chairman Mahmoud Abbas, has hailed the release of Samir Kuntar, saying the man who crushed the skull of four-year-old Einat Haran in 1979 "epitomizes the ideal Palestinian prisoner."
I couldn't agree more.
And that, my friends, tells you everything you need to know about Israel's "peace partner."
12:30PM: Ha'aretz reports that Hassan Chicken Nasrallah will apparently not attend the prisoner reception in Lebanon after all.
1:50PM: As the Jerusalem Post reports, the Regev and Goldwasser families are still hopeful their sons are still alive.
2:05PM: The exchange was supposed to happen 5 minutes, but I haven't seen anything. The Ha'aretz news ticker reports that the swap is to be delayed by one hour, citing Hezbollah`s Al-Manar TV.
2:15PM: The soldiers are reportedly now on the border, but there's no report of their condition.
2:16PM: They've been transferred to the Red Cross.
2:45PM: 2 coffins have been laid out at the border crossing.
This is a sad day for Israel.
3:50PM: Ynet reports:
Cries of horror sounded at the Regev and Goldwasser homes Wednesday, as family members witnessed the TV broadcast of the prisoner exchange, in which the coffins of Eldad Regev and Ehud Goldwasser were shown being turned over to the Red Cross.

—-

Eldad Regev's aunt, Hanna, collapsed upon seeing the images of her nephew's coffin and was attended to by Magen David Adom paramedics, which were standing by.

My heart goes out to the Regev and Goldwasser families.
4:31PM: Ma'an reports that the body of terrorist Dalal Al-Mughrabi was one of those to be returned in the swap, contrary to an earlier report from Israel's Channel 10.