Israel Strikes Back
See new post for latest updates.
I have logged on to my computer after the Jewish Sabbath and discovered that the Israeli government has finally done something it should have done a very long time ago.
We have hit Hamas hard.
According to Ha'aretz:
Israel launched Saturday morning the start of a massive offensive against Qassam rocket and mortar fire on its southern communities, targeting dozens of buildings belonging to the ruling Hamas militant group.

Palestinian medical sources said that at least 195 people had been killed in the strikes, which began with almost no warning at around 11:30 A.M.

Medical personnel in Gaza said that more than 200 people were also wounded in the series of Israel Air Force strikes. Egypt has opened its long-sealed border with Gaza to allow in the wounded for medical treatment. Hamas said that the attacks had caused widespread panic in the Strip.

The first wave of air strikes was launched by a 60 warplanes which hit a total of 50 targets in one fell swoop. The IAF deployed approximately 100 bombs, with an estimated 95 percent of the ordinance reaching its intended target. Most of the casualties were Hamas operatives.

—-

Immediately following the first wave, some 20 IAF aircraft struck 50 Palestinian rocket launchers in an effort to minimize Hamas' retaliatory strikes.

The IDF emphasized that civilians located in areas whence Palestinians launch rockets and who quarter Hamas operatives in their homes are liable to be hurt.

The targets that were hit included training camps and installations as well as police stations, some of whom were located in civilian buildings.
Ok, not quite sending the message "Don't you dare fire rockets at us" but rather "Don't you dare fire rockets at us for too long."
Despite the fact that Israel targeted Hamas facilities and most of the casualties were Hamas terrorists, world leaders predictably condemned Israel's actions, with our "friend," French President Nicolas Sarkozy, calling Israel's response "disproportionate." Then again, I guess anything short of waving a white flag is considered disproportionate to a French leader.
Meanwhile, Defense Minister Ehud Barak has indicated that this operation could continue for quite a while.

Hamas for their part say they are not backing down. And to highlight a main difference between them and us, they again targeted civilians, hitting a synagogue on the Jewish Sabbath, as well as an apartment building, killing one man and wounding at least 5 other people.
Meanwhile, Israeli Arabs leaders showed allegiance to their country. Which is apparently not Israel.
I'll try to provide updates as much as I can.

Updates (Israel time)
Saturday Dec 27th

7:43PM: Ha'aretz reports that an Israeli policeman has been lightly hurt after being run over by an East Jerusalem man in a suspected terror attack.
7:53PM:  Time posits that the reason for Israel's offensive is to "force an end to the rocket attacks from Gaza" and "to ratchet up the pressure still further in the hope that it will force a workable ceasefire."
Meanwhile, Israellycool friend Noah Pollack over at Commentary suggests that "Israel's job is not necessarily to topple Hamas rule… but to humiliate the swaggering resistance, to kill as many of its leaders and militants as possible, and to demonstrate to Hamas' allies that the IDF and Israeli government learned the right lessons from the 2006 war."
I'm more inclined to agree with Noah, although given that it has taken Israel so long to respond, and the fact we agreed to a "ceasefire" knowing full well that Hamas would rearm and replenish its supplies, it looks like we did not learn much from the 2006 Lebanon War. Although the fact we have launched air operations and not a ground offensive could possibly be tied to lessons learned from 2006.
7:58PM: Is it just me, or are some of the statements coming from world leaders more muted than usual?
Take this statement from the Vatican, which while criticizing Israel's offensive, acknowledges its efficacy:
The Rev. Federico Lombardi told Vatican Radio on Saturday that Israel's offensive will be a "very serious blow" to Hamas but could also cause many innocent victims and damage peace prospects in the Holy Land.
8:03PM: Protest nirvana: I'll have what he's having: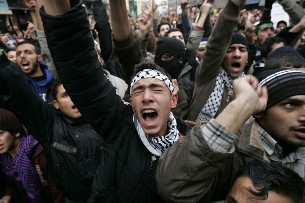 8:05PM: Brian of London informs us about some liveblogging on Twitter:
8:10PM: So far today, over 200 rockets and missiles have been fired at Israel from Gaza.
8:18PM: The palestinians have reportedly come out in force to protest Israel's assault against the terrorist organization that has been firing rockets at innocent people. Question: where have the palestinians been in recent months and years, when aforementioned terrorist organizations have been firing rockets at innocent people? I do not recall seeing even one palestinian protest terror attacks against Israel.
8:20PM: Today's Qassam victim was 58-year-old Beber Vaaknin. May G-d avenge his blood.
8:32PM: I'm guessing there will be plenty more of these after today.
8:33PM: 4 more Qassams landed in Israel a short time ago, with no injuries or damage reported.
8:48PM: Wow, I just saw that a rocket hit Kiryat Gat. That is not that far from here, and I drive past there every time we visit the in-laws.
8:50PM: In the immortal words of Ren: You eeediots!
9:08PM: Israeli Prime Minister Ehud Olmert:
"Israel has done all it could to preserve the ceasefire with Hamas, but our desire for quiet was met with terror..[Israel] "is not itching for a fight, but will not back down from one either."
9:17PM: Some really graphic photos over at the Daily Mail, that does nothing to refute the claim that terrorists were the main casualties today.
10:25PM: Israel's "peace partner" Mahmoud Abbas has condemned Israel, saying  "there are no reasons for the Israeli raids."
This, despite the incessant rocket attacks against Israel.
And that, my friends, is all you need to know about the man the international community has placed so much trust in.
10:35PM: Israel is reportedly set to mount an emergency PR effort in light of the operations against Hamas. I wonder if the government realizes the effort has already begun, without help from any government official.
11:25PM: The IDF has released aerial photos of the Hamas facilities targeted today.
11:30PM: The IDF is reportedly moving tanks to the Gaza region, perhaps signaling an imminent ground invasion.
11:45PM: Wow, if this is true, our defense establishment deserves a lot of credit.
Long-term preparation, careful gathering of information, secret discussions, operational deception and the misleading of the public – all these stood behind the Israel Defense Forces "Cast Lead" operation against Hamas targets in the Gaza Strip, which began Saturday morning.

The disinformation effort, according to defense officials, took Hamas by surprise and served to significantly increase the number of its casualties in the strike.

Sources in the defense establishment said Defense Minister Ehud Barak instructed the Israel Defense Forces to prepare for the operation over six months ago, even as Israel was beginning to negotiate a ceasefire agreement with Hamas. According to the sources, Barak maintained that although the lull would allow Hamas to prepare for a showdown with Israel, the Israeli army needed time to prepare, as well.

Barak gave orders to carry out a comprehensive intelligence-gathering drive which sought to map out Hamas' security infrastructure, along with that of other militant organizations operating in the Strip.

This intelligence-gathering effort brought back information about permanent bases, weapon silos, training camps, the homes of senior officials and coordinates for other facilities.

The plan of action that was implemented in Operation Cast Lead remained only a blueprint until a month ago, when tensions soared after the IDF carried out an incursion into Gaza during the ceasefire to take out a tunnel which the army said was intended to facilitate an attack by Palestinian militants on IDF troops.

On November 19, following dozens of Qassam rockets and mortar rounds which exploded on Israeli soil, the plan was brought for Barak's final approval. Last Thursday, on December 18, Prime Minister Ehud Olmert and the defense minister met at IDF headquarters in central Tel Aviv to approve the operation.

However, they decided to put the mission on hold to see whether Hamas would hold its fire after the expiration of the ceasefire. They therefore put off bringing the plan for the cabinet's approval, but they did inform Foreign Minister Tzipi Livni of the developments.

That night, in speaking to the media, sources in the Prime Minister's Bureau said that "if the shooting from Gaza continues, the showdown with Hamas would be inevitable." On the weekend, several ministers in Olmert's cabinet inveighed against him and against Barak for not retaliating for Hamas' Qassam launches.

"This chatter would have made Entebe or the Six Day War impossible," Barak said in responding to the accusations. The cabinet was eventually convened on Wednesday, but the Prime Minister's Bureau misinformed the media in stating the discussion would revolve around global jihad. The ministers learned only that morning that the discussion would actually pertain to the operation in Gaza.

In its summary announcement for the discussion, the Prime Minister's Bureau devoted one line to the situation in Gaza, compared to one whole page that concerned the outlawing of 35 Islamic organizations.

What actually went on at the cabinet meeting was a five-hour discussion about the operation in which ministers were briefed about the various blueprints and plans of action. "It was a very detailed review," one minister said.

The minister added: "Everyone fully understood what sort of period we were heading into and what sort of scenarios this could lead to. No one could say that he or she did not know what they were voting on." The minister also said that the discussion showed that the lessons of the Winograd Committee about the performance of decision-makers during the 2006 Second Lebanon War were "fully internalized."

At the end of the discussion, the ministers unanimously voted in favor of the strike, leaving it for the prime minister, the defense minister and the foreign minister to work out the exact time.

While Barak was working out the final details with the officers responsible for the operation, Livni went to Cairo to inform Egypt's president, Hosni Mubarak, that Israel had decided to strike at Hamas.

In parallel, Israel continued to send out disinformation in announcing it would open the crossings to the Gaza Strip and that Olmert would decide whether to launch the strike following three more deliberations on Sunday – one day after the actual order to launch the operation was issued.

"Hamas evacuated all its headquarter personnel after the cabinet meeting on Wednesday," one defense official said, "but the organization sent its people back in when they heard that everything was put on hold until Sunday."

The final decision was made on Friday morning, when Barak met with Chief of Staff General Gabi Ashkenazi, the head of the Shin Bet Security Service Yuval Diskin and the head of the Military Intelligence Directorate, Amos Yadlin. Barak sat down with Olmert and Livni several hours later for a final meeting, in which the trio gave the air force its orders.

On Friday night and on Saturday morning, opposition leaders and prominent political figures were informed about the impending strike, including Likud chairman Benjamin Netanyahu, Yisrael Beuiteinu's Avigdor Liebermen, Haim Oron from Meretz and President Shimon Peres, along with Knesset Speaker Dalia Itzik.
Brilliant.
11:45PM: I sincerely hope someone from the Israeli government is reading the comments to this post. A lot of people support us, and these are the voices that count.
11:47PM: 3 more Qassams have been fired at the Negev.
11:57PM: From Gerbils to Goebbels: Richard Gere's friend Hanan Ashrawi still has a sense of humor:
Palestinian legislator Hanan Ashrawi, speaking from Ramallah in the West Bank, accused Israel of ignoring the terms of the tenuous six-month cease-fire that expired December 19.
She clearly has contempt for people's intelligence.
Sunday Dec 28th
12:02AM:  I noticed the following from my referrer stats:
http://www.israellycool.com/2008/12/…-strikes-back/

Jew live blogging, definite partisian slant.
That was from the Ron Paul forums, naturally, which includes gems such as this:
So, let me get this straight. Someone from a military base 30 miles away, fires essentially bottle rockets, at a town 35 miles away. In retaliation the folks 35 miles away send F16 strike forces to my neighborhood and drops napalm. This is OK?
When anti-Semitism and stupidity collides.
12:10AM: Ok, folks, I'm calling it a night. Feel free to keep the discussion going in the comments, and I'll hopefully continue later this morning, Israel time.
Actually, I take that back. Hopefully, we would have finished the job by then, and there won't be a necessity to live-blog.
5:55AM: Morning folks.
Since I last posted, Israel has struck more targets in Gaza, it has been reported that we killed 3 senior Hamasholes, and a PA official did not sound too sad about Israel's operation in an interview with the Jerusalem Post.
5:56AM: Holy flying pigs, Batman! Video of Egypt blaming Hamas.
7:40AM: In yet another indication of the difference between Israel and the palestinians, Israeli Defense Minister Ehud Barak has permitted medical aid and basic humanitarian aid to enter Gaza.
7:48PAM: It looks like one of our targets has been Hamas' Al Aqsa TV station. Which means no more Farfur, Nahoul or Assud.
Oh wait, we killed them already.
7:55AM: The palestinian Ma'an News is sticking to the trusty "Israel is striking metal workshops" narrative. Based on the palestinian reporting, you would think that Gaza was the world's largest manufacturer of metal items.
They are also still referring to Qassams and mortar shells as "homemade projectiles," in an obvious attempt to downplay their lethality.
8:05AM: Australia's Deputy Prime Minister Julia Gillard:
"Clearly, we are calling on Hamas and other militants to cease shelling southern Israel. Obviously they have broken the cease-fire and engaged in an act of aggression against Israel. Israel has responded. We are echoing the calls from around the world for parties to move back to a ceasefire."
8:09AM: US representative Howard L. Berman, chairman of the House Foreign Affairs Committee:
"Israel has a right, indeed a duty, to defend itself in response to the hundreds of rockets and mortars fired from Gaza over the past week. No government in the world would sit by and allow its citizens to be subjected to this kind of indiscriminate bombardment. The loss of innocent life is a terrible tragedy, and the blame for that tragedy lies with Hamas."
8:15AM: Many Israeli schoolchildren in communities near Gaza will not be attending school today, and will instead remain in bomb shelters.
8:20AM: Anti-Israel blogger Richard Silverstein (http://www.richardsilverstein.com/tikun_olam/) does not currently seem to have anything to say about the operation. His latest post is entitled: Ouch! Toilet Seat Injuries to Little Boys Appear on Rise.
8:22AM:  Here's a good place to follow the Qassams being fired into Israel:
http://twitter.com/QassamCount
8:24AM: Ha'aretz: GOC Southern Command: IDF will send Gaza back decades
Why not send them back centuries. Then you can truly say that Israel has gone medieval on them.
8:27AM: John Belushi?
8:40AM: The UN is set to..ehhh…be the UN.
The United Nations Security Council held emergency consultations Saturday night and early Sunday on the Israeli bombings in Hamas-ruled Gaza and debated whether to adopt a statement urging Israel to halt its military operations without delay.
Here's hoping we don't listen.
8:53AM: This protester seems  a little too happy. Perhaps she belongs to Fatah?
8:55AM: The IDF estimates that Hamas still has the means for an extensive response, and are able to fire as many as 200 rockets a day.
9:05AM: Richard Landes thinks something smells at the Washington Post:
According to I*Consult, the Washington Post just published the following photo from Gaza — shot and captioned by an Arab photographer. (Hattip Barry Rubin)

The caption reads:

Palestinian children and a man wounded in Israeli missile strikes are seen in the emergency area at Shifa hospital in Gaza City, Saturday, Dec. 27, 2008. Israeli warplanes demolished dozens of Hamas security compounds across Gaza on Saturday in unprecedented waves of simultaneous air strikes. Gaza medics said at least 145 people were killed and more than 310 wounded in the single deadliest day in Gaza fighting in recent memory. (AP Photo/Khalil Hamra) (Khalil Hamra – AP)

Are the three children on the other stretcher wounded? Or dressing? Actually, if you read the text carefully, it doesn't say the children are wounded, but that they are photographed with a wounded man. My suspicion is that were there real blood on these children's bodies the photographer would have included it in his photo.
I think he has a point.
9:26AM:  London-based Arabic-language newspaper al-Quds al-Arabi reports that Egypt  "collaborated" with Israel by lulling Hamas into thinking the IDF would not attack Gaza.
9:31AM: From my inbox, and worth repeating:
Apparently, Benjamin Netanyahu gave an interview and was asked about Israel's occupation of Arab lands. His response was "It's our land". The reporter (CNN or the like) was stunned – read below "It's our land…"

It's important information since we don't get fair and accurate reporting from the media and facts tend to get lost in the jumble of daily events.

"Crash Course on the Arab Israeli Conflict."

Here are overlooked facts in the current  Middle East situation.
These were compiled by a Christian university professor:
BRIEF FACTS ON THE ISRAELI CONFLICT TODAY.

It makes sense and it's not slanted. Jew and non-Jew — it doesn't matter.

1. Nationhood and Jerusalem. Israel became a nation in 1312 BCE, Two thousand years before the rise of Islam.
2. Arab refugees in Israel began identifying themselves as part of a Palestinian people in 1967, two decades after the establishment of the modern State of Israel.
3. Since the Jewish conquest in 1272 BCE, the Jews have had dominion over the land for one thousand years with a continuous presence in the land for the past 3,300 years.
4. The only Arab dominion since the conquest in 635 CE lasted no more than 22 years.
5. For over 3,300 years, Jerusalem has been the Jewish capital. Jerusalem has never been the capital of any Arab or Muslim entity. Even when the Jordanians occupied Jerusalem, they never sought to make it their capital, and Arab leaders did not come to visit.
6. Jerusalem is mentioned over 700 times in Tanach, the Jewish Holy Scriptures. Jerusalem is not mentioned once in the Koran.
7. King David founded the city of Jerusalem. Mohammed never came to Jerusalem.
8. Jews pray facing Jerusalem. Muslims pray with their backs toward Jerusalem.
9. Arab and Jewish Refugees: in 1948 the Arab refugees were encouraged to leave Israel by Arab leaders promising to purge the land of Jews. Sixty-eight percent left without ever seeing an Israeli soldier.
10 The Jewish refugees were forced to flee from Arab lands due to Arab brutality, persecution and pogroms.
11. The number of Arab refugees who left Israel in 1948 is estimated to be around 630,000. The number of Jewish refugees from Arab lands is estimated to be the same.
12. Arab refugees were INTENTIONALLY not absorbed or integrated into the Arab la nds to which they fled, despite the vast Arab territory. Out of the 100,000,000 refugees since World War II, theirs is the only refugee group in the world that has never been absorbed or integrated into their own people's lands. Jewish refugees were completely absorbed into Israel, a country no larger than the state of New Jersey .
13. The Arab-Israeli Conflict: the Arabs are represented by eight separate nations, not including the Palestinians. There is only one Jewish nation. The Arab nations initiated all five wars and lost. Israel defended itself each time and won.
14. The PLO's Charter still calls for the destruction of the State of Israel. Israel has given the Palestinians most of the West Bank land, autonomy under the Palestinian Authority, and has supplied them.
15. Under Jordanian rule, Jewish holy sites were desecrated and the Jews were denied access to places of worship. Under Israeli rule, all Muslim and Christian sites have been preserved and made accessible to people of all faiths.
16. The UN Record on Israel and the Arabs: of the 175 Security Council resolutions passed before 1990, 97 were directed against Israel.
17. Of the 690 General Assembly resolutions voted on before 1990, 429 were directed against Israel.
18. The UN was silent while 58 Jerusalem Synagogues were destroyed by the Jordanians.
19. The UN was silent while the Jordanians systematically desecrated the ancient Jewish cemetery on the Mount of Olives.
20. The UN was silent while the Jordanians enforced an apartheid-like a policy of preventing Jews from visiting the Temple Mount and the Western Wall.
These are incredible times. We have to ask what our role should be.  What will we tell our grandchildren about we did when there was a turning point in Jewish destiny, an opportunity to make a difference?

Send this to 18 other people you know and ask them to send it to eighteen others, Jew and non-Jew–it doesn't really matter.
9:45AM: A short time ago, 2 rockets landed in Ashkelon, and 2 more in the Gan Yavne area. There are no reports of damage or injuries.
9:48AM: I am hearing IAF aircraft flying overhead right now.
9:50AM: Hizbullah have reportedly said they will not join Hamas in fighting Israel at this time.
9:57AM: Civilians in Ashdod have heard explosions.
10:00AM: The UN Security Council has said…pardon? What was that you said. WE CAN'T HEAR YOU.
10:07AM: In perhaps yet another sign that public opinion is turning, even most of the comments on Al Jazeera are showing understanding of Israel's actions. Take this one for example:
Pai Hasani
United States     28/12/2008

Hamas bring this on itself

Hamas make all Muslim look bad we should not support them. They bring this on themselves and the Palestinian people. Hamas broke the cease fire. They want armed struggle not peaceful life for Palestinians. They make all Muslim look bad.
More comments here.
10:22AM: Honest Reporting post on 4 Media Myths to Be Wary of.
10:33AM: Quick! Someone get Roseanne Barr those meds.
the higher female mind/energy

is now synthesizing fact to arrive at a solution. self replicating rna is god. we are self replicating rna!!! we are god! we can stop war and feed all of the starving, treat the mentally ill and give medical care to every one on earth with just TWO MONTHS worth of the cost it is taking to kill everything! the way of god is cheaper and it works!! let's come up with a new way to go—-barter in small communities will be the way we save ourselves. learn to grow food, store water, beans rice non perishables powdered milk and soy! anything green put into small pots and grow it indoors so we can eat it if we have to! dont forget to repent as soon as you can because the sky is falling! israel has launched ww3..armageddon…israel has launched war on civilians in ghettos living through a blockade of health care providers!!!
10:40AM: Ha'aretz reports that Defense Minister Ehud Barak stated the IDF offensive on Gaza "won't be short or easy." Naqba Dwarf reportedly asked "What's wrong with short and easy?"
10:45AM: 11 rockets have been fired at Israel so far today, with no injuries reported.
11:12AM: Mahmoud Abbas has called for a "return to dialogue." This coming frm a man whose own Fatah organization cannot talk to Hamas.
11:22AM:The IAF has reportedly attacked Hamas security force headquarters.
11:23AM: Jerusalem Post reports:
Israel also plans to allow some Palestinians wounded in Saturday's offensive on Hamas to enter Israel to receive medical treatment.
11:28AM:  Now is as good as time as ever to give to some good causes. Here are some to get you started:
And if you have any spare change after donating to one of these good causes, feel free to help support this blog.
11:30AM: While Israel is allowing some Gaza wounded into Israel for treatment, the Egyptian FM has accused Hamas of denying Gaza wounded entry into Egypt for treatment.
11:53AM: In yet another display of Israel bending over backwards to avoid civilian casualties, palestinian residents of the Gaza Strip have reported that the IDF has begun leaving voice messages their telephones. The messages say, "The Israeli military warns: IDF jets will bomb any house where weapons or rockets are found and the owner of the house will suffer the consequences."
11:58AM: Hamas has threatened Israel Foreign Minister Tzipi Livni.
12:10PM: It was remiss of me not to mention before that the rockets exploding near Ashdod represents the deepest into Israel they have reached until now.
1:05PM: The IDF plans to call up thousands of reservists. Which for people like me means relatives, friends and work colleagues.
1:09PM: A Qassam has exploded on a street next to a residential building in Ashkelon.
1:15PM: Iran has ordered Muslims to defend palestinians in Gaza. Sounds like a plan. If you are jihadi, by all means come and congregate in Gaza. We'll love to faciliate your journey to raisinville.
2:25PM: Iran compares us to Hitler. *Yawn*
2:30PM: Israeli President Shimon Peres:
It is the first time in the history of Israel that we, the Israelis, cannot understand the motives or the purposes of the ones who are shooting at us. It is the most unreasonable war, done by the most unreasonable warriors.

The story is simple. Israel has left Gaza completely, out of our own free will, at a high cost. In Gaza there is no single Israeli civilian or soldier. They were evacuated from Gaza, our settlements, which called for a very expensive cost. We had to mobilize 45,000 policemen to take out our settlers from there. We spent $2.5 billion. The passages were open. Money was sent to Gaza. We suggested aid in many ways – economically, medically, and otherwise. We were very careful not to make the lives of the civilian people in Gaza difficult. Still I have not heard until now a single person who could explain to us reasonably: why are they firing rockets against Israel? What are the reasons? What is the purpose?

And I must say also that the phenomenon about Israel is the restraint of the army and the unity of the people. The army waited and waited; the Palestinians asked for a ceasefire, and we agreed. They themselves have violated the ceasefire. Again, we didn't know why, until it came to a point where we were left without a choice but to bring an end to it. The operation was planned carefully and the army was true to its principles: namely, to be precise in its targets and careful not to hit civilian life. There is a problem because many of the bombs were stored in private houses. We have contacted the owners of the houses, the people that dwell there, and told them leave it. You can't live with bombs. We have to bring an end to the source of the bombs.

Israel doesn't have any ambition in Gaza. We left out of our free choice. We have never gone back to the idea of returning to Gaza. It's over. But we cannot permit that Gaza will become a permanent base of threatening and even killing children and innocent people in Israel for God knows why. I feel that in our hearts, we don't have any hatred for the Gazan people. Their suffering doesn't carry any joy in our hearts. On the contrary, we feel that the better they will have it, better neighbors we shall have. Now that Hamas is turning to the Arab world for help, the truth is that the Arab world has to turn to Hamas for the help of Hamas. If Hamas will stop it, there is no need for any help. Everything can come again to normalcy. Passages: open; economic life: free; no Israeli intervention; no Israeli participation in any of the turnarounds in Gaza.

As a nation, we feel united. As a nation, there is wholehearted support for the army, the way they handled it, their restraint, their discrimination, and their responsibility. The great winner can be reason, and reason will lead to peace. We are very serious, in a serious mood. Many of our children are still in the shelters, and we would like them, like the children of Gaza, to breathe fresh air again. This is the story, and whoever asks us to stop shooting – they have to change the address. Let them turn to Hamas and ask them to stop shooting, and there won't be shooting. Thank you very much.
2:32PM: Beware, the terror-nerd.
2:38PM: Arutz Sheva quotes Palestinian Media Watch (PMW) as reporting that "More than 180 Palestinian policemen were killed, including the [Police] Commander, General Tawfik Jaber." In other words, an admission that the vast majority of casualties have been Hamasholes.
2:45PM: Question: How much does Hamas leader Ismail Haniyeh cares for his people?
Answer: This much (hat tip: Elder of Ziyon, Auto-translation king).
Ismail Haniyeh of Hamas Alviade article in a speech Saturday night that the Israeli attacks will not make his back, "even if Israel destroyed Gaza."
2:48PM: Wow, Israel is on a good-decision roll, with news that Tzipi Livni appointed Israel's former UN envoy, Dan Gillerman, to head the PR campaign explaining the operation in Gaza (hat tip: Suzanne). It is no secret that I consider Gillerman to be one of our finest spokespeople.
3:10PM: Today's count of rockets and mortar shells fired at Israeli civilians stands at 40.
3:20PM: More liveblogging over at the Muqata.
3:45PM: The IAF has hit 240 targets since the start of Operation Cast Lead.
4:50PM: Ain't peace grand? Jordanian members of parliament have reportedly burnt an Israeli flag.
4:56PM: Here is video of a targeted strike of a weapons cache in a residential area.
5:33PM: One of the Elders of Moron, Desmond Tutu, has said that Israel's actions bear "hallmarks of war crimes." Methinks Tutu bears the hallmarks of morally bankrupt individual.
5:38PM: While the 2006 Lebanon War was commonly referred to as the 'Blogger War', some are already referring to this as the 'Twitter' war. And G-d knows, I've seen a lot of twits commenting.
5:43PM: Hundreds of Gazans have crossed the border into Egypt.
5:50PM: The IDF has deployed artillery batteries along the Gaza Strip border.
6:38PM: Another "I'll have what she's having" moment: Check out the protester in the background (middle).
6:48PM: Syria have stated they are suspending the indirect peace talks with Israel. You know, the talks in which Syria are asking for the Golan and are in return offering…what exactly?
6:53PM: Since when did Fox News replace the word "terrorist" with "militant"?
7:38PM: A Saudi Iman has called for attacks on Israelis all over the world.
7:45PM: Thanks to commenter DBI: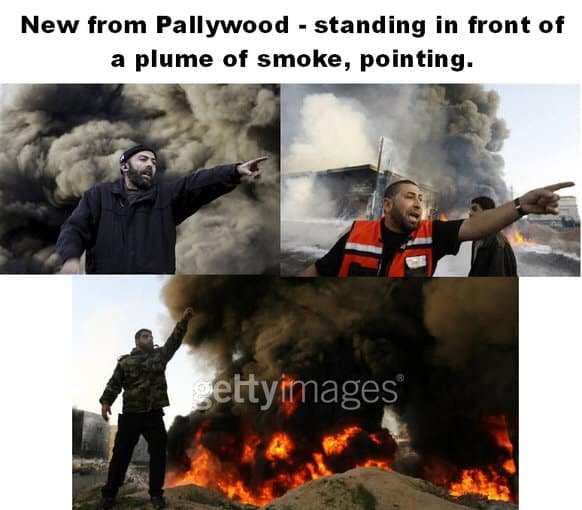 8:00PM: Oh, this should be good. The Free Gaza peace activists terror enablers are planning another voyage to Gaza.
8:15PM: Fresh from his post about toilet seat injuries (see 8:20AM update), anti-Israel blogger Richard Silverstein mourns Hamas in his latest post (http://www.richardsilverstein.com/tikun_olam/2008/12/28/gaza-the-horror/).
8:58PM:  Hizbullah leader Sheikh Hassan Nasrallah has urged Arab nations to call for the halt of the Israeli offensive in Gaza. What is interesting is he is not threatening to attack Israel.
9:55PM: The IDF is predicting that Hamas will increase its rocket attacks within the next 24 hours, possibly hitting even deeper into Israeli territory.
9:58PM: Nasrallah is saying his fighters are on alert for any possible Israeli attack on Lebanon.
10:00PM: Ok, I'm exhausted and calling it a night. I'll try to start a new liveblogging post tomorrow morning, Israel time, but will not have as much time up my sleeve as I did today.
In the meantime, if you appreciate my blogging and would like to contribute, please feel free to donate here.
Sunday Dec 28th – for latest updates, see here.