Operation Cast Lead Sun Jan 11th, 2009
For other liveblogging, see The Muqata
Another day, another post for updates on the situation here in Israel and Operation Cast Lead.
Updates (Israel time; most recent at top)

Monday Jan 12th – for latest updates, see here.
11:00PM: That's it from me for tonight.

Brian of London and NeoZionoid may continue with the updates tonight/this morning if anything major arises.
As usual, please keep the brave soldiers and citizens of Israel in your prayers. And if you have appreciated my blogging and would like to contribute, please donate here:
And don't forget to vote Israellycool for Best Middle East or Africa Blog over here (you are allowed to vote once every 24 hours).
Aussie Dave, signing out.
10:33PM: And now for footage of the booby-trapped school (see 9:13PM update)
9:58PM: Fellow anglo-Israeli blogger DoubleTapper has been called up and will be on active reserve duty.
Meanwhile, fellow liveblogger Jameel is doing a volunteer ambulance night shift tonight, due to the pressure placed on MDA and United Hatzalah volunteers.
9:36PM: A revealing interview with the usually palestinian-friendly Geraldo Rivera and palestinian UN ambassador Riyad Mansour, one of "moderate" Mahmoud Abbas' people (hat tip: CiJ).
Watch Mansour refuse to condemn Hamas' actions as terrorism, and Geraldo lose his cool.
I've said it before and I'll say it again. The difference between Hamas and Fatah is the suits. Hamas are overt in their goals, while Fatah prefer a more subtle approach. But their goals are identical.
9:18PM: The children of Hamas and Fatah.
9:13PM: The IDF today uncovered an explosive device rigged with a timer that was hidden in a palestinian school. Yes, you heard me. A school.
After neutralizing the bomb – no doubt designed to provide Hamas with some good propaganda if it went off –  the soldiers discovered weapons inside the school, including RPG launchers, grenades and AK-47 assault rifles were found inside the school.
8:56PM: UNIFIL have reportedly detained the man who fired at Israelis from the Syrian side of the border.
8:55PM: According to the IDF, we've hurt or reduced to compost40 terrorists since yesterday.
8:25PM: The IDF has begun sending reserve units into Gaza.
8:17PM: If there's one thing you should read today (besides Israellycool liveblogging), it is this piece by Ian O'Doherty.
So, it's genocide now, is it? Or is it actually another holocaust, something which one typically restrained Palestinian analyst described as "worse than Hitler's war against the Jews"?

Are we watching the ethnic cleansing of an entire people? Are we witnessing the deliberate eradication of a race?

Well, no actually, we're not.

Yet the conventional dinner party wisdom which we've had to put up with in the media, both here in Ireland and generally across Britain, is that somehow Israel is the aggressor in the rapidly worsening situation in Gaza.

Footage of air strikes with the ensuing photogenic explosions and dramatic plumes of smoke, quickly followed by clips of collapsed buildings and enraged mourners, makes far better copy than actually looking at the reasons why Israel has done what it's done.

Anyone who devotes only a cursory glance at the news, both print and television, would be forgiven for thinking that, out of spite, might and malice, Israel has decided to destroy the Palestinian people.

The problem with that conclusion — and it's not something you're going to learn from the BBC and most other outlets — is that, contrary to the currently popular belief, Israel is actually acting with a ridiculous degree of restraint.

Over the last couple of years, thousands of rockets have been landing on Israeli soil and, finally, they have had enough.

But behind that statistic there is a human dimension which tends to be rather ignored.

I know many people in the southern Israeli town of Sderot and what is remarkable about their stories is not the number or make of rockets which have fallen on them on a daily basis for years, but the psychological carnage this wreaked upon them.

One woman freely admitted to me that she hasn't had a proper night's sleep in more than two years as she and her family now basically live in their bomb shelter and it's hard to tell who she hates more — the Muslim terrorists of Hamas or the Israeli government which she thinks has abandoned them.

It's a common feeling amongst residents of southern Israeli towns who have been the silent victims of a long campaign of violence, intimidation and murder carried out by Hamas. And now, finally, that the Israelis have said that enough is enough, they are somehow meant to be the aggressors?

There are people of good conscience on both sides of this argument, but one of the main problems in this debate lies in the cowardly tendency of the Western media to apply equivalence to both sides.

Thus, Hamas is seen to be as legitimate a government as the Israelis, and its rocket attacks across the border from Gaza are seen as being part of a yet another, intractable, interminable Middle Eastern dispute.

There's just one problem with that approach — it's completely wrong.

Hamas is a fundamentalist Islamic organisation intent on the eradication of the state of Israel and all its citizens; a violent fascist regime that allows honour killings and the execution of homosexuals to continue in its sphere of influence. Bankrolled by Iran, it manages to make even Hezbollah look like a moderate organisation.

But Hamas is clever.

As a friend of mine from Sderot pointed out, one of its favourite tactics is to launch Qassams from Palestinian schoolyards — while the schools are still in session.

Hamas does this, you see, knowing that the IDF can't immediately strike back (they can vector a rocket launch site within 90 seconds) because the last thing the Israelis need is footage of a devastated Palestinian school with dead kids.

And, over the last week, we have seen carefully manipulated footage of dead civilians, with the fact that they were effectively used as human shields conveniently ignored. When Israel pulled out of Gaza — ironically, the last battalion of IDF troops to leave Gaza contained some people from Sderot — they were acceding to international and internal pressure. The doves on the Left said it was to prove to Palestinians that they wanted to give Palestinians independence, the hawks on the Right — and there are some truly scary right-wingers in Israel, even as ardent a supporter of the country as I am will freely admit that — prophesied that it would lead to carnage.

And, lo and behold, virtually as soon as the last jeep left Gaza the rockets started. And then the blockade began, and the whole damn mess started all over again.

But there's a bigger picture here, something which Israelis have been trying to broadcast to the world, but which, thanks to their spectacular inability to accurately and sympathetically portray their point of view, has not been properly transmitted. It's this — Israel is the front line of the war between democracy and Islamic fascism.

Would you rather live in a society with a free press, equal rights for women — and anyone who knows an Israeli woman will know that they're not easily suppressed, anyway — equal rights for gay people and a proud and stubborn belief in the right of the individual to lead their life in the way that they see fit or would you rather exist in a society where women who dare to speak their mind are executed, where gay people are not just shunned but murdered and where having a dissenting thought marks you out for death?

The civilian deaths in Gaza are to be mourned, and anyone who says otherwise is reprehensible. But in a sick and twisted irony, they are mourned more by Israelis than by Hamas, who know that every dead Palestinian kid is worth another piece of propaganda.

Here in the West, where we share the same values as Israel, we need to start standing shoulder with this tiny oasis of democracy in a vast desert of savagery.

To do otherwise is moral cowardice of the most repugnant kind.
8:10PM: Some stats from today:
At least 22 rockets have been fired at Israel
There have been 43 casualties of the rocket fire, four of whom were lightly injured and the rest of whom were suffering from shock.
There have been no reported IDF casualties
6:33PM: Here's the IDF video regarding the confiscated Hamas intelligence map discovered by IDF paratroopers operating in the north of Gaza a few days ago.
6:15PM: Ha'aretz reports that according to a Fatah-affiliated web site, senior Hamasholes have fled to Egypt.
6:06PM: The IAF has bombed 20 smuggling tunnels along the Philadelphi Route.
5:00PM: Now there's a good Hitler analogy.
4:57PM: 14 rockets have been fired at Israel so far today, including one which hit the house of Sderot Mayor David Buskila. While some damage has been caused and a number of people have been treated for shock, there have thankfully been no serious injuries.
3:53PM: While Madonna may have chosen Kabbalah to find inner peace, things may not be working quite as she planned.
You see, Muslim fanatics are threatening to behead her over her Jewish links.
Madonna has urgently beefed up her family's security after being targeted by Muslim fanatics seeking revenge for Israel's attacks on Gaza.

One Palestinian terrorist chief has threatened to BEHEAD the superstar who is a dedicated member of the Jewish Kabbalah sect.

Madonna is also desperately worried for the safety of her children Lourdes, 12, Rocco, eight, and adopted David Banda, three.

We can reveal the 50-year-old singer has now…

Got two ruthless Israeli former secret service agents to beef up her security.

Warned her ex-husband Guy Ritchie his home in busy central London is vulnerable to attack when he has the kids.

Told him to MOVE to a more secure pad where the children will be safe.

A source close to the singer said: "Madonna is well known for her Kabbalah faith and support for Israel, having visited the country several times.

"This seems to upset extreme Muslims who forget she respects people of all faiths whether Islamic, Christian or Buddhist. Like anyone else she would like a peaceful end to the problems in Gaza.

"But she is beside herself with worry, not just for her own safety but for that of the children."

Last week The People uncovered the hatred aimed at Madonna when we infiltrated secret fundamentalist Muslim websites. Our investigator posed as a British extremist to gain entry to the password-protected sites.

On the notorious Islambase site, a Palestinian terror leader says: "If I meet these whores I will have the honor to be the first one to cut the head off Madonna if they will keep spreading their satanic culture against Islam."

The vile threat was made by Muhammad Abdel-Al, leader of the Popular Resistance Committees – a fringe group of Palestinian militia who have launched thousands of rocket attacks on Israel.

Another misspelt rant on Islambase says: "What can be done to stop kuffars like maddona supporting the killing in Gaza?"

On another site called Ummah a fanatic naming himself Hammed10 writes: "Madonna is a disgrace.
Of course, it is not just her Jewish links that make her a target.
"She insults us with her slutty behaviour and then she insults us further with her love of the Jewish kuffar non-Muslims.
And we all know, slutty behavior never goes over too well with the Muslim fanatics.
3:43PM: The IAF has revealed that Hamas has used anti-aircraft homemade projectiles missiles against our fighter jets. Some of these prized weapons were kept in – where else – a mosque.
1:25PM: A preliminary investigation into UNRWA school building strike of last week has revealed that IDF troops missed their targets by some 30 meters, after firing at terrorists who had launched a Qassam into Israel from within a yard adjacent to the courtyard of the building.
The troops had intended to launch a smart missile to take out the Palestinian launch team but a technical malfunction made this impossible, according to the probe. The commanders of the force instead decided to fire on the Qassam team with mortar shells equipped with a Global Positioning System for accurate fire.

However, the GPS element has an error margin of 30 meters and one of the three rounds fired by the paratrooper force slammed into the building owned by the United Nations Relief and Works Agency for Palestine Refugees in the Near East, or UNRWA.
The IDF has also claimed that Hamas inflated the fatality numbers.
1:20PM: A short time ago, a Qassam landed in the yard of a house in Sderot, with a number of people suffering from shock. As you would when a FREAKIN' ROCKET LANDS IN YOUR BACKYARD!
1:10PM: Terrorists have fired 4 more rockets in to the western Negev, with no reported injuries or damage.
12:30PM: Israeli Prime Minister Ehud Olmert has vowed to press on with our offensive against Hamas in Gaza, and stated that Israel is close to achieving its goals.
My inner cynic says this means Israel will accept a ceasefire in the very near future.
11:36AM: Israellycool contributor Elder of Ziyon is trying more and more to do funny. And he's succeeding. Here's his latest effort.
11:15AM: Some more information on this morning's fierce fighting in which we sent some terrorists to paradise hell.
Israeli soldiers advanced into densely-populated Gaza City on Sunday, reportedly killing at least 10 Palestinian gunmen, as Israel pressed on with its offensive against Hamas in the coastal strip.

The location of the fighting, on the southwest side of the Hamas-ruled territory's biggest population centre, suggested Israel was intensifying a more than two-week-old offensive. Troops had previously kept to the outskirts of urban areas in Gaza.

Hamas and the smaller militant group Islamic Jihad claimed they ambushed the Israel Defense Forces troops in the city's Sheikh Ajleen neighborhood. It appeared to be one of the fiercest land battles since Israel sent ground forces into Gaza on Jan. 3.

Witnesses said earlier that Hamas militants fired anti-tank missiles and mortar bombs at advancing Israeli forces who responded with tank shells and air strikes.
But once again, the Israeli media cannot agree. Ynetnews reports that it was the terrorists who were ambushed.
Hamas  and the Islamic Jihad reported that their fighters had encountered an IDF ambush. The battle in the Sheikh Ajalin neighborhood in western Gaza may be an indication that the forces are approaching Gaza City.
11:10AM: Senior Hamas official "Chocolate" Mousa Abu Marzook has told Al-Hayat newspaper that Hamas is no longer interested in the wellbeing of kidnapped IDF soldier Gilad Shalit.
In other news, Hamas were at one stage apparently interested in the wellbeing of kidnapped IDF soldier Gilad Shalit.
10:00AM: Ten more terrorists are reportedly marinating the soil, thanks to IDF troops.
9:13AM: Since my last update, palestinians have fired more rockets at Be'er Sheva, just as eleventh and twelfth graders were instructed to return to school after nearly two weeks of suspended classes. One of the rockets directly hit a car, but thankfully no-one was injured or killed (although some people were treated for shock, and the car, a building, and electric pole sustained damage).
In other news, the IAF struck the house of Hamashole commander Ahmad Jabari, but it is unclear whether there was anyone in the building, since according to estimates "he is managing the fighting against the Israel Defense Forces from a hiding place." Oooh, the bravery…
5:56AM: Here's an Arabic video of Hamas firing a Qassam.
That cheesy Arabic background music sounds suspiciously like this.
5:48AM: The IDF Spokesperson has published this photo of a confiscated Hamas intelligence map discovered by IDF paratroopers operating in the north of Gaza (see 9:53PM update of Thursday's liveblogging post).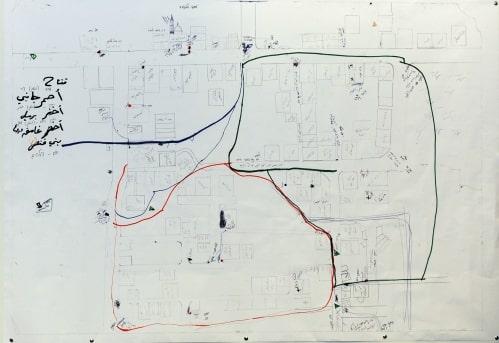 As the IDF explains:
[It]shows how Hamas uses an entire neighborhood, rigging it with explosive devices and putting the entire civilian population at great risk. The map shows the al-Tatraa neighborhood in Gaza City divided into three areas of operation (red, blue and green). The dots on the map indicate where Hamas operatives had planted a variety of IEDs (improvised explosive devices), with the colors indicating the type of IED. Additional marks show sniper positions next to mosques. Next to the entrance of the el-Tawid mosque near to Shauuda Plaza at the top left of the map there is a sniper posting with marking indicating the direction of fire marked on the map. At the bottom center of the map there is a gas station where Hamas planted an IED which, if activated, could cause a very large explosion throughout the neighborhood.

An overall study of the map demonstrates how Hamas deliberately uses civilians, using them as live targets and hiding behind them; they plant IEDs at the enterances of homes, they booby trap homes and they use places of worship, all with no regard to collateral damage or civilian lives.
5:39AM: Aussie Dave here.
Ynetnews reports that Defense Minister Ehud Barak has ordered the military to broaden its activity in the Strip, given that Hamas has suffered a severe blow.
3:10AM (Brian of London): For some of the best coverage of what's going on outside Israel at the Hamas love fests that have "spontaneously" broken out I recommend Atlas Shrugs.
ISLAMIC IMPERIALISM: VIOLENT MUSLIM HORDES DESCEND ON LONDON

UPDATE: AND FRANCE, NORWAY, GREECE, MALAYSIA, SWEDEN, BOSNIA, LEBANON, THAILAND, SOUTH KOREA, INDIA
1:15AM (Brian of London): We want PEACE! We want PEACE! We want PEACE so much we're going to smash your head in till we get it: