Operation Cast Lead Thurs Jan 15th, 2009
For other liveblogging, see The Muqata
Another day, another liveblogging post. What will today bring?
Updates (Israel time; most recent at top)
Click Refresh to show latest updates.
Friday Jan 16th – for latest updates, see here.
11:45PM: That's it from me for tonight.

Brian of London, NeoZionoid or Elder of Ziyon may continue with the updates this morning if anything major arises.
As usual, please keep the brave soldiers and citizens of Israel in your prayers.
And if you have appreciated my blogging and would like to contribute, please donate here:
Aussie Dave, signing out.
11:30PM: I'm guessing that the Italian journalist who said of Gaza "One thing seems clear. There is no lack of food and there is no hunger" (see 2:35PM update) is Lorenzo Cremonesi, the author of this article a few days ago. From what I can see, he was once kidnapped by palestinians, and has been known in Italy for his pro-palestinian writing.
And still on the subject of Italy, I received this via Barry Rubin:
Dear friends,

we didn't expect what you see now in the picture. This is the square of the Italian Parliament in Rome, Piazza Montecitorio: you can see the Palace on top of the square, and in front a lot of Israeli flags. That was yesterday night from 6,30 to 9,30 pm. What you cannot see here, is the extraordinary number and variety of members of the Parliament, about 100 from all political sides, that took the stage during our marathon: for about three hours we have been speaking about the role of Israel, its right to self defense, its moral height, its fight in name of all of us, of our civilization and values, against the wild hate of the Islamic jihad represented by hamas. It seems to me that for the first time in the too long history of the arab Israeli conflict, apart from a minority of crazy leftists and fascists that took the street on anti-Semitic slogans, we have obtained a huge consensus about one critical point: this is not an episode of a local conflict, there is nothing in it that reminds the land for peace theme that has characterized the Palestinian issue. This is an episode of the attack agains the western world, and Iran has a lot to do with it.

The change of attitude is great: the dictatorial religious nature of Hamas and the democratic, civilized nature of Israel are seen face to face for what they are al least by the European elite at large, dead and wounded notwithstanding, and there rises an identification with Israel against a regime that uses human shields and promises slaughters of jews in its chart

What happens today, at least in Italy, is the defeat and fall of the leftist ideologies: ideology has been the fig leaf that has allowed to justify all the most violent crimes and most disgusting verbal attacks. If Arafat launched the terrorist Intifada, if he promoted the martyrdom of children in public speeches, the ideologists were ready to justify him with the issues of occupation, the Palestinian misery and loss of any hope. Not the same with Hamas. History, in Italy, has brought to a profound crisis the ideology of revolution and the justification of any cruel attack against a pretended unjust imperialist order. That time is in good part over, nobody will see Hamas as the resolution of the problem and not as the problem itself. I also think that the word "peace" has lost that healing meaning that it had until yesterday. The new non-ideological point of view sees that there is no peace when one of the contenders doesn't want it, and that even if the world in the short run asks for a truce, in the long run requests a defeat of Hamas.

Well, yesterday night many people, Ministers and Members of Parliament, composed a very new, interesting puzzle of opinions. I  think that when you are not overwhelmed by exotic thirdworldism, the images of children educated as hate machines, the speeches of jihad leaders, from Ahmadinejad to Nasrallah, to Hanje, that deny the holocaust and promise death to Jewish and Christians too, have on us a result of great disgust. Westerners, thanks God, can still be disgusted by an uncivilized level of political speech.

But most of all, in the Parliament square, many of the Parliament Members said: "I love Israel". You can't imagine how many.

Fiamma Nirenstein
10:40PM: Quote of the Day:
"I'd like to chat with you about the quarrel between us over a glass of wine."
– Israeli Prime Minister Ehud Olmert to US Secretary of State Condoleezza Rice, in a phone conversatio
9:58PM: I'm getting mixed messages from Hamas.
21:11      Diplomats: Hamas offers 1-year truce if Israel leaves Gaza within week (Reuters)
19:50      Hamas official vows vengeance for killing of Interior Min. Said Siam (Reuters)
8:18PM: More on the hatred in Turkey.
8:12PM: Ain't payback a bitch? The IAF earlier struck the terror squad who fired the rockets into Be'er Sheva.
8:02PM: Relatively funny (but funny enough to include here as a break from all the serious news).
6:38PM: Fellow blogger LindaSoG has been neglecting her blogging and working on a pet project for our IDF soldiers. Please check it out here, contribute, and spread the word.
6:28PM: Ha'aretz reports that according to Egyptian television, Israel has agreed in principle to the Gaza truce plan, but has clarifications.
6:05PM: Ha'aretz reports that the IAF has apparently killed 2 senior Hamasholes, including Richard Silverstein lookalike Said Siam.
5:58PM: Amongst the seriously wounded from the Be'er Sheva rocket attack was a 7-year-old child who sustained serious wounds to his head.
5:50PM: Regarding the video of the IDF soldier who used a terrorist as a shield (10:40AM update), I am fully aware it is from over a year ago. I simply posted it to illustrate the brains and bravery of our soldiers.
5:47PM: Open letter to the world:
5:28PM: 9 wounded, 2 seriously from Be'er Sheva rocket attack.
Meanwhile, today's rocket tally stands at 24.
5:12PM: One of the rockets landing in Be'er Sheva hit a car.
5:00PM: Initial reports indicate 2 people were seriously wounded and 4 were lightly-moderately wounded.
4:56PM: Reports coming in that at least 2 Grads landed in Be'er Sheva and there are wounded.
4:55PM: Israeli PM Olmert has apologized to UN Secretary-General "Banky" Moon over today's UNRWA building strike.
"This is a sad incident, and I apologize for it, but our forces were attacked from there and the response was harsh. We did not wish for such an incident to happen, and I don't know if you are aware of this, but Hamas attacked from within the UNRWA building during our humanitarian pause in Gaza."
I am glad Olmert explained what had occurred, but he shouldn't have apologized.
Meanwhile, where is the footage? I have seen so much footage from the IDF Spox this war, yet when it comes to these highly controversial strikes, we don't have it (or we have it and we are just too slow disseminating it).
4:48PM: Code red siren has sounded in Be'er Sheva, Netivot, and Ashdod.
4:10PM: The 5 Hamasholes we killed earlier were bodyguards of Head Hamashole Mahmoud Al Zahar. Otherwise known as "the Wart" to friends of Israellycool.
Meanwhile, Arab sources claim that we have surrounded his house.
3:32PM: Further proof of our genocidal intentions.
3:15PM: Islamic Jihad p0rn (pictures found via Elder of Ziyon).
3:05PM: Israeli defense establishment officials have claimed that palestinians fired from the UNRWA compound we hit today.
Once again, I am advising the IDF Spox to get the footage showing this out now.
2:35PM: Israeli newspaper Yediot Aharonot has quoted an Italian newspaper reporter in Gaza as saying "One thing seems clear. There is no lack of food and there is no hunger."
D'uh!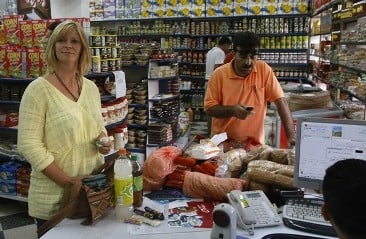 2:20PM: Earlier this afternoon, it was reported that Al-Quds Hospital in Gaza was up in flames after being hit in the fighting.
It does not take a rocket scientist (yeah, poor choice of words given what we are facing) to work out that Israel is going to be placed under even more pressure to accept a ceasefire proposal given today's events.
1:01PM: Today's rocket tally stands at 19.
1:00PM: An IAF strike has reduced 5 more terrorists to compost.
12:25PM: UNRWA official Chris Guinness is claiming that their building was hit by white phosphorus shells. And he knows this based on "military savvy" eyewitness reports. More like "propaganda savvy."
12:10PM: Israeli tanks have been shelling downtown Gaza, hitting a UNRWA site and apparently Reuters offices. There are also reports that Hamas terrorists had barricaded themselves inside a press office, using people there as human shields (If this is the Reuters office, then I would assume the people there volunteered to be human shields).
10:55AM: Israeli Defense official Amos Gilad has arrived in Cairo for talks on a truce.
10:40AM: Bravery and brains: Amazing manoeuvre by an IDF soldier (hat tip: JewishHigh).
10:23AM: IDF soldiers have been thrusting deeper into Gaza, entering residential neighborhoods as thousands of residents flee their homes.
I wonder how many terrorists dressed as civilians have fled with them.
10:00AM: More rockets landed near Gedera a short time ago, with no injuries or damage reported.
9:15AM: Israel has reportedly turned back the latest Free Gaza "aid" boat.
But as usual, Free Gaza cannot get its story straight.
Here is how Reuters reports it:
Israeli warships turned back a Greek-flagged vessel carrying aid for Palestinians in Gaza, activists said on Thursday.

Activists on board the ferry said they were returning to Cyprus after an overnight encounter in international waters in which, they said, Israeli ships threatened to open fire.

The boat carrying 21 people was intercepted about 100 miles northeast of Gaza, said Huwaida Arraf, an organiser of the mission by the U.S. based Free Gaza Movement.

"They got very close and they threatened that if we continued they would open fire on us," Arraf told Reuters from the vessel, now sailing back to Cyprus.

"They surrounded us with about four warships making it very difficult to navigate. They said they would use all means to keep us out of Gaza," she said.

Spokeswoman Karin Pally said the people on the boat decided to head back.
But a different version of events was reported in a mail I received as part of the Free Gaza mailing list.
Israel Threatens to Shoot Unarmed Civilians aboard Mercy Ship

(Mediterranean Sea, 15 January 2009) – The Israeli navy today threatened to kill unarmed civilians aboard a mercy ship on its way to deliver medical supplies and doctors to besieged Gaza.

—-

At roughly 3am UST (1am GMT), in international waters 100 miles off the coast of Gaza, at least five Israeli gunboats surrounded the SPIRIT OF HUMANITY and began recklessly cutting in front of the slow-moving civilian craft. The Israeli warships radioed the SPIRIT, demanding that the ship
turn around or they would open fire and "shoot." When asked if the Israeli navy was acknowledging that they intended to commit a war crime by deliberately firing on unarmed civilians, the warships replied that they were prepared to use "any means" to stop the ship.
In other words, Free Gaza told Reuters that about 4 Israeli warships surrounded the Free Gaza boat, while the mail to the Free Gaza list speaks of at least 5 gunboats recklessly cutting in front of them.
This discrepancy is no coincidence. There is no doubt in my mind that Free Gaza are once again fabricating events. Their goal was precisely to draw Israel into a confrontation by entering a closed military zone, and milk it for all of it's PR worth.
8:56AM: With talks of a possible ceasefire, the terrorists have already fired 15 rockets today.
In other news, 11 IDF soldiers were lightly injured overnight, soldiers killed 35 terrorists, and the IAF struck 70 targets.
6:01AM: Here are some findings of the latest national survey by the Pew Research Center for the People & the Press, conducted January 7-11 among 1,503 adults reached on landlines and cell phones (hat tip: Craig).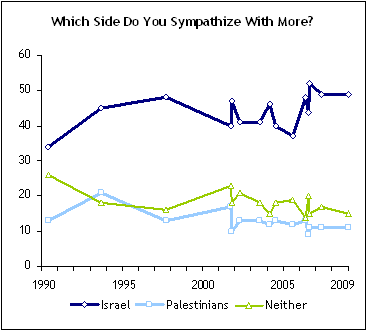 There are other statistics here.
5:49AM: Hizbullah has denied any connection with yesterday's Katushya attacks on Israel.
5:47AM: On their website, Hamas have admitted that 25 of their terrorists were killed yesterday. Which means we killed more than that.
5:34AM: A few of you have already sent me emails or left comments on this story: UNRWA has admitted to employing terrorists to work at its palestinian schools in the past, has no system in place to keep members of Hamas or Islamic Jihad off its payroll, and provides textbooks to children that contain hate speech and other incendiary information.
Ok, so no surprises there. What is news is that a bill calling for greater transparency and accountability at UNRWA, calling for their textbooks to be made available on the Internet, and the implementation of "terrorist name recognition software and other screening procedures that would help to ensure that UNRWA staff, volunteers, and beneficiaries are neither terrorists themselves, nor affiliated with known terrorist organizations" is set to be introduced before Congress in the coming weeks.
5:22AM: A senior Israeli offical has said that we will give the Egyptian-brokered ceasefire negotiations a chance, but will keep other options open. Among our demands are a halt to the rocket fire and terror, a stop to Hamas' military buildup, and the curbing of the smuggling of weapons into Gaza. Sadly (and I believe mistakenly), Gilad Shalit's release is considered a possible "bonus," rather than being defined as an objective
In addition, a memorandum of understanding between the US and Israel on security and intelligence cooperation aimed at countering the smuggling of arms into Gaza is being prepared and may be signed as early as tomorrow. In it, Israel is requesting the following guarantees:
A U.S. declaration calling on the international community to deal with the smuggling of arms from Iran to terrorist groups in Gaza
Intelligence cooperation between Israel and the US for identifying the sources of weapons
An international maritime effort along the smuggling routes to find ships carrying weapons to the Gaza Strip, possibly with the involvement of NATO
An American and European commitment for the transfer of technologies to Egypt that will help it uncover tunnels
Plans for the economic development of Rafah, with particular emphasis on the Bedouin to undercut the financial motivation for building and operating tunnels