The Day in Israel: Mon Jan 26th, 2009
Updates (Israel time; most recent at top)
Click refresh to see new updates during the day.

10:50PM: They just can't take a hint, can they? From the Free Gaza mailing list:
After talking to our partners in Gaza, many of our donors and discussing the situation in Gaza, we are announcing our next trip to Gaza during the week of March 2, 2009. We hope to bring in a cargo ship loaded with building supplies and medical equipment plus take a passenger boat as well. Over the next month, the organizers will be busy raising the funds to purchase both boats and are also going to put out a plea for building materials, especially cement, wood and PVC piping.

Derek Graham, first mate on many of the trips stated, "We need to do more this time than just send in a symbolic delegation. We need to bring in practical supplies that can be used to rebuild the Gaza infrastructure that Israel has destroyed." Derek plans on taking the project ideas to Northern Ireland at the end of January to talk to Irish sympathizers and donors.

"The Free Gaza Movement has always seen itself as a human rights organization, but we also recognize that we can bring in more than just observers. And that's why we are making sure we have the time and the money to carry in as much as we can." said Huwaida Arraf, delegation leader on many of the trips.

The Free Gaza boat, the DIGNITY, was rammed three times by the Israeli navy on December 30 while it was clearly in international waters. The movement organizers are pursuing legal actions against the government of Israel for piracy on the high seas as well as damages to the boat. Estimates range from 100 to 150 thousand euros and will take five months to repair.

"Israel rammed us, hoping to sink us. There is no other way to look at it, and those of us on the boat clearly knew it was no accident. They didn't realize how sturdy the DIGNITY is and how courageous our captain, Denis Healy was." remarked Eliza Ernshire, one of the passengers on board the crippled boat.

We now have the SPIRIT OF HUMANITY as one possibility to accompany the cargo boat, but we are also looking for a larger boat that can carry 50-75 people into Gaza. Several high-profile people have asked to go with us when the trip is ready, and we are currently collecting names if any of you have suggestions to pass on to us.

Greta Berlin
Media Team
Free Gaza Movement
310 422 7242
www.freegaza.org
For the record, there has been no proof brought forward of Israel ramming their boat. As for their claim they are a human rights organization, their silence while rockets rained down on innocent civilians in Israel, coupled with their meetings with Hamas, says it all.
8:57PM: Heh.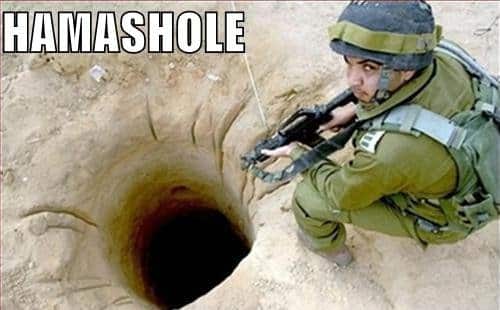 Thanks to reader Jon who has found a good use for his creative talents.
8:27PM: Jerusalem Post caption blunder of the day: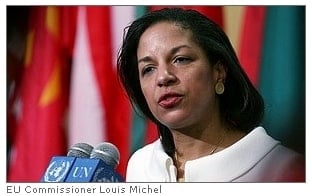 This is EU Commissioner Louis Michel.
8:00PM: Chief Elder of Moron Jimmy Carter says Hamas adhered to the ceasefire and can be trusted. He also says "some" people think Hamas is a terrorist group, implying he doesn't.
Here's the video:
6:26PM: This is how the palestinian Ma'an News has reported the statement's of the EU's Louis Michel:
EU commissioner visits Gaza, confirms Israel violated international law; calls for long-term ceasefire
Needless to say, the report does not contain any mention of Michel's outright condemnation of Hamas (see 1:17PM update), although there is a small mention of his referring to Hamas rocket attacks as terrorism.
6:10PM: Caption of the Day:
EU Commissioner for Development and Humanitarian Aid, Louis Michel photographs rubble of destroyed buildings at the Palestinian side of Erez crossing border between the Gaza Strip and Israel, in the northern Gaza Strip, Monday, Jan. 26, 2009. Michel announced 58 million euro ($74 million) in emergency aid Monday for Palestinians affected by the Israel-Hamas conflict. The Israeli assault meant to crush Hamas rocket squads ended Jan. 17 with an estimated 1,300 Palestinians dead.
You just have to love how the AP caption writer has captioned a photo of the man who today said that Hamas bears full responsibility for the war in Gaza, and has done it in such a way as to make Israel look bad.
5:56PM: Government Press Office head Danny Seaman has ripped foreign journalists a new one (hat tip: Noah Pollack).
Branding foreign journalists "spoiled crybabies" unwilling to make "a little effort" to get into Gaza during Operation Cast Lead, Government Press Office head Danny Seaman denied Sunday there had been any ban on their entry into the Strip during the battle.

"There was no ban," Seaman declared, "Israel did not want to endanger the lives of the workers at the crossings so we didn't open them, not for humanitarian reasons and not for foreign journalists."

"Those spoiled crybabies just didn't want to put a little effort in [to getting into Gaza]," he said "We never arrested anyone who went in, nor are we running after them now," which proves that it wasn't an actual Israeli policy.

"In hindsight, next time we should make it an actual policy. This week proves it. All of the reporters have been let in and they are accepting everything everyone says at face value. Maybe 3% are calling and asking for an Israeli response, or talking to the IDF spokesman. They are a fig leaf for Hamas.

"Their coverage right now is a disgrace to the profession. Instead of reporting, they are settling scores. Reporting without both sides, without a context is an abuse of the profession," he declared.
4:41PM:  Earlier today, a false rocket alert scared the **** out of people in Ashkelon.
3:42PM: Here's an Al Jizz report on the smuggling tunnels being open again for business.
See if you notice what is missing from this report. Bonus points if you notice something troubling about the reporter.
1:17PM: Oh, flying pig, you are required to report to duty:
Hamas bears full responsibility for the war in Gaza, a top EU official said Monday in the Strip, calling the group "a terrorist movement."

"At this time we have to also recall the overwhelming responsibility of Hamas," Louis Michel, European Commissioner for Development and Humanitarian Aid, told reporters.

"I intentionally say this here – Hamas is a terrorist movement and it has to be denounced as such," Michel said as he visited the town of Jabalya in northern Gaza.

"Public opinion is fed up to see that we are paying over and over again – be it the (European) commission, the member states or the major donors – for infrastructure that will be systematically destroyed," he said.
1:10PM: A continuing IDF investigation has indicated that only 250 of the 1,100-1,200 palestinian fatalities were civilians.
1:05PM: Sky News has joined the BBC in refusing to broadcast an emergency fundraising appeal for Gazans.
12:10PM: Be afraid. Bibi afraid. Egypt is warning Hamas to accept Israel's truce offer BBE (Before Bibi Era).
Officials in Egypt are attempting to persuade Hamas to accept Israel's current offer of a truce in Gaza before a far less accommodating government under Likud Chairman Benjamin Netanyahu is elected, the pan-Arab daily Asharq Al-Awsat reported Monday.

The newspaper quoted the officials as telling Hamas that surveys in Israel show the opposition leader is likely to come to power in February's general election, adding that he would form a coalition with "extremist parties."

They reportedly said that Hamas stands to "lose everything" under these circumstances.
9:38AM: From the Department of Hamas Chutzpah:
Interior Minister Meir Sheetrit rejected Sunday a requested filed by four senior Hamas members to reinstate their east Jerusalem resident ID.

"Their gall knows no limits," said the ministry, "filing such a motion when we are at war with Hamas."

The four, Deputy Hamas Prime Minister Mohammed Abu Tir, Khaled Abu Arafa, Minister for Jerusalem affairs, Mohammed Totach and Ahmed Adun – all members of the Palestinian Parliament, were arrested in June of 2006, in a security forces raid following the abduction of Gilad Shalit.

Then-Interior Minister Ronnie Bar-On revoked their Israeli resident ID.

In late November, the four petitioned the High Court and demanded their status be reinstated. The court referred them to the Ministry of Interior, and Minister Sheetrit received their motion during the Israeli offensive in Gaza.

The four men's attorney claimed that since they were no longer members of the Palestinian Parliament, there was no reason not to reinstate their IDs: "Being residents of Jerusalem means more to my clients than any other role. They have effectively ceased to be members of the Palestinian Parliament since their arrest and we ask their status be reinstated."
9:27AM: Ever wondered how to make a Hamas hero? Wonder no more!