Liveblogging the Conflict: Wed Jan 28th, 2009
I'm getting that deja vu feeling, with the IAF striking at smuggling tunnels under the Philadelphi Corridor before dawn today.
Updates (Israel time; most recent at top)
Click refresh to see new updates during the day.
11:56PM: Gorilla boy a son of monkeys and pigs? Highly doubtful, but funny all the same (hat tip: Kafir Alalazoo).
Mehdi Khazali, the son of the conservative Ayatollah Khazali, has written on his personal website that he recently learned that President Mahmud Ahmadinejad has Jewish roots.

Khazali notes that Ahmadinejad changed his family name from Saburjian, and says that the origins of the Saburjian family in the town of Aradan should be investigated.

Ahmadinejad's relatives had told Britain's "The Guardian" following his election that the family had changed its name for "a mixture of religious and economic reasons."

"The name change provides an insight into the devoutly Islamic working-class roots of Mr. Ahmadinejad's brand of populist politics," journalist Robert Tait wrote in "The Guardian." "The name Saborjhian derives from thread painter — sabor in Farsi — a once common and humble occupation in the carpet industry in Semnan Province, where Aradan is situated. Ahmad, by contrast, is a name also used for the Prophet Muhammad and means virtuous; nejad means race in Farsi, so Ahmadinejad can mean Muhammad's race or virtuous race."
11:32PM: Republican US Congressman and House Intelligence Committee Chairman Peter Hoekstra has said that there is no way and no chance to stop the Iranian nuclear program.
10:33PM: Awesome: A cartoon from 1956 that applies just as much today (hat tip: Simply Jews via Elder of Ziyon)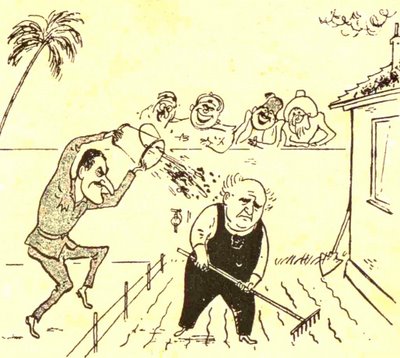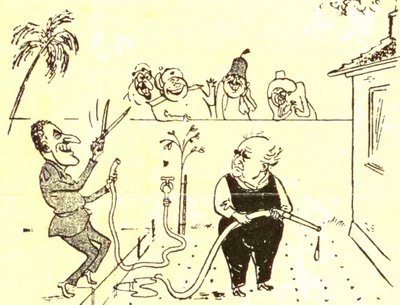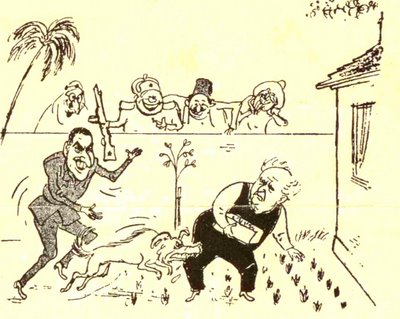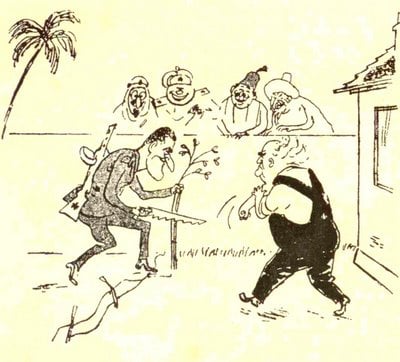 10:20PM: Hamas aren't just murderous terrorists. They are also meanies.
Dozens of Palestinian children from the Gaza Strip who were due to enter Israel for a two-week vacation were prevented from leaving the territory by Hamas officials on Wednesday, Israel said.

Most of the children were orphaned as a result of the IDF bombing during Operation Cast Lead, The Kibbutz Movement had sponsored the vacation for 47 children, who are between the ages of four and 13. The children were to be accompanied by five adults from the Strip as well as Arabic-speaking youth movement members from Israel, and were to be hosted in Kafr Kasem, Haifa and Kibbutz Sasa.

"Hamas prevented them from leaving today," said Peter Lerner, an Israeli defense official. "Hamas was responsible for letting them get out…The press was waiting at the Erez crossing for them to come. The Kibbutz Movement was waiting for them to come."

Prime Minister's Office spokesman Mark Regev said he had not previously heard about the incident Wednesday, but told The Jerusalem Post that "Hamas, through its actions, continually demonstrates that the last thing on its mind is the well-being of the civilian population of the Gaza Strip."
10:16PM: Head Hamashole Khaled Mesha'al has rejected Israel's condition that it will only reopen Gaza's border crossings after Hamas releases Gilad Shalit.
10:15PM: A short time ago, a rocket landed in Eshkol, causing no injury or damage.
8:52PM: Musical interlude: When I Blow Up (warning: music video clip contains some not-very-modestly dressed harem girls)
8:28PM: The Venezuelan government says it is proud Israel expelled its ambassador
8:17PM: Israel's channel 2 reports that a large-scale Hizbullah attack against an Israeli target in Europe was thwarted.

6:55PM: Yes, I am still here, just been very busy the last couple of hours. I noticed the comments are surprisingly non-existent today. Someone start things off.
5:15PM: While Hamas and another 7 palestinian organizations have rejected the possibility of a truce agreement with Israel that does not include "lifting the blockade" on the Gaza Strip, Israeli PM Ehud Olmert has said that the border crossings will remain closed until kidnapped soldier Gilad Shalit is returned home.
4:55PM: What came first: the chicken or the nyet?
4:06PM: Israel to Venezuela diplomatic staff: "Don't forget to turn off the lights on your way light.
And tell Hugo he's a great big poopy head."
3:48PM: In further proof of his "objectivity," IAEA (potato) head Mohamed ElBaradei has called off an interview scheduled with the BBC following the corporation's decision not to air an aid appeal for Gaza.
1:40PM: I laughed when I first saw this, only to then realize that it really isn't funny.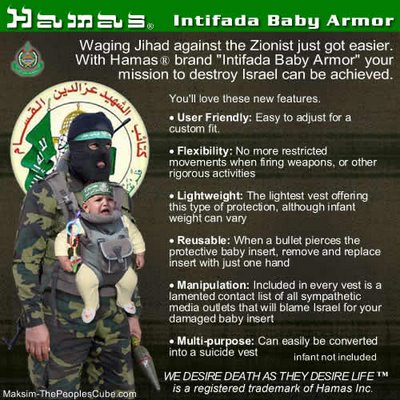 (hat tip: Martin).
11:50AM: Israel is allowing through another 200 trucks to supply humanitarian aid to Gazans.

11:20AM: This little piggy went to the market. This little piggy went home. And this little piggy started flying: UN Humanitarian Affairs Chief John "No, Not That One" Holmes has blasted Hamas for its "cynical" use of civilian facilities and interfering with the movement of humanitarian supplies.
11:05AM: A Code Red siren has sounded in the Negev, with security officials saying it was a false alarm.
10:22AM: Terrorists fired a Qassam rocket at the western Negev earlier this morning, causing no injury or damage but probably guaranteeing an even stronger IDF response.
At least I hope so.
10:05AM: A few days ago, a peaceful demonstration by pro-Israel demonstrators in Sweden was met by a group of violent, anti-Israel protesters. The ensuing hilarity was caught on film.
(hat tip: Christopher)
9:47AM: Mike Mullen, the chairman of the US Joint Chiefs of Staff, has said that the US did all it could to intercept a suspected arms shipment to Hamas terrorists in the Gaza Strip last week, but its hands were tied. He confirmed that the Cypriot-flagged ship was carrying Iranian arms, that US authorities suspected the shipment was ultimately bound for the Gaza Strip, but they had to allow the ship to continue its voyage after the search.
The ship is expected to dock in Syria this week.
6:17AM: Here is video of yesterday's roadside bomb attack on the IDF patrol, taken from the palestinian side of the border.
6:10AM: Former legal adviser to UNRWA, James Lindsay, has confirmed in a report that UNRWA employs and provides benefits for terrorists and criminals.
Lindsay's report warns that the agency has deteriorated increasingly over the years since its establishment, and that it was currently offering services to those who were not actually in need of them. "No justification exists for millions of dollars in humanitarian aid going to those who can afford to pay for UNRWA services," the report says.

He suggests UNRWA make operational changes and "halt its one-sided political statements and limit itself to comments on humanitarian issues; take additional steps to ensure the agency is not employing or providing benefits to terrorists and criminals; and allow the UN Educational, Scientific and Cultural Organization (UNESCO), or some other neutral entity, to provide balanced and discrimination-free textbooks for UNRWA initiatives."

Lindsay concludes his report by saying that only these changes would allow the agency to complete its task in the Middle East. "For the Palestinians it serves, this means ending their refugee status and returning, after nearly sixty years, to what most of them so desperately seek: normal lives," he writes.
You can download the report here (I have quoted only from the Ynetnews report to avoid potential copyright issues).
6:00AM: The interrogation of two Hamasholes arrested during Operation Cast Lead has revealed what we already knew – Hamas' cyncial use of civilians and civilian areas.
One of those is Ramzi Abed-Rabo, a 30-year-old Hamas member from Jabalya. The Shin Bet indicated he admitted under questioning that he used to watch IDF movements from his house and report about them to Hamas. He also told his interrogators about the location of Hamas weapon storage sites, in tunnels, in the homes of activists, and in citrus groves and mosques.

Another Hamas member, Subahi Atar, 27, from the village of al-Atatra in the northern Gaza Strip, told interrogators that he was a member of a Hamas security cell in the area around his village.

He was recruited by the military wing of Hamas two and a half years ago and underwent training in handling weapons, firing rockets and preparing explosive charges.

Last year, he also learned to use anti-tank missiles. Atar said that his theory instruction took place at a mosque in his village. He reportedly also admitted to helping dig a tunnel under a building which was used by the internal security service of Hamas.
5:55AM: A couple of days ago, Israel coordinated the transfer of a complete Jordanian army field hospital from the Israel-Jordan border, through Israel, and into the Gaza Strip. Here's more: