The Day In Israel: Thurs Feb 5th, 2009
Click refresh to see new updates during the day.
For other liveblogging see The Muqata.
There is still talk of Egypt and Hamas progressing toward drafting terms for a long-term ceasefire, but that a number of unresolved issues remain, such as: the length of the ceasefire, who will monitor the Rafah crossing, Israel's request to create a half-kilometer "security parameter" on the palestinian side of the border fence, and the link between the release of Gilad Shalit and the opening of crossings.
Updates (Israel time; most recent at top)
11:57PM: Following on from previous update, here's more visual proof that Free Gaza is full of excrement.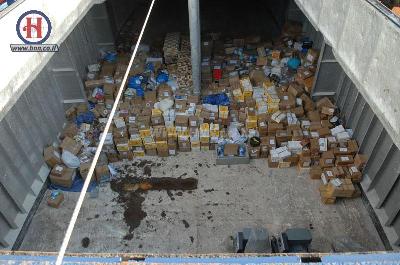 11:15PM: In my 6:28PM update on the "aid" ship we seized, I quoted Free Gaza, who claimed, amongst other things:
According to eye witnesses, the passengers were beaten and much of the boat destroyed.
With that in mind, here is footage of the "badly damaged" ship being escorted to Ashdod. Pay special attention also to the last scene of the container "filled to the top" with aid.
As I said before, these people are shameless liars.
11:02PM: IDF troops have shot and killed a palestinian terrorist who went to throw a grenade at them. The grenade exploded when the soldiers fired at him.
8:55PM: As I mentioned in my 5:33PM update, the IDF found no weapons aboard the "aid" ship. What else they didn't find on board was much aid.
The Israel Defense Forces said that troops found about 150 bottles of mineral water and a few dozen kilograms of food and medicine on board, despite earlier claims that it was carrying dozens of tons of humanitarian aid.

The Tali, a cargo vessel flying the flag of the West African state of Togo, was sent by the Palestinian National Committee Against the Siege in cooperation with the U.S.-based Free Gaza Movement. Its cargo was claimed to have included about 60 tons of medicine, food and toys, plus 10,000 units of human blood plasma which requires constant refrigeration.
Now I'll remind you of what the Free Gazans claimed in my 6:28PM update:
We are checking the status of the units of plasma loaded on board, because, if the stories are accurate that the Israeli Navy thugs turned off the generators, this badly-needed plasma will be destroyed very quickly.
It looks like they planned to blame Israel well in advance (for instance, they could claim there was no plasma on board because they were forced to dispose of it due to the generators being turned off). In fact, the trip was likely planned as a pure propaganda exercise since they knew they would not make it to Gaza.
8:03PM: Circus of the absurd: Israeli PM Ehud Olmert has approved the transfer of NIS 175 million from banks in the West Bank to Gaza. Which means Hamas did not even need to smuggle in that cash after all.
6:28PM: Regarding our seizing of the Free Gaza boat, the Free Gazans are making some very outrageous claims:
One of the Free Gaza volunteers was on this boat, the TALI, and Free Gaza organizers helped in Cyprus to get the boat inspected, then sent on to Gaza. Please make your outrage heard as, once again, Israel, the bully of the Eastern Mediterranean, gets away with piracy. On board was an elderly patriarch from Jerusalem as well as several Lebanese human rights watchers. According to eye witnesses, the passengers were beaten and much of the boat destroyed. We are checking the status of the units of plasma loaded on board, because, if the stories are accurate that the Israeli Navy thugs turned off the generators, this badly-needed plasma will be destroyed very quickly. You can follow the story in Al Jazeera English and Al Jazeera Arabic.  http://english.aljazeera.net/news/middleeast/2009/02/20092592757311355.html
Meanwhile, they still haven't provided any evidence of Israel ramming their boat from the last voyage, like they promised they would.
5:33PM: The IDF has confirmed no weapons were found on the seized Gaza aid ship.
5:02PM: The truth comes out: the Hamas delegation was stopped from leaving Egypt (4:10PM update) because they were carrying $9 million and 2 million Euros with them in their suitcases, and had refused to be searched by Egyptian authorities at the Rafah border crossing.
I wonder if they had any real intention of coming to a ceasefire arrangement, or whether it was just a cover for their little smuggling operation.
This is, of course, not the first time they have pulled a stunt like this.
4:42PM: Here's more on Arch(terror)bishop Capucci:
1974 – Archbishop and Apostolic Vicar Hilarion Capucci is found to be using his official car to run guns and other weapons to the PLO, to be used in terrorist attacks on Jewish civilians. The Archbishop is arrested, tried, convicted and sentenced to prison.

The Vatican expresses distress — not that an Archbishop should be a party to terrorism but that he should be sent to prison for it. The Vatican promises that if Israel releases the Archbishop, he will be sent to a monastery in South America and never permitted to return to the Middle East or be involved in Middle Eastern affairs. Israel accepts this promise, and releases Capucci.

Within a short time, the Vatican breaks its promise to Israel and permits Capucci to return to the Middle East and resume his activities on behalf of the PLO. When Israel points out this breach of promise, a Vatican spokesman says, "We cannot prevent him from loving the Palestinian people".

Capucci later shows up in Teheran, as an accomplice to the imprisonment of U.S. diplomats.
4:10PM: That'll Learn 'Em: Egyptian security forces have detained the Hamas delegation at the Gaza border, "apparently due to their delayed response to Egypt's truce proposal."
3:45PM: Look who's on the Free Gaza ship seized by Israel.
Military sources said that on board the vessel – dubbed the "Brotherhood Ship" – were nine people, including Greek-Catholic Archbishop of Jerusalem Monsignor Hilarion Capucci, who was arrested in 1974 after caught smuggling weapons from Lebanon to activists in the Palestine Liberation Organization.

Capuccini was sentenced to 12 years in prison, but was released after three years upon a papal request to the Israeli government. He has made frequent anti-Israel comments since his release.
Well I guess if the Catholic church can lift the excommunication of a Holocaust denier, we should not be surprised that they were instrumental in the release of a terrorist.
3:35PM: There have been reports of an IDF patrol crossing the electronic fence into the southern Lebanese border town of Blida and searching the area for almost an hour.
2:06PM: It bears mentioning that the IDF has denied firing on the Free Gaza ship.
1:25PM: Ma'an is reporting that Hamas leaders are leaving Egypt with no ceasefire agreement yet.
1:20PM: This Jerusalem Post report sheds more light on Israel's justification for boarding the ship and towing it to Ashdod.
The IDF confirmed that soldiers had boarded the ship, saying it was necessary since Israel did not know what cargo it was carrying and as it had set sail from Lebanon, a hostile country.
1:15PM: Defense Minister Ehud Barak on the (latest) Free Gaza ship incident:
Speaking in Tel Aviv, Barak said that the navy "prevented the ship from entering Gaza waters. The ship was directed to Al-Arish in Egypt, but the crew decided to turn and try again to reach Gaza." He said that "the navy stopped the ship, and it was being transported to Ashdod port."
12:25PM: According to Al Jizz, Israeli Naval Forces have intercepted and commandeered the Free Gaza ship on its way to Gaza, after having fired upon it.
Yesterday, I posted the Free Gaza claims  (11:20PM update) that Israel had threatened to fire on the ship if it continued towards Gaza.
Time will tell whether this is really what happened. Free Gaza are not known for their truth-telling, which is not surprising given they are related to the ISM, who have been known to urge their members to lie when it serves their purposes.
11:08AM: Stockholm Police yesterday arrested two terror supporters who threw a shoe and two books at Israel's ambassador to Sweden, Benny Dagan, while he was delivering an address at the city's university.
Thanks to the wonders of YouTube, I present you footage of the incident:
9:50AM: Some palestinians are claiming that we did not kill Islamic Jihad commander Abu Rub (yeah, there's another version of his name for you). Rather, we killed someone with the same name(s).
Incidentally, the palestinian Ma'an News reports that we did get our big fish.
9:44AM: Egypt and Hamas have reportedly reached a draft agreement on a ceasefire with Israel.
The representative, Salah al-Bardawil, said that the draft stipulates a year-and-a-half long truce between Hamas and Israel. It also includes the opening of all border crossings for 80 percent of goods. Israel would need to clarify exactly what type of goods it would allow in, Bardawil said.

Bardawil told the Egyptian newspaper that according to the draft agreement, the Rafah crossing would be closed from time to time. He also said that Israel rejected a proposal to station international observers on the Rafah border.
9:30AM: The IDF has killed Islamic Jihad terror commander Abu Rov/Abu Rop/Abu Rob.
Yeah, whatever his name is, he's fertilizing the soil now.
5:55AM: Here's more on Hamas' seizing of aid earmarked for needy palestinians, including their justification for such thievery.