Israeli Elections 2009: The Next Day
Click refresh to see new updates during the day.
What a cliffhanger.
What a political system.
With 99% of the votes counted, Kadima is ahead of Likud by one seat.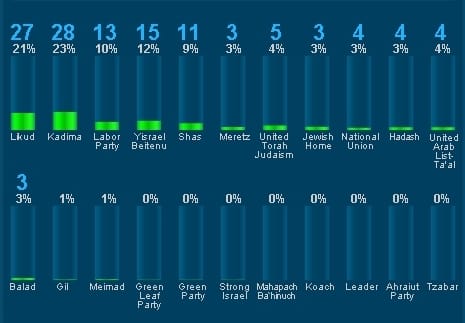 (source: Ha'aretz)
But here's the interesting thing: the right-wing bloc leads the center-left bloc 65-55, so Likud leader Binyamin Netanyahu seems to have the better chance of forming a new government.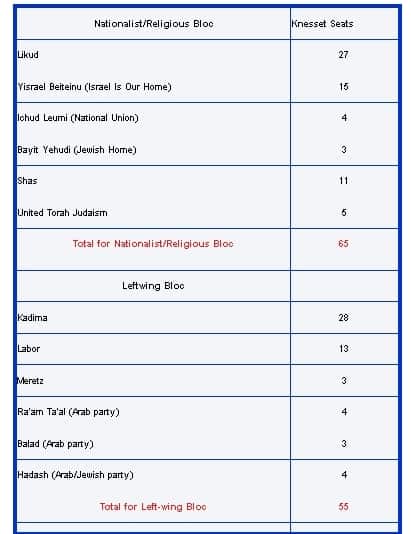 (source: Israel National News)
President Shimon Peres will ask either Netanyahu or Kadima's Tzipi Livni to form a new government. It could very well be Netanyahu who comes out on top here.
Updates (Israel time; most recent at top)
11:13PM: Rocket science.
10:51PM: Oh, this is rich.
Arab media outlets predictably received the reports of Israeli election results with little enthusiasm. Most newspapers addressed the new political reality as another step towards a dead-end in Israeli-Palestinian ties, with peace prospects diminishing.
Reminds me of the famous definition of chutzpah: the person who kills his parents and pleads for the court's mercy on the grounds of being an orphan.
8:16PM: A message to G-d from Tzipi Livni's main Hollywood fan:
hashem:

please allow livni to win.
7:53PM: Perhaps feeling left out at all the publicity surrounding the Israeli elections, the palestinians have resumed their mortar shell fire.
6:38PM: Another France 2 report with the uppity Aussie woman.
6:35PM: There is a lot of wooing going on.
6:27PM: As expected, Shas won't object to sharing the table with "Satan".
6:05PM: I've just invented a new word: Ahmadinejaded.
Usage: Pensioners Affairs Minister Rafi Eitan has lamented the fact his party was Ahmadinejaded in the elections.
Pensioners Affairs Minister Rafi Eitan on Wednesday tried to find reasons for the electoral failure of his Pensioners Party, which had won unprecedented 7 seats in the 2006 elections.

"We were wiped off the map," Eitan said.
3:43PM: According to Ha'aretz, Likud's Netanyahu and Shas' Eli Yishai have agreed on the need for a right-wing coalition. The question is: will Shas be willing to do a deal with the devil and sit in a coalition government with Lieberman?
For his part, Lieberman has indicated he is willing to join a coalition including Shas.
1:43PM: From the Department of Unhelpful Quotes:
Shas Head Eli Yishai:
"We committed ourselves before the election to recommend Benjamin Netanyahu to the president. The people's choice is a rightist government. This, of course, doesn't rule anything out."
12:40PM: Professor Barry Rubin's analysis:
There are in theory three possibilities but only one is real:

A. Likud led right-wing government. Won't happen. Bibi cannot put together six different parties including Lieberman, two religious, and two far right. They will never agree to this and it will be too unwieldy to last.

B. Kadima led center-left government.  Won't happen. It is hard to put together Kadima, Labor, Lieberman, and Shas, too. You've got the Lieberman-Shas problem; Lieberman doesn't want Bibi to call him an opportunist and eat away at his support.

So this leaves us with C. A national unity government. Kadima-Likud with one or more of the following:

Labor (around 66 seats)
Shas (around 65 seats)
Lieberman (around 68 seats)
One or more of the above.

Livni would prefer Labor; Netanyahu would probably prefer Shas or Lieberman. This can be worked out.

Here's the big issue: Will Livni agree to rotation? Did she really win? She's only one seat ahead and there are more Knesset members who prefer Netanyahu to her.  She is not going to want to agree to power-sharing.

And so this process will take at least 3 and maybe 9 weeks. In the end, I think Bibi will get what he wants: national unity with rotation. Barak gets defense ministry.

This is all messy and some think humiliating. But in reality it won't do the country much harm beforehand—the current government will continue—or afterward. I think a national unity government based on a national consensus is the best thing for Israel. Moreover, there is no huge issue likely to need deciding in the next two months.
However, if the Ha'aretz report is accurate (see previous update), Kadima wants the power sharing/rotation and it is Likud which doesn't.
12:13PM: Kadima reportedly proposed a rotating coalition power arrangement with Likud, which the latter rejected. Which tells me something about the confidence of each party in their chances to form a coalition.
10:56AM: Interesting analysis from Herb Keinon:
After the end of last week's nail-biting US Super Bowl, Kurt Warner, the quarterback for the losing Arizona Cardinals, was interviewed and graciously said that the victorious Pittsburgh Steelers won the game, but Arizona didn't lose it.

His point was clear. It was not as if his team had bungled a victory, but that Pittsburgh just played better and won.

The same cannot be said of Tuesday night's apparent razor-slim victory by Kadima's Tzipi Livni over the Likud's Binyamin Netanyahu. She did not so much win the election as have it handed to her by Israel Beiteinu's Avigdor Lieberman.

It was Lieberman – along with two other small right-wing parties, Habayit Hayehudi and the National Union – who siphoned off votes from the Likud. And it was Lieberman – apparently – who brought to Livni some Labor, Meretz and Arab party voters who were petrified by the prospect of a Lieberman-centered government.

Unlike US President Barack Obama, Livni did not run a flawless campaign. Unlike Obama, Livni did not come across as a comforting preacher-healer needed by a country in deep crisis. Unlike Obama, Livni did not excite the voters with lofty rhetoric and high ideals.

She didn't have to; Lieberman did her work for her.

The Israeli electorate spoke on Tuesday, and its message was muddled – as has been the case so often over the past 25 years.

On the one hand, it gave the nod to Livni, indicating that it did not regain its trust in Netanyahu and also that it wanted to put the brakes on what is clearly a rightward turn.

On the other hand, the voters did clearly turn right, with the right-wing bloc roundly trumping the Left, and with both Labor and Meretz losing significant ground. And there was no less a message in that than in the country's rejection, yet again, of Netanyahu.

The message in the victory of the right-wing bloc was "enough" – enough of territorial concessions that lead nowhere, enough of military restraint that only breeds contempt. And for this deterioration of the Left, Hamas, Hizbullah and Iran can claim credit.

Abroad, the strong showing of the "neo-fascist" Lieberman and the increased strength of the "hard-line" Likud will be scorned and likely analyzed under headlines such as "Heading for disaster in the Holy Land," or "Problems in the Promised Land."

But those who write those headlines and analyses do not walk in our shoes or live in our homes. And here is how that home looks 15 years after the start of the Oslo process, an expressed willingness to create a Palestinian state and a proven willingness to evacuate settlements: suicide bombers circumventing the security fence, Katyusha rockets landing on roofs, Kassam missiles flying through windows, Hizbullah trying to kick through the back door, and Iranian President Mahmoud Ahmadinejad threatening to blow up the whole house.

That's the reality that Israelis have woken up to every morning over the past 15 years, and that's the reality that shaped Tuesday's outcome.

Does that mean that the diplomatic process is over? No, but the fact that Livni will be unable to form a coalition without right-wing parties indicates that Israelis want a new direction. They feel that the current path of negotiating with a Palestinian Authority that lacks any real authority over the Palestinians is meaningless, and that Israelis want reciprocity.

Much has been written over the years about how frustrated the Palestinians are that the more than decade-old peace process has not led to any real change in their lives.

Tuesday's elections and the strengthening of the Right – even if Livni eked out a slim victory – showed that Israelis are frustrated that the more than decade-old peace process has not changed their lives for the better, and – as a result – are very skeptical of the process and looking for new directions.

Some will say that Israel did little more Tuesday than vote its fears. Bingo. And, truth be told, there is much out there for Israelis to be scared of. Indeed, there is more right now that is frightening Israelis than giving them hope.

Were Palestinian and regional Arab leaders to emerge singing from a different songbook than the one in use today, and were their actions compatible with that new song, then Israelis – who for the most part genuinely do want peace and are willing to accept a two-state solution – would, as the past has shown, embrace them.

But Israelis, as these elections showed, are becoming very wary, waiting to see whether the Palestinians and the Arab world might now rise to the occasion and change direction.
9:52AM: Just a reminder that you can go over yesterday's liveblog here if you have any specific questions about the elections and how things will proceed.
Meanwhile, here are some statistics from the liveblog session:
Writer Comments Published: 953
Reader Comments Published: 825
Reader Comments Sent: 956
Many of the comments were actually questions, so it really was a superhuman effort. Thanks again to my guests Barry Rubin and Jeremy Wimpfheimer, as well all the readers who contributed with comments and questions.
9:13AM: Knock yourselves out with the Ha'aretz election map.
7:35AM: Overall voter turnout was 65.2%, over 2% higher than in the 2006 national elections.
6:13AM: Ha'aretz explains how it works:
By law, the president must consult with all the parties as to who they prefer as prime minister, and whoever is recommended by more Knesset members is given the nod. Hence if the religious and rightist parties all recommend Netanyahu, he would get first crack at forming a government.
Meanwhile, Yisrael Beitenu's Avigdor Lieberman has stated he would wants a right-wing government. The question is: will he insist on the Defense Ministry, which Netanyahu already ruled out giving to him? And if so, will Netanyahu recant?