The Day in Israel: Tues Mar 17th, 2009
Click refresh to see new updates during the day
Israeli Prime Minister Ehud Olmert seems to be now only realizing that bloodthirsty terrorists do not always make the most trustworthy negotiation partners: his office released a statement saying that Hamas had hardened its position, gone back on understandings that had been reached in the past year and raised extreme demands in spite of the attempts to advance the negotiations.
Meaning still no deal on Gilad Shalit.
Olmert's special envoy on the prisoner exchange, Ofer Dekel, and Shin Bet chief Yuval Diskin returned from Egypt last night, and Chief of General Staff Lt.-Gen. Gabi Ashkenazi cut short his trip to the US to return to Israel. At 2PM today, a special cabinet meeting to discuss the Shalit case is scheduled to take place.
I am personally not surprised by these events. Palestinian terrorists are not known for negotiating in good faith, and Israel has come in to these negotiations seeming more desperate for a deal, despite claims of making huge gains during Operation Cast Lead. In fact, Prime Minister Olmert made clear he wanted to conclude a deal by the end of his term. Hamas likely sensed they held the whip hand, and therefore hardened their stance.
Updates (Israel time; most recent at top)
11:30PM: According to some UN officials, Muslim-backed references to 'defamation of religion' and criticism of Israel have been dropped from the Durban II draft.
Islamic countries were campaigning for wording in the draft that would equate criticism of a religious faith with a violation of human rights and would take Israel to task for its treatment of Palestinians.

The latest draft declaration, a compromise 17-page text issued by Russian working group chairman Yuri Boychenko after private consultations, omits any reference to the Middle East conflict as well as defamation of religion.

It now speaks only of concern about the negative stereotyping of religions and does not single out Israel for criticism, according to the officials.

"The document contains no reference to Israel, the Middle East or defamation of religion," said one United Nations source.

"The text goes in the right direction," an EU diplomat said.
11:28PM: Once again, some Hamasholes have been caught trying to smuggle in huge amounts of money to Gaza. This time around it was $850,000 hidden in candy tins.
11:00PM: From Ha'aretz:
Partial list of prisoners Israel refuses to free:

Ibrahim Hamed
Head of the Hamas military wing in the West Bank city of Ramallah. He was charged with planning terror attacks in which 36 Israelis were murdered,including the attacks on the Cafe Moment and Hebrew University cafeteria, both in Jerusalem.

His trial is ongoing.

Hassan Salama
Head of Hamas' Jerusalem branch, respomsible for two suicide bombings on the city's No. 18 bus in 1996 and for a suicide bombing in Ashkelon the same year.

He was arrested following the attacks and sentenced to 49 life sentences.

Abdullah Barghouti
Senior bombmaker for Hamas' military wing in the West Bank. He was convicted of planning terror attacks in which 66 Israelis were murdered and hundreds hurt, including the attack on a Sbarro restaurant in Jerusalem.

He was sentenced to 67 life terms in 2003.

Abbas Sayid
Head of the Hamas military wing in Tul Karm. He was convicted of planning terror attacks in which 35 Israelis were murdered and hundreds hurt, including the attack on the Park Hotel in Netanya in 2002.

Sayid was sentenced to 35 life terms in 2006.

Mahand Sharim
Sayed's deputy, involved in planning the suicide attack on the Park Hotel in Netanya in 2002.

Ra'ad Hutri
One of the masterminds of the attack on the Dolphinarium in Tel Aviv, which killed 22 young Israelis. He was also involved in suicide attacks in Neve Yamin and at the Bar Ilan Bridge.

Jamal Abu al-Haiga
Hamas' leader in Jenin, sentenced to nine life terms for his involvement in suicide bombings at the Hadera Mall, at the Sbarro restaurant in Jerusalm. He also planned a number of other attacks from his home in Jenin.

Muath Bilal
Sentenced to 26 life sentences for the deaths of 26 Israelis. He was involved in suicide bombings at the Mahane Yehuda market in Jerusalem and on the Ben Yehuda pedestrian mall in 1997.

Bahij Badr
Responsible for the death of 18 Israelis in suicide bombing in Tzrifin, at the Hillel Cafe in Jerusalem and in south Tel Aviv.

Partial list of prisoners Israel is willing to free into exile

Saeed Badarna
Given life sentence for involvement in suicide bombing at Hadera Central Bus Station, in which five Israelis were killed. He was also involved in shooting and bombing attacks across the West Bank.

Abed al-Latif Shakir
Fatah militant, over 50 years old, given life sentence for his involvement in the murder of Israeli Defense Forces soldier Akiva Shaltiel in 1995 and for planting an explosive device at a cinema in Tel Aviv in 1986.

Nasser Nazl
Hamas militant who sent a suicide bomber to the Bar Ilan Bridge, killing one Israeli.

Zeir al-Kilani
Given life sentence for planting explosives on Allenby Street and at the Dolphinarium Beach in Tel Aviv. He was also responsible for detonating a bomb inside a taxi at the Ben-Ami Junction, killing one Israeli.

Mohammed al-Karm
Hamas militant sentenced to 15 life terms for his role as mastermind of a suicide bombing on a Haifa bus in 2001, in which 15 Israelis died.

Walid al-Najs
Given 26 life terms for involvement in planning suicide bombings and for deploying the explosives used in attempted attacks in central Israel.

Ibramim Shmasana
Participated in the murders of the youths Ronen Karmani and Lior Tovol in 1990, and in the murder of taxi driver Rafi Doron in the same year.

Iad Shladala
Hamas activist who killed Sasson Nuriel following his kidnap in 2005.
8:52PM: Outgoing Prime Minister Ehud Olmert has said that Israel will not give in to Hamas' demands for a prisoner swap deal. He had agreed to free more than 320 of the 450 prisoners on the Hamas list, but would not agree to release those who orchestrated the deadliest bus and cafe bombings.
Meanwhile, here are the faces of the 177 Jews murdered by palestinian terrorists after the terrorists were released from Israeli prisons (hat tip: LindaSoG).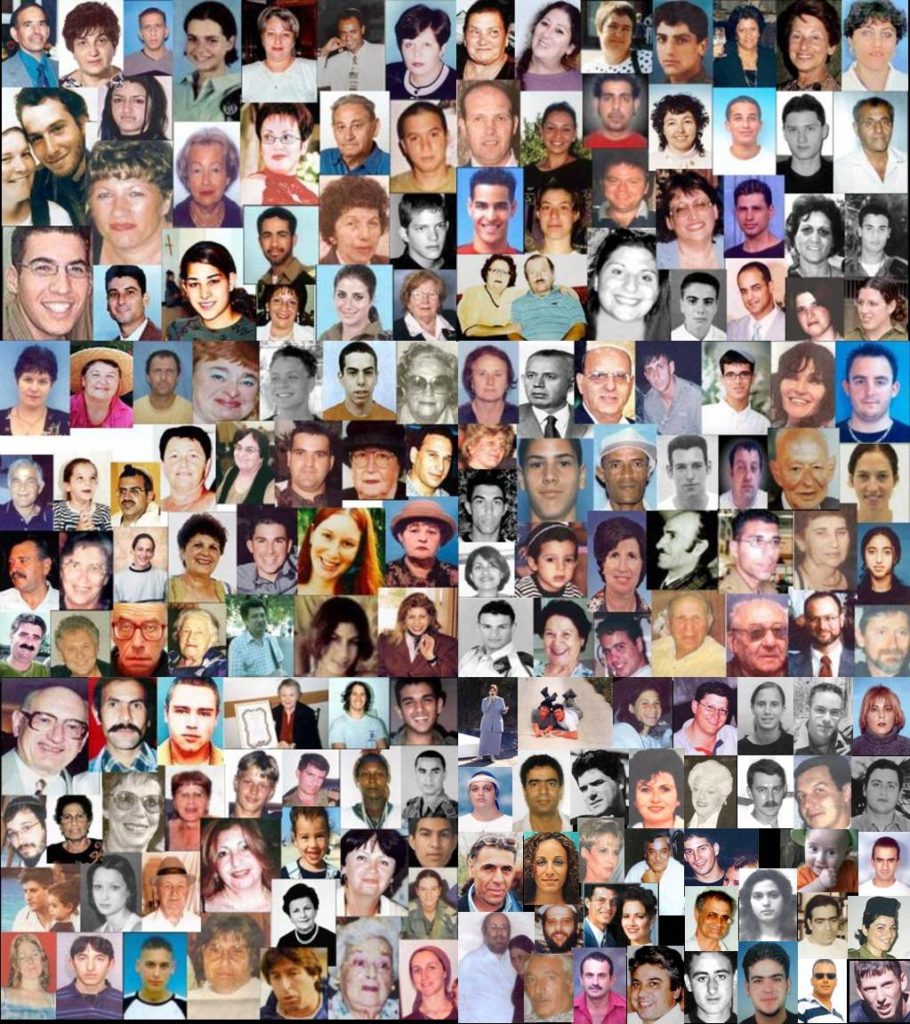 8:17PM: Here's a video report on a leftist protest against a professor at Tel Aviv University who also served in the IDF, and a counter-protest by those with brain cells.
The report is presented by perhaps the most serious looking anchor in the history of news reports.
For further discussion: what is with the leftist aversion to haircuts and showers?
7:53PM: Actual Jerusalem Post headline:
Government to brainstorm ways to force Hamas flexibility
The report deals with Israel brainstorming ways to impose "sanctions" of Hamas, including "changing the current treatment of Hamas prisoners in Israeli jails to be more equivalent to the treatment currently being received by the kidnapped soldier."
Good.
Israel will also reportedly maintain its blockade of Gaza until Gilad Shalit is freed.
Good.
Meanwhile, Gilad's father has said that Prime Minister Ehud Olmert promised to continue negotiations over a deal to release Gilad as long as he remains premier, hours after he said Olmert would not manage to secure his son's release (4:02PM update).
4:58PM: Separated at Birth? Palestinian police training, or Festivus feat of strength?
4:06PM: Introducing the Arabic version of Pacman.
I guess they should name it AIPACman?
4:02PM: Gilad Shalit's father has said that outgoing prime minister Ehud Olmert's government would not manage to secure the release of his son.
11:58PM: The palestinian Ma'an News agency is reporting as if the prisoner swap is a foregone conclusion:
Hamas will hand over captured Israeli soldier Gilad Shalit on Thursday in exchange for 450 Palestinian prisoners, Ma'an News Agency has learned.

Shalit will be transferred to Egyptian security forces, and will then be moved to the Israeli side from there, according to sources involved in the negotiations.

Meanwhile, Israel's Interior Ministry will distribute a list of names of Palestinians slated for release on Monday night at a special session of the government's cabinet.

It was not immediately clear whether the prisoner swap would include the four detainees that Israel had previously refused to release, including:

Abbas As-Sayyed – A Hamas official from the movement's military wing in Tulkarem. He is accused of planning a Natanyah suicide bombing that killed 29 Israelis and led to former Israeli Prime Minister Ariel Sharon's invasion and blockade of late Palestinian President Yasser Arafat in his Ramallah headquarters.

Abdullah Al-Barghouthi – Palestinian fighter sentenced to 67 life terms in an Israeli jail for his role in planning a number of attacks that killed at least 66 Israelis, injured 500, and destroyed millions of dollars in Israeli property.

Israeli courts have convicted the Palestinian of an attack on Hebrew University in Jerusalem, one on a Moment coffee shop, and another at the Rishon Litsyon nightclub near Tel Aviv, the latter killing 45 Israelis and wounding 370. He was also accused of smuggling explosive devices to a gas company in Jerusalem.

Ibrahim Hamid – 41-year-old Hamas militant leader in the West Bank. He allegedly planned a number of attacks against Israeli targets, leading to the deaths of more than 60 of the country's citizens, as well as hundreds injured. He was the subject of a major surveillance operation by both the Israeli Shabak and general military for years in an effort to track him down. He is from Silwad.

Ahmad Sa'adat – Head of the Popular Front for the Liberation of Palestine (PFLP). He was convicted of arranging the assassination of Israeli Tourism Minister Rahavam Ze'evi at the Hyatt Hotel in Jerusalem on 17 October 2001. Sa'adat was also convicted of overseeing a number of PFLP operations, arms dealing and incitement. He was sentenced to life in prison.
This is contrary to the Israeli media, which is reporting that the Shalit talks are deadlocked.
11:50AM: This seems to be a positive development:
Some 35 people, including many residents of east Jerusalem are currently protesting in Jerusalem's Teddy Stadium against the tractor attacks in the city.
9:42AM: Don't forget to check out the Israellycool forum (you can even subscribe to the feed). After a little over a week, there are 52 posts on 21 topics.
Amongst other topics, you will get to see an Israellycool "favorite" looking every part the fool.
9:05AM: Regular readers will be aware that I am no fan of PA President Mahmoud Abbas, and in fact believe the only difference between Fatah and Hamas is their suit collection.
As usual, I base my opinions on fact. Here is some footage of Abbas showing the kind of thing he says in Arabic, which is a barometer of his true intentions, as opposed to his pronouncements in English intended for (fooling) the West.
Note that the PLO committed to recognizing Israel, and claim to this day they did.
9:00AM: Zionist Death Life PlantTM ?
A recent Israeli study found the pace of cancerous growth may be slowed by the ingestion of antioxidants extracted from plants.

The study, led by Dr. Fuad Fares of Haifa's Carmel Medical Center, examined two groups of mice implanted with cancerous growths, one of which was injected with antioxidants and the other used as a control. The mice given the drug experienced a dramatic deceleration in cancerous growth compared to the control.

The study remain in its preliminary stages, but Fares expressed optimism at its potential implications. "The results are surprising, and encourage us to continue further," he said. "We're seeing the future in the prevention of cancer through food additives."

Fares said the extract used in the study, which has not yet been revealed, had not received much research attention in the past.

"Until now there haven't been many studies on this plant. Now we need to chemically determine the substances this plant contains," he said.

The mechanism by which the plant impedes cancer cells remains unclear. According to Fares, it seems to cause the death of cancer cells by activating certain genes.

The power of antioxidants to combat the spread of cancer is well-known. The application of antioxidants to skin is a powerful preventative measures against melanoma, and the antioxidant properties of the cocoa bean found in dark chocolate are believed to ward off cell damage that can lead to tumor growth.
Incidentally, if we do find a cure for cancer, I hope the anti-Israel and antisemitic numbskulls of the world stick to their convictions and boycott it.
6:00AM: Sickening: the anti-Israel Neturei Karta group filmed burning the Israeli flag on the recent Jewish festival of Purim.
Pay special attention to the point (from 4:50) where one of these mamzers mentions "their support for terrorism" and then clearly justifies it, not to mention their equating Israel with Amalek (from 5:30), the archetypal enemy of the Jews.
It's just a shame their sidelocks didn't catch on fire during this shameful display.
5:50AM: Israeli security forces investigating the shooting attack that claimed the lives of two police officers on Sunday and for which two terror groups claimed responsibility are convinced it was a terrorist attack.
Nice work, Sherlocks!