The Day in Israel: Thurs Mar 19th, 2009
Click refresh to see new updates during the day
Palestinians claimed two

Mahmoud Abbas

Al Aqsa Martyr Brigades terrorists are fertilizing the Gazan soil after an IAF strike.
Hamas threatened to increase its terrorist prisoner demands in exchange for Gilad Shalit if Israel goes ahead and makes life tougher for palestinian terrorists held in Israeli jails.
Israeli Prime Minister-designate Binyamin Netanyahu is to ask President Shimon Peres for two more weeks to form a government, allowing Labor time to decide whether or not the join the coalition government
Updates (Israel time; most recent at top)
10:48PM: Israel's strike on a secret Syrian nuclear reactor was reportedly precipitated by intelligence from top-ranking Iranian defector Ali Reza Asghari, a retired general in Iran's elite Revolutionary Guards and a former deputy defense minister.
10:37PM: Some other IDF soldiers who fought in Operation Cast Lead have refuted the claims of immoral conduct by other soldiers.
"I don't believe there were soldiers who were looking to kill (Palestinians) for no reason," said 21-year-old Givati Brigade soldier Assaf Danziger, who was lightly injured three days before the conclusion of Operation Cast Lead.

"What happened there was not enjoyable to anyone; we wanted it to end as soon as possible and tried to avoid contact with innocent civilians," he said.

According to Danziger, soldiers were given specific orders to open fire only at armed terrorists or people who posed a threat. "There were no incidents of vandalism at any of the buildings we occupied. We did only what was justified and acted out of necessity. No one shot at civilians. People walked by us freely," he recounted.

A Paratroopers Brigade soldier who also participated in the war called the claims "nonsense". Speaking on condition of anonymity, he said "It is true that in war morality can be interpreted in many different ways, and there are always a few idiots who act inappropriately, but most of the soldiers represented Israel honorably and with a high degree of morality.

"For instance, on three separate occasions my company commander checked soldiers' bags for stolen goods. Those who stole the smallest things, like candy, were severely punished," he said.

"We were forbidden from sleeping in Palestinians' beds even when we had no alternate accommodations, and we didn't touch any of their food even after we hadn't had enough to eat for two days."

According to a reservist who spent a week in Gaza during the offensive, the claims of immoral behavior on the soldiers' part were "fictitious".

"Wherever we were we tried to cause minimum damage," said the paratrooper, who also asked to remain nameless. "We left some of the homes cleaner than they were before we occupied them. We even cleaned a refrigerator that really stunk.

"During one incident, we were informed that a female suicide bomber was heading in our direction, but even when women approached us and crossed a certain point we made do with firing in the air, or near the women," the soldier recalled. "Even when we came across deserted stores, we didn't even think of taking anything. One soldier took a can of food, but he immediately returned it after everyone yelled at him."

Major (res.) Idan Zuaretz of Givati said "in every war there is a small percentage of problematic soldiers, but we must look at it from a broad perspective and not focus on isolated incidents.

Zuaretz, a company commander, also questioned the integrity of the soldiers who made the controversial claims, saying "if this was such a burning issue for them, why have they remained silent until now? On an ethical and moral level, they were obligated to stop what they claimed had occurred and not wait two months to be heard at some esoteric debate."

According to the officer, the IDF went to great lengths and employed the most advanced technology to avoid harming civilian population.

"I've seen a few things in my time, but even I was blown away by the level of professionalism displayed by the army," Zuaretz said. "I personally gave my soldiers an order on the day we withdrew from Gaza to leave all of our goodies in the last house we occupied. Some reservists even left an envelope full of money to one Palestinian family."
8:52PM: Despite our own water shortage problems, we have supplied fresh water to Jordan from the Kinneret after oil waste and sewage polluted the Yarmouk River.
8:28PM: Jameel posts the following on the Ha'aretz article mentioned in my 3:30PM update:
Channel 2 TV Army correspondent Roni Daniel stated at 6:30 PM this evening, that he personally tracked down one of the soldiers interviewed for the Haaretz article. Apparently the soldier's testimony to Haaretz wasn't based on anything he personally saw or witnessed, rather based on rumors and hearsay he heard (and the soldier wasn't even in Gaza!)
Another reason to wait until after the IDF's findings before jumping to conclusions.
8:18PM: The following screen shot is taken from an article on the Hamas website dealing with the visit of an Italian and Greek delegation, who affirmed their recognition of Hamas.

The reason I am posting this is the curious detail of Jimmy Carter's picture, who is not mentioned at all in the article.
Clearly, Hamas have become emboldened by his support for them, and are using his decrepid mug to remind people who is in their corner.
4:48PM: Forget the goats. The widows of terrorists are where the action now is.
Hamas is offering a $3000 reward for any man willing to marry the widow of a "shahid" (a martyr), several Arab websites reported this week.

Hamas initiated the move in an attempt to lower the number of widowed women in the Gaza Strip who lost the spouses who provided for them and their children, and in order to ease their emotional grief and financial difficulties.
Of course, it did not occur to them that another way to lower the number of widows would be to stop terrorism.
The number of widows in Gaza has grown dramatically after Operation Cast Lead. The Palestinian society regards divorcées and widows in a negative way, and young men usually refrain from marrying them.

Hamas hopes that by encouraging men to wed these women, it will be providing them with stability and a better life.

According to the report, Hamas has set a number of terms that the grooms must meet in order to receive the money: The men must be able to provide for two women or more, be religiously devout and ethical.

They are also required to allocate sufficient space in their house for the new wife, help care for her children and treat them as if they were their own.
In other words, be willing to strap a bomb belt on to them, and send them on a mission.
Meanwhile, here are some of the widows reportedly on offer.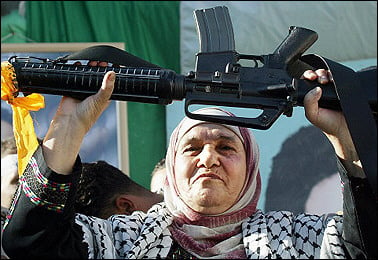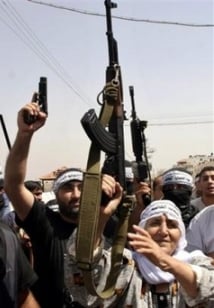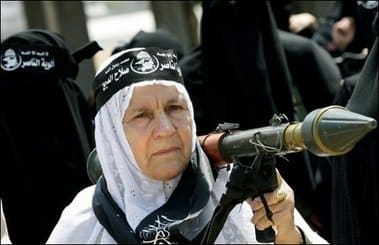 3:30PM: The Israeli news outlets are reporting this morning that a transcript from a post Operation Cast Lead conference – which included testimonies of soldiers and officers who took part – reveals that the IDF's military ethics during the Operation were not as good as was presented in official IDF reports.
You can read more about it here, here, and here.
My thoughts?

1. I would like to wait until after the IDF's investigation before passing judgment. It is the least I can do considering the IDF defends my country and protects the lives of me and my family.
2. At least the IDF conducts investigations when accusations like this are made. That seems pretty moral to me.
3. I am uncomfortable with the enthusiasm with which Ha'aretz in particular is pursuing this. I said uncomfortable, not surprised.
4. I am also uncomfortable with this becoming public knowledge before an investigation has been conducted and the findings released. If any of this turns out to be fabrication, it won't matter. This is going to cause a huge amount of damage to Israel's image.
5. The IDF still has a track record in being highly moral, and indeed tried to spare the lives of civilians during Operation Cast Lead through actions such as the dropping of leaflets and attempted pinpoint strikes.
6. If an IDF investigation finds that these accusations are true and without the presence of any mitigating factors, I unequivocally condemn the actions in question and sincerely hope that the IDF implements appropriate measures to ensure they don't happen again.
By the way, I think other pro-Israeli bloggers who have aspirations to do more than preach to the choir are shooting themselves in the foot if they ignore this news item. It is important to tackle this issue and admit that mistakes have been made if the IDF findings conclude this.
9:16AM: In a possible attempt to put more pressure on Hamas to release Gilad Shalit, the IDF has arrested 10 Hamasholes.
9:15AM: Conspiracy theory of the day: courtesy of roly poly former Lebanese Minister Wiam Wahhab, who claims the house of Saud are Joooos!
What I want to know is where is my cut of the oil profits?
8:56AM: The IDF has said that the deaths of the 2 terrorists was probably a "work accident." Meanwhile, the Reuters headline remains as is.
6:00AM: Despite the fact Israel has until now denied involvement in the killing of 2 Al Aqsa Martyrs Brigades terrorists, Reuters is currently reporting their deaths as follows:
Israeli missile kills 2 Gaza militants-Palestinians
The report itself mentions the fact Israel has denied knowledge of any military activity in the area in which the terrorists were killed, but Reuters decided to use this misleading headline anyway.
Also note how the headline mentions both "militants" (their euphemism for "terrorists") and "Palestinians", suggesting that perhaps they were civilians and not terrorists. The fact they were terrorists is not in dispute here, so a better headline would have been: Israeli missile or work accident kills 2 Gaza terrorists.
5:50AM: The palestinian Ma'an News Agency reports how PA security forces Palestine's attacked a Bethlehem judge, pointing weapons and assaulting him as he traveled to court. They were apparently trying to seize him and take him to their headquarters.