The Day In Israel: Thurs May 14th, 2009
Click refresh to see new updates during the day

Message time for Netanyahu: Apparently not willing to wait until next week's meeting with Israeli Prime Minister Binyamin Netanyahu, US President Barack Obama sent a message to him, demanding that Israel not surprise the US by striking Iran.
Meanwhile, members of the Knesset from every party in the coalition except for Labor sent a message to Netanyahu at the Knesset, warning him not to cave into Obama's calls for the creation of a palestinian state when the two meet on Monday.
And of course yesterday, IDF Chief of Staff, Lt. Gen. Gabi Ashkenazi apologized to Prime Minister Netanyahu for calling him a "poopyhead" losing his temper in Tuesday's budget meeting.
Finally, Syrian President Bashar "Dorktator" Assad plans to relay a message to Prime Minister Netanyahu regarding Syria's position on the continuation of indirect dialogue with Israel.
Updates (Israel time; most recent at top)
10:35PM: More on Perth anti-Semite Brendon O'Connell from this blogger:
Yesterday, I reported to an American audience a legal case that is widely known of in Australia. A man named Brendon O'Connell put up anti Jewish diatribes on You Tube, for which he was charged with hate crimes under Australian law. I got two replies, one to Rudistettner.com and the other on Rantrave.com. Both comments took issue with my conclusions. Both comments raise serious questions. Both comments came from members of the Perth Jewish community and offer background not mentioned in the mainstream media. Gedalia responded as follows.

"I have had a personal encounter with Brendan – not pleasant. He has physically threatened people, and is quite capable of crazy actions. I agree that a person should not be arrested for their attitude. However when that attitude is expressed in a way that is potentially harmful (in a very real sense) to other people, then the situation changes. As the article notes, only 2 people have been charged under this legislation, showing that it is only applied in instances of absolute necessity. You only need to watch his latest video posting to see that in this case, the charge was quite justified"

On Rantrave.com, Perthguy posted the following reply.

"And I have news for you. Hate crimes have taken place. This lunatic has threatened the lives of men, women and children in the Jewish community, personally, by phone and email. On the very night he was charged, he rang a Perth based Jewish centre and told them he was coming around to "finish them off". The centre, which was full of children, had to have a police guard. This is beyond harassment. This guy hasn't just made videos out of the blue in the background, like the media is making out. He's being assaulting and threatening to kill Jews, in person, by email and by telephone, for almost a decade."
7:52PM: PM Netanyahu has turned down "Beaver" Abdullah's request to endorse a two-state solution, saying:
"I am aware of the need to promote negotiations with the Palestinians and intent to hold [separate] negotiations on diplomatic, security and economic [issues] negotiations, not one of which will come at the expense of the other..I believe in changing reality on the ground."
6:20PM: Today's "special mission" is brought to you by Hamas.
One fighter from Hamas' military wing the Al-Qassam Brigades was killed Thursday morning on what leaders described as a "special mission" east of Khan Younis.

A statement from the group identified the slain man as 20-years-old Khalid Al-Ghalban from Khan Younis. They noted his death was mourned.
5:33PM: The Beaver has pressured PM Binyamin Netanyahu to commit to a two-state final solution.
5:08PM: For the Lost fans (like me): Zionist Lost Miniatures of Death.TM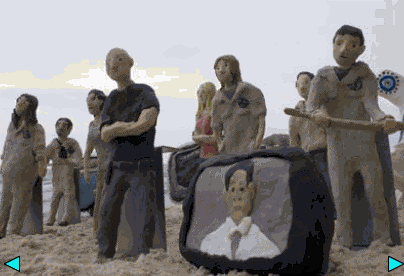 4:26PM: Ha'aretz finally cottons on to our little Perth-based anti-Semite.
3:30PM: I'm not sure what to make of this cartoon from The Times, but I'm sure it's not good.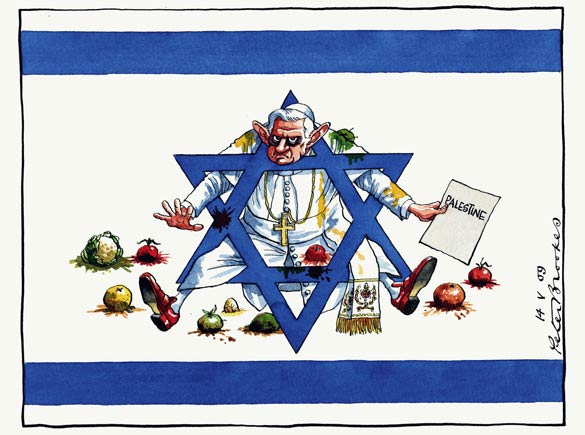 1:30PM: Enter the anti-Semitic moron brigade.
For your information, my mum does not post on your forums. But keep digging.
Also, I made pretty clear that I do not take credit for your anti-Semitic friend's predicament, but am glad I was able to spread the word. And while I do not think he should go to jail merely for expressing his vile opinions, he did verbally and physically assault some young men, and for that he should be punished severely
P.S I love how you claim to know what G-d wants. Why don't you go look at a bible (assuming you have one, or can find it tucked away behind your copies of Mein Kampf), and read Genesis 12:3 where G-d says to Abraham:
"I will bless those who bless you, and those who curse you I will curse."
12:25PM: Bibi has met the Beave in Aqaba.
12:22PM: Andrew Bolt – who condemned the video of Perth anti-Semite Brendon O'Connell – has this to say about the charges laid against him.
I damned the video, and worry about the intellectual culture that's now licencing Jew-hatred. But I'm not entirely easy about what's happened to that film-maker…

That this man was scorned so comprehensively was the most important and necessary reaction. But calling in the law to silence him? It's not just an attack on free speech, but may also prove counterproductive, elevating an object of ridicule into a martyr.
I think Andrew has a point, which is why I have repeatedly asked those who can help establish the case of assault and battery to please step forward.
12:15PM: MOAD (Mum of Aussie Dave) has sent me the following letter, which was published in Perth's Maccabean (the Jewish newsletter):
Dear Editor..what is happening in our beloved Australia? Besides being the victim of numerous break-ins, I have now been verbally accosted by racially motivated, extremely angry, total strangers. Just outside Fresh Provisions in Mt. Lawley, a man thrust some sort of leaflet at me, demanding that I take it.  When I saw the "Boycott Israel" content, I refused.  A woman tried to convince me to take it.  I reached my car, anxious to leave, but the man kept shouting, "slaughter, Slaughter!  What are you going to do about it!" He became agitated and aggressive, and when I told him that there were two sides to the story, it obviously inflamed his hatred and anger.  "You're a Jew!" He screamed pointing his accusatory finger almost in my face.  I feared he was going to physically attack me, and was totally shaken up when I finally managed to get into my car and lock the doors.

From my window I saw them aggressively approach another passerby.  I drove home in tears.  This shouldn't be happening in Australia.  I do agree with freedom of speech, but this verbal racially motivated attacked crossed the line.

Again, I ask the question, "What is happening to our beloved Australia?"
6:00AM: The arrest of Perth anti-Semite Brendon O'Connell has now made AP. And there is some more information regarding the charges.
Detectives acting on a tip from the public arrested the man at his home Wednesday and charged him. He was released on bail, Usher said.

The video shot recently at locations around Perth "contained content that was targeting a specific religion including threats to harm specific persons," Usher said.

The video has since been removed from YouTube.

Police have not specified the religion. But the Perth-based newspaper The West Australian said Jews were targeted.

The newspaper said the 10-minute video showed the man say to the camera "your days are numbered" and "I will put you in the camps with the rest of them."

He is also shown taunting a Jewish man outside a shopping center and calling him a "racist, homicidal maniac," the newspaper said.
Firstly, the reference to "a tip from the public" could indicate that they did not learn about it from this or any other blog (although as I mentioned yesterday, the added exposure may not have hurt).
Secondly, the police clearly have the video, and seem to be focusing on his verbal assault against the two young Jewish men. Surely, they also witnessed his admission to striking one of them.
5:45AM: How does something like this happen?
A one-year-old toddler was rushed for medical treatment in a critical condition after she was left alone in a swelteringly hot car for three hours in the southern town of Kiryat Gat.

The child was first taken for treatment to the local Magen David Adom emergency services station. She was later brought to Ashkelon's Barzilai Medical Center, suffering from dehydration. Her condition improved after receiving care at the hospital.

The infant's parents fainted upon discovery of their child, after which they too required medical care.

The toddler's father is suspected of having forgotten to drop her off at her daycare center. The girl's mother arrived three hours later at the car, in which temperatures h had reached 40 degrees Celsius, and found the girl unconscious.
As a father to four children, I simply cannot understand how the father forgot his daughter in the car.
Meanwhile, here's footage of the mother returning to the car and suddenly realizing her baby daughter is not breathing.
Let's pray the baby girl makes a full recovery.