Click refresh to see new updates during the day
Israel did eventually respond to yesterday's Qassam and mortar attacks early this morning.
We bombed a smuggling tunnel.
New Prime Minister, same lame responses to terrorism.
Updates (Israel time; most recent at top)
10:33PM: Welcome to Gaza, the only concentration camp in the world with a horse club.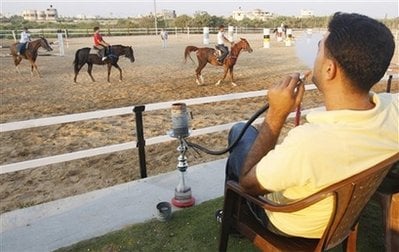 A Palestinians man smokes a water pipe as others ride horses during a training session at a horse club in Gaza City, Monday, Aug. 10, 2009. (AP Photo / Hatem Moussa)
7:00PM: Ynet has interviewed Uri Davis, Fatah's "only Jewish candidate running for office" (who should not be called Jewish since he converted to Islam -ed), probably because they realized they had to make up for the fact that bloggers like me beat them to the story.
In the interview, Davis defends terrorism against Israel:
"I distinguish between armed struggle against the occupation and terrorism. Armed struggle against the occupation is not directed against civilians, but against those wearing uniforms in occupied territory.
Which is all well and good, except Fatah – through their own Al Aqsa Martyr's Brigades, as well as the enablement of other terror groups – has perpetrated terrorist attacks against men, women and children clearly not "wearing uniforms" and in territory not commonly referred to as "occupied."
Davis also explains that Fatah and Hamas are way different.
According to him, there is a fundamental and ideological difference between the two movements: "The Fatah movement believes in universal values and is not a fundamentalist movement. Fatah does not condition membership in its ranks on ethnic origins or the citizenship held by its members, among whom there are both Arabs and non-Arabs."

—-

"Fatah is committed to the values mentioned in the Universal Declaration of Human Rights and all the UN resolutions. There is a significant ideological difference between Fatah and Hamas, which stands for Islamic sharia law and seeks a regime based on it," explained Davis.
Notice one difference he does not mention – that Hamas wants to destroy Israel and Fatah does not. Because the two movements actually agree on this goal, albeit using different tactics.
6:25PM: PMW brings us yet more evidence of PA incitement against Israel.
While Israel demands that the PA recognize Israel as a Jewish state, the official Palestinian Authority news agency has responded with a vicious anti-Semitic article stating that a Jewish state (literally "Jewishness of a state") is by definition inherently racist and endangers all humanity.

The PA is accusing Israel of ethnic cleansing of Arabs and Palestinians, and says this policy of the "Jewish state" endangers global security.

In addition, the political editor of the WAFA news agency writes that Israel is waging a war "aimed at eradicating Palestinians, with slogans first, then by practice." He says that Israel aims to eliminate "everything related to Arabism" and replace it with a "racist state" based on Judaism.

He calls upon the international community, which has already banished other racist regimes, to stop the development of this "theocratic regime."

The following is the full article by the political editor of WAFA:

"The Jewish State, or People, or Land is a synonym of the black nightmare of Racism. It is a war waged on us; a new war aimed at eradicating Palestinians, with slogans first, then by practice. Such a practice is the most dangerous in this land's history; Exile, or 'Transfer' and eliminating everything related to the Arabism of this homeland, which has witnessed years of organized transfer of its people. Are we now witnessing our complete, final expulsion?

"We still do not understand, and we have not learned the lesson. We merely repeat our reactions, and every time they escalate their actions, we respond as they [Israelis] want us to respond. Protest alone will not change or influence things, because it is devoid of roots and flows not from a united people, but rather from streams, groups and divided parties… fighting for government that is not worthy of being called government. We are still under occupation; we are still ruled, in every aspect of life: livelihoods, sovereignty, and decision….

"If we do not wake up, perhaps we will be outside of our homeland and without residence.

"The Jewish State is clear in its objectives, even implementation and application. It means eliminating 20 per cent of the Jewish entity's citizens; Arabs and Palestinians. It probably means forcing them out; transferring them.

"Those who are calling for the Jewishness of 'the State' are performing a political act… whose fundamental aim is the complete closure of the right of return. And it is not only the right of return that is being rejected here: Also prohibited is the remaining of the Palestinians who are upon their lands and forbidden houses in the Galilee and in the Triangle and in the Negev and in Jerusalem, as a 'first stage,' and in every place where there are Palestinians.

"In terms of all this, should we expect that they are deliberately trying to violate the inalienable right of return, considered a priority on the negotiations agenda, by the United Nations and its Security Council?

"A Jewish state endangers not only Palestinians, but also the Arab World, and the global security. It is a call for legitimizing a racist entity, built on pure ethnic and theocratic criteria. They apparently think that they are a race, and they want a racist state! All of this doesn't end with the Palestinian issue; it becomes a general [international] matter, which raises the question:

"Will the present international system, with its modernity and development, and after banishing the racist entities, allow the development of a theocratic regime, successor of racist regimes that have disappeared, where anyone who does not recognize it cannot live there?"
1:28PM: Meet the palestinian who is the anti-Michael Scofield.
What does it take to get arrested in the West Bank? A lot if you are Amin Amaro, a 30-year-old Palestinian from Hebron.

Amaro, whose trial will begin later this month at the Ofer Military Court near Jerusalem, wanted so badly to get arrested that he sent a death threat to Prime Minister Binyamin Netanyahu, and then when he wasn't arrested, asked a soldier at a roadblock to lie and say that he had tried to stab him.

The motive? Amaro told police that he wanted to be arrested since he didn't get along with his father and brother, didn't have a job and missed his friends who were already in Israeli prisons.

The story began in late June when Amaro went to the Hebron Public Library and sent a fax to the Prime Minister's Office in which he threatened Netanyahu that his days "are numbered" and that soon he would be killed. Amaro signed the letter with his name and ID number.

But several days later, after no one came to his house to arrest him, Amaro became impatient.

"I waited for the Shin Bet to come and arrest me and several days went by, but they didn't come," Amaro said in a signed affidavit presented to the Ofer Military Court. "So I thought that I had no choice but to take a knife and go stab a settler so the Shin Bet would have to pay attention to me."

On July 17, Amaro left his home in Hebron armed with a 10-cm. knife and traveled to the Gush Etzion junction with the aim of stabbing a settler. He spotted a female civilian standing next to two soldiers, so instead he approached one of the soldiers.

"I told the soldier to call his commanders and say that he captured a Palestinian armed with a knife," Amaro said in his signed confession. "The soldier refused to lie and said that he would tell the police what really happened."

That was finally enough, though, for the IDF and the soldier called the police who then arrived at the scene and arrested Amaro. He is being charged by the IDF Prosecutor's Office with threatening Netanyahu, attempted assault and obstruction of justice.
1:00PM: Proof that Jews legally purchased rights to land in east Jerusalem, from the PLO website, no less.
The Executive Committee of the Greek Orthodox Conference in Jerusalem slammed the deal which was signed between the ousted Patriarch, Erenius, and an Israeli settlement company, in which the company was granted the "right" to build on and use church lands.

The Committee demanded the current Patriarch, Theophilos, to void all deals signed between the former Patriarch and Jewish settlement companies, in which he gave up Arab, Palestinian and Christian lands to settlement corporations and settlement profiteers.

Erenius signed the deal on December 14, 2007, and gave settlement companies the right to freely run church lands.

The Committee added that Church lands in that area are located on the truce line, which separates between the West Bank and Israel.

It demanded the new patriarch to declare that Church lands are endowment (Waqf) lands that belong to the Church and are not for rent, loan or sale, and added that all Waqf properties are lands that historically belonged to the Arab-Christian church.

It also said that it is unacceptable that Arab Christians are immigrating from the Holy land after they were impoverished, and without a land to inhibit, while their Patriarchate is leasing and selling church property to companies that are bringing illegal Jewish settlers to live on Arab, Palestinian and Christian lands.

The Committee called on the Greek Orthodox Palestinian Christians, and all Christians along with national and religious institutions to unite and cooperate in defending Church lands in Jerusalem.
It is worth mentioning that Erenius granted two settlements companies the right to build thousands of houses of Jewish settlers, hotels and Malls on church lands.
12:18PM: Here is US Secretary of State Hillary Clinton discussing US policy towards Iran.
Hardly inspires confidence.
Meanwhile, I really posted the above video so I would have an excuse to also post this:
11:56AM: Israeli Prime Minister Binyamin Netanyahu has sent a stern warning to Lebanon:
"The government of Lebanon cannot just say 'that's Hezbollah,' and hide behind them. The government of Lebanon is in power and responsible."

"If Hezbollah entered the government as an official body, let it be clear that the Lebanese government will be held responsible for any attack on Israel coming from its territory.

"The moment they are part of the government, the sovereign Lebanese government is responsible. I hope we will not need such responses."
10:02AM: A group of people is planning to rebuild a couple of illegal homes that were demolished.
Had these homes been owned by Jews, this effort would be roundly condemned (even by the President of the United States), and such actions called an "obstacle to peace."
But because we are talking about illegal palestinian-built homes, members of the international community are not only turning a blind eye to this, but some are even funding the effort.
The Spanish government is paying for 42 people to come here and help rebuild two Palestinian homes that Israel deemed illegal and tore down in Anata in northeast Jerusalem, according to the director of the organization in charge of the project.

Jeff Halper, the director of the Israel Committee Against House Demolitions (ICAHD), which is holding its seventh annual summer "rebuilding camp," said volunteers from all over Europe, Latin America, Spain, the United States, South Africa, Asia, and Australia are currently in the country to rebuild two homes demolished in Anata.

"In particular, there are about 42 people from Spain in the camp, and the Spanish government is funding the camp again this year. They have paid for the 42 tickets of young people to come to the work camp, so that is pretty interesting that governments are starting to encourage people to come and resist the occupation," Halper told The Jerusalem Post.

The Spanish Foreign Ministry's agency for international development cooperation, Aecid, allocated some €80,000 in 2009 to ICAHD. In addition, it allocated €80,000 this year for Breaking the Silence, €100,000 for the Association for Civil Rights in Israel, and has promised to allocate €70,000 for Rabbis for Human Rights.

Prime Minister Binyamin Netanyahu's spokesman Mark Regev slammed the involvement of European governments in the Anata project.

"Europe believes in peace and reconciliation, in a two-state solution with a non-violent path to that solution," he said. "It would indeed be strange if European money were going to an NGO headed by an individual [Halper] who both rejects a two-state solution, and who justifies terrorism."
9:03AM: More on Zionist Sex Gum of Death.TM
Pay special attention to Israeli terror enabler Uri Averny explaining why it cannot be true. Not because the whole thing is ridiculous, but because Israel would not want palestinians to reproduce.