The Day In Israel: Sun Aug 16th, 2009
Click refresh to see new updates during the day
Israel radio yesterday reported that tycoons from Arab states that do not have diplomatic relations with Israel have recently purchased hundreds of dunams of agricultural land in the Galilee, overcoming efforts by Galilee farmers to thwart the sale.
Meanwhile, one has to wonder what would be the reaction from the international community had the purchaser been Jewish and the land in east Jerusalem.
Updates (Israel time; most recent at top)
10:08PM: HRW biased against Israel? To put it simply: damn straight.
AUTHOR OF REPORT AGAINST ISRAEL SUPPORTED MUNICH MASSACRE
By Ben-Dror Yemini, Ma'ariv, 16.8.09, p. 13

Joe Stork, a senior official in Human Rights Watch, which accuses the IDF of killing Palestinians who waved white flags, is a fanatical supporter of the elimination of Israel. He was a friend of Saddam, ruled out negotiations and supported the Munich Massacre, which "provided an important boost in morale among Palestinians."

Last Thursday, many world media outlets covered the press conference in which a senior Human Rights Watch official, Joe Stork, presented the report accusing Israel of killing twelve Palestinians in the Gaza Strip who waved white flags during Operation Cast Lead. Stork, the person identified with the report, has a unique history of Israel-hating: He supported the murder of Israeli athletes in Munich, was an avid supporter of Saddam Hussein and more.

Several times in the past, Stork has called for the destruction of Israel and is a veteran supporter of Palestinian terrorism. Already as a student, Stork was amongst the founders of a new radical leftist group, which was formed based on the claim that other leftist groups were not sufficiently critical of Israel and of the United States' support of it. Already in 1976, Stork participated in a conference organized by Saddam Hussein which celebrated the first anniversary of the UN decision that equated Zionism with racism. Stork, needless to say, arrived at the conference as a prominent supporter of Palestinian terrorism and as an opponent to the existence of the State of Israel.

He also labeled Palestinian violence against Israel as "revolutionary potential of the Palestinian masses"—language that was typical of fanatical Marxists.

In articles which he authored during the 1970's, Stork stated that he was against the very existence of Israel as an "imperialistic entity" and, to this end, provided counsel to Arab regimes on how to eliminate the Zionist regime. He also was opposed to any negotiations since this meant recognizing its existence: "Zionism may be defeated only by fighting imperialism," wrote Stork, "and not through deals with Kissingers."

On other occasions, Stork expressed his position that the global Left must subordinate itself to the PLO in order to strengthen elements that opposed any accord with Israel. It would seem that he has not changed his ways since then. He is still conceptually subordinate to those who have maintained their opposition to the existence of the State of Israel. Once the world's radical left supported the PLO. Today, part of the global Left supports Hamas.

Stork, of course, is not alone. The hate ships that arrive from time to time, or attempt to arrive, to the shores of Gaza, are full of radicals of his ilk. They do not identify with efforts towards compromise or peace. On the contrary, they identify with those who are continuing the old line that supports the elimination of Israel. And what would happen if the PLO should decide to enter the negotiations track? Stork already recommended years ago that the Palestinian left splinter in order to continue the resistance. Hamas obeyed. It is possible to guess where Stork's heart lays.

Where does Stork stand regarding matters of objectivity and neutrality? He criticized Professor Ibrahim Abu-Lughod, himself a PLO figure, because he edited an anthology which tried, at least seemingly, to produce a balanced presentation. "Academic neutrality is deceitful," wrote Stork. And what about factual accuracy? Stork claimed that Menachem Begin said that, 'The Palestinians are two-legged animals." In fact, Begin said that those who come to kill children are "two-legged animals." The difference is, of course, huge. Stork, time after time, justifies his high standing in the industry of hate and lies against Israel.

Stork reached his peak in a statement published by the Middle East Research and Information Project, which dealt with gathering information on the Middle East conflict, and in which Stork was a leading figure. This was a statement that included explicit support for the murder of the eleven Israeli athletes at the Munich Olympics:

"Munich and similar actions cannot create or substitute for a mass revolutionary movement," the statement said, "But we should comprehend the achievement of the Munich action…It has provided an important boost in morale among Palestinians in the camps."

Murder and terrorism, if so, are a matter of morale.

This is the man. A radical Marxist whose positions have not changed over the years. On the contrary. Objectivity, neutrality or sticking to the facts are not Stork's strong suit. He even proudly exclaims that there is no need for neutrality.

Is it possible to relate seriously to a report against Israel which this man stands behind? Both Camera and Professor Gerald Steinberg have revealed worrying data on the leaders of Human Rights Watch and on the two people who head its Middle East Department—Sarah Leah Whitson and Joe Stork—even before its latest report and unconnected to it. The organization, as part of its false presentation, issued polite condemnations of Hamas rocket fire. But it seems that such blatant anti-Israel bias leaves room for doubt. A Stork-produced report on Israel is about as objective as a report by Baruch Marzel on Hebron.

Israel is called upon to provide explanations in the wake of Human Rights Watch reports. It is about time that Israel publicly exposed the ideological roots of several of this organization's leaders and demands the dismissal of these supporters of terrorism and haters of Israel. Until then, Israel, justifiably, cannot seriously comment on criticism from such a body.
6:22PM: Recently compost-ed terrorist Abdel Latif Moussa and something out of Planet of the Apes (inspired by Soccer Dad)
6:03PM: Misleading statement of the day:
Pan-Islamist group: Violence won't lead to Islamic rule

The Hizb Ut-Tahrir (Party of Liberation) on Sunday condemned Friday's bloodshed in the Gaza Strip as immoral and illegal, according to a statement sent to Ma'an.

The pan-Islamist party, which seeks the establishment of an Islamic caliphate through peaceful means, rejected the declaration by radicals declaring Gaza an "Islamic emirate."

—-

Hizb Ut-Tahrir called on both sides to reject violence in the name of any authority, Islamic or secular, saying it would be impossible to declare either under the present Israeli occupation. "Those who rule have sovereignty dependent on what the occupation allows, and thus it is not possible to declare an Islamic emirate in a country under occupation."

The group called on all Palestinian factions and other organizations in Gaza to "redirect their guns toward the occupation exclusively, and to stop fighting each other."
In other words, violence will lead to an Islamic caliphate. Just not when Jews aren't involved.
5:48PM: All 24 victims of Friday's terrorist smackdown have been identified and buried.
The dead includes 6 non-combatants, including 3 young children.
The collective yawn from HRW, Free Gaza and other so-called human rights organizations/peace activists is deafening.
5:24PM: Israeli Ambassador to Washington Michael Oren has told CNN that "I don't think it's [an attack on Iran] true. I think that we are far from even contemplating such things right now."
In the same interview, Oren said the following regarding Gaza:
"In Gaza, you still have an Iranian-supported proxy terrorist organization that has committed itself not only to Israel's destruction, but to the undermining of al-Fatah rule, and they particularly hate Salam Fayyad in the West Bank, and they control all movement of all goods and services into Gaza."
While this is true, I think Oren should not be painting Fatah as the good guys. As we have seen from the recent Fatah conference and elections, Fatah and Hamas are not so different.
5:15PM: Now for some good news: there are indications that Israel is emerging from the recession.
11:10AM: Whether it is the sheer normal Western look of these supporters of terrorist organization Hizbullah, or the friendly-looking picture of Hizbullah arch terrorist Hassan Nasrallah, this picture is plain disturbing.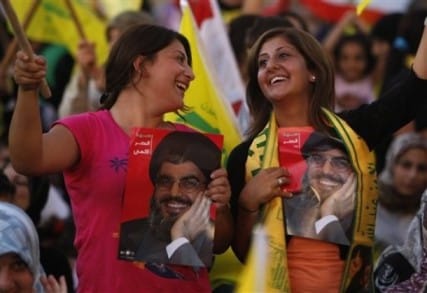 Hezbollah supporters, hold posters of Hezbollah leader Sheik Hassan Nasrallah, during a rally to mark the third anniversary of the 2006 Israel-Hezbollah war, in a southern suburb of Beirut, Lebanon, Friday Aug. 14, 2009. The leader of Lebanon's militant Hezbollah Sheik Hassan NAsrallah says his group will hit Israel's main city of Tel Aviv if Israeli forces attack Beirut or the guerrillas' stronghold in its southern suburbs.
And if you don't also find it disturbing, you are either too used to terrorism having become so accepted, or you are part of the problem.
Incidentally, if Hizbullah and their ilk get their way, these woman would never get away with dressing like that.
10:45AM: Old and busted: Man bites Dog.
New hotness: Boy Bites Policeman.
6:08AM: Get some popcorn and grab a seat.
Oh, and if you are a virgin in paradise, brace yourself.
Al-Qaeda loyalists in Gaza declared war on Hamas Saturday after violent shootouts left 24 people dead, including Jund Ansar Allah leader Abdel-Latif Moussa.

In a message posted by al-Qaeda's websites the Islamic Swords of Justice, a group affiliated with the Salafi movement, vowed to avenge the deaths. "We tell our people who witnessed this crime that this is not over, and war is on its way," the message said.

The group warned residents of the Gaza Strip to stay away from government ministries and Hamas security offices.

"We call on our people to stay away from mosques attended by leaders of the infidels Ismail Haniyeh and the ministers and legislators of his government, who legislate against the will of Allah," the message added.

The group also vowed to remain loyal to the leader who would replace Moussa as head of the Islamic emirate he declared Gaza to be before the fighting ensued and he was killed. According to Hamas the hardline leader detonated an explosive device he was wearing during the conflict and blew himself up.

Other hardline groups whose members have been hunted down by Hamas recently have also sworn revenge against the organization. One such group, the 'Army of the Supporters of Allah', has announced that a cell of 30 gunmen would soon avenge the killing of its members by Hamas over the weekend.
Notice how the group is targeting mosques attended by Hamasholes (indeed, yesterday's shootout began from a mosque). Aren't mosques supposed to be holy places which are off limits to this kind of thing? Then again..
Meanwhile, I entirely missed this important piece of information about Abdel-Latif Moussa, the Al Qaida-linked terrorist leader who blew himself up in yesterday's inter-terrorist organization bloodbath.
Mousa, who is an employee of the Health Ministry belonging to the PA government in the West Bank, was better known by his nom de guerre, Abu Nur al-Maqdisi.