Click refresh to see new updates during the day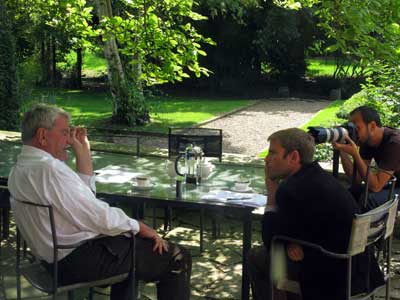 The Jerusalem Post reports that hot on the heels of Swedish newspaper Aftonbladet's blood libel, Spanish daily El Monde (I think they mean El Mundo -ed.) has decided to include Holocaust denier David Irving among its list of "experts" interviewed to mark 70 years since the start of World War II, and use the same freedom of speech argument to justify it.
For his part, Irving has boasted about the interview on his website (http://www.fpp.co.uk/online/09/08/interview.html).
Updates (Israel time; most recent at top)
7:47PM: Scandalnavia: Now it's Norway's turn to give Israel the finger.
Foreign Ministry Director-General Yossi Gal summoned Norway's ambassador to Jerusalem Thursday afternoon to protest the Norwegian government's decision to divest Israeli company Elbit from Norway's global pension fund.

Foreign Ministry spokesmen said that Israel would consider its further response on the matter.

Israeli officials were rankled that the Norwegian Foreign Ministry was releasing its decision to the press at the moment that Israel's ambassador to Norway was meeting in Oslo with Norwegian officials, who had called the meeting to inform him of the move.

"In diplomacy, this is simply not done," a senior Foreign Ministry official said.

Norway's finance minister announced earlier Thursday that Elbit Systems Ltd. had been dropped from the Scandinavian country's pension fund due to ethical concerns.

A major optics and electronics manufacturer, the company supplies surveillance equipment used to monitor the West Bank security barrier.

"We do not wish to fund companies that so directly contribute to violations of international humanitarian law," said Finance Minister Kristin Halvorsen. She said the shares were sold secretly ahead of the announcement.

Halvorsen said the security barrier had unacceptably restricted the movements of Palestinians on the West Bank, so that an investment in any company involved in the project causes "unacceptable risk of contribution to particularly serious violations of fundamental ethical norms."
Apparently, contributing to a fence that keeps terrorists out of Israel constitutes "particularly serious violations of fundamental ethical norms." I'm guessing Halvorsen is referring to the fundamental ethical norm that Jews should lie down and die.
7:28PM: Our "peace partners" the PA have announced they are establishing an inquiry commission to investigate the Swedish blood libel report.
So much for that whole "ending incitement" thing.
5:18PM: Photo of the day: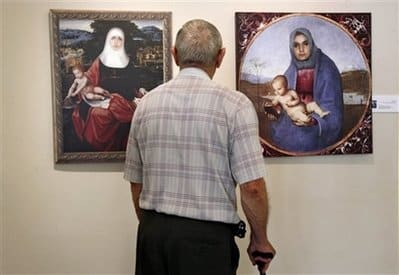 A man looks at paintings of female suicide bombers depicted as Madonna holding baby Jesus at an exhibition in Tel Aviv, Israel, Thursday, Sept. 3, 2009. An Israeli group has canceled an exhibition of pictures that superimposed the faces of female Palestinian suicide bombers on Madonna-and-child paintings after the images sparked a public furor. (AP Photo/Oded Balilty)
Story here.
Interestingly enough, this is not the first time this week we have seen pictures from Israel of Madonna with her baby Jesus.
3:38PM: Russian newspaper Kommersant has reported that Russia has contracted to sell to Syria MiG-31E interceptor fighters, which can fire simultaneously at several targets up to 180 kilometers away.
The paper had previously made this claim two years ago, which was met by Russian denials:
3:26PM: According to the Kuwaiti newspaper Al-Siyasa, Hizbullah was keeping chemical weapons in the arms cache that exploded more than a month ago in southern Lebanon, with three of the eight terrorists being turned into worm food after coming in contact with the chemicals.
12:02PM: El Mundo may consider Holocaust denier David Irving to be an "expert," but the Jerusalem Post (the most popular Jewish news site in the US, you know) seemingly considers him to be a "Transformer."