The Day In Israel: Wed Sept 9th, 2009
Click refresh to see new updates during the day
The media reported that a letter written by IDF soldier Gilad Shalit just months after being taken captive by palestinian terrorists was released to them.
To my mother and father, brothers and friends, I send you Shalom.

My health is deteriorating daily, I am especially struggling emotionally and this is causing me much depression. I am waiting for this intolerable human nightmare to end and to be released from the closed and isolated prison, especially since my 20th birthday has gone by, which I had hoped we would celebrate together.

I appeal to my government, and especially Prime Minister Ehud Olmert and defense Minister Amir Peretz, to do everything in their power to release me as soon as possible because every day that goes by hurts me more, and to consent to the requests of mujahideen that detained me from within a tank near Kerem Abu Salem. I hope you will do everything so that I can celebrate Rosh Hashana and Sukkot at home.

The prisoner in the hands of the Palestinian mujahideen,

Gilad Shalit

Captured on 06.25.06
The contents of the letter looks very similar to that of the recorded message posted on the Hamas website a year after his abduction.
Meanwhile, the geniuses at Ynet posit that "in light of the many Arab phrases used [the letter] was probably dictated to the soldier by his captors."
Updates (Israel time; most recent at top)
11:54PM: Wow.
A local district court in the West German city of Bochum fined a student 300 Euros on Wednesday for displaying an Israel flag at a demonstration organized by Muslim organizations against the IDF Operation Cast Lead in January. According to Der Westen, a regional paper in Bochum, the public prosecutor termed the Israeli flag as "provoking" within a special situation.
What are you willing to bet that if a Muslim displayed a palestinian flag at a pro-Israel protest, there would be no fine?
11:20PM: Yesterday, I (and a number of other bloggers) posted about anti-Israel HRW investigator Marc Garlasco, who has a thing for Nazi memorabilia.
HRW has left the following response in the comments sections of a number of blogs (not including Israellycool):
Several blogs and others critical of Human Rights Watch have suggested that Marc Garlasco, Human Rights Watch's longtime senior military advisor, is a Nazi sympathizer because he collects German (as well as American) military memorabilia. This accusation is demonstrably false and fits into a campaign to deflect attention from Human Rights Watch's rigorous and detailed reporting on violations of international human rights and humanitarian law by the Israeli government. Garlasco has co-authored several of our reports on violations of the laws of war, including in Afghanistan, Georgia, and Iraq, as well as by Israel, Hamas, and Hezbollah.

Garlasco has never held or expressed Nazi or anti-Semitic views.

Garlasco's grandfather was conscripted into the German armed forces during the Second World War, like virtually all young German men at the time, and served as a radar operator on an anti-aircraft battery. He never joined the Nazi Party, and later became a dedicated pacifist. Meanwhile, Garlasco's great-uncle was an American B-17 crewman, who survived many attacks by German anti-aircraft gunners.

Garlasco own family's experience on both sides of the Second World War has led him to collect military items related to both sides, including American 8th Air Force memorabilia and German Air Force medals and other objects (not from the Nazi Party or the SS, as falsely alleged). Many military historians, and others with an academic interest in the Second World War, including former and active-duty US service members, collect memorabilia from that era.

Garlasco is the author of a monograph on the history of German Air Force and Army anti-aircraft medals and a contributor to websites that promote serious historical research into the Second World War (and which forbid hate speech). In the foreword he writes of telling his daughters that "the war was horrible and cruel, that Germany lost and for that we should be thankful."

To imply that Garlasco's collection is evidence of Nazi sympathies is not only absurd but an attempt to deflect attention from his deeply felt efforts to uphold the laws of war and minimize civilian suffering in wartime. These falsehoods are an affront to Garlasco and thousands of other serious military historians.
HRW are (deliberately?) missing the point. The question raised by his Nazi obsession is valid: is there a connection between his Israel bashing and his obsession with memorabilia  associated with Jew-hating mass-murderers?
Imagine for a second if someone claiming to be objective had a penchant for collecting IDF memorabilia. If this person came out repeatedly with reports favorable to Israel, wouldn't people have reason to question their objectivity?
You also have to question how someone working for a human rights organization – and claiming to really care about people – can look at Nazi memorabilia and not feel repulsed.
These are valid questions, and HRW's informal response is nowhere near adequate.
Meanwhile, here is a photo of Garlasco wearing an Iron Cross sweatshirt, which he posted on a forum.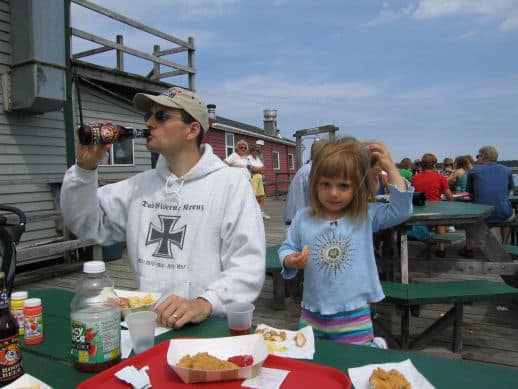 The photo triggers the following comments:
Skip: Love the sweatshirt Mark. Not one I could wear here in germany though (well I could but it would be a lot of hassle)
Garlasco: Everyone thinks it is a biker shirt!
Skip: Yeh, were you come from but imagine walking around in Berlin with "das Eisene Kreuz" written across your cheat. Either you get beaten to pulp by a group of rampaging Turks or the police arrest you on suspicion of being a Nazi
8:30PM: Speaking about anti-Judaism reports, Ynet does the BBC proud with this one.
Twenty-four-year-old David Mansharov was stabbed to death overnight Wednesday during a brawl between yeshiva students in Netanya.

Two suspects, Avi Ben-Naim (22) and Yitzhak Hanuka (25), have been arrested in connection with the stabbing. The court extended their remand by eight days.

The victim and the suspects all studied and lived at Rabbi Amos Gueta's yeshiva, located near the scene of the crime.

Officers who arrived at the scene at around 4:30 am found the victim laying in critical condition in an open area near residential buildings on Professor Shor Street in Netanya's Neve Herzl neighborhood. He was evacuated to Laniado Hospital, where he was declared dead shortly after arrival.

A black kippah and a blunt object, which was apparently used to kill Mansharov, were found at the scene. Police apprehended the two suspects during a search of the area.

Investigators said the three yeshiva students are known to police, and estimated that the fight erupted following an ongoing argument over a halachic ruling.

Neighbors who witnessed the incident said they heard the suspected assailants yell, "What you did was not Jewish" in Mansharov's direction.

The two suspects, police said, are exercising their right to remain silent.
Reading this report, one could be led to conclude that religious Jews are indeed violent and hypocritical.
Now for some context, courtesy of the Jerusalem Post.
A 23-year-old yeshiva student was stabbed to death in Netanya in the early hours of Wednesday morning by two other students, in what police say was a dispute over living quarters.

David Mensharov was assaulted by two men and stabbed repeatedly. He was seen by neighbors staggering in the street, and was rushed by paramedics to Netanya's Laniado Hospital, where doctors pronounced his death.

Police have arrested two suspects, aged 22 and 35, in connection with the slaying.

The murder victim and the two suspects all attended the Kolel Yeshiva in the city, which takes in newly religious young people with a history of crime, as part of an effort to rehabilitate violent offenders.

The Prison Rehabilitation Authority helped pioneer a program under which well behaved offenders are released two-thirds into their prison sentences to centers around the country, such as religious learning centers.

"The background is a dispute over living space in their dorms," a police source told The Jerusalem Post. "This dispute has been going on for two days. It turns out a previous fight broke out two days ago, but that was not reported to police," the source added.

The source dismissed a Ynet report which claimed the fight was linked to a "Halachic disagreement."

One suspect is known to police due to previous violent offences, the source said. "The murder victim was accused of behaving badly towards his attackers," he added.
8:20PM: This BBC story on The rise of Israel's military rabbis is one of the most nefarious attacks on Judaism I have seen from the BBC, even by their "lofty" standards (hat tip: Pisa).
Katya Adler's (I am guessing she is Jewish, both from her name, and the fact a non-Jew would be less likely to get away with such a hatchet job on Judaism) effort to paint army Rabbis and religious soldiers as the Jewish equivalent of Islamic jihadis – is deeply troubling.
I think Melanie Phillips explains it well when she says:
But the really disgraceful element was Adler's suggestion that that these rabbis were somehow the equivalent of Islamic jihadi fanatics who were transforming the mission of the IDF into 'holy war'. Jewish religious belief, she implied, was the equivalent of the jihad. This appalling equation of course ignored the crucial difference between the jihad and the wars waged by the Israel Defence Force: that the jihad is aggressive and seeks to conquer, colonise, murder and enslave while the sole rationale for the IDF is to defend Israel against precisely such aggression.

Adler made this leap because to her, all orthodox Jewish religious observance is extreme, right-wing and aggressive; all settlers are orthodox and therefore extreme, right-wing and aggressive; thus all orthodox Jewish soldiers are settlers and therefore they are all extreme, right-wing and aggressive. Every aspect of that is tendentious, distorted, ignorant and bigoted.

The settlers believe the land was given to them by God, she charged. Well, they may well do so; but as Israel's soldiers they are fighting to defend not the settlements but the State of Israel of which they are citizens and to which land they are fully and indisputably entitled under international law. Indeed, contrary to what she stated they are also entitled under international law to settle the disputed territories which are still the site of aggressive war waged against them; but that's not in fact what they are in the IDF or were in Gaza during Operation Cast Lead to do.

You would never have known it from her report, but these religious soldiers were in Gaza not to conquer the Palestinians in accordance with their belief that Gaza was divinely given to them but to defend the State of Israel against rocket attack from Gaza – from where religious soldiers had actually been involved in the operation to remove the settlers in 2005.  Maybe some of these rabbis had issued leaflets which really were politically extreme. So what? To suggest that this represents all of orthodox Judaism is like suggesting that preachers handing out leaflets proclaiming the end of days is nigh are representative of mainstream Christianity. Far worse, Adler made the doubly appalling suggestion that the IDF had singled out Gazan infants and other civilians for ill-treatment – and that they had been encouraged to do so by the tenets of Jewish religious belief. Neither element, of course, was true.

Her report thus went much further than the usual BBC boilerplate bigotry against Israel. This was open bigotry against Judaism itself.
This bothers me, both as a religious Jew, and as someone who happens to know so many Orthodox soldiers doing their best to defend the country against the real Islamic jihadis. Fine young soldiers like Roi Klein (may his memory be blessed).
Major Roi Klein was a Golani brigade deputy commander. He was killed last Wednesday, in an ambush among the houses of Bint Jbail, a large village in southern Lebanon. Hezbullah terrorists killed eight soldiers, including Roi, and injured nearly two dozen.

There were two other soldiers next to Roi. A hand grenade was thrown at them and Roi shouted, "Grenade!" He then threw his body over it, sacrificing his life for the sake of his soldiers, who later attributed being alive to his act of selflessness.

In his last seconds of life, Roi mustered the strength to shout "Shema Yisroel" the prayer that Jews have prayed for centuries, declaring our belief in G-d and in a better world;
5:55PM: Welcome to Gaza, "the world's largest concentration camp" in which people…own their own horses?
Palestinians walk out of the water after washing their horses in the Mediterranean Sea off the beach in Gaza City Wednesday, Sept. 9, 2009. (AP Photo/Hatem Moussa)
I can't help but being reminded of this classic Seinfeld moment.
5:40PM: Israeli Human Rights Group B'Tselem today released a new report finding  that during Operation Cast Lead, the IDF killed 1,387 Palestinians, the majority of whom (773) were non-combatants.
Today (Wed. Sept 9th) Israeli human rights group B'Tselem published its findings on the number of Palestinians and Israelis killed in Operation Cast Lead in the Gaza Strip. According to B'Tselem's research, Israeli security forces killed 1,387 Palestinians during the course of the three-week operation. Of these, 773 did not take part in the hostilities, including 320 minors and 109 women over the age of 18. Of those killed, 330 took part in the hostilities, and 248 were Palestinian police officers, most of whom were killed in aerial bombings of police stations on the first day of the operation. For 36 people, B'Tselem could not determine whether they participated in the hostilities or not.
You can find the full report here.
This contradicts the results of an IDF investigation which found that there were 1,166 Palestinian casualties in the Gaza offensive, of which 709 were terror operatives affiliated with Hamas and other terror groups, and 295 were civilians.
The IDF has responded as follows:
"The B'Tselem report is not based on facts or on accurate statistics.  Furthermore, among its sources, B'Tselem officially states that it based its findings, on cross referencing statistics from investigations of Palestinian human rights groups and various Web sites and blogs, including those of the militant wings of terror organizations and that of the Palestinian Police," the IDF spokesman's office said.

"The discrepancy in the numbers is based on the fact that B'Tselem's sources are organizations with a vested interest, and it does not have the tools, nor the intelligence capabilities with which it can within a necessary degree of confidence know the causes of death or the affiliations of these casualties."
I have not had time to delve deeply into this, so I will point you to this response from NGO monitor.
NGO Monitor today noted the contradictory publications by B'tselem and Palestinian Center for Human Rights (PCHR), both claiming to provide accurate Palestinian casualty counts during the Gaza War earlier this year.  Although publicized as "comprehensive" and "complete" statistics, neither report is credible, and both reflect the underlying political motivations and bias of the organizations, as documented by NGO Monitor.  (B'tselem's funders include the governments of UK, Norway, Switzerland and Ireland and the New Israel Fund; PCHR's funders include EU and the governments of Norway, Ireland and Denmark)

NGO Monitor highlighted the following:

Although both organizations claim to use meticulous research methods, their conclusions differ enormously.  PCHR claims 1,167 non-combatants were killed, B'tselem puts the figure at 773.
The timing of these publications indicates an attempt to impact the findings of Judge Richard Goldstone's UN investigation prior to the report's imminent release.
B'tselem adopted controversial International Committee of the Red Cross (ICRC) guidelines which use a highly disputed and unworkable definition of the standard for those "taking a direct part in hostilities".  This means that people who are closely involved in Hamas' offensive infrastructure are exempted. Many ICRC legal consultants withdrew support for these guidelines on this basis.
Although B'tselem has improved its credibility compared to previous reports, by listing casualties' affiliations to terrorist factions, these same individuals such as Hamas senior military leader Saeed Sayam are still not classified as combatants.
PCHR's definition of a "non-combatant" is even more problematic, and only includes those holding a weapon at the precise moment of death.  Consequently, PCHR classifies known terrorists as civilians, such as Hamas activist Nizar Rayan.
PCHR's consistently hostile agenda towards Israel, including promotion of anti-Israel boycotts, places its' research in clear contravention of the International Bar Association's London-Lund Guidelines on fact finding which demand unbiased investigators.
NGO Monitor's President Prof Gerald Steinberg said, "These two conflicting reports again demonstrate that neither NGO produces accurate information regarding Palestinian casualties.  Instead, their publications are the continuation of ideologically motivated campaigns that use human rights as a weapon against Israel. The artificially narrow definition of combatants simply furthers this political agenda.
These publications are further examples of the central role played by political NGOs in the Goldstone "fact finding" inquiry.  PCHR and B'tselem have been involved at every step of the process, and if the Goldstone report simply repeats their claims, it will further demonstrate the counterproductive impact of biased NGO in the UN human rights framework."
2:08PM: Anti-Israel academic Norman "Rat Fink" Finkelstein has quit the Gaza Freedom March coalition, endorsed by the likes of the ISM and CODEPINK. He explains his decision on his website.
Why I resigned from the Gaza Freedom March coalition:

The original consensus of the International Coalition to End the Illegal Siege of Gaza was that we would limit our statement to a pair of uncontroversial, basic and complementary principles that would have the broadest possible appeal: the march to break the siege would be nonviolent and anchored in international law.  I agreed with this approach and consequent statement and decided to remove myself from the steering committee in order to invest my full energies in mobilizing for the march.  During the week beginning August 30, 2009 and in a matter of days an entirely new sectarian agenda dubbed "the political context" was foisted on those who originally signed on and worked tirelessly for three months.  Because it drags in contentious issues that–however precious to different constituencies–are wholly extraneous to the narrow but critical goal of breaking the siege this new agenda is gratuitously divisive and it is almost certain that it will drastically reduce the potential reach of our original appeal. It should perhaps be stressed that the point of dispute was not whether one personally supported a particular Palestinian right or strategy to end the occupation.   It was whether inclusion in the coalition's statement of a particular right or strategy was necessary if it was both unrelated to the immediate objective of breaking the siege and dimmed the prospect of a truly mass demonstration.  In addition the tactics by which this new agenda was imposed do not bode well for the future of the coalition's work and will likely move the coalition in an increasingly sectarian direction.  I joined the coalition because I believed that an unprecedented opportunity now exists to mobilize a broad public whereby we could make a substantive and not just symbolic contribution towards breaking the illegal and immoral siege of Gaza and, accordingly, realize a genuine and not just token gesture of solidarity with the people of Gaza.  In its present political configuration I no longer believe the coalition can achieve such a goal.   Because I would loathe getting bogged down in a petty and squalid public brawl I will not comment further on this matter unless the sequence of events climaxing in my decision to resign are misrepresented by interested parties.  However I would be remiss in my moral obligations were I not humbly to apologize to those who, either coaxed by me or encouraged by my participation, gave selflessly of themselves to make the march a historic event and now feel aggrieved at the abrupt turn of events.  It can only be said in extenuation that I along with many others desperately fought to preserve the ecumenical vision that originally inspired the march but the obstacles thrown in our path ultimately proved insurmountable.
While this statement is rather obtuse, others perhaps provide more clarity regarding the Fink's motivations.
(Finklestein said) we should not get into "ideological conversations about who is a Zionist." What mattered was focusing on stances on torture and house demolitions. He also advised that Palestinians be "reasonable" and consider compensation instead of their full rights.

I challenged him on this point during Q&A in that opposing occupation without condemning Zionism is like opposing slavery without condemning white supremacy, and that we American taxpayers and participants in the genocide of Palestinians (whether intentionally or not) should have more humility than tell Arabs whether or not to discuss the ideology behind their dispossession. Otherwise, we would look like gatekeepers on the discourse.
And..
Finkelstein wanted to keep the message focused in terms of this specific campaign, not to ban people from opposing Zionism at all ever. And he wanted to adopt that focus so as to maximise the positive impact the campaign could make for the Palestinians in Gaza.
Is the Fink softening his stance? Or are his actions here motivated purely by pragmatism?
Either way, it speaks volumes for the Gaza Freedom March coalition that they are too radical for The Fink.
(hat tip: Old World New Ideas)
6:15AM: Another moment in self-defeating palestinian protest:
Local refugee camp committees in Nablus in the northern West Bank said on Tuesday they are planning more protests against the UN relief agency UNRWA for allegedly reducing services to West Bank refugees.

According to Ibrahim Saqr, coordinator of the Nablus committees, the protests will proceed as follows:

1- Closing UNRWA's Nablus directorate office.
2- Closing the UNRWA warehouses.
3- Closing the welfare offices both the central and local branches.
4- Preventing movement of UNRWA vehicles into refugee camps.
Yeah, that'll teach UNRWA.