The palestinians have succeeded in gathering enough support to call a special UNHRC meeting to reopen the debate about alleged war crimes in Gaza later this week.
And by alleged war crimes, I am referring to alleged war crimes by Israel. No-one is interested in discussing Hamas' actions.
UN officials say 18 of the council's 47 members signed a motion calling for the debate. The backers are: Bahrain, Bangladesh, Bolivia, China, Cuba, Djibouti, Egypt, Gabon, Indonesia, Jordan, Mauritius, Nicaragua, Nigeria, Pakistan, Philippines, Qatar, Saudi Arabia and Senegal.
Egypt and Jordan, eh? Peace!
Updates (Israel time; most recent at top)
8:00PM: Going Gaddafi on Goldstone: Here is Knesset member Danny Danon ripping the Goldstone report.
Literally.
Full story here.
7:46PM: Ha'aretz reports:
1,700-year-old footprints discovered under Lod mosaic
Which begs the question: what the hell was Shimon Peres doing under a mosaic floor?
7:38PM: PA Prime Minister Salam Fayad says he refuses to have a "Mickey Mouse" state.
Palestinian Authority Prime Minister Salam Fayad on Wednesday called the demilitarized Palestinian state envisioned by Israel "a Mickey Mouse state," and said the Palestinian people would not accept such a plan.

"By all indications, [Israeli officials] have a Mickey Mouse state in mind" Reuters quoted Fayad as saying in a press conference in Ramallah.
Besides, he's more of a Farfur kind of guy.
7:32PM: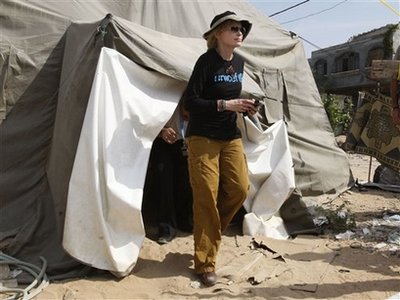 US actress and human rights activist Mia Farrow leaves a tent erected on the site of a house destroyed during Israel's January incursion in Gaza, during her visit to Beit Lahiya, northern Gaza Strip, Wednesday, Oct. 14, 2009. Farrow is on a 4 day visit to Israel, West bank and Gaza as a good will ambassador for UNICEF. (AP Photo/Hatem Moussa)
Why do I get the feeling that the chances of Farrow visiting children in Sderot are about as slim as her getting back together with Woody Allen?
(Although her lawyer son seems to recognize some double standards when it comes to Israel).
12:20PM: Here is a copy of the draft resolution the palestinians plan to submit ahead of the UNHRC's deliberations over the Goldstone report
6:00AM: The US has criticized Turkey for canceling the NATO military drill due to Israel's participation.
Neither the Turks nor NATO has confirmed that Israel's participation in the exercises over Turkey was Ankara's reason for canceling it.

US State Department spokesman P.J. Crowley said Tuesday, however, that "as to the question of whether there was a government that was invited to participate and then removed at the last minute, we think it's inappropriate for any nation to be removed from an exercise like this at the last minute."

He was asked whether that was what happened, and if Israel was the spurned country. He confirmed both.
So much for being cryptic.
Meanwhile, Syria has commended the decision.
"We held our first joint land military exercise (with Turkey) last spring. And today we have agreed to do a more comprehensive, a bigger one," said Syrian Defense Minister Ali Habib, speaking at a news conference.
I somehow imagine Ali Habib and his fellow Syrian officials like this after those comments.
Please help ensure Israellycool can keep going,
by donating one time or monthly