The Day In Israel: Thurs Oct 22nd, 2009
US ambassador to the United Nations, Ambassador Susan Rice, told Israelis at Shimon Peres' "Facing Tomorrow" conference that it is not enough just to pay "lip service" to peace and urged the government to immediately relaunch negotiations, without preconditions, aimed at creating an independent palestinian state.
By "lip service", I guess she means what the Obama administration is paying to the decades of Israeli concessions for peace, which have been met by nothing but increased terrorism.
Updates (Israel time; most recent at top)
11:10PM: Funny, they don't look Jewish.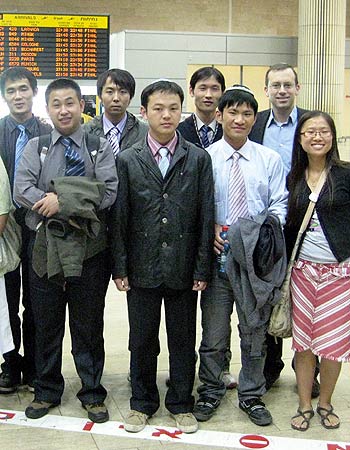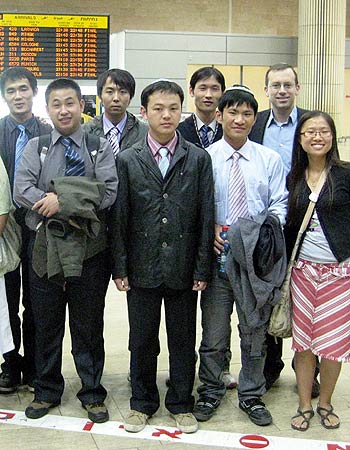 Story here.
7:42PM: The Israeli media and numerous blogs are today reporting what I posted about last week – Iranian and Israeli officials reportedly met and engaged in serious discussions on nuclear non-proliferation and disarmament last month. Needless to say, Iran is denying it.
5:30PM: Ma'an News has a report on the daughter of terror enabler Lauren Booth visiting Gaza for the first time. And while the whole article is infuriating, this section in particular struck me:
Eight-year-old Alexandra Darby, the niece of Quartet envoy Tony Blair, toured the West Bank this week on a bicycle, peddling an estimated 200 kilometers from Amman to Jerusalem.

Asked what she will tell her school friends about the Peace Cycle journey, Alex reflected, "I'll tell them that the people here are very nice, not like they say in the newspapers."

The West Bank is not a usual vacation site for most eight-year-olds. But, as mother, journalist and activist Lauren Booth explained, "She's been asking me for the last five years why she can't go to Palestine, and despite the fact that the Israelis can make it bloody trying to get in and out, the greeting here I knew would be so sensational for her that I didn't have a reason not to bring her."

Why doesn't Alex think other kids get to come to Palestine? "Because, of course, the telly, which says Palestinians are not like us, that they are a revolting people, a violent people, a nasty people, it's mad. In fact it's the exact opposite, it's the Israelis."
In other words, this eight-year-old girl is stating Israelis are a "revolting, violent and nasty" people. Where do you think she gets this from?
Which goes to further prove that people like Booth are more anti-Israel than pro-palestinian.
Not that Booth's brainwashing of her small children was not already apparent. You may recall I posted this video of her children here.
Incidentally, this is the same song quoted in the Ma'an article.
Getting nervous about the visit, Alex asks if we want to hear the song she will share with the children at the school.

"Are you ready?

Free my people Palestine – Sing it loud
We will never let you die – Sing it loud
Palestine West Bank Ramallah Gaza, this is for the child that is looking for an answer
I wish I could take your tears and turn them into laughter
Long live Palestine, Long live Gaza!"
Utterly brainwashed by her own mother.
Meanwhile, these vile views are not all that Booth Jr shares with her mother.
3:25PM: Bring out the flying pig, because The Independent – arguably the most anti-Israel daily in UK – has published an extraordinary article, which is mandatory reading for anyone genuinely interested in understanding the Middle East conflict.
But especially for those who aren't (hat tip: Graeme).
It is a long article, but here are some of the more noteworthy passages:
It is a cynical but time-honoured practice in Middle Eastern politics: the statesmen who decry the political and humanitarian crisis of the approximately 3.9 million Palestinians in the Israeli-occupied West Bank and in Gaza ignore the plight of an estimated 4.6 million Palestinians who live in Arab countries. For decades, Arab governments have justified their decision to maintain millions of stateless Palestinians as refugees in squalid camps as a means of applying pressure to Israel. The refugee problem will be solved, they say, when Israel agrees to let the Palestinians have their own state.

—-

The inclusion of the descendants of Palestinian refugees as refugees in UNRWA's mandate has no parallel in international humanitarian law and is responsible for the growth of the official numbers of Palestinian refugees in foreign countries from 711,000 to 4.6 million during decades when the number of ageing refugees from the 1948 Israeli war of independence in was in fact declining. UNRWA's grant of refugee status to the children, grandchildren and great-grandchildren of the original Palestinian refugees according to the principle of patrilineal descent, with no limit on the generations that can obtain refugee status, has made it easy for host countries to flout their obligations under international law. According to Article 34 of the UN Convention Relating to the Status of Refugees, "The Contracting States shall as far as possible facilitate the assimilation and naturalisation of refugees," and must "make every effort to expedite naturalisation proceedings" – the opposite of what happened to the Palestinians in every Arab country in which they settled, save Jordan.

—-

After 60 years of failed wars, and failed peace, it is time to put politics aside and to insist that the basic rights of the Palestinian refugees in Arab countries be respected – whether or not their children's children return to Haifa anytime soon. While Saudi Arabia may not wish to host Israeli tourists, it can easily afford to integrate the estimated 240,000 Palestinian refugees who already live in the kingdom – just as Egypt, which has received close to $60bn in US aid, and has a population of 81 million, can grant legal rights to an estimated 70,000 Palestinian refugees and their descendants. One can only imagine the outrage that the world community would rightly visit upon Israel if Israeli Arabs were subject to the vile discriminatory laws applied to Palestinians living in Arab countries. Surely, Palestinian Arabs can keep their own national dream alive in the countries where they were born, while also enjoying the freedom to work, vote and own property?

A practical solution to the crisis of the Palestinian refugees in Arab countries will focus on Lebanon, Syria and Jordan, which together play host to approximately 3 million of the estimated 4.6 million Palestinian refugees living outside the West Bank and Gaza. While each of these countries has chosen different legal and political approaches to the 1948 refugees and their descendants, they share a political desire to sublimate the rights of Palestinian residents, treating them as unwanted guests or as tools to be used in pursuing wider political interests – but rarely as fully-fledged members of society. Lebanon, where Palestinians led by Yasser Arafat are widely blamed for having sparked the 1975 civil war, is the worst offender against international norms. Yet even in Jordan, which is in many ways a model for the humane treatment of a large refugee population, Palestinians today feel markedly less secure than they did two decades ago, or even five years ago.

—-

The fact that the living standard of Palestinian refugees in Lebanon has been deemed "catastrophic" by both UNRWA and by the Lebanese government can therefore be understood as a deliberate result of official state policy that is supported by all parties across Lebanon's divided confessional spectrum. As a member of the Lebanese parliament, Ghassan Moukheiber, explained in an interview with the ICG, "our official policy is to maintain Palestinians in a vulnerable, precarious situation to diminish prospects for their naturalisation or permanent settlement".

—-

For many of these refugees at the bottom of Jordan's social and economic pecking order, life without papers means hiding from the police who constantly patrol their camp's streets, being too poor to send any of your eight to 10 children to college, a lifetime of menial labour, and only a threadbare dream of returning to a homeland that most of them have never seen. There is strong suspicion of the state, but also of their neighbours, who are divided into "'48 people" and "'67 people". "Some of the newcomers would give away Al Aqsa for a Jordanian identity card," says Heba, a mother of eight, mentioning Islam's celebrated mosque in Jerusalem, one of its holiest shrines.

"We're Jordanians," says her son, Mustapha, a slender, 20-year-old in a bright orange T-shirt emblazoned with meaningless words in unknown languages. "This is the best place in the world," he says, pointing around the bare living room whose worn rugs and threadbare pillows cover the floor on which he and all his siblings sleep. "We would never leave here. But I'm loyal to my country, and I would like to visit it one day."

He seems perplexed when asked which is his country – Jordan or Palestine. "We have no security here, but we are Jordanians," replies Mustapha, who lounges on a mattress in a two-storey cement house down the road while one of his five daughters offers tiny glasses of steaming herbal tea and cardamom-scented coffee. "Everything I have is here. This house. My car. My job. What would I have in Nablus or Be'ersheba?" he declares. "My children know nothing but Jordan. And we will stay here."
I've been making these points time and again on this blog, but the article's publication in The Independent should expose these facts to more people, and especially to those who need them.
11:52AM: Sesame Street is set to go to Gaza, where the gang will talk about peaceful conflict resolution and promote self esteem for palestinians.
This represents bad news for Ernie and Bert.
8:28AM: Richard Goldstone in yet another interview with Al Jizz.
Note in particular:
Goldstone repeating the untruth that the criticisms of his report do not go to the substance (to paraphrase Yoda, chopped liver we are?)
Goldstone describing the Obama adminstration's response to the report as "ambivalent" (he's right)
Goldstone referring to the case of palestinian children being deliberately shot as "indicating an unfortunate lack of discipline in the Israeli army," and then responding to the interviewer's question as to whether it is indicative of a lack of discipline or an issue of IDF policy by saying this is why there is the need for an investigation "to see where it comes from", rather than whether or not the allegations of deliberate killings are true to begin with. In other words, he seems to be accepting the allegation of such an occurrence as fact, and defining the parameters of an investigation as determining why it happened, not if it happened.
6:05AM: Israel has reacted with caution to news that representatives of Iran, US, Russia and France accepted a draft agreement committing Iran to shipping 75 percent of its enriched uranium stockpile to Russia for further enrichment.
While both the Prime Minister's Office and the Foreign Ministry have made no comment on the development – saying it was premature to discuss – others have not been quite as mum.
The Iranian nuclear threat is "still alive and kicking," a senior official in Jerusalem told Ynet in the wake of reports about a draft agreement between Tehran and global powers in respect to Iran's nuclear program.

However, it appears Israeli officials are divided on the implications of the draft deal, with some claiming that it marks an initial achievement in the battle against Iran. Supporters of the deal claim that Iran's nuclear efforts will be set back by a year or more should the agreement be approved.

However, other officials in Israel are concerned that the agreement will be tantamount to giving Iran the go-ahead for continuing its uranium enrichment efforts.

"The great fear is that this kind of agreement will make it appear that Iran is indeed showing a reconciliatory attitude, while it continues the basic enrichment of uranium in Natanz and in the secret site exposed in Qom through the West's intelligence work," one official said.

"The expected deal takes care of Iran's openly available uranium which it enriches for seemingly civilian aims, while it continues to secretly enrich uranium for military aims," he said.

Israel officials are also looking to Washington, which expressed satisfaction over the agreement being formulated, as it was reached via dialogue rather than threats. At this time, Jerusalem will refrain from an official response to the draft agreement.