The Day In Israel: Tues Oct 27th, 2009
Channel 10 reported that a summit of Mediterranean states planned to be held in Turkey in November was canceled after Egypt and other Arab states refused to sit round the same table as Israeli Foreign Minister Avigdor Lieberman.
I don't know about you, but I feel that giving back the Sinai really paid dividends.
Updates (Israel time; most recent at top)
11:40PM: A few months ago, this video from northern Israel of a horse trampling a car was making the rounds.
Now comes this video from southern Israel, in which the horse comes off second best.
11:30PM: Another case of premature explodation.
8:40PM: Terrorists fired a Katyusha-type rocket into Israel earlier this evening, in what the IDF called "a grave incident." A fire broke out at the rocket's impact site, near the northern town of Kiryat Shmona, but there were thankfully no casualties.
Channel 2 reported that IAF planes carried out strikes in southern Lebanon within an hour of the rocket being fired.
While there has been no claim of responsibility, Israeli security sources believe the rocket was not fired by Hizbullah, but rather by a small palestinian organization.
8:32PM: Here's a firsthand account of events from the blogger whom Richard Silverstein attempted to have kicked out of his panel discussion.
"We know that there are people here who disagree with what we believe, but we welcome them to our conference."  — Jeremy Ben Ami in his opening remarks to the "Driving Change" Conference

This is not the first blog to accuse J Street of duplicity in ballyhooing its"Pro Israel" brand.  But today at its gala conference in Washington, I saw the real face of diversity J Street style.  I registered with my real name and paid the admission price and actually believed what Jeremy Ben Ami declared in his welcoming speech.

At 12:45 on Monday, the "Bloggers'" panel convened at the Grand Hyatt to a packed- to- overflowing room to hear the stars of the ultra-left blogosphere – including the inimitable Richard Silverstein of Tikkun Olam.  Just as his fellow bloggers were finishing up their  vilification of Jeffrey Goldberg, whose less-than-hard-hitting interview of Jeremy Ben Ami apparently enraged the leftosphere,  Silverstein leapt up from his seat, pushed his way frantically past the audience and said to a J Streeter, "Get security.  We're going to kick this guy out."  I, like many others in the crowd, were filming the event.  No notification was given to participants that filming or recording was not allowed.  Later, I was told by a security guard that anyone could film any event and that he had received no instructions to bar recording devices.  Much of the conference was live-streamed, as a matter of fact.

The next thing I knew was that two J Street officials were dragging me out of the room demanding that I stop filming.  I complied with their request and asked them why they were singling me out.  Amy Spitalnick, J Street's chief spokesperson then told me that only authorized persons could film a discussion.  I expressed surprise and suggested that they were singling me out at the behest of one of their bloggers (Richard verified later that he was on a panel for J Street).  I asked for an apology from Amy, but she refused, saying that no one except for authorized persons could photograph the discussions (I witnessed many audience members photographing sessions – no one was dragged from the room and chastised).

As the late, lamented TV pitchman, Billy Mays was wont to say, "But wait, we're not through yet!"  Later in the day I happened to be seated near Mr. Silverstein at a panel on Iran.  When the session broke I went up to him and said, "Richard, let me buy you a cup of coffee and we'll sit down and discuss this like adults" whereupon he literally ran over to a security guard who then proceeded to demand identification from me.  It seems that Richard told the guard that I was at the conference under an alias and that I did not pay to attend.  I produced the necessary identification which satisfied the put upon man.  At that point I had had just about enough from the hysterical Mr. Silverstein.  As I mentioned, the guard told Mr. Silverstein that anyone could film the conference as he had received no instructions to the contrary.

The harassment didn't end there.  I was brought to the J Street desk by the guard with Richard leading us demanding that I be ejected because, "I didn't belong here." He continued harassing me by telling the guard that I had registered under a false name, a charge that was quickly proved false.

I recounted the events to Amy Spitalnick of J Street and demanded an apology for J Street's harassing and embarrassing behavior.  She refused.  I then asked if she would speak to Mr. Silverstein, who was at the conference at J Street's invitation.  She replied that she would.  Finis.

Yes, I disagree with many of J Street's  positions and statements.  I also agree with some of them, especially their condemnation of terror as the state policy of Hamas.  Jeremy Ben Ami set a welcoming tone for people who disagree with J Street's agenda at the outset.  That that tone was betrayed by the uncivil and harassing conduct of his chief spokesperson reveals the darker side of J Street's view of freedom of speech.
5:50PM: Here is an open letter to Richard Goldstone, written by Israeli doctor David Zangen (hat tip: Richard)
Dear Judge Goldstone,

My name is Dr. David Zangen, I am a consultant in Pediatric Endocrinology and diabetes at Hadassah University Hospital in Jerusalem. Over 50% of my patient population is Palestinian from Jerusalem, the West Bank and Gaza. I speak Arabic and initiated the first training program for Palestinian physicians in the field of Pediatric Endocrinology. The trained physicians were fully respected and were included as first authors on our studies that are published in world leading professional journals.

But, at the same time I happened to be the chief medical officer of my brigade during the Defensive Shield Operation in Jenin 2002. I was responsible for the medical treatment of our soldiers but also for enabling the hospital in Jenin to provide full medical services to the civilian population and I was personally involved in numerous medical treatments that Palestinians (including warriors) received from Israeli physicians.

During and after the operation the director of Jenin hospital was a source to what has been falsely called the "Massacre in Jenin where 5000 people were massacred" this same person Dr. Abu Rali has also claimed that one part of the Jenin hospital was destroyed by Israeli tank missiles "12 tank rockets were shot at the hospital …" etc

You should know, honored Judge that these statements have been proved and documented as straight lies not only by Israeli sources but also by the Human Rights Watch and the UN organizations counting only 52 dead people on the Palestinian side (23 on the Israeli side). These organizations and photographs of Jenin hospital following the operation showed no evidence for any destruction at the hospital buildings etc.

This Dr. Abu Rali a director of a hospital, a physician, lies and incites in the service of the Shahids. It is hard to believe that a director of a hospital can give such an obvious false testimony. I can't understand it and you can't understand it but unfortunately this is what has happened. Even persons who would usually be considered reliable sources become advocates of straight lies.

Tragically, moral misbehavior of doctors in the Palestinian Authority is not new. The Pediatrician George Habash sent his terrorists to kill children in Israeli schools and so did the Hamas leader the pediatrician Dr. Rantisi…and so continues to do the Pediatrician encouraging the sending of rockets from Gaza on innocent Israeli schools Dr Mahmud Zaher.

Please judge Goldstone, you should really be careful when such straight liars serve as the basis for your report. I am sure that you mean well but being an eye witness both to the events in Jenin and to the subsequent media and initial false UN reporting I do understand what happened to you. How a person of such stature and integrity could become associated with such a faulted report.
Look Judge Goldstone at your report on the Al Fakhura event on January 5-6th 2009 (paragraphs 651-688). You do report how Israel was accused for directly bombing the UNRWA school. It took 2 weeks to withdraw from this accusation but you, honored Judge, went back to get your testimony only from the same people who spread the blood libel of bombing the school. Moreover when analyzing the scene you claim that you could not verify the numbers of 24 dead and 40 wounded but these numbers are not considered exaggerated. Finally in the Factual findings part you already determine that 24 people were killed and 40 injured!

Did you by any chance try to validate any of these invented and inciting details? Did you look at the Al Jazeera or BBC reports from the same very date of the event? Did you try to validate your "factual findings" conclusions by getting at least Emergency Room charts on the people admitted to their trauma department on this very day? Did you go over the I.D.'s of the "dead" people and the place or cemetery where they were supposedly buried?

Well you didn't!

In all the scene of "40 dead and 40 wounded" filmed by Al Jazeera and other channels reporters and screened at the same day all over the world you could not see bodies or blood spots in the streets beside two or three casualties and one footage of a single wall damaged by a bomb. As a physician who was at terrible suicide events with smaller number of casualties I can testify how it looks like for hours following the event….The media documentation of the Al Fakhura event does not verify and definitely does not go along with the fantasy and lies of your witnesses.

As a judge I must be sure that you did not mean to hurt Israel, I try to believe that you came to Gaza without prejudice…but a judge is expected to look at least for some evidence and verification (media, ER registration, burial places  etc….) of the testimonies and not accept impossible "facts". You have let yourself to be misled by fabrications made by either terrorists or even doctors such as Dr. Abu Rali from Jenin.

I and my colleagues in Israel are proud of the medical service that is given equally to every human being regardless of his origin; we are also proud to belong to a nation that has the imprint of having higher moral standards than others.

The price that we pay for this status is very high. The Palestinians and other Muslims around the world, either common people or even respected doctors, use straight lies as part of the war against us. The Western world media criticizes us and tries to find where we were not behaving up to the extremely high moral standards that we made ourselves.

I call on you Judge Goldstone take this Al Fakhura event, look at the media coverage from the very same date…see the events in the context…try to live one day with the responsibility for the existence of this small nation of 6 million Jews threatened constantly by 300 million Muslims. I call on you to try and not draw conclusions from such lies and misleading witnesses even if they come from so-called professionals. In the modern world propaganda and lies are definitely a part of the war and as a judge you should not serve as a tool for augmenting hatred and conflicts.

We look for peace , we love peace and we do try our very best to fight for our right to exist in the highest possible moral standards even at the cost of our lives.

David Zangen M.D.
3:20PM: Regarding the frightened palestinian boy in one of Reuter's "Pictures of the decade" (see last update), here he is right before he wet his pants:
Funny how this picture did not make the cut.
1:40PM: Reuters seems to be running a Picture of the Decade series. And as usual, they are finding it hard to hide their anti-Israel bias.
Two pictures, two boys. One palestinian and one Israeli. The former portrayed as terrified, the latter as angry and aggressive.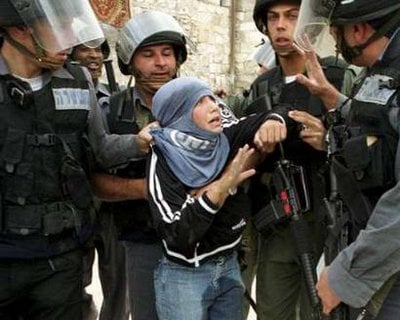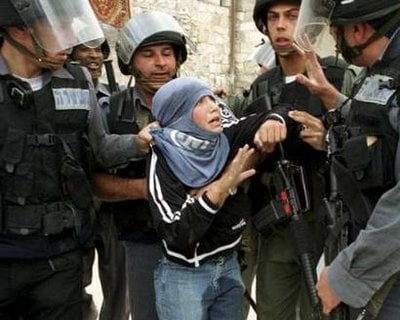 REUTERS PICTURES OF THE DECADE. A young Palestinian protestor is arrested by Israeli border police in Jerusalem's Old City, April 6, 2001 after clashes broke out following Friday's Muslim prayers. REUTERS/Evelyn Hockstein (JERUSALEM)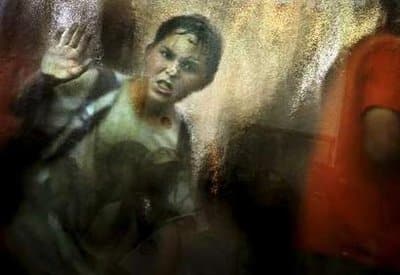 REUTERS PICTURES OF THE DECADE. An angry Jewish settler boy looks out from inside a synagogue as Israeli policemen and solider storm the Neve Dekalim settlement in the Gush Katif, August 18, 2005. Israeli troops stormed two Gaza Strip synagogues and dragged out screaming settlers and supporters on Thursday in assaults on the last bastions of resistance to a pullout from the occupied territory. REUTERS/Damir Sagolj (GAZA)
I am sure there are many photos of young Israeli boys looking terrified and worried, and I am already aware of the thousands of photos of palestinian boys looking aggressive and angry (especially while shooting guns, or throwing rocks and petrol bombs). Yet somehow the "Pictures of the Decade" series features photos supporting the "Israelis as aggressors, palestinians as victims" narrative.
8:50AM: This should tell you everything you need to know about J Street.
J Street's university arm has dropped the "pro-Israel" part of the left-wing US lobby's "pro-Israel, pro-peace" slogan to avoid alienating students.

—-

"We don't want to isolate people because they don't feel quite so comfortable with 'pro-Israel,' so we say 'pro-peace,'" said American University junior Lauren Barr of the "J Street U" slogan, "but behind that is 'pro-Israel.'"

Barr, secretary of the J Street U student board that decided the slogan's terminology, explained that on campus, "people feel alienated when the conversation revolves around a connection to Israel only, because people feel connected to Palestine, people feel connected to social justice, people feel connected to the Middle East."

She noted that the individual student chapters would be free to add "pro-Israel," "pro-Israel, pro-Palestine," or other wording that they felt would be effective on this issue, since "it's up to the individuals on campus to know their audience."
8:40AM: US ""allies", the Saudis: Saudi University Professor Salman Al-Abdali explains the difference between suicide bombings in Israel and Saudi Arabia.
6:02AM: Solomon has more on the J Street conference and the Silverstein panel blogger ejection, including this gem.
It gets better. Stavis tells me that Mr. Silverstein was sitting in front of him at another (formal) J Street panel. Hillel approached Mr. Silverstein and asked him if he would like to sit down and discuss matters calmly…Whereupon RS motored immediately to a security person and insisted that Mr. Stavis was a fraud, that he wasn't who he said he was (cuckoo, cuckoo…who exactly does he think Stavis is?)…the guard asked for Stavis' conference badge and ID. Everything checked out. So of course our Mr. Stavis insisted he do the same for Silverstein.
Solomon also links to this article, which describes how Nobel Laureate and Holocaust survivor Elie Wiesel was mocked at the conference.
Blumenthal went on to trash Elie Wiesel for speaking this past weekend at the Christians United for Israel conference in San Antonio. After mocking Pastor John Hagee, the founder of CUFI, Blumenthal said "the last time Elie Wiesel trusted someone so much it was Bernie Madoff." Wiesel admitted earlier this year that he lost "everything" he had in Madoff's ponzi scheme. The audience erupted with laughter at Blumenthal's tasteless joke.
Peace lovers, huh?
5:52AM: In their latest report, Amnesty International has accused Israel of "denying Palestinians the right to access adequate water by maintaining total control over the shared water resources and pursuing discriminatory policies" which "unreasonably restrict the availability of water in the Occupied Palestinian Territories (OPT) and prevent the Palestinians developing an effective water infrastructure there."
NGO Monitor has identified some major issues with the report, not least the timing of its release.
NGO Monitor notes that Amnesty International's 112 page report titled "Troubled Waters – Palestinians Denied Fair Access to Water", is timed to strengthen the Israel boycott campaign, coinciding with a US speaking tour linking the water issue and Israeli 'apartheid'.  The report itself is a political document which promotes an imaginary and highly distorted version of international law.  In addition, it omits critical context to the conflict in order to promote the Palestinian narrative, thereby continuing the NGO-led political warfare against Israel.

This report is the latest episode in Amnesty's campaign against Israel.  Amnesty International headquarters issued over twenty statements overwhelmingly critical of Israel during and in the aftermath of the Gaza conflict.
Amnesty's report provides legitimacy for a speaking tour beginning November 1 at universities in the US organized by the Palestinian Cultural Academic Boycott of Israel (PCABI) movement entitled, "Israel's Control of Water as a Tool of Apartheid and means of Ethnic Cleansing."  The main speaker, Omar Barghouti, is a leader of the boycott divestment and sanctions (BDS) campaign against Israel.
Amnesty's report ignores evidence that not only does Israel provide West Bank Palestinians with more water than required under the Oslo framework, but that Palestinian water thieves are responsible for stealing up to 50% of supplies in some areas.
Amnesty claims that levels of Palestinian water consumption (60-70 liters per person per day), are "the lowest in the region." Amnesty omits easily available evidence that this is a similar level, if not better than major regional cities such as Amman, Tunis and Algiers.
The report is based on the claim that Israel is violating Palestinian human rights, because the Oslo framework, on which current water arrangements are based, "codified inequality in access to water resources".  This approach patronizingly assumes that the Palestinian leadership is incapable of negotiating agreements, and creates the spectre of future agreements that will be abrogated on similar ground.
The report invents standards of international law, by erroneously claiming (including on the front cover) that Israel has an "obligation to respect, protect and fulfill the right to water" based on the International Covenant of Economic, Cultural & Social Rights (ICESCR).  Amnesty falsely implies that the ICESCR demands a right to water when no such right is even mentioned in the treaty. In fact, the legislative history of the ICESCR indicates that the State parties deliberately omitted water issues.