The Day In Israel: Wed Oct 28th, 2009
In an interview with some sycophantic nobody from the website Palestine Note, Head Hamashole Khaled Meshaal insulted the intelligence of everyone by claiming, inter alia, that Hamas respects international law, will form an honest and neutral investigative committee to look into their conduct during Operation Cast Lead, and – here's my favorite – did not aim their rockets at Israeli civilians who were hit, rather, because of the rockets' poor accuracy.
Hamas' political leader has said that his Islamist organization is willing to form an investigative committee to present "the facts" of its actions during the winter conflict with Israel, following a United Nations report which accused both sides of war crimes during the hostilities.

"When Hamas deals seriously with the Goldstone report, with some reservations on it, this is evidence that Hamas respects the international law and is ready to cooperate with this law," Khaled Meshal told the Web site Palestine Note in an interview from his base in Damascus.

"If the report or any other side has any reservations on Hamas' actions, we are ready to explain them and we will form an honest and neutral investigative committee in Gaza to give Goldstone and its committee and the international community the facts."

—-

But Meshal rejected the claim that Hamas had deliberately targeted Israeli civilians during the fighting, when thousands of rockets were fired from the Gaza Strip – which it controls – into Israeli communities.

"Hamas does not aim to kill civilians. Hamas does not want to target the civilians," he said. "Hamas defends itself, but because it has simple abilities and its rockets are inaccurate in targeting, so it reaches the civilians, but we do not intend to do that."

The Hamas leader also said that the group is willing to abide by any international attempts to secure a peace deal between Israel and the Palestinians, and that Hamas is willing to accept the borders that existed before Israel captured the West Bank, Gaza Strip, East Jerusalem and Golan Heights in the 1967 Six Day War.

—-

Meshal said that the Palestinians, including Hamas, would be willing to accept a peace deal based on the 1967, and warned that this was the only option for peace.

"…[I]f the Arabs and the Palestinians found seriousness from the American administration in pressuring Israel to withdraw to 1967 borders, and recognize the Palestinian and Arab rights and stops its occupation and aggression, I'm telling you that the Arabs and Palestinians will cooperate with the American administration and there will be peace in the region," he told Palestine Note. "Without that, the struggle will remain and all the American and international attempts will fail because in brief they're not moving in the right direction."
You can watch the interview here.

[Warning: Fast moving subtitles may cause severe dizziness. As may trying to comprehend the ridiculousness of Meshaal's answers]

The only thing more infuriating than Meshaal's audacity in believing people will swallow his blatant lies is the fact that in this regard, he's right.

Updates (Israel time; most recent at top)

10:52PM: Disturbing report on the largest cult in Israel – Scientology.

Pay special attention to what the reporter says about Tom Cruise.

7:50PM: Anti-Israel blogger Richard Silverstein has posted about the J Street conference (http://www.richardsilverstein.com/tikun_olam/2009/10/28/2-12-cheers-for-historic-j-street-national-conference/). Here's his reaction to Holocaust survivor and Nobel Prize laureate Elie Wiesel getting mocked.
Returning to the blogger panel, Blumenthal had one of the more memorably funny quotes of the day criticizing Elie Wiesel's address to Pastor John Hagee's Christians United for Israel national event (the joke refers to Wiesel's investment losses with Bernie Madoff):

The last person Elie Wiesel trusted this much was Bernie Madoff.
Nice guy, huh?
Meanwhile, here's Silverstein's version of the infamous "blogger ejection incident."
Another denizen of the right-wing Jewish deep slime, Hillel Stavis, crashed the panel, taking pictures of the panelists and attendees without authorization and had to be escorted from the room.  Since he was a registered conference goer, J Street allowed him to remain in the hall even though he wrote a scummy report at his own blog complaining of his "shabby" treatment.
Notice how Silverstein does not mention his own role in Stavis being escorted from the room (he was the one who approached security), nor the fact notification was not given to participants that filming or recording was prohibited.
6:00PM: Here is a debate on the Goldstone Report with perhaps the worst representative of the Israeli side I have ever seen – aggressive, rude, inarticulate, and showing more than a passing resemblance to Dr Evil.
Of course, the Iranian they chose to debate him is very articulate.
Ouch.
It's a shame they didn't invite someone like Richard Landes or other Understanding the Goldstone Report contributors instead.
5:25PM: Israelis are increasingly getting cheesed off with Turkey.
An employee stands behind a sign depicting a crossed out Turkish flag taped to the window of a coffee shop in Tel Aviv October 27, 2009. A manager at the coffee house said the decision not to sell Turkish coffee was made in protest at Turkish criticism of Israel over its military offensive in the Gaza Strip earlier this year. Israel this month summoned a senior Turkish diplomat to protest a Turkish television drama that depicted an Israeli soldier shooting dead a Palestinian baby. Picture taken October 27, 2009. REUTERS/Amir Cohen (ISRAEL FOOD POLITICS CONFLICT)
If you think this is harsh, consider the kinds of signs displayed in Turkish shop windows.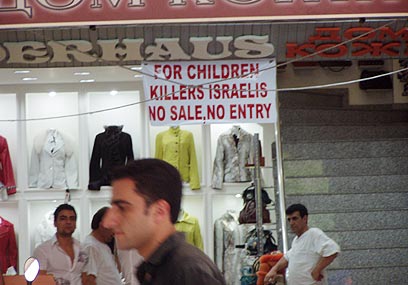 1:00PM: Lebanese troops have found and dismantled four rockets ready to be fired into Israel, in the same area from where yesterday's Katusha was fired.
Meanwhile, Israeli Ambassador to the United Nations Gabriela Shalev has filed an official complaint with UN Secretary-General Ban Ki-moon and the Security Council president over yesterday's rocket attack, expressing concern over the rise in hostile activity from Lebanese territory and stressing that Israel holds the Lebanese government responsible for any attack to come from its territory.
6:05AM: Lawfare: Israel's Deputy Foreign Minister Danny Ayalon has faced possible arrest on war crimes charges during an official visit to the UK.
Ayalon returned to Israel on Tuesday evening after a two-day visit to London, during which pro-Palestinian activists attempted to use a section of British law to have him arrested.

The International Criminal Court Act of 2001 and the Criminal Justice Act of 1988 allow for private individual complaints of war crimes to be lodged against military personnel, even if they are not British citizens and the alleged crimes were committed elsewhere.

Ayalon and his advisers received the news on Monday evening before he was scheduled to give a keynote speech at the London School of Economics. His team took the necessary precautions and, after consulting with the Israeli Embassy, decided that he would continue with his trip.

On Monday night, Ayalon spoke at LSE. However, a student wearing a keffiyeh held up proceedings by shouting at the minister as soon as he took to the podium to deliver his speech, "The Situation in the Middle East: The View from Israel."

Despite appeals from Prof. Michael Cox, head of LSE's International Relations department and chairman of the event, the student refused to stop hurling abuse at Ayalon. Eventually the audience turned against the student, after the chairman lost control, and the minister was able to give his speech and engage in debate afterward.

—-

Ayalon's advisers believe that the material advertising the university event was the catalyst behind the call for his arrest, as it described him as a former IDF officer: "Mr. Ayalon is a former captain in the Israeli army who served as foreign policy adviser to prime minister Ariel Sharon and as Israel's ambassador to the United States from 2002 to 2006."

No further details were available at press time regarding who demanded the arrest.

Earlier this month, Strategic Affairs Minister Moshe Ya'alon, a former chief of General Staff, declined an invitation to travel to the UK to speak at a Jewish charity fund-raiser, for fear that he might face arrest on charges of war crimes.

On Tuesday, Ayalon had meetings with government officials, in which he raised the absurdity of Israeli officials facing possible arrest under the universal jurisdiction law when they visited the UK. The minister also discussed the boycott call by a number of British trade unions, and bilateral relations.
Ayalon has yet to tweet about his experience.