The Day In Israel: Sunday Nov 29th, 2009
The Israeli Foreign Ministry welcomed an IAEA resolution criticizing Iran for defying a UN Security Council ban on uranium enrichment, censuring it for secretly building a uranium enrichment facility, and demanding that it immediately suspend further construction.
Israel's Foreign Ministry welcomed the IAEA resolution, noting that it was the first in over three years that the agency has adopted against Iran.

But it called for real action on the part of other international bodies to give teeth to international demands on Iran.

"The Iranians are still unconvinced that [international] threats and declarations will lead to sanctions," a senior Israeli diplomatic official said on condition of anonymity.

"They think they can continue to squeeze this lemon. This reflects an internal debate in the Iranian [regime] over when to give in [to international pressure]," he added.

The IAEA resolution was "a welcome development" because "we believe it strengthens the European and American capability for increasing pressure. The resolution is a real message to the Iranians that the international community is serious."

The Foreign Ministry urged world powers to make certain the demands on Iran "did not stop with just rhetoric," according to ministry spokesman Yossi Levy.

"There are two elements that will decide if international pressure is successful," Levy said. "One is an unbending schedule [for diplomatic talks], and two, a price tag for every Iranian violation. When these are in place, the diplomatic process will have a momentum that will ensure the sanctions on the Iranian regime are painful and effective."

According to the spokesman, Israel views the IAEA resolution as proof "that the international community is increasingly coming to the understanding that a nuclear Iran is an extremely dangerous prospect."
Updates (Israel time; most recent at top)
5:30PM: I think this next AP photo provides a clue as to why a "settlement freeze" won't help palestinians, but quite the opposite.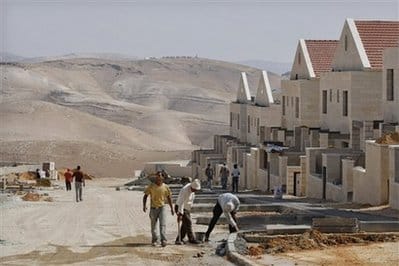 In this file photo of Tuesday, June 9, 2009, Palestinian men work at a construction site in the West Bank Jewish settlement of Maaleh Adumim, near Jerusalem. Israel's defense minister ordered his office on Sunday, Nov. 29, 2009, to recruit and train more construction inspectors to enforce a West Bank settlement freeze declared by Israel's premier last week, while settler leaders vowed to defy the order. (AP Photo/Dan Balilty, File)
12:55PM: When he's not making nice with Iranians, Israel's sole NBA player Omri Casspi is scoring well on the court.
18 points, 4 rebounds, 1 assist..that's what I'm talking about.
6:12AM: On Friday, I posted Israeli Culture and Sports Minister Limor Livnat's comments about US President Barack Obama:
"I do not envy the prime minister. We are facing an awful administration"

"Within a week, construction will start on housing units (in the West Bank) that had been previously approved, and then we will be accused of being cheaters and scoundrels. I know the prime minister is in distress; it is not easy facing the US president, after the latter dragged him through a series of torments."
Now other Likudniks have joined the anti-Obama party.
Rank-and-file Likudniks and lawmakers in the ruling Likud party lambasted the Obama administration at a gathering on Saturday, in response to Israel's decision to temporarily freeze construction in West Bank settlements.

MK Dani Danon organized the meeting after Culture and Sports Minister Limor Livnat (Likud) launched a verbal attack over the matter on U.S. President Barack Obama's administration, which she branded "terrible."

While Prime Minister Benjamin Netanyahu immediately distanced himself from her comments, the activists at Saturday's conference leveled further criticism at Obama over the moratorium, which Israel undertook to carry out in the wake of tremendous

"The Obama administration is an enemy of the Jews and the worst regime there ever was for the State of Israel," said Yossi Naim, the head of the Beit Aryeh regional council, at the Ra'ana meeting. "I announce to Obama: You won't be able to stop us."

The mayor of the West Bank settlement of Ariel, Ron Nahman, called Netanyahu's announcement of the settlement freeze a disgrace.

Directing his comments to Livnat, he said: "I am proud and happy that you said what you said, because you had the public courage to say what most of the public feels ever since Obama came to power."

Nahman repeatedly referred to the U.S. leader as "Hussein Obama," omitting his first name.
6:00AM: Over a week ago, Alan Dershowitz stood at Fordham Law School with a copy of the Goldstone Report on the table, which he then proceeded to brilliantly demolish. You can watch it here (hat tip: Noah Pollack)
For the record, Alan Dershowitz had challenged the report's author Richard Goldstone to a debate, but the latter refused, reportedly saying the following to organizers:
"Professor Dershowitz has conducted a very personal, demeaning and tendentious attack on me in recent months. On no account am I prepared to have a public debate with him."
To quote a line from Spaceballs, "What's the matter, Colonel Sanders? Chickennn?!"