Syrian Dorktator Bashar al-Assad said that peace talks with Israel have been stalled because Israel was not interested in achieving peace.
"We discussed today the ways to bring the peace process out of the deadlock that it has reached … because of the absence of a serious Israeli partner who aims to achieve peace," he told a joint news conference with Erdogan.

"When Israel says it wants negotiations without conditions it means it wants negotiations with no foundation. This is like having a building with no foundation, then it's very easy to be brought down and they want to bring down the peace process," he said.
I'd venture to say that Assad himself is way more interested in constructing metaphors than achieving peace. He's also rather clueless as to the meaning of the word "negotiation."
Updates (Israel time; most recent at top)
10:46PM: Only last week, Israel removed a road block on the very road where Meir Hai was shot dead today.
10:28PM: Photo-caption combination of the day:
Abu Ubaida, spokesman for Hamas's armed wing, the Izz el-Deen al-Qassam Brigades, arrives for an interview in Gaza December 23, 2009. As an Israeli drone flew overhead, Ubaida said the Islamist group would not shirk from battle with Israel, which carried out a powerful Gaza offensive a year ago. Picture taken December 23, 2009. REUTERS/Ismail Zaydah
Tough words from a guy wearing a mask and hiding under the cover of trees.
No shirking from battle? Against woodpeckers, perhaps.
9:50PM: More on terror victim Meir Chai:
The spokesperson said that Chai, the father of seven children between the ages of eight months and 18 years, was a very well-liked and respected man who contributed a great deal to the community. He said that residents "are very shocked, hurt, and angry."

Chai was known locally for helping teach torah studies to local students in Shavei Shomron and reportedly showed special kindness towards children.
8:12PM: The victim of today's terror attack was Rabbi Meir Chai, who was either 30+, 40, or 45, depending on which news outlet you want to believe.
6:10PM: What or who are these palestinian policemen looking for?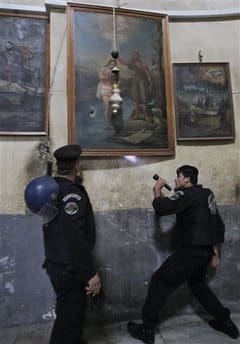 Palestinian police officers perform a security check inside the Church of Nativity, traditionally believed by Christians to be the birthplace of Jesus Christ, in the West Bank town of Bethlehem, Thursday, Dec. 24, 2009. (AP Photo/ Nasser Shiyoukhi)
a) Arafat's billions
b) Naqba dwarf
5:42PM: An group called the Imad Mughniya Group and proclaiming affiliation to Fatah's Al-Aqsa Brigades (Fatah as in our "peace partners") claimed responsibility for the shooting.
5:40PM: The victim was a 45-year-old father of seven.
Meanwhile, MK Michael Ben Ari said in response to the attack:
"The path of capitulation, the opening of arteries, the [settlement] freeze and the release of [Palestinian] prisoners that [Prime Minister Benjamin] Netanyahu has brought down upon us signals to terrorists that Jewish blood is negligible. The terrorist probably thinks that he will be released in the next exchange."
5:32PM: BREAKING NEWS: An Israeli man has been shot dead in an apparent terror attack in the West Bank while driving along Route 57, between Shavei Shomron and Einav. The terrorists fled the scene.
5:00PM: Introducing our latest weapon: Zionist Death Pony.TM
This was a pursuit for which no policeman was prepared: Two inspectors, riot police, a police patrol car and one civilian ? all of them participated on Wednesday in the hunt for a pony that galloped across the central city of Holon.

On Wednesday morning, municipal inspectors received a report that a pony was galloping along the central city's Dov Hoz Boulevard.

Two inspectors rushed to the scene and saw the animal galloping against the traffic toward Sokolov street, at which point officers from the Israel Police Yassam special forces unit also gave chase, riding mopeds. A few minutes later, the ensemble was joined by a police patrol car, which had been waiting at the corner of Sokolov street and Shenkar street.

The pony, unimpressed by the massive chase, continued to gallop through the streets, until another inspector, equipped with a rope, joined the crowd and successfully roped the pony and subdued him.

The pony was taken to the city veterinary department.

Dr. Uri Bartman, the city veterinarian, said the animal in question was a "Jewish pony" ? circumcised and sterilized.
Of course, this is not the first time one of our weapons of horse destruction has gotten away and caused havoc.
4:46PM: Oil!!
4:35PM: Hamas say they are ready to fight us. If a battle is..ehhh..imposed on them.
"We do not wish for war. We wish for calm and peace for our people," Abu Ubaida, Izz el-Deen al-Qassam Brigades spokesman told Reuters.

"But if any battle is imposed on us, we are ready with all our manpower and equipment to confront any Zionist war, any crime and any attack regardless of scale," he added.

Israel has said the brigades, which some observers estimate have 25,000 fighters, have been seeking with Syrian and Iranian help to upgrade their rocket capabilities and put the Israeli heartland and the commercial capital of Tel Aviv within range.
Yep. Those peaceloving Hamasniks don't wish for war.
Israel will exist and will continue to exist until Islam will obliterate it, just as it obliterated others before it" (The Martyr, Imam Hassan al-Banna, of blessed memory).
3:52PM: From the IDF:
Following explosions heard on road 443 on 17.12.09, IDF and border patrol forces searched the area of the village Bir Neballah, south of Ramallah. During the searches, the forces uncovered a roadside bomb, attached to the bomb was a note with instructions on how to use the device in order to cause maximum damage and a message attributing it to a Palestinian terrorist unit. Upon discovery, the device was detonated in a controlled manner by the bomb squad.
3:46PM: Israeli President Shimon Peres wishes "all of us" a happy and merry Christmas.
1:22PM: Two can play this game.
More than a dozen Israeli victims of Palestinian rocket attacks have petitioned a court in Belgium to bring Hamas leaders to trial for committing war crimes against them during last year's war in the Gaza Strip.

The 15 Israelis, who also hold Belgian citizenship, were all either wounded, sustained damage to their homes, or lost a relative in an attack from Gaza during Operation Cast Lead.

In an unprecedented lawsuit submitted by a pro-Israel group in Europe, the plaintiffs have asked the court to open a judicial probe against 10 Hamas military and political leaders and issue arrest warrants if necessary.

"The request for arrest warrants was submitted after six months of legal preparation and is based on strict evidence which ties Hamas leaders to terror attacks in which Belgium citizens ware harmed," the plaintiffs' attorney, Roel Coveliers told AFP on Thursday.

The complaint cites reports from international human rights groups, as well as the Goldstone Commission's damning report on the war, which accuses both Israel and Hamas of war crimes during the three-week conflict.

"The Goldstone report says, among other things, that the rocket attacks by Hamas constitute a violation of international humanitarian law, so as a member of the United Nations, I don't believe Belgium will ignore the complaint," Coveliers added.

Syria-based Hamas political leader Khaled Meshal, Hamas Prime Minister Ismail Haniyeh, strongman Mahmoud Zahar and the heads of the group's armed wing Ahmed Jaabari and Mohammed Def have all been targeted in the lawsuit.

The lawsuit comes amid a slew of arrest warrants being issued in Europe against Israeli leaders. Most recently, opposition leader and Kadima Chairwoman Tzipi Livni canceled a trip to the United Kingdom after learning that a warrant had been issued against here there.
10:15AM: Honest Reporting has obtained Swedish blood libel "journalist" Donald Bostrom's letter to Santa:
Dear Santa,

Please send me hard evidence that the IDF stole organs from Palestinian kids. I don't have any, and Jewish bloggers are still breathing down my neck. Notwithstanding this Dishonest Reporting award, I still consider myself "nice."

Sir, let me remind you of your ties to the 2001 Alder Hey scandal. It's very curious that all the improperly harvested organs came from British kids on your "Designated Naughty Children" list.

It would be a real tragedy to see your image equated with the Israeli army amid calls for an international investigation, especially right before Christmas.

I look forward to your reply.

seasons greetings,

Donald Bostrom
6:08AM: I'm guessing the moonbats who took this next video and put it on YouTube were clueless as to what their "friends" were shouting out.
Jewlicious explains:
This was taken this past Friday in Sheikh Jarrah. Every Friday, protesters have been gathering there lately to protest the expulsion last August of two families from their apartments after the Israel Supreme Court ruled that the land upon which their homes were built belonged to the Sephardi Jewish community. The evacuated houses were built in the 1950s by the UNWRA in order to house Arab refugees who had fled from West Jerusalem during the 1948 war. In 1967, when Israel captured east Jerusalem from Jordan and reunited the city, the Palestinian families were permitted to stay on as tenants. Disputing the validity of the ownership of the land, they stopped paying rent. This led to the events that preceded the protests. As you can see, the bulk of the protesters are Jewish and Israeli. What really stood out though was at around 3:19 of the video. One of the middle aged Palestinian women started chanting what sounds like the following: "Falasteene Bladna, al-Yahud klabna" – that would translate into "Palestine is our country! The Jews are our dogs!" – which is kind of odd – I mean the people walking by her in handcuffs were the aforementioned "Jew Dogs" who had been arrested whilst protesting in favor of the Palestinians. Maybe that's why she was shushed? I mean am I hearing this right?

Sheikh Jarrah is located on the road to Mount Scopus. In 1948, during the War of Independence, local Arabs butchered like dogs 78 doctors, nurses and others who were riding in a convoy on that road on their way to Hadassah hospital. Maybe old habits die hard?
Apparently, Jews are dogs, as well as sons of monkeys and pigs. It looks like we are not only taking over the banks, but also the animal kingdom (hat tip: Elder of Ziyon).
5:48AM: Some of the wives of palestinian terrorists that Israel insists be deported instead of returning to the West Bank have indicated to Ma'an News that deportation would be accepted.
"My husband's position is that he wants to stay in the country," Abla told Ma'an, "but under the worst circumstance he would accept deportation to Gaza."

—-

Umm Ahmad, 48, is the wife of Nafeth Herrez, Gaza's longest serving prisoner in Israel.

—-

"Even if he is deported if would be better than jail," she said, adding that both Yasser Arafat and Ahmad Yasin were deported from their homelands before they returned.
Meanwhile, Ha'aretz reports that Hamas is expected to respond favorably to Israel's offer, but will demand the number of expelled prisoners be reduced.

Loading ...
Please help ensure Israellycool can keep going,
by donating one time or monthly