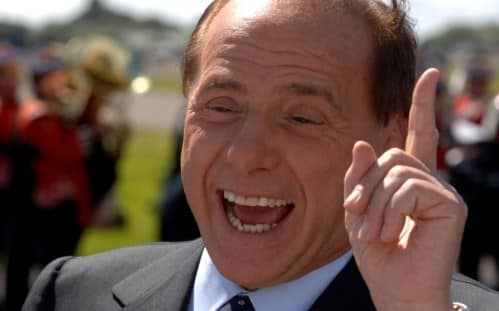 Italian Prime Minister Silvio Berlusconi is set to come to Israel on a state visit in about one month. He is apparently bringing eight Leonardo da Vinci sketches to be put on display in the Knesset, insured by the Italian government for hundreds of thousands of dollars per picture.
Wow, the last time a Leonardo made it's way to Israel, it was accompanied by a pretty girl. I wonder if that will be the case this time.
Meanwhile, Berlusconi is taking the visit seriously, especially his speech to the Knesset.
A few days ago, the Knesset received a telegram from one of Berlusconi's advisers stating that the prime minster did not intend to miss his visit to the Israeli parliament. The adviser wrote that the visit is one of the highlights of his career," and he sees the speech he is to give to the Knesset plenum as the most important speech in his life along with the speech he gave to the U.S. Congress.
As is Israel.
The Knesset House Committee is expected today to vote to permit Berlusconi to address the Knesset in Italian.
Updates (Israel time; most recent at top)
10:55PM: The former head of El Al explains to Fox News why the underwear bomber would never had made it on to an El Al flight.
8:15PM: From nuclear to nookie? Nuclear "whistleblower" (I hate that term) Mordechai Vanunu claims he was arrested for meeting his Norwegian girlfriend.
Vanunu was released after claiming during a court hearing that the relationship between him and the Norwegian woman he met with is of a romantic nature, Channel 10 news reported.

"He is not accused of divulging any information," said Vanunu's lawyer Avigdor Feldman, according to Channel 10. "She is not interested in nuclear matters. She is interested in Mordechai Vanunu, who seems to be interested in her."
Assuming he is telling the truth (a huge assumption to in itself), I wonder what pick-up line he used. My bet is:
"There's a whistle in my pocket with your name on it."
7:56PM: It's time for another round of "Blame the Zionists."
Iranian President Mahmoud Ahmadinejad said on Tuesday opposition rallies were a foreign-backed "nauseating masquerade", the official IRNA news agency reported.

"This is a nauseating masquerade that the Zionists and Americans organized and bought a ticket for, and for which they are the only spectators. The Iranian nation has seen a lot of such masquerades," Ahmadinejad added.

It was the first public speech the president had given since the eruption of reformist protests in his country a few days ago, which have so far claimed the lives of at least 15 people. At least 20 have been arrested.

The nephew of opposition leader Mir Hossein Mousavi was one of the victims of the protests, and the conservative Kayhan paper ran an editorial blaming Mousavi for his death. The editor, Hossein Shariat Madari, also claimed that the opposition leader had ties with "Zionists" and received orders from the Israeli Mossad.

"Since the beginning of the riots all evidence shows that there is a connection between the leaders of the struggle to the Zionists and that they have received orders directly from the Mossad and the CIA," wrote Madari, who is known as an associate of Supreme Leader Ayatollah Ali Khamenei.

"The barbaric and bloodthirsty enemies and the agents who accept orders from Israel did not even refuse to plan the murder of their own nephew," he added.
I wonder if they actually believe this rubbish.
5:50PM: Yet another example of the word "women" being used loosely.
Mrs Doubtfire called. She wants her look back.
4:50PM: George Galloway once again voices his support for terrorism.
4:28PM: A 50-year-old Israeli man has been granted a divorce for an Israeli-record 11th time.
He apparently has no grey hair.
Go figure.
1:06PM: Sderot, one year after Operation Cast Lead.
1:04PM: Nu nu Vanunu: Israeli traitor Mordechai Vanunu – previously incarcerated for 18-years for revealing details of Israel's nuclear weapons program – has been arrested on suspicion he met with foreigners in direct violation of his parole orders.
Perhaps he missed those long summer nights in prison..
11:32PM: Lebanese paper Al-Nahar has reported that the UN is holding talks with Israel and Lebanon, concerning an Israel withdrawal from the northern part of the village of Ghajar* by the end of January.
According to the report, the UN and the United States hope that Israel's withdrawal from the northern part of Ghajar will lead to an ease in tensions between Israel and Lebanon.
Not very likely, considering Hizbullah has made it clear they won't rest until Israel is destroyed.
* Not to be confused with this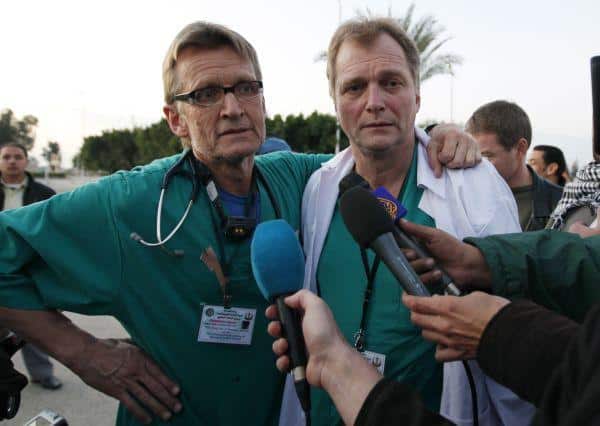 9:00AM: From the Karma's-a-Bitch Department: Norwegian doctor Erik Fosse, who along with the appropriately named Mads Gilbert, collaborated with Hamas in helping to disseminate anti-Israel propaganda during Operation Cast Lead, was recently stabbed in Gaza.
Per an unauthorized translation from Aftenposten:
I take it as a sign of how desperate people are. They have cause to be dissatisfied with the west, he says.

Why do you think precisely you were attacked?

Because I was the only blond western present. I understand that people are frustrated with the west. It is an expression of desperation. But of course one cannot stab people for this reason. The man who attacked me was a disturbed person, says Fosse.

He says there was only a small wound, since the knife-blade broke.
Notice how Fosse is so willing to exonerate the attacker and blame it all on the West. It is inconceivable that palestinians would murder, maim or wound anyone without valid justification. It must be because they are oppressed or disturbed.
As this blogger states:
Another interpretation might be that Fosse's attacker was frustrated with Hamas, the genocidal movement Fosse and Gilbert insist the west acknowledge as a legitimate organization and pressures Israel to negotiate with.

When Hamas went to war against Israel through a sustained rocket-barrage which lasted for years, the NORWAC doctors looked the other way. When Israel struck back and Hamas hid behind the unfortunate civilian population, the doctors published a book filled with photographs of maimed children. And now that Fosse is stabbed, it is the west's fault.
(hat tip: Brian of London)
6:20AM: PA politician Mustafa Barghouti claims that Jesus was the first palestinian.
Well, if you invent an entire nation, what's the big deal with reinventing the history of one individual?