The Day In Israel: Wednesday Feb 24th, 2010
Following Sunday's Hamas denial that it had been infiltrated by Israel's Mossad, comes word that the son of founding Hamashole Sheikh Hassan Yousef worked for the Shin Bet.
The son of a leading Hamas figure, who famously converted to Christianity, served for over a decade as the Shin Bet security service's most valuable source in the militant organization's leadership, Haaretz has learned.

Mosab Hassan Yousef is the son of Sheikh Hassan Yousef, a Hamas founder and one of its leaders in the West Bank. The intelligence he supplied Israel led to the exposure of a number of terrorist cells, and to the prevention of dozens of suicide bombings and assassination attempts on Israeli figures.

The exclusive story will appear in this Friday's Haaretz Magazine, and Yousef's memoir, "Son of Hamas" (written with Ron Brackin) will be released next week in the United States. Yousef, 32, became a devout Christian 10 years ago and now lives in California after fleeing the West Bank in 2007 and going public with his conversion.

Yousef was considered the Shin Bet's most reliable source in the Hamas leadership, earning himself the nickname "the Green Prince" – using the color of the Islamist group's flag, and "prince" because of his pedigree as the son of one of the movement's founders.

During the second intifada, intelligence Yousef supplied led to the arrests of a number of high-ranking Palestinian figures responsible for planning deadly suicide bombings. These included Ibrahim Hamid (a Hamas military commander in the West Bank, Marwan Barghouti (founder of the Fatah-linked Tanzim militia) and Abdullah Barghouti (a Hamas bomb-maker with no close relation to the Fatah figure). Yousef was also responsible for thwarting Israel's plan to assassinate his father.

"I wish I were in Gaza now," Yousef said by phone from California, "I would put on an army uniform and join Israel's special forces in order to liberate Gilad Shalit. If I were there, I could help. We wasted so many years with investigations and arrests to capture the very terrorists that they now want to release in return for Shalit. That must not be done."

The story of Yousef's spiritual transformation appeared in Haaretz Magazine in August 2008. Only now, however, is Yousef exposing the secret he kept since 1996, when he was first held by Shin Bet agents seeking to enlist him in infiltrating the upper echelon of Hamas.

Their efforts proved successful, and Yousef was released from prison in 1997. His former handler, who no longer serves with the security service, says Yousef collaborated with Israel because he wanted to save lives.

"So many people owe him their life and don't even know it," said the handler, named in Yousef's book as Captain Loai. "People who did a lot less were awarded the Israel Security Prize. He certainly deserves it."

Loai makes no secret of his admiration for his former source. "The amazing thing is that none of his actions were done for money," he says. "He did things he believed in. He wanted to save lives. His grasp of intelligence matters was just as good as ours – the ideas, the insights. One insight of his was worth 1,000 hours of thought by top experts."

Loai recalled one time when the Shin Bet received information that a suicide bomber was going to be picked up at Manara Square in Ramallah and be given an explosives belt.

"We didn't know his name or what he looked like – only that he was in his 20s and would be wearing a red shirt," he said. "We sent the Green Prince to the square and with his acute sense, he located the target within minutes. He saw who picked him up, followed the car and made it possible for us to arrest the suicide bomber and the man who was supposed to give him the belt. So another attack was thwarted, though no one knows about it. No one opens Champagne bottles or bursts into song and dance. This was an almost daily thing for the Prince. He displayed courage, had sharp antennae and an ability to cope with danger. We knew he was one of those who in any situation – rain, snow, summer – give their all."

With his memoir, Yousef hopes to send a message of peace to Israelis. Still, he admits he is pessimistic over the prospect of Israel signing a peace agreement with the Fatah-led Palestinian Authority, let alone Hamas.

"Hamas cannot make peace with the Israelis. That is against what their God tells them. It is impossible to make peace with infidels, only a cease-fire, and no one knows that better than I. The Hamas leadership is responsible for the killing of Palestinians, not Israelis," he said. "Palestinians! They do not hesitate to massacre people in a mosque or to throw people from the 15th or 17th floor of a building, as they did during the coup in Gaza. The Israelis would never do such things. I tell you with certainty that the Israelis care about the Palestinians far more than the Hamas or Fatah leadership does."
I previously blogged about Mosab and his admiration for Israel almost two years ago.
There's also a number of YouTube videos of him, including this one. It is part 1 of 6 installments; be sure to click on each subsequent part once it is done.
Updates (Israel time; most recent at top)
10:16PM: Hamas has denied the Ha'aretz report that Mosab Hassan Yousef, the son of a Hamas founder, worked for Israel's Shin Bet security service for 10 years.
Hamas parliament member Mushir a-Masri said that the article was not worthy of a response and called it Zionist propaganda against the Palestinian people.

Haaretz has learned that senior Hamas officials pressured Yousef not to pursue the publication of his story.
Which, of course, means it's true.
9:45PM: The (fake) names and photos of the additional 15 suspects in the killing of Hamashole Mahmoud al-Mabhouh have been released. And I'm glad to report my name was not included amongst the Australian passport holders.
The British passport holders were identified as: Daniel Marc Schnur, Gabriella Barney, Roy Allan Cannon, Stephen Keith Drake, Mark Sklur and Philip Carr

The Irish passports holders were named as Ivy Brinton, Anna Shuana Clasby and Chester Halvey.

The French passport holders are David Bernard LaPierre, Melenie Heard and Eric Rassineux, while the Australian passport holders were identified as Bruce Joshua Daniel, Nicole Sandra Mccabe and Adam Korman.
Fancy that, an Australian called Bruce.
You know where I'm going with this, don't you.
9:38PM: Israeli traitor Mordechai Vanunu has asked to be removed from a list of Nobel Peace Prize nominees, since he does not want to be "associated " with former Nobel Peace Prize laureate and current president of Israel Shimon Peres.
Apparently being "associated" with arch terrorist Yasser Arafat is just fine.
3:58PM: Old and busted: How many people does it take to change a light bulb?
New hotness: How many people does it take to knock off a Hamashole?
Dubai has identified 15 new suspects in the assassination of a Hamas official at a Dubai luxury hotel, bringing the total number of people believed involved in the death to 26, the government said on Wednesday.

Hamas commander Mahmoud al-Mabhouh was killed last month in his hotel room in what Dubai police have said they are near certain was an Israeli hit. They said the killers travelled to the Gulf Arab emirate on European passports.

Of the new suspects, six carried British passports, three held Irish documents, three Australian, and three French, the Dubai government's media office said in an emailed statement.
Three Aussies? I hope I don't wake up tomorrow to find Interpol is after me.
Dubai authorities last week released the identities of 11 people whom they said travelled on fraudulent British, Irish, French and German passports to kill Mabhouh. Two Palestinians suspected of providing logistical support were in custody.

"Friendly nations who have been assisting in this investigation have indicated to the police in Dubai that the passports were issued in an illegal and fraudulent manner," the statement said.

Dubai police also released passport photos and closed-circuit television footage of the suspects, and said two of them had left Dubai by boat for Iran.
Leaving for Iran would suggest it may not have been the Mossad.
3:06PM: You know how you sometimes read something so logical that you wish you had thought of it first? Well, Michael Totten has done just that in this excellent article on the recent killing of arch terrorist Mahmoud al-Mabhouh.
Excerpt:
Even as European Union officials perfunctorily squawk about the use of forged passports by the assassins, few others have grounds to complain. Al-Mabhouh was a terrorist commander on a mission to acquire Iranian weapons for use against civilians. He was a combatant. Unlike his victims, he was fair game. He would have been fair game for even an air strike if he were in Gaza. As he was, instead, in Dubai, he was taken out quietly without even alerting, let alone harming, any of the civilians around him.

If only Israel could fight all its battles this way. It would be the cleanest and least-deadly war in the history of warfare. Even some of Israel's harshest critics should understand that.

"The Goldstone Report," Alan Dershowitz wrote in the Jerusalem Post, "suggests that Israel cannot lawfully fight Hamas rockets by wholesale air attacks. Richard Goldstone, in his interviews, has suggested that Israel should protect itself from these unlawful attacks by more proportionate measures, such as commando raids and targeted killing of terrorists engaged in the firing of rockets. Well, there could be no better example of a proportionate and focused attack on a combatant deeply involved in the rocket attacks on Israel than the killing of Mahmoud al-Mabhouh."
10:52AM: From the Department of Blissful Ignorance: Santas Little Helpers of Purims Past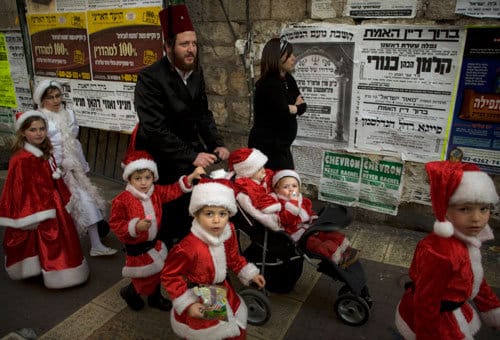 Apparently taken in the Mea Shearim neighborhood of Jerusalem (hat tip: Mrs Aussie Dave).
6:20AM: Islam Jihad is already threatening to perpetrate terror attacks within Israel following the government's decision to declare the Cave of the Patriarchs and Rachel's Tomb national heritage sites ahead of their renovation.
"If the Israelis continue to damage our mosques and holy places, we will respond within the Zionist territory," the al-Quds Brigades spokesman told Ynet.
Israel has not damaged any palestinian mosques or holy places, except those used as weapon storehouses.
Meanwhile, Joseph's Tomb anybody?