The Day In Israel: Wednesday Mar 3rd, 2010
The IDF released for the first time footage of the tracking system deployed along the Gaza border in order to thwart terror attacks.
The system, dubbed "spot and strike," is operated by the IDF's Field Intelligence Corps. The footage shows how the system targets a Palestinian terrorist who was involved in an attempted attack that took place in late December 2009.

The system was controlled by a female officer from the Nesher Observation Unit. The officer directed a military helicopter and a Golani force to the location of the terrorist, while also following three other cell members, thus foiling the attack.

The officer stands to receive a special presidential commendation for her actions, as part of the coming Independence Day celebrations.

The new system, which has been operational for about a year, affords the IDF a new and effective way of dealing with terror threats, army officials say.

"The system proves most effective when we're dealing with real-time events that require immediate response," Chief Field Intelligence Officer Eli Pollack told Ynet.

Lt.-Col. Eran Gabai, head of the Nesher Unit, added that the observers' work is very complex: "They canvass the area constantly to spot potential threats among otherwise mundane parameters."

The IDF found a ladder, ropes and explosives in the documented incident, indicating that the terrorists were planning to climb over the security fence in order to carry out their attack.

Field Intelligence officers employ state-of-the-art technology in their reconnaissance efforts. "It's a 24/7 operation which involves both mobile and stationary teams," said Pollack.

"Our officers and observers are part of almost every military operation today. Our challenge is to keep misleading the enemy," he concluded.
Of course, all of this would be unnecessary if the palestinians were not trying to commit terrorist attacks, a fact worth noting next time a pro-palestinian claims the security fence is a "land grab."
Updates (Israel time; most recent at top)
10:15PM: Oops!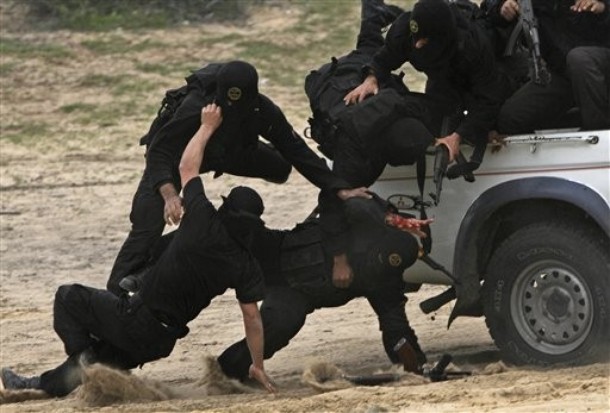 Palestinian Islamic Jihad militants fall off of a truck after one of them was injured, center, during a training session on the outskirts of Khan Younis, southern Gaza Strip, Wednesday, March 3, 2010. (AP Photo/Tara Todras-Whitehill)
(hat tip: Brian)
If only a similar mishap had occurred at Hamas training…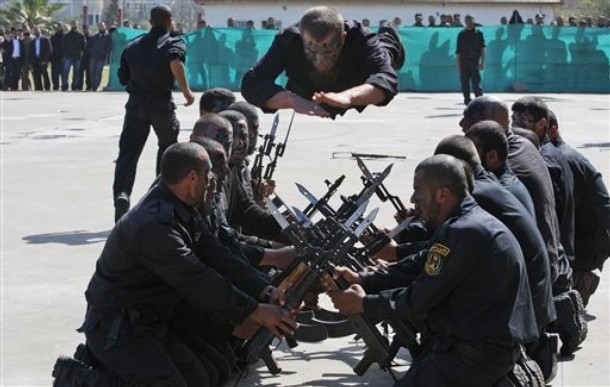 Palestinian security forces from Hamas demonstrate their skills during a graduation ceremony at a training area in Gaza City, Monday, March 1, 2010.
6:24PM: Photo of the day. Presumably taken on Purim, but given Jerusalem Syndrome, who knows (hat tip: Eli)
"Must..resist…urge…to….climb.."
6:06PM: According to Facebook's head of strategy for Europe, the Middle East and Africa, Israelis spend over one billion minutes on Facebook every month, making it by far Israel's most popular site and more than the time they spend on Google, Walla, and YouTube combined.
Here's a case in point.
The Israel Defense Forces called off a raid in Palestinian territory after a soldier posted details, including the time and place, on the social networking website Facebook, Army Radio reported on Wednesday.

The soldier – since relieved of combat duty – described in a status update how his unit planned a "clean-up" arrest raid in a West Bank area, Army Radio said.

"On Wednesday we clean up Qatanah, and on Thursday, god willing, we come home," the soldier wrote on his Facebook page, refering to a West Bank village near Ramallah.

The soldier also disclosed the name of the combat unit, the place of the operation and the time it will take place. Facebook friends then reported him to military authorities.

The Israeli military spokesman's office had no immediate comment.

Israel says raids in the West Bank are aimed at detaining militants suspected of planning attacks on Israelis. Palestinian officials say the incursions undermine efforts by the Western-backed Palestinian Authority to enforce law and order in the territory.
Next status update from the IDF soldier in question: Guess who just did a really stupid thing?
11:35AM: Despite yesterday's report that Hamas believes Egypt or Jordan were behind the Mahmoud al-Mabhouh hit, the Dubai police chief plans to pursue the arrest of the Israeli Prime Minister and Mossad chief.
Dubai's police chief plans to seek the arrest of Prime Minister Benjamin Netanyahu and the head of the Mossad over the killing of a Hamas leader in the emirate, Al Jazeera television reported on Wednesday.

Dahi Khalfan Tamim "said he would ask the Dubai prosecutor to issue arrest warrants for … Netanyahu and the head of Mossad," the television said. It did not give details.

Tamim has said he is "almost certain" Israeli agents were involved in the killing of Hamas commander Mahmoud al-Mabhouh at a Dubai hotel in January, calling for Mossad's boss, Meir Dagan, to be arrested if it is proved responsible.
6:15AM: Relations between Israel and New Zealand seem to be thawing after the horrible Helen Clark years (hat tip: Zak)
A reciprocal deal has been struck between New Zealand and Israel on working holiday visas.

Foreign Minister Murray McCully signed the arrangement in Jerusalem overnight. It allows up to 200 people aged from 18 to 30 to stay and work in Israel for a year. The same applies to young Israelis travelling to New Zealand.

Mr McCully says the move will help to deepen tourism and education links in time, lead to better trade and investment between the countries.

"Israel is already our largest tourist market in the Middle East, and it is an affluent economy that will present opportunities for New Zealand," Mr McCully said.
6:08AM: Mosab Hassan Yousef, the son of a Hamas founder and one of its leaders in the West Bank, who worked for Israel's Shin Bet, talking with CNN's Christiane Amanpour.