Approximately 3,000 leftists – including Meretz Chairman Haim Oron and New Israel Fund President Naomi Chazan – joined palestinians in demonstrating in east Jerusalem's Sheikh Jarrah neighborhood Saturday evening, protesting the eviction of four palestinian families from homes in August and the settlement of Jewish families inside the neighborhood.
Incidentally, the leftist Ha'aretz had the figure at approximately 5,000.
Updates (Israel time; most recent at top)
10:22PM: Golda Meir once made the following now-famous statement:
"Peace will come when the Arabs will love their children more than they hate us."
This next story is yet more proof that the palestinians would rather their own suffer than benefit Israelis.
The Palestinian government will move to prevent Palestinian workers from taking jobs in Israeli settlements in the West Bank, the Palestinian economics minister said Sunday.

Palestinians vehemently oppose the settlements Israel has built on land they want for a future state, but an estimated 20,000 to 30,000 Palestinians work in the settlements. Palestinian construction workers have been key to building homes for settlers, while others work in factories in settlements. Many say the West Bank's poor economy leaves them no choice.

The law, set to be signed by Palestinian President Mahmoud Abbas by the end of the month, would constitute the most determined Palestinian campaign yet against the settlement economy.

Economics Minister Hassan Abu Libdeh, who drafted the law, said it is important for the Palestinians to be consistent with its opposition. "My population, my society, is contributing to the lifeline of settlements, so I am targeting this contribution," he said.
8:00PM: The BBC has all the goss on the Lemba, our brothas from anotha motha.
In many ways, the Lemba tribe of Zimbabwe and South Africa are just like their neighbours.

But in other ways their customs are remarkably similar to Jewish ones.

They do not eat pork, they practise male circumcision, they ritually slaughter their animals, some of their men wear skull caps and they put the Star of David on their gravestones.

Their oral traditions claim that their ancestors were Jews who fled the Holy Land about 2,500 years ago.

It may sound like another myth of a lost tribe of Israel, but British scientists have carried out DNA tests which confirm their Semitic origin.

These tests back up the group's belief that a group of perhaps seven men married African women and settled on the continent. The Lemba, who number perhaps 80,000, live in central Zimbabwe and the north of South Africa.

And they also have a prized religious artefact that they say connects them to their Jewish ancestry – a replica of the Biblical Ark of the Covenant known as the ngoma lungundu, meaning "the drum that thunders".

The object went on display recently at a Harare museum to much fanfare, and instilled pride in many of the Lemba.

"For me it's the starting point," says religious singer Fungisai Zvakavapano-Mashavave.

"Very few people knew about us and this is the time to come out. I'm very proud to realise that we have a rich culture and I'm proud to be a Lemba.

"We have been a very secretive people, because we believe we are a special people."

The Lemba have many customs and regulations that tally with Jewish tradition.

They wear skull caps, practise circumcision, which is not a tradition for most Zimbabweans, avoid eating pork and food with animal blood, and have 12 tribes.

Many people say that the story is far-fetched, but the oral traditions of the Lemba have been backed up by science

They slaughter animals in the same way as Jewish people, and they put the Jewish Star of David on their tombstones.

Members of the priestly clan of the Lemba, known as the Buba, were even discovered to have a genetic element also found among the Jewish priestly line.

"This was amazing," said Prof Tudor Parfitt, from the University of London.

"It looks as if the Jewish priesthood continued in the West by people called Cohen, and in same way it was continued by the priestly clan of the Lemba.

"They have a common ancestor who geneticists say lived about 3,000 years ago somewhere in north Arabia, which is the time of Moses and Aaron when the Jewish priesthood started."

Prof Parfitt is a world-renowned expert, having spent 20 years researching the Lemba, and living with them for six months.

The Lemba have a sacred prayer language which is a mixture of Hebrew and Arabic, pointing to their roots in Israel and Yemen.

Despite their ties to Judaism, many of the Lemba in Zimbabwe are Christians, while some are Muslims.

"Christianity is my religion, and Judaism is my culture," explains Perez Hamandishe, a pastor and member of parliament from the Movement for Democratic Change (MDC).

Despite their centuries-old traditions, some younger Lemba are taking a more liberal view.

"In the old days you didn't marry a non-Lemba, but these days we interact with others," says Alex Makotore, son of the late Chief Mposi from the Lemba "headquarters" in Mberengwa.

"I feel special in my heart but not in front of others such that I'm separated from them. Culture is dynamic."

The oral traditions of the Lemba say that the ngoma lungundu is the Biblical wooden Ark made by Moses, and that centuries ago a small group of men began a long journey carrying it from Yemen to southern Africa.

The object went missing during the 1970s and was eventually rediscovered in Harare in 2007 by Prof Parfitt.

"Many people say that the story is far-fetched, but the oral traditions of the Lemba have been backed up by science," he says.

Carbon dating shows the ngoma to be nearly 700 years old – pretty ancient, if not as old as Bible stories would suggest.

But Prof Parfitt says this is because the ngoma was used in battles, and would explode and be rebuilt.

The ngoma now on display was a replica, he says, possibly built from the remains of the original.

"So it's the closest descendant of the Ark that we know of," Prof Parfitt says.

Large crowds came to see the unveiling of the ngoma and to attend lectures on the identity of the Lemba.

For David Maramwidze, an elder in his village, the discovery of the ngoma has been a defining moment.

"Hearing from those professors in Harare and seeing the ngoma makes it clear that we are a great people and I'm very proud," he says.

"I heard about it all my life and it was hard for me to believe, because I had no idea of what it really is.

"I'm still seeing the picture of the ngoma in my mind and it will never come out from my brain. Now we want it to be given back to the Lemba people."
Here's more on Jewish genes and the Lemba.
7:40PM: PMW has more on the PA's naming of a square after terrorist Dalal Mughrabi, who was part of a group who hijacked a bus and murdered 37 civilians in 1978
5:20PM: Being Jewish and Australian, I am ashamed of these numbskulls.
A petition signed by 35 distinguished Australian Jews rejecting the automatic right of Jews from anywhere in the world to settle in Israel is printed below. Under the racist "law of return", Jews do not need to have any connection with Israel to obtain citizenship. Signatories include ethicist Peter Singer, feminist campaigner Eva Cox, author and journalist Antony Loewenstein and writer Sara Dowse.

We are Jews from Australia, who, like Jewish people throughout the world, have an automatic right to Israeli citizenship under Israel's "law of return". While this law may seem intended to enable a Jewish homeland, we submit that it is in fact a form of racist privilege that abets the colonial oppression of the Palestinians.

Today there are more than 7 million Palestinian refugees around the world. Israel denies their right to return to their homes and land — a right recognised and undisputed by UN Resolution 194, the Geneva Convention, and the Universal Declaration of Human Rights.

Meanwhile, we are invited to live on that same land simply because we are Jewish, thereby potentially taking the place of Palestinians who would dearly love to return to their ancestral lands.

We renounce this "right" to "return" offered to us by Israeli law. It is not right that we may "return" to a state that is not ours while Palestinians are excluded and continuously dispossessed.
Tellingly enough, even according to UNRWA, there are nowhere near 7 million palestinian refugees (try 4.7 million). And even that figure is grossly exaggerated considering the unprecedented width of their definition of a "palestinian refugee", which includes "persons whose normal place of residence was Palestine between June 1946 and May 1948" (they could have been temporary residents in those years only), as well as descendants.
3:58PM: Abdullah Iyad Barghouti, one of the Hamasholes whose release has been demanded in return for Gilad Shalit, has demonstrated why he should never be released.
Unless it's via a swamp filled with crocodiles, or from a plane without a parachute.
Abdullah Iyad Barghouti, who has been mentioned as one of the Hamas officials currently jailed in Israel that the organization demands in return for the release of Israeli soldier Gilad Shalit, does not believe he will be freed in the near future, and blames Prime Minister Benjamin Netanyahu for sabotaging the deal.

"There is no way the deal will be executed soon, Netanyahu does not want to execute the deal, he is busy with many other things," Barghouti said Sunday afternoon at a hearing on the conditions of his imprisonment at the Nazareth District Court. The hearing addressed whether or not Barghouti should remain in confinement.

After he told the court that there is "no way" he believes in the Israeli court system, he responded to questions by reporters – in fluent Hebrew. He stated that if he were to be released, he would continue to "fight the occupation." When asked if he was referring only to the occupation in Gaza or in other places, such as Nazareth, he said: "The occupation in all of Palestine".
1:55PM: When he's not denying anti-Semitism is flourishing in his country, Turkish Prime Minister Recep Tayyip Erdogan is denying Jewish history.
Turkish Prime Minister Recep Tayyip Erdogan on Sunday continued his assault on Israel, according to Saudi paper Al Wattan, which quoted him as saying that that al Aksa Mosque, the Cave of the Patriarchs and Rachel's Tomb "were not and never will be Jewish sites, but Islamic sites."

Speaking to Palestinian journalists, Erdogan reportedly said "Palestine [was] always at the top of Turkey's priorities." He expressed his support for the renewal of indirect talks between Israel and the Palestinians. Donning a cloak of pan-Islamic identity, Erdogan told Al Wattan that he "loves my brothers in Fatah and my brothers in Hamas to the same degree, because they are my Muslim brothers and I cannot distinguish between them."

Erdogan's sticking of his nose in the recent Palestinian rancor over Israel's declaration that the Cave of the Patriarchs and Rachel's Tomb will be part of a list of sites slated for preservation is the latest in a seemingly calculated series of moves based on Turkey's reassessment of a power-shift occurring in the Middle East. It was not clear why he mentioned the mosque, as Israel never declared it part of the list.
Then again, he also denies Turkish history.
6:20AM: Darwin Awards candidate of the day: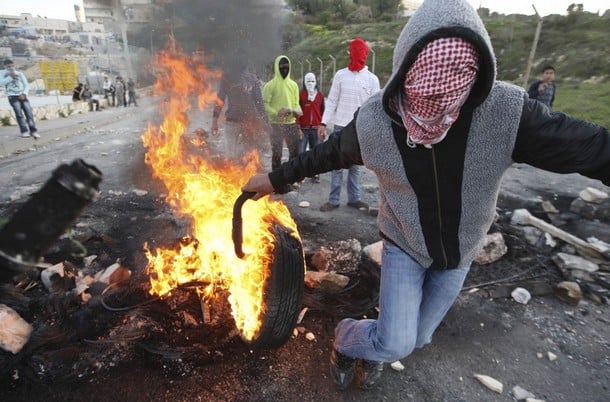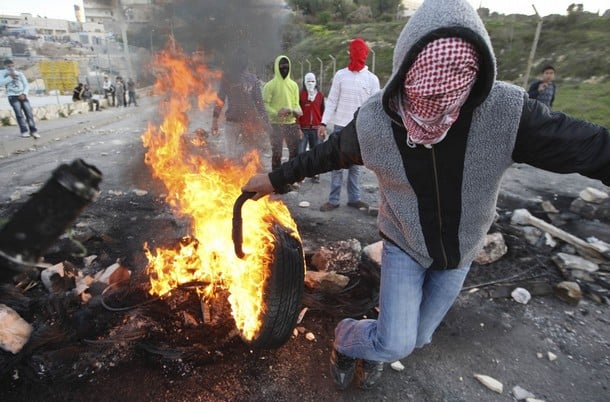 A Palestinian moves a burning tyre during clashes with Israeli border police in the village of Issawiya in East Jerusalem March 6, 2010. Dozens of people were injured in clashes between Palestinians and Israeli forces in Jerusalem and the West Bank on Friday, as tension over land and holy sites mounted ahead of a relaunch of U.S.-mediated peace negotiations (Reuters).
My mum always taught me to watch what I am doing when handling fire.
6:10AM: According to Israeli Druze politician Ayoob Kara, an Israeli strike on Iran may be supported by some of Israel's other enemies.
Deputy Minister for the Development of the Negev and the Galilee, MK Ayoob Kara (Likud), said Israel had received messages from radical Muslim states with which it does not have diplomatic relations saying they would back any Israeli or US move against Iran.

"These are positive, secretive messages which say that they will support any move," Kara said at a cultural event in Beersheba Saturday. "They have conveyed clear messages that they are concerned about the Iranian problem."

He refused to name the states involved, but said there was a "wall to wall coalition" of Muslim nations against the Islamic Republic.
5:50AM: According to an internal Foreign Ministry report distributed to Israeli diplomatic missions abroad, the US administration has adopted positions closer to those of the palestinians.
The classified report claims that in the preparatory discussions for the Israeli-Palestinian proximity talks the Obama administration adopted positions that are closer to Palestinian demands.

"The recent American statements point to the adoption of wording in line, even if partially and cautiously, with Palestinian demands in regard to the framework and structure of negotiations," the report stated. "Still, the [U.S.] administration is making sure to avoid commenting on its position on core issues."

—-

The report released recently by the Foreign Ministry's center for political research, which focuses on strategic foreign policy, is less optimistic about the chances for progress in the next round of peace talks. The document was delivered to Foreign Minister Avigdor Lieberman and to Israeli diplomatic missions abroad several days ago.

According to the report Washington is aware of the domestic political problems faced separately by both Netanyahu and Abbas and has decided to concentrate on achieving the limited goal of restarting the negotiations. The peace talks will not be at the top of the Obama administration's agenda, the report claims.

"In our assessment the administration will focus in the coming year on domestic issues that are expected to determine the results of the Congressional elections," the report's authors wrote. "As such, and due to the difficulties to date in achieving significant gains in the peace process we can assume that the administration's focus on this issue will be limited and will predominantly remain in the hands of Mitchell's teams."

According to the report, Washington can be expected to portray the resumption of the Israeli-Palestinian talks as a domestic and international achievement, in the hope of creating an atmosphere that is conducive to direct negotiations between the parties on the core issues.

The authors of the report also predict that the administration will avoid taking any position that suggests disagreement with Israel, because of the support that Israel enjoys among both parties in Congress.
******************************************************************************************

Want to learn how to shoot with top Israeli anti-terror experts? Click here for more details.
******************************************************************************************