The Day In Israel: Sunday May 2nd, 2010
The Syrian Arab News Agency (SANA) reports:
Foreign Minister Walid al-Moallem said on Saturday that "While the world has recognized the constructive role carried out by Syria under the leadership of President Bashar al-Assad to maintain security and stability of the region, the public opinion still remembers the American fabricated campaign before the war on Iraq.

It seems that the current American Administration is trying to repeat the same scenario." Minister al-Moallem was answering a question by the Syrian Arab News Agency (SANA) on recent statements by US Secretary of State Hillary Clinton at a meeting of the American Zionist lobby.

"We warn the United States of adopting the Israeli false allegations and confirm that what actually destabilizes the region is the US excessive supply of all sophisticated weapons to Israel and its going along with Israeli government's false allegations at our expense," al-Moallem added.

In a speech at the American Zionist lobby in Washington and in the presence of Israeli war minister Ehud Barak, Clinton had adopted Israel's allegations that Scud missiles were delivered through Syria to Hezbollah in Lebanon, reiterating the depth of the alliance between the United States and Israel and that Washington will always support Israel.
Did he just say "the world has recognized the constructive role carried out by Syria under the leadership of President Bashar al-Assad to maintain security and stability of the region?"
Just checking.
It is also interesting how he mentions the campaign before the war on Iraq of all things.
Updates (Israel time; most recent at top)?
8:30PM: Coincidence? This day on which the anti-Zionist Rabbi Moshe Hirsch kicked the bucket, Theodore Herzl, the father of modern political Zionism, was born.
8:18PM: Rabbi Moshe Hirsch, the leader of the anti-Israel Neturei Karta organization and former Minister for Jewish Affairs in Yasser Arafat's "government", has passed away.
While I do not think the world is worse off without him – considering his desecrating G-d's name by supporting terrorists who murdered his fellow Jews – this blogger sees him as a more complex individual.
6:00PM: Photo of the day:
Actually, this photo first appeared 3 weeks ago with a slightly different caption, but I prefer this one with its mention of the "peace talks," which contrasts nicely with the yellow Fatah flag on the left.
In case, you don't know to what I am referring, allow me to make it clearer.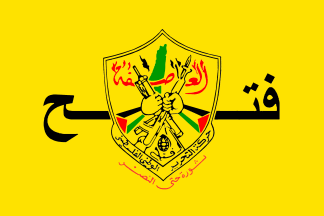 Yep, that's the Fatah flag showing the map of all of Israel under rifles.
Meanwhile, those who fail to educate themselves as to this conflict still believe it's all about some "occupied areas" and "settlements," and that Fatah are the "moderates."
4:55PM: Justice Richard Goldstone yesterday attended his grandson's bar mitzvah, with no protests or war crimes being reported.
12:46PM: Ha'aretz reports: Peres: Proximity talks are vital necessity for Israel
He said this in a meeting with Danish Foreign Minister Lene Espersen.
And judging by the photo of the two of them, Peres did not achieve the close proximity talks to which he is accustomed.
12:35PM: A Jerusalem court has sentenced a gang of Arab goat thieves between 10 and 48 months in prison, along with fines of between NIS 10,000 and NIS 20,000, for stealing goats worth NIS 750,000.
That's a lot of goats. But I guess the demand is there..
******************************************************************************************
Want to learn how to shoot with top Israeli anti-terror experts? Click here for more details.
******************************************************************************************