The Day In Israel: Monday May 31st, 2010
The flotilla of fools headed towards Gaza has changed course after being taken by surprise by Israeli navy boats.
Three Israeli naval craft left a Haifa naval base just after 9 pm and approached the "Freedom Flotilla" after dark on Sunday, according to the Twitter page of Free Gaza, one organization participating in the flotilla.

Two hours later, Israel Radio broadcast a recording of one of the missile boats warning the flotilla, which is carrying humanitarian aid and pro-Palestinian activists, not to approach Gaza.

"If you ignore this order and enter the blockaded area, the Israeli navy will be forced to take all the necessary measures in order to enforce this blockade," the radio message continued.

One tweet at about 11 pm said, "We didn't expect them now," adding that the participants thought Israeli forces would arrive Monday morning.<

This is a help message," said one post from the flotilla on the Free Gaza website. "We have been contacted by the Israelis but are still fine, don't worry."

"The signals are going up and down," the website said. "Israel is doing its best to block the satellite."

An Al Jazeera reporter aboard one of the vessels said the flotilla's organizers have decided to take a different route – far from the Israeli vessels – in order to avoid a confrontation during the night.
Looks like our brave "activists" are afraid of the dark.
OOOOGA BOOOOOGA!
Meanwhile, the flotilla passengers are revealing their true colors..and agendas.
Deputy Foreign Minister Danny Ayalon responded to what he called "anti-Semitic chants" that came from the ship's passengers and were broadcast on Israel Radio.

Some of the passengers on the ships were recorded shouting chants to remember Haifa since the army of Muhammad will soon return.
Updates (Israel time; most recent at top)?
11:26PM: Some of the soldiers' wounds, as well as the weapons found on board.
11:22PM: Scenes from a Leftie protest in Tel Aviv today.
11:08PM: Israeli spokesperson Mark Regev on the BBC this morning.
11:00PM: White House statement on today's events:
"This morning between 10:00 and 10:15 AM CDT, the President spoke by phone with Prime Minister Netanyahu.  He said he understood the Prime Minister's decision to return immediately to Israel to deal with today's events.  They agreed to reschedule their meeting at the first opportunity. The President expressed deep regret at the loss of life in today's incident, and concern for the wounded, many of whom are being treated in Israeli hospitals. The President also expressed the importance of learning all the facts and circumstances around this morning's tragic events as soon as possible."
9:36PM: For those wondering about the legality of the IDF's actions in boarding the vessel , see rule 67(a) of the San Remo manual.
9:28PM: Italian Deputy Foreign Minister Alfredo Mantica has called the international flotilla to the Gaza Strip a "provocation".
"The manner of the response is debatable, but to think that it would all pass without Israeli action is naiveté on the part of the organizers. I believe someone wanted to see how harsh Israel's response would be," he said.
8:54PM: A Qassam rocket was fired into Israel earlier this hour.
8:42PM: Israeli opposition leader Tzipi Livni has criticized Israel's PR effort in the wake of today's crisis.
"I have been running around manically today between foreign studios in Jerusalem," she said, "But I did not see a single official Israeli representative embark on a PR campaign."
8:25PM: Top 3 things the "peace activists" were doing with knives, axes and clubs.
3. Performing a theatrical rendition of Pulp Fiction.
2. Cutting up tofu for their burgers.
1. Sleepwalking.
8:12PM: Father-in-law scheduled to appear on BBC World Service.
8:02PM: The flotilla terrorists and enablers' version of events.
Under darkness of night, Israeli commandoes dropped from a helicopter onto the Turkish passenger ship, Mavi Marmara, and began to shoot the moment their feet hit the deck. They fired directly into the crowd of civilians asleep. According to the live video from the ship, two have been killed, and 31 injured. Al Jazeera has just confirmed the numbers.

Streaming video shows the Israeli soldiers shooting at civilians, and our last SPOT beacon said, "HELP, we are being contacted by the Israelis."
You've all seen the footage. These people have no compunctions about lying.
7:48PM: Prime Minister Binyamin Netanyahu has called off a planned visit to the White House to deal with the flotilla crisis.
He also said he regretted the loss of life but Israeli troops who opened fire were justified in defending themselves.
7:30PM: And now for another view of the "peaceful resistance."
7:24PM: A bird's eye view of the violence, which includes a kidnap attempt!
7:15PM: One of the flotilla "peace activists."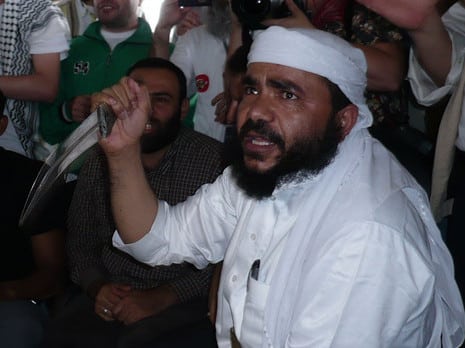 I kid you not.
4:10PM: More on the "peace activists'" ambush, including these interesting facts:
The " peace activists" tried to bring down an IDF helicopter
The "peace activists" pulled out bats, clubs, and slingshots with glass marbles, assaulting each soldier as he disembarked
IDF soldiers were equipped with paintball rifles used to disperse minor protests, as well as handguns but were told they should only use them in the face of life-threatening situations.
The soldiers were told they were to verbally convince activists who offer resistance to give up, and only then use paintballs. They were permitted to use their handguns only under extreme circumstances.
At one point, the attackers nabbed one commando, wrested away his handgun, and threw him down from the top deck to the lower deck, 30 feet below. The soldier sustained a serious head wound and lost his consciousness.
Only after this injury did troops ask for permission to use live fire.
Read the whole thing.
3:56PM: Free Gaza flotillarists on Twitter:
Israel has just announced that it will prosecute the #Freedom Flotilla members who "attacked" its soldiers.
I love the quotation marks around "attacked", as if there is no footage showing the members attacking soldiers.
3:30PM: Video of an IDF soldier being stabbed with a knife on board one of the vessels this morning.
1:30PM: Major Avital Leibovitz of the army's Foreign Press Branch:
"It was a planned lynch against IDF soldiers. They did not plan to enter a violent clash with the passengers, and unfortunately the passengers chose violence and used knives, spikes and even opened fire at the soldiers and snatched weapons.

"This is not a human rights organization. I know no human rights organization which uses such means."
1:25PM: Some recent scenes from Turkey (first 5 photos).
Meanwhile, Turkish protesters tried to storm the Israeli consulate in Istanbul.
1:18PM: More on the flotilla's Hamas connection.
1:02PM: Via IMRA:
Monday, May 31, 2010
Law Expert Dr Robbie Sabel IDF action in international waters legal

Int'l Law Expert Dr. Robbie Sabel: IDF action in international waters legal

Dr. Aaron Lerner Date: 31 May 2010

IMRA asked Hebrew University international law expert Dr. Robbie Sabel about the legality of the IDF action in international waters.

Dr. Sabel explained that a state, in a time of conflict, can impose an embargo, and while it cannot carry out embargo activities in the territorial waters of a third party, it can carry out embargo activities in international waters.

Within this framework it is legal to detain a civilian vessel trying to break an embargo and if in the course of detaining the vessel, force is used against the forces carrying out the detention then that force has every right to act in self defense.

Dr. Sabel noted that there is a long history of embargo activities in international waters.

Dr. Aaron Lerner, Director IMRA (Independent Media Review & Analysis)
1:00PM: Some footage from Israeli television showing the "non-violent, peace activists" in action
The uploader of this video also notes:
Later in the video you see footage of them departing Turkey. They're chanting "Khaybar Khayber ya Yahud, Jaysh Muhammad sa ya'ud," which translates to "Khaybar Khaybar O Jews, the army of Muhammad will return." The reference is to the seventh century massacre and enslavement of Jews in the city of Khaybar by Mohammed.
More information on that here.
11:34AM: IDF's statement on this morning's events:
Early this morning, IDF Naval Forces boarded six ships attempting to break the maritime closure of the Gaza Strip. This happened after numerous warnings from Israel and the Israeli Navy that were issued prior to the action. The Israel Navy requested the ships to redirect toward Ashdod where they would be able to unload their aid supplies which would then be transferred over land after undergoing security inspections.

During the boarding of the ships, the demonstrators onboard attacked the IDF Naval personnel with live fire and light weaponry including knives and clubs. Additionally one of the weapons used was grabbed from an IDF soldier. The demonstrators had clearly prepared their weapons in advance for this specific purpose.

As a result of this life-threatening and violent activity, naval forces employed riot dispersal means, including live fire.

According to initial reports, these events resulted in over ten deaths among the demonstrators and numerous injured, in addition, more than four naval personnel were injured, some from gunfire and some from various other weapons. Two of the soldiers are moderately wounded and the remainder sustained light injuries. All of the injured, Israelis and foreigners are currently being evacuated by helicopter to hospitals in Israel.

Reports from IDF forces on the scene are that it seems as if part of the participants onboard the ships were planning to lynch the forces.

The events are ongoing, and information will be updated as soon as possible. Israeli Naval commander, Vice Admiral Eliezer Marom is overseeing the events.

In the coming hours, the ships will be directed to the Ashdod port, while IDF naval forces will perform security checks in order to identify the people on board the ships and their equipment. The IDF Spokesman conveys that this event is currently unfolding and further details will be provided as soon as possible.

This IDF naval operation was carried out under orders from the political leadership to halt the flotilla from reaching the Gaza Strip and breaching the maritime closure.

The interception of the flotilla followed numerous warnings given to the organizers of the flotilla before leaving their ports as well as while sailing towards the Gaza Strip. In these warnings, it was made clear to the organizers that they could dock in the Ashdod sea port and unload the equipment they are carrying in order to deliver it to the Gaza Strip in an orderly manner, following the appropriate security checks. Upon expressing their unwillingness to cooperate and arrive at the port, it was decided to board the ships and lead them to Ashdod.

IDF naval personnel encountered severe violence, including use of weaponry prepared in advance in order to attack and to harm them. The forces operated in adherence with operational commands and took all necessary actions in order to avoid violence, but to no avail.
8:58AM: I need to step away from the computer for a while. Please post any updates in the comments.
8:55AM: According to Channel 10, IDF commandos were attacked with "axes and knives"
8:45AM: From commenter Michael:
As someone who watched the turkish footage, it was clearly shown members of the boat attacking the soldiers that descended from the helicopter with crude implements including pieces of metal and what appeared to be a folding char, in addition to another person trying to grab a soldier's weapon. This portion has since been cut out of what is being shown currently on al jazeera, but it was shown repeatedly on turkish television.
8:32AM: From yesterday:
8:30AM: An IDF soldier was reportedly stabbed in the stomach after boarding one of the vessels. So much for "non-violent resistance", huh?
8:00AM: Turkish TV is reporting at least 10 flotilla fools have been killed by the Israeli navy, with over 60 wounded. Other reports put the number of dead at two.
While this has the makings of a PR disaster for Israel (which I posit was the whole point of the flotilla in the first place), bear in mind that they were heading to Gaza with unknown contents on board, and are known to support Hamas. Furthermore, army radio reported that passengers tried to grab weapons away from soldiers boarding , starting the violence.
6:22AM: The flotilla of fools has tweeted that the IDF has killed 2 and wounded 31 on one of their boats.
Report from IHH boat..two killed, 31 wounded. No verification but medical emergency can be seen from ship
Of course, no verification.
6:00AM: Jewish-French writer and philosopher Bernard-Henri Levy on Israel:
Referring to the IDF, Jewish-French writer and philosopher Bernard-Henri Levy said, "Much can and should be learned from Israel."

Addressing the French-Israeli conference on democracy in Tel Aviv Sunday, Levy said, "I've covered many wars, and I've never seen an army that asks itself so many questions related to morals."

As for Israel's status in the international community, the French philosopher said, "There is a demonization campaign against Israel all over the world.

"In a region where dictatorships and truly fascist regimes rule, Israel represents an island of democracy. Zionism is the only movement that has not failed and turned into a caricature. It is the only movement that has preserved its spirit," he told the conference.

"Israel is a miracle because since its inception it has been in a constant state of war, yet it never gave up on the democratic values at its core," according to Levy.

He added, "Democracy was created (in Israel) out of nothing. People had no experience in democracy, but through willpower and a miracle, they invented a functioning democracy. Israel is proof that democracy does not require time. In France a newspaper was shut down every two weeks during the war in Algeria."

Levy also praised the Israeli government's treatment of the Arab minority during Operation Cast Lead in Gaza, adding that Arab-Israel villages he had visited during the war "were on the brink of explosion."

"I am not certain that (governments in other countries) would have acted the same. I remember a terrible atmosphere and my admiration of the Israeli authorities' level-headed conduct. Israel represents a secular miracle," he said.

The renowned philosopher also said democracy was a Jewish idea. "The Talmud is democracy in practice. The Jewish nation invented the notion that the truth lies in the most heated argument," he said.
******************************************************************************************
Want to learn how to shoot with top Israeli anti-terror experts? Click here for more details.
******************************************************************************************