The Day In Israel: Sunday July 11th, 2010
Israel has made clear that it will not allow an "aid" ship funded by a charity headed by the son of Libyan leader Muammar Gaddafi dock in Gaza.
Defense Minister Ehud Barak issued a statement saying that the ship was "an unnecessary provocation," and it would have been better had it not set sail.

"It is possible to bring merchandise into Gaza, after it has been checked, through the Ashdod port," Barak said. "However, we will not allow the entrance of arms and ammunition into Gaza. We recommend to the organizers of the flotilla to accompany Israeli naval ships into Ashdod or to sail directly for El-Arish."

The Amalthea departed on Saturday evening from a port southeast of Athens, carrying 2,000 tons of cargo, including sacks of rice and sugar, and corn oil and olive paste, mostly donated by Greek companies and charities, organizers said.

In addition to 15 volunteers – all from Libya, except for a Nigerian and a Moroccan – the ship has a crew of 12 from Cuba, Haiti, India and Syria.

Greek authorities said on Saturday night that the ship was headed for Egypt. "We confirmed the destination in talks with the Libyan ambassador and the ship's agent," Foreign Ministry spokesman Grigoris Delavekouras said earlier in the day.

But Al-Jazeera, which has a reporter on the vessel, reported that its Cuban captain was indeed headed for Gaza.

—-

Barak spoke on Saturday with Egyptian intelligence chief Omar Suleiman about the issue. Despite numerous rumors about other vessels trying to break the Gaza blockade, this would be the first ship – if it indeed it tries to reach Gaza – to do so since the IDF's raid on a Turkish vessel on May 31 that left nine people dead.

—-

"There is no problem in getting civilian supplies into Gaza now," one government official said. "But the idea that cargo can go into Gaza without being checked is unacceptable.

Israel will enforce that all cargo going into Gaza needs to be inspected, and will not allow a precedent where the security envelope will be broken."

The official said that as a result of Israel'seasing the restrictions of what is allowed into Gaza, there was now a greater understanding internationally for Israel's naval blockade.

Foreign Ministry Avigdor Lieberman spoke a number of times over the past few days with his Greek and Moldovan counterparts about the Amalthea, and those conversations left a feeling in Jerusalem, according to ministry officials, that the ship would not sail for Gaza.

On Friday, Israel asked that the UN step up efforts to prevent the ship from setting sail.

In an official letter to Secretary-General Ban Ki-moon, Ambassador to the UN Gabriela Shalev asked the international community to use its power to halt the ship.

"Israel calls upon the international community to exert its influence on the government of Libya to demonstrate responsibility and prevent the ship from departing to the Gaza Strip," the envoy wrote.

"Israel reserves the right under international law to prevent this ship from violating the existing naval blockade on the Gaza Strip," Shalev told Ban Ki-moon.

"The declared intentions of this mission are even more questionable and provocative, given the recent measures taken by Israel to ensure the increase of humanitarian aid flowing into the Gaza Strip," Shalev wrote in her letter.

Amalthea's journey to Gaza was expected to take up to 80 hours, meaning that the ship would arrive at El-Arish or Gaza early on Wednesday morning.

Youssef Sawani, executive director of the Gaddafi International Charity and Development Foundation, insisted the goal remained to unload the supplies in Gaza. He said the ship would not seek confrontation with the Israelis.

If Israel does not allow the ship into Gaza, the group will seek "any other appropriate destination – El-Arish or other – to deliver the goods to the people in need," Sawani said.

"I think the Israelis need to understand we are not provoking any kind of action, we are not in military action, we are a peaceful, humanitarian organization," he said.

MK Ahmed Tibi (Ta'al) confirmed an Al-Quds al-Arabi newspaper report that he was helping the flotilla organizers. He said he had given them a list of what was needed in the Gaza Strip, including certain medicines, a special kind of milk and generators for hospitals.

National Union MK Arye Eldad, who like Tibi is a medical doctor, said Israel should insist on transferring the supplies by land.

"Medicine, milk and generators are all good, but they can all be brought to Gaza via Ashdod," Eldad said. "Tibi is trying to make Israel look bad. He cares about hurting Israel, not about helping Gaza."
Updates (Israel time; most recent at top)
11:50PM: Ynet reports:
Interior Minister Eli Yishai has bestowed temporary residential status upon Sandra Samuel, the Indian nanny who saved the life of Moshe Holtzberg during the terror attack in Mumbai. The status is a first step towards permanent citizenship.

"This is a humanitarian move necessary for anyone who saves a Jewish life," Yishai said Sunday.

The citizenship process began with an appeal by the Holtzbergs to the Interior Ministry. The extended family of Gavriel Holtzberg, who was murdered along with wife Rivka in the attack on the Chabad center in which they worked, asked that Samuel be allowed to remain in Israel in order to continue caring for Moshe.

Immediately upon her arrival in Israel a year and a half ago Samuel received a work permit, and sources say she will be granted full-fledged citizenship within a year.

"She risked her life in order to save Jews and we are obligated to take care of her," the interior minister said. "The family has impressed upon me that she is vital to the continuing rehabilitation process, following the terrible disaster they have undergone."
8:12PM: A number of Israelis acquainted with former senior Middle East editor for CNN Octavia Nasr think her tweet in praise of deceased Hizbullah terrorist Grand Ayatollah Fadlallah was 'uncharacteristic', and claim her coverage of Israel was balanced for the most part.
8:08PM: Senior Hizbullah terrorist Sheikh Nabil Kaouk has warned they have a list of military targets inside Israel to hit in any future war.
8:00PM: Desperately seeking Susan a sense of humor:
For the record, Jews have been living in Hebron for way longer than those Arabs referred to as palestinians.
5:10PM: Britain's ambassador to Lebanon Frances Guy has said she regrets any offense caused by her blog praising dead terrorist Grand Ayatollah Mohammed Hussein Fadlallah.
Ambassador Frances Guy was criticized by Israel for an article on her Foreign Office blog titled "The passing of decent men", in which she said she was saddened by the Shiite cleric's death and that the world "needs more men like him willing to reach out across faiths".

The Foreign Office said on Friday the article had been removed from her website "after mature consideration".

—-

In a new entry, dated July 9, Guy said her earlier posting had been an attempt to "acknowledge the spiritual significance to many of Sheikh Fadlallah and the views that he held in the latter part of his life".

Guy said she had "no truck with terrorism wherever it is committed in whoever's name", and that it was possible for Hezbollah "to reject violence and play a constructive, democratic and peaceful role in Lebanese politics".
4:44PM: Oddball story of the day:
Israeli soldiers threatened to storm a Palestinian village in the northern West Bank on Friday night to look for a missing hyena, confused residents told Ma'an.

According to locals, the soldiers say they believe a resident of Kafr Thulth, near Qalqiliya, is hiding the alleged hyena. The residents have emphatically denied the allegations.

Nevertheless, military liaison officials threatened to raid the village if the hyena is not returned, villagers said, expressing astonishment at the escalation and the prospect of the army taking over the town to look for a wild animal. Several officials reiterated that no one in the village has the hyena, but the soldiers say otherwise.

An Israeli military spokeswoman said that while the army does not normally deal with animal-related inquiries, she would investigate. According to an initial inquiry, she said, no hyenas have been reported missing.
3:52PM: The Free Gaza terror enablers have posted some photos of the nine men killed on the Mavi Marmara, after attacking Israeli naval commandos with guns, knives, poles and other weapons. Of course, the photos are designed to show these men as peace-loving husbands and fathers.
I found this one to be particularly interesting.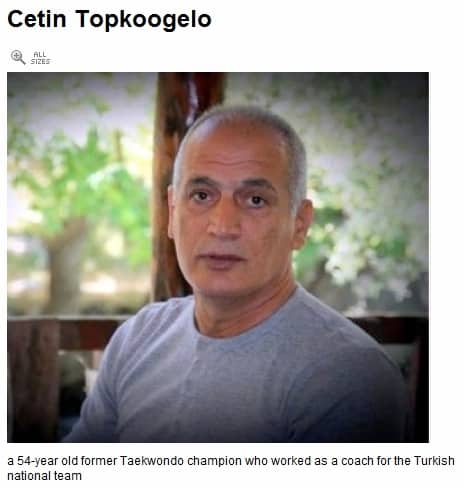 What's the bet he put his Taekwondo to good use on the ship?
3:42PM: Prime Minister Binyamin Netanyahu's address to the Council on Foreign Relations, which took place last Thursday.
12:58PM: Quote of the day:
"Our situation in recent months can be compared to the 1970s, when Zionism was being called racism."
– Israeli Ambassador to the United Nations, Gabriela Shalev, commenting on Israel's current standing in the UN
11:45AM: Ian Anderson of Jethro Tull responds to calls to boycott Israel.
Having performed concerts in the Middle East region many times over the last few years, I am well aware of the ethnic and religious tensions existing, not only in the coiuntries concerned, but in the broader international diasporas representing the various groups and their interests.

Having long maintained the position that culture and the arts should be free of political and religious censorship and a distance kept between them, I took a decision, nonetheless, in February of 2009 that any future concerts in Israel by me or Jethro Tull would be for the benefit of charitable donations to bodies representing the development of peaceful co-existence between Arabs, Jews and Christians, and the fostering of better Palestinian/Israeli relations.

I speak only for my own share of concert profits here – I am not about to tell the rest of the musicians or crew what views they should hold or what to do with their remuneration. Nor do I feel pressured by human rights groups, national interests or any individuals to perform or not to perform in Israel or anywhere else. I make up my own mind in light of available facts, with my own experience and a sense of personal ethics.

To those who tell me I should "boycott" Israel (or, for that matter, Turkey or Lebanon), I can only point out that on my travels around the world I am continually reminded of atrocities carried out historically by many nations who are now our friends, and it serves to strengthen my resolve that some degree of peace and better understanding may result from my and other artists' professional and humble efforts in such places. If I had the opportunity to perform today in Iran or North Korea, hell – I'd be there if I thought it would make a tiny positive net contribution to better relations.

It's a long time since Pearl Harbor, Auschwitz, Hiroshima and the firestorm of Dresden and I hope that, one bright day sometime in the future, it will seem a long time since the blockading of the supply flotilla to Gaza and the bombing of Israeli citizens by Hamas and Hizbolla.

So, I decided many months ago not to profit from my work in this troubled region and hope that interested parties on all sides will understand and respect my decision and resolve. The details of recipients of my charitable donation will be posted for the benefit of the doubters, as usual, on this website later in the year.
Of course, it's not the first time he has said the show must go on in Israel.
11:18AM: A former Iranian fighter-cum-US-spy has called for a preemptive strike on Iran, and estimated that his former country will attack Israel and Europe.
A former fighter in Iran's Islamic Revolutionary Guard Corps (IRGC) turned US spy offered a rare glance into one of the most complex countries in the Middle East.

During a conference held at The Washington Institute for Near East Policy on Friday, Reza Kahlili (pseudonym) estimated that Iran will eventually attack Israel, Europe and the Persian Gulf states. He called for a preemptive strike on the regime in Tehran, but not on the Iranian people or the country's infrastructure.

Kahlili accused the Obama Administration of being naïve. According to him, the American overtures are viewed by the Iranian regime as a sign of weakness, while the Iranian people consider the efforts to engage the regime an act of betrayal against their struggle for freedom.

Click here to listen to Kahlili speak at conference

"This is a messianic regime. There should be no doubt – they are going to commit the most horrendous suicide bombing in human history. They will attack Israel, European capitals, and (the) Persian Gulf region at the same time," said Kahlili in one of his first public appearances to promote his new book "A Time To Betray: The Astonishing Double Life of a CIA Agent inside the Revolutionary Guards of Iran".

Kahlili said he joined the Revolutionary Guard following the Islamic revolution of 1979, but volunteered to work for the CIA when he became disillusioned with the Khomeini regime after witnessing acts of rape, torture and murder.

Kahlili, arrived at the conference wearing a surgical mask, sunglasses and a baseball cap to conceal his identity. Out of concern for his safety, as well as that of his family inside Iran, his voice was also disguised.

For 10 years, under the code name "Wally," he relayed the secret operations of the IRGC back to American intelligence, eventually fleeing to the United States. In the aftermath of 9/11, Kahlili reestablished contact with his sources in Iran and began once again providing information to the CIA, according to the Washington Institute.
6:18AM: Irish minister for justice Dermott Ahern said Ireland is seeking to stop an EU initiative that would enable Israel to receive sensitive information about European citizens, due to concerns about the use that Israel would make of this information.
This after Ireland expelled an Israeli diplomat in the wake of Dubai passport-gate.
Meanwhile, the Irish seem less concerned with Russia.
6:05AM: Wow: I have not heard many Israeli politicians speak like this, let alone American ones.
Allen West is running for Congress. More here.