Dawson Seek
Dawson's Creek star James Van Der Beek has gotten married in Israel.
In a 'Jewish' wedding.
As America's eyes were clung to pictures of Chelsea Clinton's wedding to Marc Medvinsky, actor James Van Der Beek, who rose to fame when he starred in the popular television show "Dawson's Creek," decided to go for a Jewish wedding all the way and married Kimberly Brook, who is carrying his child, on Sunday in Israel.

The couple arrived in Israel for the birthday celebrations of Rabbi Shraga Berg, founder of the Kabbalah Center in Jerusalem and famous teacher of Madonna and other celebrity fans of the red string bracelet.

The bride showed up to the event wearing a black dress, hiding her baby bump with a dress bag containing her wedding dress. Van Der Beek showed up decked out in white from head to toe.

The small ceremony was held at the Kabbalah Center in Tel Aviv and was officiated by Berg's son, Rabbi Yehuda Berg, who also married Demi Moore and Ashton Kutcher. The wedding was held in secret during the evening hours near Dizengoff Square. Close friends flown in on a private flight attended. Katie Holmes, James' co-star on Dawson's Creek, was not among them.

The newlyweds will honeymoon on a tour of holy sites around the country, visiting the graves of the righteous in Jerusalem and the Galilee.
Ok, so neither Van Der Beek nor his wife are actually Jewish, so I'm not sure why it's referred to as a "Jewish" wedding. But at least they didn't get married on the Jewish Sabbath.
In the meantime, I wish the happy couple mazal tov!
Update: Van Der Beek really seems to be in to his Kabbalah. This is the wallpaper of his Twitter page: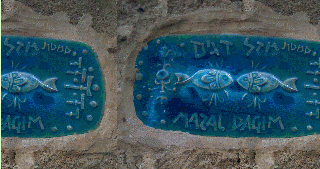 Mazal Dagim is Hebrew for Pisces.
Update: The couple reportedly first met during a vacation in Israel.
Update: Van Der Beek interviewed by Israeli television.