The Day In Israel: Monday Aug 2nd, 2010
A huge explosion has destroyed the home of senior Hamashole Ala Adnaf, and injured 24.
While the palestinians are claiming it was the result of an Israel airstrike, Israel has denied this. Given that the IDF has no compunctions about announcing such operations, my spidey senses are telling me someone had a work accident.
Either way, here's hoping he's gone into the fertilizer business.
Updates (Israel time; most recent at top)
9:46PM: Here's the Amar'e Stoudemire interview to which I linked earlier.
9:42PM: AP report on this morning's work accident, followed by the apparently less important story of the rocket attack on Eilat.
9:24PM: Article of the day: 8 Reasons Leftists Should be Pro-Israel
6:05PM: Israel seems to have launched a campaign to attract more British tourists.
4:36PM: A Jordanian man has died of wounds sustained in this morning's rocket attack.
Notice how Jordan refer to it as a "terror attack" since it hit them, but are not normally condemning such attacks on Israel.
4:30PM: Photo of the day: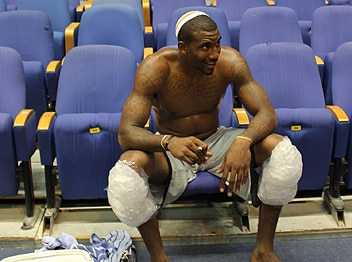 That's NBA player Amar'e Stoudemire, here in Israel discovering his roots.
Click here to see him talk about being in Israel, his spiritual course, and the prospects of him playing for the Israeli national basketball team (click on video).
Meanwhile, here he is visiting Yad Vashem.
3:55PM: Mazal tov, 'Dawson'!
1:04PM: Egypt has denied the rockets were fired from its territory.
No rockets were launched from the Sinai," said Egyptian sources. "To launch rockets from Egypt, it takes equipment and complicated logistical preparations. It is impossible, since the Sinai Peninsula has heavy security."
Ah yes, that much vaunted Egyptian security that has allowed Al Qaeda to set up shop in the Sinai, but has proven rather adept at shooting African refugees.
9:25AM: Ynet has corrected their news update to "4 wounded", and not "5 killed."
9:18AM: There are reports that at least 4 Jordanians were wounded in the rocket attack. Ynet's news updates page mentions 5 Jordanians killed, but when you click on the report, it instead mentions 4 injured.
8:55AM: BREAKING NEWS: Terrorists fired 5 Katushya rockets at Eilat around an hour ago. Israeli security forces believe at least three of the rockets struck the Red Sea, while the other two exploded in open areas near the city. Jordanian authorities said one landed at the entrance to the InterContinental Hotel in Amman. So far, there are no reports of injury or damage.
Like last time terrorists fired rockets at Eilat (last year), it is unclear whether they fired them from Jordan or Egypt
6:02AM: In an indication as to how much Hamas appreciates the anti-Israel positions of Turkish Prime Minister Recep Tayyip Erdogan, head Hamashole Ismail Haniyeh has named his grandson…Recep Tayyip Erdogan.
************************************************************************************
September specials at the Okeanus Hotels in Israel.  Suites, Sea, and Style.
Rooms start at only $170. Click here for more details.
************************************************************************************