Scroll down to updates for liveblogging of today's hostilities on the northern border with Lebanon.
For other liveblogging, see my friends over at the Muqata.
Israeli officials have stated there was no choice but to agree to cooperate with the UN flotilla probe, but stressed we would not allow the committee to interrogate Israeli officers, civilians, or soldiers.
Photo: IDF Spokesperson

"There was no choice but to agree to the international community's demands, first and foremost those of the US and the UN," one official source said.

"We could have been considered naysayers, or we could have done what we did, which was to take part in determining the mandate that will be given to the committee and affect its program."

The source said the committee would have been established in any case, even without Israel's consent. "Though Israel didn't want another inquiry, there was no choice," he said.

However he stressed that the committee would not receive testimony from any Israeli citizen or military official, and would have to make do with documents. At most it will be permitted to interrogate state leaders.

Meanwhile Turkish media has reported that the country's representative at the committee will probably be an established former diplomat.

Of the Israeli representative, no decisions have been made. "We are still oscillating between two options: A retired senior diplomat, or an international jurisprudent. The decision will be made in the coming days," said the official, adding that the government had not yet named any names.
What I assume are other government sources have given a different reason for cooperating: to reduce the tensions with Turkey.
In the immediate aftermath of the May 31 incident, in which nine Turks were killed after IDF commandos were beaten upon landing on a Turkish-flagged ship to keep it from breaking the Gaza sea blockade, the Turks demanded an Israeli apology, an international investigative committee, Israeli compensation payments to the families of those killed or wounded, and a lifting of the Gaza blockade.

Over the past couple of weeks, however, there has been a devaluation of these demands, with the Turks asking for one of the following: an Israeli apology, compensation or an international investigative committee.

The decision on Monday by Prime Minister Binyamin Netanyahu's inner cabinet, a forum known as the septet, to agree to participate in a panel established by UN Secretary General Ban Ki-moon, was largely viewed as an attempt to meet one of these demands and thereby significantly reduce the tension.

"Part of our agreeing to this process is that Israel, as the prime minister has said, is interested in reducing tensions with Turkey and bringing the ties with Turkey back to normal," a senior government official said.

Ban called the establishment of the panel an "unprecedented development."

"I thank the leaders of the two countries, with whom I have engaged in last-minute consultations over the weekend, for their spirit of compromise and forward-looking cooperation," Ban said in a statement on Monday.
Meanwhile, the head of the probe, New Zealand's former prime minister Sir Geoffrey Palmer, is under no illusions about the difficulty of the task at hand.
Speaking to Radio New Zealand on Monday, Palmer said that he didn't "underestimate how difficult it will be."
Israeli forces approaching Gaza flotilla
"I can't say anything of substance on the details of this inquiry or indeed its procedures until I've been to New York and discussed the issues with both the Secretary General [Ban Ki-moon] and my colleagues on the inquiry."

Palmer, an international lawyer who briefly headed the former New Zealand Labour Party government in 1990, said: "This is a very sensitive matter. It's a quasi-judicial inquiry, so it is really very important to maintain a sense of detachment."
With everything going on in the world, it is disgraceful that Israel has been singled out for defending herself,and is being subjected to the second UN probe in a matter of years.
Updates (Israel time; most recent at top)
12:34PM: Wednesday's liveblog post here.
11:42PM: Chief Hizbullah terrorist Hassan Nasrallah seems to be itching for a war.
Hezbollah Secretary General Sayyed Hassan Nasrallah said on Tuesday that he will reveal during his August 9 press conference irrefutable evidence proving that Israel was behind the 2005 assassination of former Prime Minister Rafik Hariri.

During a speech marking the fourth anniversary of the 2006 July War, he said that the Jewish State had a plan to frame Hezbollah in the killing of Hariri.

—-

He addressed Tuesday's clashes between the Israeli and Lebanese troops, saying Resistance fighters in South Lebanon were instructed to remain calm and not interfere in the clashes.

However, he said that the Resistance placed itself at the disposal of the LAF incase it needed assistance.

—-

The Hezbollah chief commended the Lebanese army, calling them courageous.
11:28PM: The US is so firmly on the fence, they've now got hemorrhoids.
United States is "extremely concerned" about violence on the border between Israel and Lebanon, and urges both sides to exercise "maximum restraint," State Department spokesman P.J. Crowley said on Tuesday.
How about speaking out in defense of your ally?
11:24PM: I'm hearing a lot of plane activity overhead right now.
11:18PM: UNIFIL forces who toured the site of today's exchanges of fire reportedly said the IDF's activity did not warrant the attack launched by Lebanese Army soldiers. The IDF were performing routine operations in a border-area enclave within Israeli territory when they were ambushed.
10:58PM: The AP has issued a caption correction for a similar caption to the Reuters one in the previous update.

10:54PM: More Reuters media bias: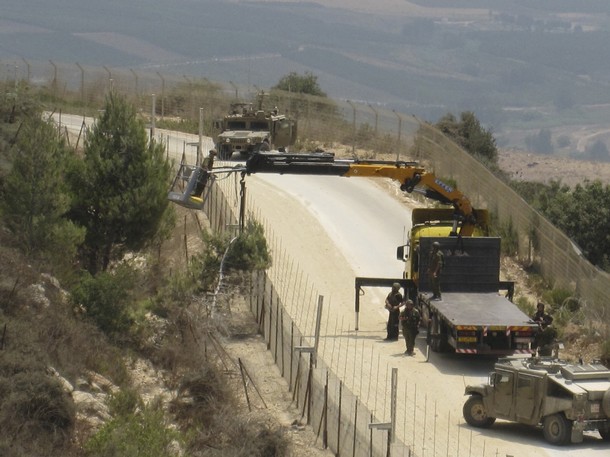 As I posted below, the IDF were on the Israeli side of the border. So once again, Reuters are flat out lying.
10:45PM: Today's clashes get the Reuters treatment.
The Lebanese fired warning shots at the Israelis?
Israel shot at a village?
I am speechless.
10:38PM: The Israeli officer killed in the clashes today was 45-year-old Lt. Col. Dov Harari, from Netanya, who was a reserves battalion commander in the engineering corps.
He will be laid to rest tomorrow.
May G-d avenge his blood.
10:35PM: Via the IDF Spokesperson blog comes this aerial photograph showing the incident occurred within Israeli territory.
10:28PM: Video of the attack.
10:26PM: Sorry for the lack of updates, but real life got in the way. Real life being a BBQ on the beach!
4:55PM: Yet another photo showing UNIFIL possibly shielding Lebanese soldiers during the fighting.
To whom is the UNIFIL soldier waving? Is he waving at the IDF on the other side of the border?
4:48PM: Here is the caption of the previous photo, confirming they were UNIFIL soldiers.
A Lebanese army soldiers (L) and UNIFIL (United Nations Interim Force in Lebanon) soldiers look across the border with Israel after brief clashes which erupted along the tense border, near the village of Adaisseh, which lies across the border from the kibbutz Misgav Am, on August 3, 2010 (Getty).
What is not clear is whether the Lebanese soldier picture actually fired the RPG, but it is nonetheless problematic that UNIFIL would just happen to be "hanging out" with the Lebanese soldiers during the clashes with Israel.
Or even worse: shielding them.
4:32PM: From Rotter comes this photo, allegedly of UNIFIL soldiers standing by while Lebanese soldiers fire RPGs at the IDF.
The men in the blue berets certainly look like they are from UNIFIL.
4:28PM: According to this report, 2 IDF soldiers were critically wounded.
4:22PM: Full IDF statement on today's hostilities:
LAF Opens Fire at IDF Force on Northern Border, 3 Aug 2010

Earlier today during the mid-day hours, the Lebanese Armed Forces (LAF) fired at an IDF position along the Lebanese border in northern Israel. The force was in Israeli territory, carrying out routine maintenance and was pre-coordinated with UNIFIL. The border area is east of the Israeli town Metula. The incident occurred west of the internationally recognized "Blue Line" (the border between Israel and Lebanon) and east of the security fence, thus lying in Israeli territory.

The IDF force immediately returned fire with light arms at a force of the LAF, and the IDF also made use of artillery fire. Several minutes later an Israel Air Force (IAF) helicopter fired at the LAF Battalion Command Center in Al-Taybeh, damaging several LAF armored combat vehicles.

The IDF holds the LAF responsible for the incident that disrupted the calm in the region, and its consequences.

The IDF Chief of the General Staff, Lt. Gen. Gabi Ashkenazi arrived at the Israeli-Lebanese border, is following the events closely as they unfold, and is constantly holding situation assessment reports with the OC Northern Command, Maj. Gen. Gadi Eisenkot, as well as the Galilee Regional Division commander and additional commanders.

The Israeli civilians in the Galilee region are carrying on with their routine way of life.
3:58PM: Reports that 3 Lebanese soldiers and one journalist were killed in the clashes.
3:26PM: Israeli Foreign Minister Avigdor Lieberman has authorized Israel's UN ambassador Gabriella Shalev to lodge an official complaint against Lebanon with the UN Security Council.
Looks like Lebanon may have the same idea.
3:18PM: Lebanese President Michel Suleiman has called on his country to "stand up to Israel's violation of UN Resolution 1701 – whatever the cost."
I am surprised he even respects 1701, given that Lebanon has not upheld it up until now.
3:14PM: Sorry, but I'm not into trumpeting this blog as the source of Israel updates above all others, especially when I know others put a lot of work in to theirs.
(cryptic, but hopefully the intended recipient will understand what I am saying)
3:12PM: Apparently, both the Lebanese casualties were soldiers.
3:10PM: IDF statement on the northern border hostilities:
Recently, an IDF force was fired upon from within Lebanon.

The soldiers were on routine activity in Israeli territory, in an area that lies between the "blue line" (the internationally recognized border between Israel and Lebanon) and the security fence, thus within Israeli territory.
2:00PM: It all started…over a tree?!
"It started when the Israelis wanted to cut a tree down inside Lebanon. The Lebanese army fired warning shots at them and they responded by shelling," one security source in Lebanon said.
1:52PM: UNIFIL has sprung into action, urging restraint.
1:44PM: 2 Lebanese – a soldier and a civilian – have reportedly been wounded in the border clashes.
1:40PM: BREAKING NEWS: The Lebanese army and IDF have exchanged fire on the northern border.
The conflict began when Lebanese soldiers opened fire on an IDF patrol. The soldiers returned fire, including with mortars and artillery.

According to initial reports, the soldiers were on a routine patrol. They were operating past the border fence, but within Israeli territory, since the fence does not always exactly parallel the border.

One Lebanese soldier and one civilian were wounded in the exchange, according to al-Jazeera, which said the clashes started after Israeli soldiers reportedly attempted to uproot a tree on the Lebanese side.

"The Israelis fired four rockets that fell near a Lebanese army position in the village of Adaysseh and the Lebanese army fired back," a Lebanese security official in the area told AFP news agency.
According to Ha'aretz , there are also reports that a Katyusha rocket fired from Lebanon struck the northern Galilee. War rooms have been opened in Kiryat Shmona and the Upper Galilee Regional Council in order to support concerned residents.
Time to dust off the gas masks?
12:38PM: More Turkey-Jerky:
Turkish media headlines on Tuesday gloated over Israel's agreement to cooperate with the Unites Nations' investigation into May's deadly Navy raid on a Gaza-bound flotilla.

"Israel has waved a white flag," read the headline of the popular Hurriyet newspaper. "Israel has folded," exclaimed Sabah daily, while Turkiye newspaper stressed that it was the first time Israel has agreed to a UN investigation into a military-related matter.
I only wish I could introduce Hurriyet's editor to a hairy friend of mine.
12:35PM: Another IAF helicopter scare in Romania, but thankfully a different result.
Two Israel Air Force CH-53 Yasur helicopters made emergency landings on Tuesday morning in Romania, where an Israeli aircraft of the same type crashed a week ago, killing seven.

The military said in a statement that no crew members were injured in the landings and that one of the helicopters was undergoing repairs at a Romanian military base.

Both helicopters are expected to return to Israel on Wednesday.

An IDF spokesman said a faulty indicator light had prompted the emergency landings and that the problem was not serious.
10:10AM: Israel is to honor an indigenous Australian who stood up to the Nazis (hat tip: Ian).
AN Aboriginal elder is about to make history by becoming the first indigenous Australian to be honoured with his own memorial and garden at the Yad Vashem Holocaust Museum in Jerusalem.

Following a year-long examination of records, historians at Yad Vashem have approved the memorial for the late William Cooper, who led a protest march in Melbourne against the treatment of Jews in Germany only weeks after Kristallnacht in 1938.

The memorial will be the Entrance Gate Garden at the entrance of the huge Yad Vashem complex.

Yad Vashem receives about one million visitors a year — about 600,000 from overseas and 400,000 from inside Israel — so the positioning of the memorial means a large number of people will be exposed to the story of Cooper.

The memorial will be in acknowledgment of Cooper leading a protest after the notorious 1938 pogrom in Nazi Germany.

On November 9, 1938, in a state-sponsored reign of terror which came to be known as Kristallnacht — the night of broken glass — Jews in Germany were targeted for killings or bashings, and Jewish businesses and homes were smashed.

Cooper, from Footscray in Melbourne's western suburbs, was secretary of the Australian Aborigines League and it appears he had seen reports in Melbourne's papers about Kristallnacht and gathered as many people as he could for a protest.

On December 6, 1938, they walked down Collins Street to the German consulate where they attempted to present a petition to the German consul-general, D.W. Dreschler. Dreschler would not take the petition but the protest caused a stir. The petition protested the "cruel persecution" of Jews in Germany.

The decision to approve the memorial dedication follows a year of representations by Albert Dadon, a leading Melbourne businessman and founder and chair of the Australia Israel Cultural Exchange.

The ceremony to open the memorial will be held on December 15. Yad Vashem has a thorough approach to examining the many submissions it receives each year.

The process began after Dadon visited Yad Vashem last year with Warren Mundine, former national president of the ALP and now head of the Australian Indigenous Chamber of Commerce.

Dadon told The Weekend Australian: "Both Warren and I were following our allocated guide, David Metzler, when we heard him say, 'You Australians should know that a group of Aboriginal people led by William Cooper held in your country the only private protest against the Germans following Kristallnacht'."

Dadon knew about Cooper and his protest, but he found it remarkable to have a guide at Yad Vashem refer to it unprompted.

"Warren and I became quite emotional. I am not sure whether Warren or I suggested that Yad Vashem should house a memorial to William Cooper for his brave act but I do remember telling Warren that AICE would take up the challenge.

"The process to organise a memorial is quite complex. Yad Vashem employs a team of historians for whom a narrative is simply not enough. AICE completed the background research and submitted the file and it took nearly a year for Yad Vashem to verify and be satisfied that the narrative was indeed true and worthy of having a permanent memorial there."

One of the historians involved was David Silberklang.

Dr Silberklang said this week that when he was first told of the Cooper case several months ago he began inquiries with Australian historians and some in Israel who were familiar with the case.

"It's quite a story," he said. "He certainly came across as a significant leader of his community.

"This was not some peripheral person who made a statement but rather somebody who was representing a larger group."

Dr Silberklang said while some foreign governments protested Kristallnacht — the US withdrew its ambassador — along with some labour unions, Cooper's protest was unusual because "it was not exactly the power group in the community, like a church or something".

Dadon first learnt of Cooper shortly before launching AICE in December 2002 as the Melbourne Jewish Museum was about to dedicate a plaque to commemorate the protest.

Mundine this week described Cooper as "a giant".

"If only more people in the world had stood up in the 1930s like William Cooper," he said.

"What he did standing up for Jewish people makes him a giant among people."

Dadon said: "I believe that a garden in the memory of William Cooper at Yad Vashem is a just recognition of his courage and will be there to remind people that individuals and minorities can and must speak out when the rest of the world stays silent and they can make a difference when it comes to the plight of other minorities.

"It also symbolises a further bond between these two minority groups who share so much."

A year after his protest Cooper wrote to incoming prime minister Robert Menzies saying he hoped his new government would continue the "Aboriginal uplift" of the government led by Joe Lyons.

"Mr Lyons has assured me that all his ministry shared his sympathy for my race," Cooper wrote. "This includes yourself. I do trust that care for a suffering minority will ensure that kindliness of treatment that will not allow Australia's minority problem to be as undesirable as the European minorities of which we read so much in the press."

Cooper was born on a mission in Echuca, Victoria, in 1861 — which means he was 77 when he led the protest.

He lived and worked on a reserve in the area doing everything from general labourer to picking up wool. He was said to be a good fisherman, at one stage opening a fish shop in Yarrawonga.

According to the Collaborating for Indigenous Rights website of the National Museum of Australia, he moved to Melbourne in 1933, aged 72, with others of Yorta Yorta descent, where they formed the Australian Aborigines League. If he stayed on the reserve he would have been ineligible for the old-age pension.

The site says, apart from letters to politicians, Cooper dedicated years to a petition to King George V asking for Aboriginal representation in federal parliament.

Despite gathering between 1800 and 2000 signatures, the petition failed.

It says that in 1938, as celebrations were being planned for the sesquicentenary of British arrival, Cooper planned "a day of mourning" — part of the beginning of political organisation for Aboriginal Australians.
May William Cooper's memory be blessed.
9:15AM: Anti-Israel protest organizers to participants: "You can climb tank tops, just don't wear them."
************************************************************************************
September specials at the Okeanus Hotels in Israel. Suites, Sea, and Style.
Rooms start at only $170. Click here for more details.
************************************************************************************
Please help ensure Israellycool can keep going,
by donating one time or monthly