The Day In Israel: Mon Sept 6th, 2010
Israeli Foreign Minister Avigdor Lieberman on the prospects of peace: Nyet (or should that be Not yet).
A peace agreement between Israel and the Palestinians will not be achieved in the foreseeable future, Foreign Minister Avigdor Lieberman said Sunday.

Speaking at a conference of his ultra-nationalist Yisrael Beiteinu party, Lieberman said a complete peace agreement that included an end of the conflict and Palestinian recognition of Israel as a Jewish state was unattainable, even with significant concessions and territorial compromise.

Peace was impossible, "not next year and not for the next generation", Lieberman said.
While I think he has a point, he is being criticized for publicly expressing his pessimistic sentiments.
"This is, undoubtedly, a problem," said a cabinet minister. "Can you imagine what would have happened if the Palestinian foreign minister had made such a statement? We'd all be jumping down his throat."
I doubt it. PA officials are constantly making worse statements. For instance, I don't recall Muhammad Dahlan's throat being the target of any Israeli officials' jumping.
Fatah official Muhammad Dahlan called Prime Minister Binyamin Netanyahu a "con-man" on Sunday, saying that he will destroy the peace process, in an interview with Egyptian newspaper Al-Masry Al-Youm.
Updates (Israel time; most recent at top)
8:12PM: Yesterday, I blogged about the Time magazine article entitled Why Israel Doesn't Care About Peace.
Well, it gets better. Guess what is the lead story of that edition of Time?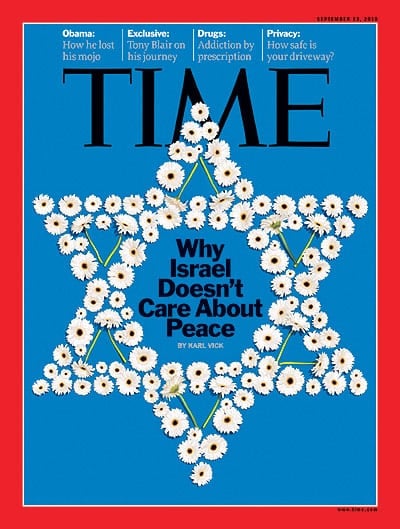 5:24PM: I've worked on perhaps the web's most definitive list of pro-Israel celebrities.
2:42PM: Terror supporter and potential Biggest Loser contestant Lauren Booth has taken a swipe at her brother-in-law Tony Blair for "supporting" Israel.
From Iran.
Dear Tony,

Congratulations on your political memoir becoming an instant bestseller. I'm in Iran and have the only copy in the country. I can tell you, it's so fiercely fought over, it's worth its weight in WMD's. Note to Random House; have 'A Journey' translated into Farsi and Arabic asap, it'll fly off the shelves in this part of the world.

Tony, yesterday I attended the Al Quds day protest in Tehran. You may have heard of it? It's the rally where Iranians gather to protest against Israel's illegal occupation of Palestine, including the Holy city of Jerusalem.

I'm being sarcastic by asking if you've heard of Al Quds day, because I know you have. It is your very worst nightmare, right? After all, Tehran is the place where politics and Islam intertwine.

Personally I've never understood this fear of 'political Islam' it seems to me that religious people should always be educated on world events rather than kept in ignorance. Like say, Mid-West Christian Zionists in the US. The kind of folk who can't find their home city on a map of their state but are certain they hate Islam even if they are not sure whether it is a type of curry or a foreign make of veh-ic-ule.

Anyway, yesterday, I stood in the midst of more than one million Iranian Muslims all chanting in unison 'Marg Bar Isre-hell!' and 'Marg Bar Am-ri-ca!' You know what that means Tony I'm sure; 'Down with Israel, down with America'. The men, women and children around me withstood a day of no water and no food (it's called Ramadan, Tony, it's a fast). Coping with hunger and thirst in the hundred degrees heat, as if it were nothing. They can withstand deprivation in the Muslim world. Here in Iran they feel proud to suffer in order to express solidarity with the people of Palestine. It's kind of like the way you express solidarity with America, except without illegal chemical weapons and a million civilian deaths.

Some mothers at the rally wept, not out of hatred for 'the West' but out of empathy for the mothers of Rafah, Khan Younis, Nablus and Jenin. Do you recognise these place names Tony, as Middle East peace envoy you really should. Israel has massacred children in all of these cities in recent years. Didn't you know?

Today when the streets of London reverberate with cries of 'Allahuakbar!' and 'Down Down Israel.' Christians and Jews will join the thunderous cries of 'Down Down Israel, marching shoulder to shoulder with the 'political' Muslims you say you fear so much.

Perhaps you believe that I am in danger in Iran, especially on a day like Al Quds. Well here again Tony, you've been fed and have consumed in its entirety, a massive lie. The lie that says when Muslims express an opinion in groups, in public, it is always spurred on by hatred of 'us' infidels. As if all protests that are led by Muslim communities are a kind of long held grudge against the Crusades.

Perhaps they should be more, not less angry here than they are, Tony. Because having read the postscript to your bestseller its clear you are on a modern Crusade.

The 'conflict' between Palestine and Israel is according to you all about religion and has nothing at all to do with the ethnic cleansing of the Arab population, nor the degradation of those who remain beneath the boots of their Israeli occupiers. You say that Arabs have and always will see 'Jews' as enemies. For God's sake Tony, do your history. And if you're going to run a 'Faith Foundation' then better get up on Islam 101 don't you think? Did your pals in Tel Aviv forget to tell you how many thousands of Jews lived in Historic Palestine in harmony with their Arab neighbours before 1948? Do you really not know that even today tens of thousands of Jews reside contentedly in Iran?

I've sat with Muslim families, those whose children have been burned by Israeli/US phosphorous bombs. Those who are still suffering hunger due to the Israel siege of Gaza. Those who have lived through the early days of sanctions against Iran when they needed food vouchers just to live. And every single Muslim in these suffering families has the same message; 'We don't hate anyone for their race or their religion. We cannot hate Jews they are in our holy book. It is against the teachings of the Koran.' But Tony let me ask you this. Why should any people, Muslim or otherwise, be expected to put up with this kind of constant threats from you and your bosses in Tel Aviv and Washington? Do you have any understanding of what it is like to live in Gaza? Under siege, attacked with chemical weapons, your children's schools razed to the ground by Israeli missiles, your hospitals shelled, your electricity limited, your water undrinkable?

Actually Tony I think you are a sympathetic person. I actually think that you do feel twinges of pain at the hardships suffered by millions in the Middle East as a direct result of your support for Israel. Then you put that feeling to one side, because on a fundamental level – you think 'they' deserve it don't you?

In your book you say you knew full well how many Beirut homes were flattened, how many civilians died in Lebanon in 2006. Yet you dismiss Lebanese rage about Israeli occupation of the 'Sheba Farm' as being an irrelevance, about a 'tiny' amount of land. You cannot see it as part of the constant pressure on Lebanese society as a whole by their heavily armed aggressive Israeli neighbour. You see it as: 'Israel is attacked. Israel strikes back.' As if Israel lives in placid peace, being kindly to all around it in between these massacres.

As other world leaders came out to demand Israel immediately cease its 2006 bombing raids on Lebanese cities, you stayed silent. 'If I had condemned Israel' you say in your book 'I would have been more than dishonest. It would have undermined my world view.'

Your world view is that Muslims are mad, bad and dangerous; a contagion to be contained. Your final chapter is a must read here in the Middle East Tony, congratulations! For it lays out the 'them' and 'us' agenda of your friends in Washington and Tel Aviv.

In the final chapter you say; 'we need a religious counter attack' against Islam. And by 'Islam' you mean the Al Quds rallies, the Palestinian intifada (based on an anti-Apartheid struggle Tony, NOT religious bigotry), against every Arab who fails to put their arms in the air as the F16 missiles rain on their homes and refugee camps and sing a rousing chorus of  'Imagine all the people…'

When you say 'extremism' must be 'controlled and beaten' you mean that you and your kind of morally bankrupt (but filthy rich) world leaders wants control over the rising solidarity spreading through the Ummah and being joined by activists of all creeds on the streets of Paris, London, Bradford, Rome. 'Not only extremism must be defeated' you have written but 'the narrative' ' has to be assailed.'

Iran is indeed the place where Islamic tradition meets political action.

They are highly aware of the history of this region, the wrongs perpetrated by Israel against Palestine and the political machinations of the US and the UK governments to isolate them. All things considered are nice as the people have been during my stay. I wouldn't recommend coming over on a book tour though…
Meanwhile, besides possibly encouraging Iran to bomb Israel, what is Booth doing there? Trying to find a new husband to replace the one she dumped?
12:24PM: Here is the full statement from the Hollywood numbskulls who signed a letter of support for the Israeli actors who declared they would not perform in Judea or Samaria, as well as a full list of the aforesaid numbskulls.
Text of the statement:

On August 27th, dozens of Israeli actors, directors, and playwrights made the brave decision not to perform in Ariel, one of the largest of the West Bank settlements, which by all standards of international law are clearly illegal.  As American actors, directors, critics and playwrights, we salute our Israeli counterparts for their courageous decision.

Most of us are involved in daily compromises with wrongful acts. When a group of people suddenly have the clarity of mind to see that the next compromise looming up before them is an unbearable one  — and when they somehow find the strength to refuse to cross that line  —  we can't help but be overjoyed and inspired and grateful.

It's thrilling to think that these Israeli theatre artists have refused to allow their work to be used to normalize a cruel occupation which they know to be wrong, which violates international law and which is impeding the hope for a just and lasting peace for Israelis an Palestinians alike.  They've made a wonderful decision, and they deserve the respect of people everywhere who dream of justice. We stand with them.

*Statement organizers and signatories represent a wide range of political opinions and perspectives, but have come together for the sole purpose of making a joint statement on this one critical issue.
**All identifications and affiliations are for identification purposes only and do not imply endorsements by any institutions

Ed Asner
Actor
8 time Emmy award Winner (more than any other male actor); Former president Screen Actors Guild, lead voice in Pixar's Up, Mary Tyler Moore

Theodore Bikel
Actor, Folk Singer, Musician
Co-founder of the Cameri Theatre of Tel Aviv; president of the Associated Actors and Artistes of America; Academy Award nominee; Tony Award nominee; actor in film, TV and theater; vocalist

Eve Ensler
Playwright, preformer
The Vagina Monologues; Obie Award winner; Guggenheim Fellowship

Tony Kushner
Playwright; Screenwriter;
Pulitzer Prize winner for Angels in America; Tony Award winner; Emmy Award winner; Drama Desk Award winner; Was nominated for an Academy Award and a Golden Globe Award; Co-author of Munich

Miriam Margolyes
Actor
Portrayed Professor Sprout in Harry Potter; BAFTA Winner

Cynthia Nixon
Actress
Portrayed Miranda Hobbes in the HBO series Sex and the City; Emmy, Tony and Grammy Award-winning actress

Mandy Patinkin
Actor, Vocalist
Actor in Yentl, the Princess Bride (portrayed Inigo Montoya), Sunday in the Park with George; Vocalist, (Mamaloshen), Tony Award winner

Harold Prince
Director, Producer,
21 Tony Awards winner (Pajama Game, Cabaret, West Side Story, Sweeney Todd, Evita, Phantom of the Opera), National Medal of the Arts Recipient

Vanessa Redgrave
actress
The only British actress to ever have won the Oscar, Emmy, Tony, Canes, Golden Globe and the Screen Actors Guild awards; Mission: Impossible, Mary Queen of Scots, Atonement.

James Schamus
Producer, Screenwriter, Film Historian
BAFTA Award Winner; producer of Brokeback Mountain, co-writer and producer of Crouching Tiger Hidden Dragon, The Ice Storm, Eat Drink Man Woman, Academy Award nominee, CEO Focus Features

Wallace Shawn
Actor, Playwright, Translator
Actor in Princess Bride (portrayed Vizzini) My Dinner With Andre, Vanya on 42nd St; playwright of The Fever, The Designated Mourner; translator of Three Penny Opera by  Bertoldt Brecht

Jennifer Tilly
Actress
Portrayed Olive Neal in Woody Allen's Bullets Over Broadway, Fabulous Baker Boys, Liar Liar, Bound; Academy Award Nominee

Liz Diamond
Scholar
Chair, Directing Dept., Yale School of Drama

Andre Gregory
Actor, Director
My Dinner With Andre

Lynn Nottage
Playwright
Winner of 2009 Pulitzer Prize; winner of 2007 MacArthur Genius Award

Sheldon Harnick
Lyricist
Pulitzer Prize Winner, Fiddler on the Roof, Tony Award Winner

Paula Vogel
Playwright, Scholar
Pulitzer Prize Winner, Eugene O'Neill Chair, Playwriting Department -Yale School of Drama

Bill Irwin
Actor, Mime, Choreographer
Winner two Tony Awards ;Winner of the National Endowment for the Arts Choreographer's Fellowship; Guggenheim, Fulbright and MacArthur Fellowships

Sarah Schulman
Novelist; Playwright

David Adjmi
Playwright
Steinberg Playwright Award, the Bush Artists Fellowship, and the Kesselring Fellowship for Drama, named in the New Yorker as up and coming playwright

Najla Said
Actor, Playwright
Daughter of Edward Said; "Palestine," Her one-woman Off Broadway play is a coming-of-age story about Ms. Said's journey to become an Arab-American on her own terms.

James Bundy
Dean, Yale School of Drama;  Artistic Director, Yale Repertory Theatre

Kathleen Chalfant
Actor
Obie Award Winner, Drama Desk Winner, Tony Award Nominee

Ruth Reichl
writer; PBS Television host
former restaurant critic, NYTimes, former editor in chief, Gourmet magazine, PBS television series host, memoirist

Edward Einhorn
Director, Playwright, Novelist, Executive Director of the Association of Jewish Theatre

Oskar Eustis
Artistic Director, The Public Theater

Deborah Eisenberg
Playwright, Author, Actor, MacArthur Fellow

Bruce Allardice
Managing Director
Ping Chong & Co.

Philip Arnoult
Director, Center for International Theatre Development (CITD)

Anthony Arnove
Author and Editor
Co-Directed (with Howard Zinn and Chris Moore) and Executive Produced "The People Speak (film)

Caron Atlas
Cultural Organizer and Consultant
Founding director of the American Festival Project, a national coalition of activist artists

Arthur Aviles
Artistic Director
Artistic Director, The Bronx Academy of Arts and Dance, Arthur Aviles Typical Theatre

David Barlow
Actor, Writer, Performance Artist

Laura Barnett
Theater Educator, Performance Artist, Director

George Bartenieff
Actor
Obie Award Winner

Mark Barton
Lighting Designer

John Bell
Director
Ballard Institute and Museum of Puppetry, Puppeteer, Scholar, Great Small Works.

Melia Bensussen
Director
Obie Award Winning Director; Chair of Emerson College Department of Performing Arts

Eric Bentley
Theatre scholar, critic, author, playwright, editor and translator

Theodore S. Berger
Executive Director of the New York Foundation for the Arts for thirty years

Susan Bernfield
Artistic Director, New Georges

Philip Bither
Senior curator, Walker Arts Center

Linda Chapman
Associate Artistic Director, New York Theatre Workshop

Rachel Chavkin
Director; Founder and Artistic director of the TEAM (the Theater of the Emerging American Moment)

Trudi Cohen
Puppeteer, Theater Artist
Great Small Works

Kia Corthron
Playwright

Jorge Ignacio Cortiñas
Playwright

Clare Coss
Playwright

Alex Courtney
Stage, Film and Television Actor

Tim Cusack
Artistic Director, Theatre Askew

Savitri D.
Director
The Church of Life After Shopping

Matthew Dellapina
Actor

Ivor Dembina
Comedian

David J. Diamond
Theatre consultant, Producer

Elin Diamond
Critic, Scholar

Sally Eberhardt
Theatres Against War (THAW)

John Clinton Eisner
Artistic Director, Lark Play Development Center

Bertie Ferdman, Ph.D.
Artistic Director, ExPgirl; Theatre Artist, Curator, Producer, Educator

Corey Fischer
Actor, Playwright
Playwright of See Under: Love; co-founder of the Traveling Jewish Theater,(now the Jewish Theater San Francisco)

Elinor Fuchs
Critic; Scholar, Yale School of Drama

Alexandra Gersten-Vassilaros
Playwright
2004 finalist, Pulitzer Prize for Drama

Adam Greenfield
Director of New Play Development, Playwright Horizons

David Greenspan
Actor, Award-Winning Playwright

Kathryn Grody
Actor; Writer
Obie Award Winner

Jason Grote
Playwright, Screenwriter

Del Hamilton
co-Founder and Artistic Director, 7 Stages

Karen Hartman
Playwright

David Herskovits
Founder and Artistic Director, Target Margin Theater

Joan Holden
Award-Winning Playwright

Jeffrey Horowitz
Founder and Artistic Director, Theater for a New Audience
Advisory Board of The Shakespeare Society and Artistic Directorate of London's Globe Theatre, Artistic Advisor to the Shakespeare Globe Centre (USA).

Holly Hughes
Performance Artist, Guggenheim Fellow
One of the "NEA 4", whose funding was vetoed for gay content

Birgit Huppuch
Actor

Julia Jarcho
Playwright, Director, Performer

Morgan Jenness
Dramaturge

John Jesurun
Writer, Director, Multi-Media Artist

Jeffrey M. Jones
Playwright, Curator –
Little Theatre @ Dixon Place, Pataphysics @ The Flea

Melanie Joseph
Artistic Producer
The Foundry Theatre

Chris Kam
Independent Producer

Stephen Kaplin
Puppeteer, Theater Designer/Performer
Great Small Works and Chinese Theatre Works

Melissa Kievman
Director

Josh Kornbluth
Monologist

Aaron Landsman
Independent Artist

Paul Lazar
Co-Artistic Director Big Dance Theater

Herbert Leibowitz
Writer and Editor

Maxinne Rhea Leighton
Author

Robert H. Leonard
Director, Professor, Department of Theatre Arts, Virginia Tech

Gideon Lester
Dramaturge and Curator
Former associate artistic director, American Repertory Theatre; former Acting Artistic Director, American Repertory Theatre

Roberta Levitow
Co-Founder, Theatre Without Borders

Irene Lewis
Artistic Director
Center Stage, Baltimore, Maryland

Ethan Lipton
Playwright

Casey Llewellyn
Theater Artist

Quincy Long
Playwright

John Carroll Lynch
Actor

Kirk Lynn
Co-Producing Artistic Director
Rude Mechs, Austin, TX

Matthew Maguire
Co-Artistic Director, Creation Production Company

Matthew Maher
Actor

Judith Malina
Actor Director
Founder and Artistic Director, The Living Theatre

Karen Malpede
Playwright, Theater Three Collaborative

Nina Mankin
Dramaturge, Writer

Emily Mann
Artistic Director/Playwright
McCarter Theatre Center, Princeton, NJ

Deborah Margolin
Playwright, Actor, Scholar

Vijay Mathew
Co-Director, American Voices New Play Institute

Marin Mazzie
Actress, Singer

Ellen McLaughlin
Playwright; Actor

Erin Mee
Director, Scholar
Swarthmore theater arts professor

Greg Mehrten
Actor, Director, Writer

David Michalek
Artist, Photographer
Visiting Faculty Member – Yale Divinity School

Tyler Micoleau
Lighting Designer

Tim Miller
Performance Artist
One of the "NEA 4", whose funding was vetoed for gay content

Jennifer Miller
Performance Artist, director
Founder and Artistic Director of Circus Amok

Steve Moore
Artistic Director
Physical Plant Theater

Susan Mosakowski
Playwright
Co-Artistic Director Creation Production Company

David Moscow
Actor

Erika Munk
Critic, Professor
Yale School of Drama, theater critic

Tom Nelis
Actor

Jim Nicola
Artistic Director
New York Theatre Workshop

Annie-B Parson
Director
Co-Founder, Artistic director Big Dance Theater, NYFA and Guggenheim Fellow

Sally Ann Parsons
Costumer, Craftsman, Designer

Shailja Patel
Sundance Theatre Fellow 2010

Katie Pearl
Director

Sybille Pearson
Playwright
Rockefeller Playwrights Fellowship; founding member of The Playwrights Circle at The New York Theatre Workshop; an Artistic Resident at the Vineyard Theater

Ralph Pena
Artistic Director, Ma Yi Theater

Carla Peterson
Director
Artistic Director, Dance Theater Workshop

Brian Pickett
Theater Artist and Educator
Member Steering Committee – Theaters Against War (THAW)

Catherine Porter
Director
Co-Artistic Director Peculiar Works Project, Obie Award Winner

Reno
Comedian

Gordon Rogoff
Theater Critic; Director; Professor of Theater
Yale School of Drama; Obie Award Winner

Jenny Romaine
Puppeteer, Theater Artist
Great Small Works

Avital Ronell
Writer, Academic, Literary Critic

Ken Rus Schmoll
Director

Brian H. Scott
Theatrical Designer

Regine Anna Seckinger, Ph.D.
Advisory Board Member, Rude Mechanicals, Austin, TX

Jamil Shamasdin
Actor

Peggy Shaw
Performance Artist, Actor, Playwright

Christopher Shinn
Playwright,
Obie Award Winner, Guggenheim Fellow

Jeanmarie Simpson
Theatre/Film Artist

Michael Singer
Television News Producer
Former producer, CBS News

Alisa Solomon
Theater Critic
Director of Arts Concentration, School of Journalism, Columbia

Bonnie Stein
Performing Arts Administrator, Manager, Project Producer and Coordinator, Executive Director
GOH Productions

Kris Stone
Stage Designer

Mark Sussman
Scholar, Puppeteer Director.
Great Small Works; Concordia University

Caridad Svich
Playwright, Songwriter, Translator, Editor

Bill Talen
Director
The Church of Life After Shopping

Kathleen Tolan
Playwright, Actor

Basil Twist
Puppeteer
Obie Award Winner

Charlie Varon
Playwright, Performer

Naomi Wallace
Playwright, Screenwriter

Anne Washburn
Playwright
Guggenheim Fellow

Donya K. Washington
Director

Stephen Webber
Actor

Brenda Wehle
Actor

Mac Wellman
Playwright, Author, Poet, Scholar
Donald I. Fine Professor of Play writing at Brooklyn College

Anabelle Winograd
Writer, Critic, Educator

Eunice Wong
Actor

Kristina Wong
Solo Performer and Writer.
Recipient of awards from Creative Capital, MAPFUND, two Creation Funds from the National Performance Network, three grants from the Center for Cultural Innovation, three Durfee ARC Grants, and four Artist-in-Residence Awards from the City of Los Angeles Department of Cultural Affairs. Had also received residencies from the MacDowell Colony, Atlantic Center for the Arts and the Hermitage in Englewood, FL.

Susan Yankowitz
Award-Winning Playwright and Librettist

David Zellnick
Playwright, Screenwriter, Lyricist
12:16PM: Dubai's police chief is back in the news, this time blaming the UAE's crackdown on Blackberry services on the Satan brothers (Big and Little).
Concerns over Israeli access to BlackBerry data, and the use of the device by the United States to spy on the United Arab Emirates are behind the Gulf state's moves to curb the smartphone, Dubai's police chief said.

"The Unites States is the primary beneficiary of having no controls over the BlackBerry, as it has an interest to spy on the UAE," Dhahi Khalfan Tamim said in remarks carried by the website of the daily al-Khaleej on Friday.

"The West has accused us of curbing the liberties of BlackBerry users, while America, Israel, Britain and other countries are allowed access to all transferred data," Tamim added.

Tamim, who has been outspoken in blaming Israeli agents for the assassination of a top Palestinian militant at a Dubai hotel in January, did not say why Washington had an interest in spying on Western-allied UAE.
9:15AM: Old and busted: Gaza flotilla.
New hotness: Gaza flytilla.
The California-based Free Palestine Movement has announced plans to send an airplane filled with humanitarian aid to the Gaza Strip, Channel 2 reported on Sunday. According to the organization's Web site, activists plan to "challenge the Israeli blockade of Gaza by air."

The group reportedly plans to break the blockade by entering Gaza's air space without flying over Israeli or Egyptian territory. Success, the Web site said, depends on showing that the effort poses no military threat.

Channel 2 identified the aid as consisting of communication equipment.

The Free Palestine Movement took part in the flotilla that attempted to reach the Gaza Strip on May 31, ending with the deaths of nine Turkish activists aboard the Mavi Marmara.
Israellycool reader Michael writes:
I e-mailed these idiots to ask them how they plan to find a destination when their nav equipment will be jammed, and that if they actually cared, instead of wasting money on chartering a plane and fueling it for their stunt, they could use it to buy more aid that's probably already abundant in gaza and have it transferred via the land crossings.  What a bunch of numbskulls.
No argument from me there.
5:48AM: Here is the IDF-released footage (which I blogged about yesterday) showing people removing long-range rockets from a home in southern Lebanon and transferring them to alternative storage centers, after the arms cache exploded.
5:38AM: A number of Hollywood numbskulls – silent while Israel has endured terrorism – are now speaking up against the "real" obstacle to peace.
More than 150 American actors, writers, directors and other artists signed a letter of support for the Israeli actors who declared they would not perform in the West Bank.

The American signatories include Cynthia Nixon, who plays Miranda on "Sex and the City"; Mandy Patinkin, who played Inigo Montoya in "The Princess Bride"; and character actor and writer Wallace Shawn, who played the principal in "Clueless."

—-

The American letter calls the Israelis' refusal brave, notes that Ariel is one of the largest settlements in the West Bank and calls it illegal by any standard.

The signatories said that most of them faced daily compromises with things they found unacceptable, and that when a group of people decided they would make no more compromises and found the strength to refuse, this inspired them and filled them with hope.

The American artists were moved to know the Israelis had refused to allow their work to become part of what they called making the cruel occupation normal and accepted, they said in the letter. The occupation is an obstacle to hope and a just and sustainable peace for Israelis and Palestinians, they added.

The signatories said the Israeli artists' decision should be appreciated by those who seek justice around the world.

The letter made waves in the artistic community in the United States. On Friday, several actors called the Israeli Consulate to ask what they should do, and were advised by the cultural attache not to interfere in internal Israeli affairs, Yedioth Ahronoth reported.
Actually, both Mandy Patinkin and Wallace Shawn were in the Princess Bride.
Mandy Patinkin:
Wallace Shawn:
I don't know if I will be able to ever enjoy the movie again.
************************************************************************************
September specials at the Okeanus Hotels in Israel.  Suites, Sea, and Style.
Rooms start at only $170. Click here for more details.
************************************************************************************