The Day In Israel: Tues Oct 12th, 2010
Israeli Prime Minister Binyamin Netanyahu yesterday offered to extend the settlement freeze in exchange for the palestinians recognizing Israel as the Jewish homeland.
Only to have the offer rejected out of hand.
Prime Minister Benjamin Netanyahu offered the Palestinians a trade off on Monday to revive peace talks they quit — a new freeze on building in settlements if they recognize Israel as a Jewish state.

The Palestinians immediately rejected making any such declaration, which they have long opposed.

The impasse deepened doubts over the chances of resuming U.S.-brokered negotiations that stalled last month after Israel refused to extend a 10-month moratorium on housing starts in Jewish settlements in the occupied West Bank.

"If the Palestinian leadership will say unequivocally to its people that it recognizes Israel as the homeland of the Jewish people, I will be ready to convene my government and request a further suspension," Netanyahu told parliament.

"This is not a condition but a trust-building step, which would create wide-ranging trust among the Israeli people, who have lost trust in the Palestinian will for peace over the last 10 years," he said.

—-

Netanyahu made his move on Monday just three days after the Palestinians and Arab powers had given the United States a month to persuade Israel to declare a new moratorium.

"All settlement is illegitimate, it must be frozen for a return to negotiations," said Nabil Abu Rdainah, spokesman for Palestinian President Mahmoud Abbas.

"The issue of the Jewishness of the state has nothing to do with the matter," he told Reuters, adding that the Palestinians had already recognised Israel and that this should suffice.

The Palestinian leadership argues that recognition of Israel as a Jewish state would compromise the rights of Arab citizens of Israel who make up 20 percent of the population.

Such a move, Palestinian officials say, also would effectively forgo the right of return of Palestinian refugees who fled or were forced from their homes in Arab-Israeli wars to return to territory that is now Israel.

George Giacaman, a political scientist at Birzeit University near the West Bank city of Ramallah called Netanyahu's proposal a non-starter.

"I think the Americans will try a last ditch effort to find a formula acceptable to both sides," he said.

"If this is the last word, the political process will stall and the Palestinian leadership will be forced to look at alternatives," Giacaman said.
It's amazing that we find ourselves 17 or so years into this "peace process", and the palestinians won't recognize something so fundamental as Israel being a Jewish state.
What's even more amazing is the world thinks that Jews adding some new buildings in disputed territories is the obstacle to peace.
By the way, I wonder what the political scientist at Birzeit University means by "the Palestinian leadership will be forced to look at alternatives."
Updates (Israel time; most recent at top)
8:25PM: Despite denying his 30th anniversary tour of The Wall includes imagery that could be interpreted as antisemitic, musician Roger Waters has made a change.
A few days after issuing this declaration, however, Waters did make one small change to the segment: Instead of dollar signs following the Star of David out of the B-52's cargo bay, it now shows the Mercedes symbol doing so.
8:15PM: J Street gets caught in a lie.
7:56PM: Evil old bag Helen Thomas has told a radio host that she stands by the anti-Israel comments that got her fired.
Former White House correspondent Helen Thomas has acknowledged she touched a nerve with remarks about Israel that led to her retirement. But she says the comments were "exactly what I thought," even though she realized soon afterward that it was the end of her job.

"I hit the third rail. You cannot criticize Israel in this country and survive," Thomas told Ohio station WMRN-AM in a sometimes emotional 35-minute interview that aired Tuesday. It was recorded a week earlier by WMRN reporter Scott Spears at Thomas' Washington, D.C., condominium.

—-

"(It was) very hard for the first two weeks. After that, I came out of my coma," said Thomas, whose parents immigrated to the U.S. from Lebanon.

Rabbi David Nesenoff, who runs the website rabbilive.com, said he approached Thomas after he'd been at the White House for Jewish Heritage Day on May 27. He asked whether she had any comments on Israel.

"Tell them to get the hell out of Palestine," she replied.

"Remember, these people are occupied and it's their land. It's not Germany, it's not Poland," she continued. Asked where they should go, she answered, "They should go home."

"Where's home?" Nesenoff asked.

"Poland, Germany and America and everywhere else," Thomas replied.

"I told him exactly what I thought," she told Spears, who said during the interview that some accounts left off her reference to America. Thomas did not disagree.

"I was not talking about Auschwitz or anything else," she said.

"They distorted my remarks, which they obviously have to do for their own propaganda purposes, otherwise people might wonder why they continue to take Palestinian land," said Thomas. There was no explanation of whom "they" referred to.

When she soon began getting calls about her remark, "I said this is the end of my job."

She issued an apology, she told the radio interviewer, because people were upset and she thought she had hurt people. "At the same time, I had the same feelings about Israel's aggression and brutality," Thomas said.

Asked whether she's anti-Semitic, she responded "Baloney!" She said she wants to be remembered for "integrity and my honesty and my belief in good journalism" and would like to work again.
Here's hoping the next job she gets is as one of the 72 virgins awaiting Islamic terrorists in hell.
5:50PM: Breathtaking photographs of Tel Aviv which are not photoshopped.
5:45PM: Noted Middle East expert Annie Lennox is back in the news, this time expressing her disdain for the idea of coming to Israel.
"I don't have any interest to go to Israel. I don't think I'd ever have a cause to go. It would be too volatile (to perform), I think, because people get carried away and they twist what you say," pop icon Annie Lennox told The Observer.

In the interview, published by the British magazine Sunday to mark the release of her new single and her nomination for the Barclays Woman of the Year Award, the former Eurythmics singer addressed her criticism of Israel's military offensive in Gaza, launched in December 2008. "I was critical of Israel's policy of bombing Gaza, that was populated by mainly children in a space where they couldn't escape from. I said that it was not the way forward to peace," she explained.

At the time Lennox flatly rejected claims that in attending a demonstration against Israel, she was effectively supporting Hamas. She was also accused of naivety and even anti-Semitism.

"That really hurt," she told the Observer, "and it's a pack of nonsense. My children are half-Israeli. Why should I ever be anti-Semitic?"

Lennox also told the British magazine that her Israeli ex-husband respected her stand and told her there were many Israelis who were proud of her.
I really wish she would come to Israel. We make a great cup of STFU.
2:38PM: From Ynetnews: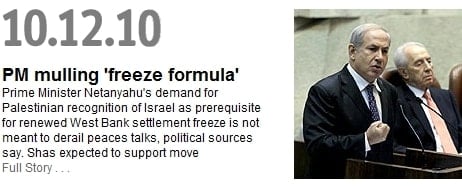 Looks like he has used the formula on Shimon Peres.
1:50PM: Here is Sinn Fein councillor Toireasa Ferris, who just went to Syria to join another flotilla against Israel, refusing to condemn terror attacks.
It is amazing how these flotillas attract such scum and villainy.
1:44PM: Quote of the day:
"In the eyes of Palestinians, the occupation began in '48 and not in '67. Not only Hamas thinks this – Abu Mazen [Palestinian President Mahmoud Abbas] does too."

"Their refusal to recognize Israel as a Jewish state shows they have no interest in having Israel as a state beside theirs."
– Israeli Vice Prime Minister and Strategic Affairs Minister Moshe Ya'alon
He gets it.
1:20PM: Classic British comedy Yes Prime Minister ended over 20 years ago, but this scene seems as relevant today as ever.
9:40AM: Hebrew University students have kicked off the year with a "lip dub."
9:28AM: No doubt the AP photographer was licking his proverbial chops after taking this unflattering photo of the Israeli Prime Minister.
8:56AM: Visiting Hollywood star Ashton Kutcher has some advice for Israel:
Social networking wunderkind and That '70s Show star Ashton Kutcher delivered a talk on new media at the Bezeq Expo in Tel Aviv on Monday, where he provided tips on how to use new forms of communication and networking to market Israel.

"The first thing I would do is ask you, who do you want to market to? Because a general marketing campaign for the whole world doesn't work; in some parts of the world they won't like the message, and in other parts of the world they will," he said. "The first thing you need to decide is who do you want to influence and what do you want to say to them."

Kutcher, who this year was named by Time magazine as one of the 100 most influential people in the world for his mastery of social networking, said Israel must figure out which groups to target, by "being honest with them and having open, candid conversations about what Israel is and who it is, because the people here are amazing – the young people here are amazing. The entrepreneurs here are incredible."

Kutcher added that Israel needs to showcase its "smart, intelligent, bright, caring people who are looking for solutions in the world."
I think that is actually good advice.
6:22AM: Who needs Al Jazeera when you have Ha'aretz:
Allegedly threw stones at it? Did the journalist not see the widely available video tape??
6:18AM: The AP's Aron Heller spins the Netanyahu offer rejection story so as to make the palestinian refusal to recognize Israel as a Jewish state sound reasonable:
Israeli Prime Minister Benjamin Netanyahu on Monday said for the first time that he would extend the settlement restrictions in the West Bank — if the Palestinians recognize Israel as the Jewish national homeland.

The idea, while innocuous to Israel's supporters, is widely seen as undermining the rights of Arab Israelis, and was immediately rejected by the Palestinians. But it could signal that Netanyahu is willing to bend and save a U.S.-led peace effort in exchange for a different concession.
Yet he does not mention a settlement freeze as "undermining the rights of Jewish Israelis." Nor, for that matter, the idea of a palestinian state to begin with.