Israel Under Fire: Sunday August 21st, 2011
Ok, I've tried to avoid getting into this situation, but it seems many people are expecting me to cover the latest war being waged against us here in Israel. And sure, I've expressed my concerns about retaining my sanity if I start attempting to blog updates, but, heck, at least I do not have rockets raining down on me (yet).
I'll do my best to keep you updated, but am not sure how regularly I'll be posting updates. So I'll include a Twitter widget with updates and you'll have the latest news and links when I am not providing my own.
Note: When posting updates, it won't be of the solely "newsy" variety. I can't help but include my brand of punditry and snark.
Spread the word.
You can also find updates over at The Muqata.
Updates (Israel time; latest at top)
10:22PM: Despite reports of a ceasefire, the rockets keep coming.
8:40PM: Hamashole speak with forked tongue:
Hamas official: Gaza militants agree to cease-fire
Hamas fires phosphorus bomb at southern kibbutz
5:22PM: PMO Spokesman Ofir Gendelman posted on his Twitter feed that Prime Minister Binyamin Netanyahu "has instructed the IDF to target only Palestinian terrorist organizations and to avoid collateral damage as much as possible."
5:15PM: What a mensch!
Actor John Voight has visited rocket attack victims at Beersheba's Soroka Medical Center

During the visit, Voight said that he has come to witness and report to the American people the harsh reality faced by the residents of southern Israel. He added that he was amazed to see that terror victims were hospitalized next to residents of Gaza and Hebron
5:08PM: Photo of the Day: Subtle, isn't he?

[caption id="attachment_30097" align="aligncenter" width="427" caption="An Egyptian protester holds an anti-Israel slogan near the Israeli embassy in Cairo, Egypt, Sunday, Aug. 21, 2011. Hundreds of Egyptians protested against the deaths of Egyptian security forces killed in a shootout between Israeli soldiers and Palestinian militants on Thursday in the Sinai. (AP Photo/Amr Nabil)"]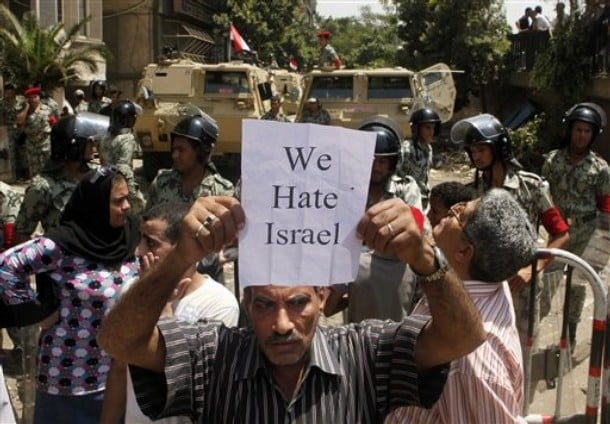 [/caption]

5:00PM: From the Boy, Were They Wrong Department:  

4:50PM: More on our peace-loving Egyptian neighbors.

4:05PM: This would almost be funny but for the fact it isn't.
Hamas Foreign Minister Mohammed Awad has been conducting talks with various contacts in international and regional organizations in an effort to stop Israeli strikes in the Gaza Strip, Palestinian news agency Ma'an reported on Sunday.

According to the report, Awad contacted the United Nations several times.
What is sadder is the fact the UN will likely act to stop Israel.
3:45PM: From the IDF Spokesperson blog earlier today:
2 rockets hit so. of Ashkelon, Israel, threatening 112,900 Ashkelon residents; city Pop. = 1/3 of Florence, Italy Pop.
3:25PM: Our "peace partner" Jordan has condemned palestinian terrorists targeting of innocent civilians Israel's targeting of terrorists in Gaza.
1:18PM: Some of the palestinian-fired rockets have landed in Egypt. No word yet on whether Egypt expects us to apologize.
1:15PM: Clearer footage of Egyptian Flagman.
1:08PM: The IAF has struck Gaza, targeting a terror cell about to fire rockets at Israel.
12:00PM: The man killed in last night's rocket attacks on Be'er Sheva was on his way to his nine-month pregnant wife after hearing air raid sirens and becoming concerned for her safety.
11:38AM: Here's another news item from the Theater of the Absurd:
Hamas has been holding talks with the Islamic Jihad over the weekend in an effort to convince the terror organization to stop firing rockets into Israel and resume the de facto truce that has been in place for two years, Egyptian daily Al-Ahram reported on Sunday.
This comes hot on the heels of Hamas taking responsibility for firing grad rockets at Be'er Sheva.
Do as we say, not as we do?
11:15AM: Anti-Israel cartoonist Carlos Latuff has created the following cartoon depicting the Egyptian who took down the Israeli flag from our Cairo embassy as a super hero.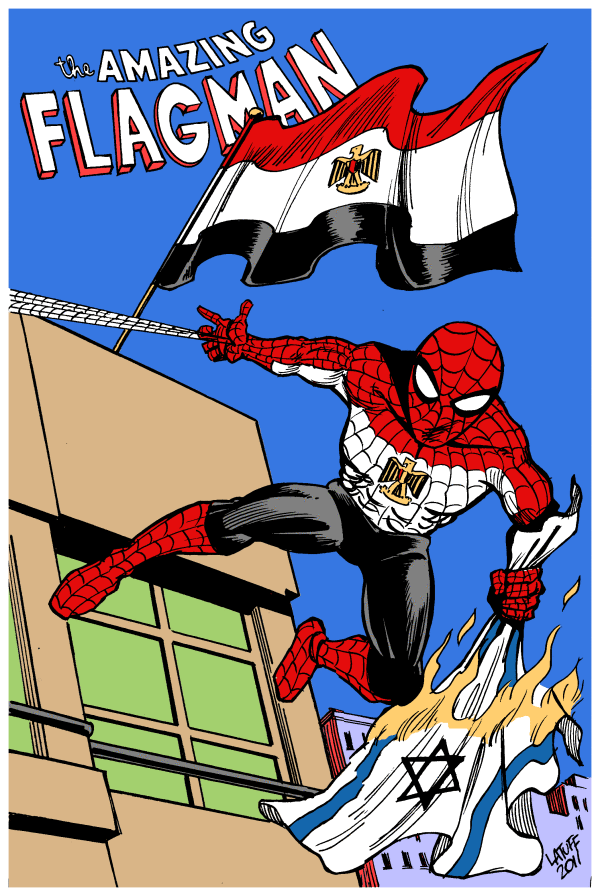 As one of his commenters states "This drawing pix is now the facebook profile for most Egyptians."
11:05AM: Another head-scratching news ticker update from Ha'aretz:
Islamic Jihad leader travels to Cairo in attempt to return calm to region (Ch. 10)
Yes, I'm sure their goal is calm in the region.
10:28AM: You'd think CNN could find a better image to illustrate a report on our predicament, say an image that doesn't make us look like the aggressors.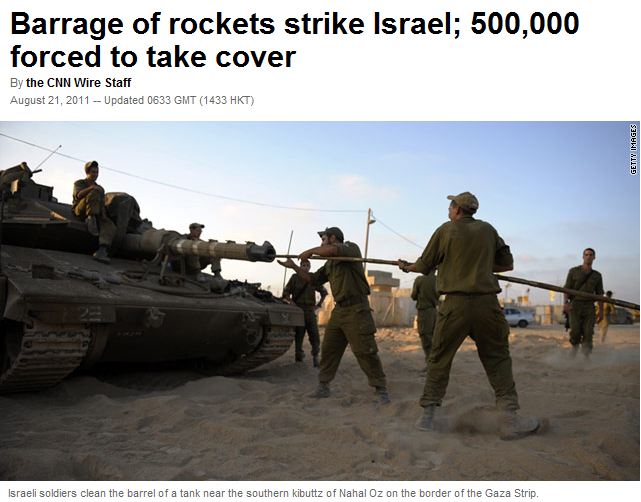 Then again, this is CNN.
10:22AM: Egypt is not happy with our statement expressing regret for the border deaths of five of their policemen, killed during exchanges of fire with terrorists. 
Ok, I guess it is too much to expect them to express condolences for the Israeli lives lost during the terror attack, but to demand an apology from us?
Meanwhile last night, Egyptian protesters removed the Israeli flag from our embassy in Cairo..and were quite happy about it.
Peace!
10:05AM: More than 100 rockets have been launched from Gaza into Israel during the past 3 days. And that's not including the multi-staged terror attack near Eilat, which claimed the lives of 8 people.
9:38AM: Update from the Ha'aretz news ticker:
Spain FM: It is time to recognize Palestinian state (Ch. 10)
Sends a clear message, doesn't it? Fire more rockets into Israel, and you can accelerate the process towards getting your state.
But we already knew Spain has a terror appeasement policy, so no surprises there.
9:35AM: So far this morning, terrorists have fired rockets and mortars towards Ashkelon and Be'er Sheva, with the Iron Dome system successfully shooting down 4 of them.
One rocket hit a school building in Be'er Sheva, causing no injuries as students "Israeli soldiers" are currently on summer break.