BREAKING: Israel And Hamas Reach Gilad Shalit Prisoner Exchange Deal
From Israeli PM Netanyahu's twitter account earlier this evening: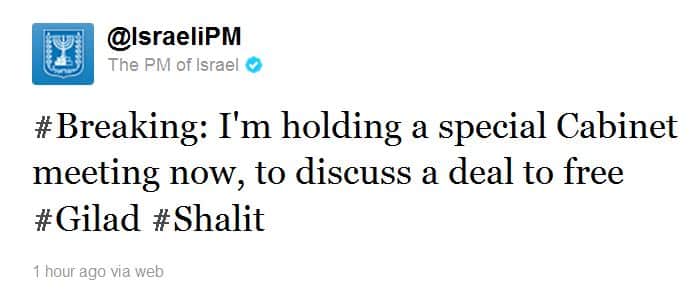 Ha'aretz elaborates:
Israel and Hamas have reached a prisoner exchange deal that will secure the release of abducted Israel Defense Forces soldier Gilad Shalit, officials at Prime Minister Benjamin Netanyahu's office said on Tuesday.

Officials in the Prime Minister's Office said that "a brief window of opportunity has been opened that would possibly lead to Gilad Shalit's homecoming," adding: "The window appeared following fears that collapsing Mideast regimes and the rise of extremist forces would make Gilad Shalit's return impossible."

The officials' comment came following a report by Al-Arabiya, according to which a deal has indeed been reached between Israel and Hamas geared at the release of the IDF soldier, in Hamas captivity in Gaza since 2006.

Netanyahu and Defense Minister Ehud Barak are meeting several ministers in the Prime Minister's Office in order to pressure them into voting for the deal, with Netanyahu aides estimating that the deal will be approved by the cabinet,

Special attention is reportedly being given to Foreign Minister Avigdor Lieberman no to vote against the deal along with ministers from his Yisrael Beiteinu party. Several Likud ministers who have voiced opposition to freeing terrorists in exchange for Shalit are also being pushed to approve the deal.

Netanyahu called an emergency cabinet meeting scheduled for later Tuesday in which ministers are to discuss the status of talks geared at securing Shalit's release.

Speaking with Haaertz, one Egyptian official said: "After 64 months of tough negotiations we were able to complete the deal. It was a very difficult task, which included thousands of hours of negotiations."

Also on Tuesday, top Egyptian officials confimed to Haaretz that there had been significant progress in the attempts to strike a prisoner exchange deal that would lead to Shalit's release.

The officials confirmed that an Israeli delegation, headed by the head of Shalit negotiations David Meidan, was in Cairo to indirectly discuss the details of a possible deal with the chief of Hamas' military wing Ahmed Al-Jabari.

Similarly to previous rounds of Shalit talks, the indirect talks are overseen by Egyptian intelligence, headed by intelligence chief General Murad Muwafi and his aides.

Egyptian officials have also said that a the deal which has been reached in recent days also includes accused Israeli spy Ilan Garpal.
According to Al Arabiya, the deal will be implemented in November and chief Hamashole Khaled Meshaal is expected to deliver "an important address" in two hours (the report was already from over two hours ago).
Hamas television has reported that as many as 1,000 Palestinian prisoners would be released as part of the arrangement.
I'm glad Gilad is likely coming home but 1,000 terrorists? Oy gevalt.
Israellycool poll:

Loading ...
Updates (Israel time; latest from top)
11:40PM: Israel's army radio, as well as Channels 2 and 10, are reporting that Barghouti and Saadat are NOT on the list of prisoners to be released. Here's hoping this proves to be true.
10:50PM: Prime Minister Netanyahu's remarks at the opening of the special cabinet meeting today:
Today, I bring a proposal to the Government for a deal that will bring Gilad Shalit home alive and well; bring him home to his parents Aviva and Noam, his brother Yoel, his sister Hadas, his grandfather Zvi, and the entire people of Israel. Two and a half years ago, when the government was formed, I took upon myself, as my first priority, to bring Gilad home to his people, to his family – to bring him home safe and sound.

At the time, Gilad was already held in captivity for two and a half years, with no visits from the Red Cross, with no visits at all, and we did not know what state he was in. The first step I took, and we approved it here in the Government, was to get a video recording of Gilad, and we all breathed a sigh of relief when we saw it. We saw that he was functioning, physically, mentally and cognitively. We saw that he was functioning well. We knew that he was healthy and that he was alive.  I regarded that tape as an insurance policy, because it obliged the Hamas before the international community to safeguard him, to keep him alive and maintain his health. But that was obviously only the first step.

The most important mission that we had was more challenging – to actually bring Gilad home. To that end we held long and tough negotiations through the German mediator. These negotiations were based on a framework outlined by the previous government. They were long and exhausting and despite all our efforts, a deal was not reached.

I must point out that not a day went by without us trying various ways to bring Gilad home, any way possible, and that didn't work either. In the last few weeks, the negotiations were renewed in Cairo, this time with the Egyptian government as mediator. My instructions to the team were to adhere to the principles and framework that are important for the security of the State of Israel, which I will detail in the meeting.

There is an inbuilt tension between the desire to bring back an abducted soldier, or citizen, and the need to maintain the security of the citizens of Israel.  This is my dual responsibility as Prime Minister.

The deal I am bringing to the Government expresses the right balance between all of these considerations. I do not wish to hide the truth from you – it is a very difficult decision. I feel for the families of victims of terror, I appreciate their suffering and distress, I am one of them. But leadership must be examined at moments such as this, being able to make difficult, but right, decisions.

I believe that we have reached the best deal we could have at this time, when storms are sweeping the Middle East.  I do not know if in the near future we would have been able to reach a better deal or any deal at all. It is very possible that this window of opportunity, that opened because of the circumstances, would close indefinitely and we would never have been able to bring Gilad home at all.

Therefore, for all of these reasons, I instructed the team to put their initials on the deal last Thursday, and today it was finalized and signed by both sides. I thank my Military Secretary Maj. Gen. Yohanan Locker, the Chief of the Shin Bet Yoram Cohen, my personal envoy to the negotiations, David Meidan and his predecessor Hagai Hadas. I thank the team that has accompanied them all these years.

I thank the IDF, the security forces for doing everything they could regarding Gilad Shalit. I also wish to thank the German mediator, and the Chancellor Angela Merkel who supported his mission all along. A send a special thanks to the Government of Egypt and the Egyptian Intelligence Services for providing much assistance in mediating and helping us reaching this agreement.

This morning I Invited Noam Shalit to my residence, and I spoke on the phone with the mother Aviva and the grandfather Zvi. I told them that I am keeping my promise and I'm bringing their son and grandson home. I told them, "I'm bringing your boy back." I am happy that I succeeded in fulfilling the Jewish decree of redeeming captives, and if all goes as planned, Gilad will be back in Israel in the next few days with his family and his people.

The Nation of Israel is a unique people. We are all mutually responsible for each other, as our Sages said: "He who saves one soul, it is as though he saved an entire world." Tonight, I bring the Government a proposal to save Gilad Shalit, to finally bring him home to Israel after five years.
10:45PM: Ynet adds:
The exchange would include Amina Mona, a young woman who lured a lovestruck Israeli teenage boy to a Palestinian city over the Internet, only to have him killed by waiting militants, according to Mohammed al-Barem, a leader of the Popular Resistance Committees, one of the groups that captured Shalit. He gave no other names, but said it included 300 prisoners serving life sentences.
10:42PM: Among the terrorists reportedly to be released: Marwan Barghouti, the popular Fatah (according to Israeli reports, he will be required to accept exile from the West Bank), as well as Hamashole Abdullah Barghouti (no relation), serving 67 life sentences for building bombs used in suicide attacks.
10:40PM: More from the Hamas website:
Khaled Meshaal, head of Hamas Political Bureau, said in a press conference, that the deal will be executed in two parts, the first part in a week and the second will be after two months.

The total number of the liberated detainees is 1027, he added.

Meshaal said that No Palestinian women will be in the Israeli Jails, all of them will liberate in the deal and their number is 27.

"This is a national achievement for the Palestinian people, we tried to include all Palestinian detainees in the Israeli jails, and we promise the rest of the Palestinian detainees to liberate them."

"My words to the fathers and mothers who did not included in the deal, do not be sad, your sons will be liberated soon."

"My Appreciations to Ezzedeen Al Qassam Brigades and the Palestinian factions which managed to capture the Israeli soldier Shalit, My thanks to the Palestinian people in Gaza Strip and the West Bank for their steadfastness against the Israeli siege, also my thanks to the Egyptian role in accomplishing this deal."

In the end he said "This deal is a national achievement, Palestinian people who accomplished this deal is capable to get more achievements as Right of Return and reconciliation etc."
9:30PM: Hamas announces the deal on its web site:
Ezzedeen Al-Qassam, the military wing of Islamic Resistance Movement Hamas, announced that the detainees exchange deal has accomplished, the Brigades and Palestinian factions who participated in capturing Shalit announced that the deal will be within days.

The Brigades said in an exclusive press statement for Al Qassam website "An honorable exchange deal has accomplished, whereby Palestinian detainees will be freed for the release of the Zionist soldier Gilad Shalit."

The Brigades also confirmed that the deal criteria accomplished for the first time in the history of the Palestinian resistance.
9:25PM: Recently retired blogger Challah points to a tweet by a BBC journalist indicating arch terrorist Marwan Barghouti is one of the 1000 to be freed.