What's The Exchange Rate For Jerusalem Shekels To Tel Aviv Shekels?
Later today my employees will drive to Jerusalem to sell goods to some Arabs (they're not going to Salahadin St today because the situation is a little more tense than usual but they'll exchange goods for cash somewhere else).
When they get there they will receive payment in "New Israeli Shekels" – ? NIS. The same currency is used across the whole of Israel including by the Arabs under administrative control of Israel and the Palestinian Authorities. My customers today work in both Jerusalem and Ramallah.
But according to a table from the US Treasury that is displayed on the IRS web site from December 31st 2011, perhaps I should be asking my Arab friends to pay a different rate? Apparently their Shekels aren't worth the same as my Shekels in Tel Aviv! Deeper digging seems to indicate that the IRS doesn't see this distinction, but when they take their table from the Treasury it is there.
From the following web page: Treasury Reporting Rates of Exchange as of December 31, 2011 which is used by US citizens who need to report income earned overseas in US Dollars: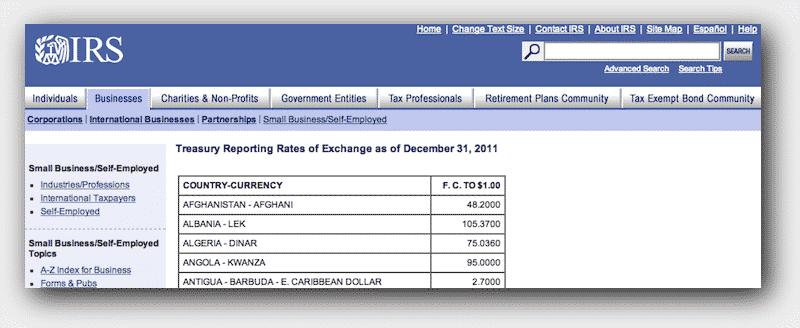 We scroll down to find the rate for Israel and we get a bit of a surprise. Because, apparently, there is another place in the world that uses the New Israeli Shekel. A whole 'nother country called "Jeresalem" which might be "Jerusalem". And this must be another country because it has a different rate from the one that covers the country called "Israel".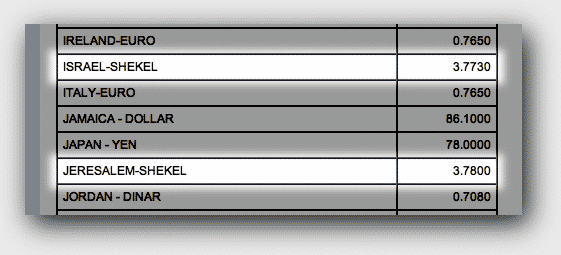 So, just to be sure of when this Shekel using country popped into existence I had a quick scan back. I look all the way back to 1982 but only found one country, with one exchange rate, using the Israeli Shekel. That country was Israel.
But even as recently as December 31st 2010 there was only one country using the Shekel: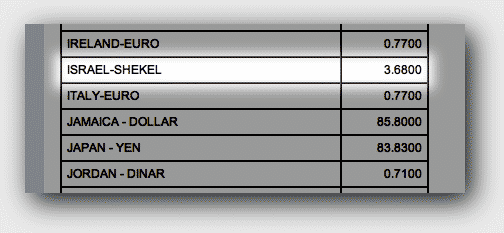 So sometime last year either the IRS, or the IRS following the wishes of the State Department created a whole new country called "Jerusalem", assigned it a whole new currency called the Shekel and decided to make up their own exchange rate.
I better tell my Arab friends in Jerusalem.
Special h/t to a long time Israellycool reader Mzk1. And I do hope he doesn't get in trouble with the IRS for pointing this out!